« Study: 92% of Leftwing Activists Live With Their Parents; One Third Are Unemployed
|
Main
|
The Morning Report - 5/21/20 »
May 20, 2020
Wednesday Overnight Thread (5/20/20) Not Much To It Edition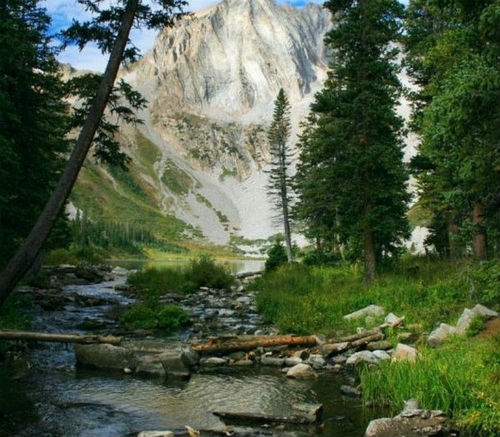 ***
The Quotes of The Day

Quote I

"If a CFO had tried to get away with such an opaque and data-less statement it would have bee treated with derision and possibly an investigation."Former Harvard Medical School professor and founder of the university's cancer and HIV/AIDS research departments, William Haseltine

Quote II


"Citizens: We are posting this because people are tying up the 911 lines to report others who are not socially distancing. Our goal is to provide the appropriate number for people to call instead of them calling 911."Toledo Police Department

Quote III

"People with glass faces should not throw stones." Tucker Carlson

Quote IV

"The death penalty is inherently cruel and inhumane, and Singapore's use of remote technology like Zoom to sentence a man to death makes it even more so," Phil Robertson, the deputy director of Human Rights Watch in Asia, told Gizmodo via email on Wednesday.
***
A Board Meeting At The Bulwark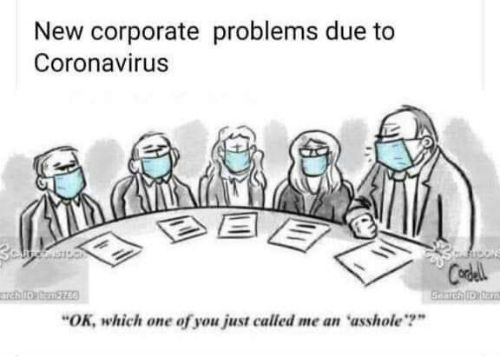 (H/T Legally Sufficient)
***

As former VP Joe Biden would say, "This is a Big Fucking deal"

Ukrainian judge orders Joe Biden named as accused perpetrator of a CRIME in Shokin firing; Also more blockbuster audio between Biden and Poroshenko!
***

Paul Joseph Watson NSFW-Language


Don't you love it when religion mixes with politics? Earlier today I saw a church sign that said, "What would Jesus do? He would wear a mask." I don't think so.
***

So some Mud Duck wanted me, a Packers fan and season ticket holder, to wish MN Vikings former head coach Bud Grant a happy birthday. Happy birthday Coach.
You owe me big time Kevin.
***

Who is essential and who isn't? Obviously Michigan governor Karen Whitmer doesn't know the difference.

Gretchen Whitmer Allows Gay Swinger's Club to Operate While Barber Loses License


There is perhaps nothing more confusing than Democrat governors' orders during the Chinese WuFlu pandemic. Michigan Governor Gretchen Whitmer is by far the worst. That was made clear with the news that a gay swinger's club with "glory holes" is being allowed to operate under her nose in Lansing while she aims her business-killing death ray on 77-year-old barber Karl Manke for giving haircuts.
***

The ONT Is Always Looking Out For YouTM

The distribution of $1,200 stimulus checks to Americans has given rise to unprecedented online scams.

The FTC has thus far received 18,235 reports of fraud costing victims $13.44 million; Google reported it is blocking 18 million scam emails every single day; and 150,000 fraudulent stimulus check sites have already launched.

Here are the five most common scams to avoid, based on information from the FTC, FBI and IRS during the Coronavirus pandemic.
***

5:49 of a police stop............You be the judge.
***

If they can close down your state for 30 or more days. Looking out for your heart, fast food restaurants to be closed.

U.S.—State governments across America have responded with decisive action after startling reports surfaced that heart disease kills hundreds of thousands every year. In order to save lives, states have ordered all fast-food restaurants to close until we can flatten the curve of heart disease.


When asked for comment, Governor Cuomo looked up from his Double Baconator with fries and said, "Mmfph...Mmm...yeah, there is a health crisis in this country, and the government has the power to stop it. Closing all fast food restaurants to the general public is a good first step. Of course, we would have to exempt the Wendy's in our building. I have to eat lunch somewhere after all!"

"Although this will cost us millions of jobs, it's a small price to pay to save so many lives. If it even saves one life, it would be worth it," said Gavin Newsom as he munched on Animal Style Fries from In-N-Out. "We need to flatten the curve! Of course, this In-N-Out will remain open for me and the other government workers downtown. I mean, have you ever had these burgers? Mmmmmm!"
***

Once again, it's not nice to fuck around fool Mother Nature.

Instagram model Shilpa Sethi's botched butt lift left her unable to sit for months

An Instagram model says a botched Brazilian butt lift left her unable to sit — for six months.

"It was very painful," Shilpa Sethi, who has led with her mammoth backside in sexy photos to land 1.2 million followers on the site, said to the Daily Mail.
***
On this day: 20 May 2013
Ray Manzarek, keyboard player and founder member of the The Doors died aged 74. Manzarek, who had suffered from bile duct cancer for many years, died in a clinic in Rosenheim, Germany, with his wife and brothers at his bedside. He formed The Doors with lead singer Jim Morrison in 1965 after a chance meeting in Venice Beach, Los Angeles. via thisdayinmusic.com
&&&
Born on this day: 20 May 1958
Jane Wieldin, guitar, vocals, from all-female American rock band The Go-Go's, who had the 1982 US No.2 single, 'We Got The Beat', and the 1982 UK hit single 'Our Lips Are Sealed'. Their 1981 debut album, Beauty and the Beat, is considered one of the "cornerstone albums of US new wave music". Wieldin had the 1988 solo UK No.12 single 'Rush Hour'. via thisdayinmusic.com
***

Two awards in one story. Tonight's Feel Good Story of The Week includes Genius Award Winners.

'Thank God for the cooler': Video shows miraculous boat rescue miles off Pasco County coast

PASCO COUNTY, Fla. (WFLA) — Two men stranded in the Gulf of Mexico after their boat sank miles off the coast of Hudson Beach were rescued by a group of fishermen who were in the right place at the right time Sunday.

The must-see rescue video was published to Facebook by Adam Vetter Monday.

Vetter was with four others — Rob Wells, Fred Heidgerken and Joe Steplyk — boating back to shore around 6:30 p.m. when they came across a capsized boat about 12 miles off the coast of Hudson Beach.
***

Tonight's ONT has been brought to you by your local Department of Transportation.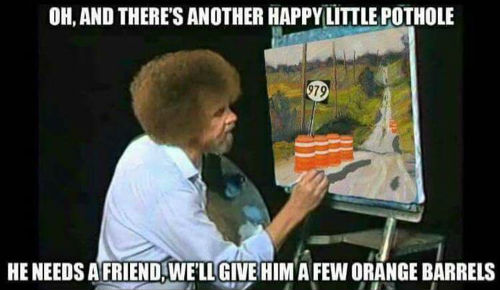 Notice: Posted with permission by the Ace Media Empire and AceCorp, LLC. The Content Fairy forgot to swing by tonight.


posted by Misanthropic Humanitarian at
10:00 PM
|
Access Comments