« Wednesday Overnight Thread (5/20/20) Not Much To It Edition
|
Main
|
Mid-Morning Art Thread »
May 21, 2020
The Morning Report - 5/21/20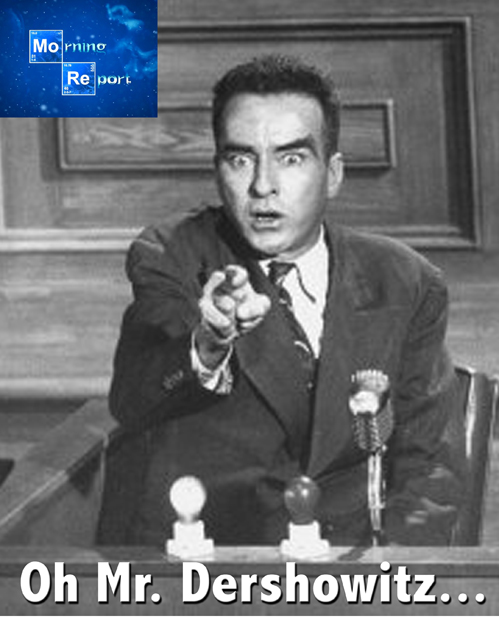 Good morning, kids. Thursday, and another grim milestone of yet another day of America held hostage.
The past few months have brought out some of the worst and best in our fellow citizens. Naturally the media, which is part and parcel of the former distorts and twists that which it cannot conceal about the latter. From Andrew "Angel-of-Death" Cuomo's insane actions, which directly caused the needless deaths of several thousand otherwise stable nursing home residents, the imprisonment and threats against Shelly Luther and Karl Manke, the shuttering of churches by Gavin Noose-'em, the sabotaging of Virginia GOP primary elections by Mammy McMengele, the persecution of Jews by Wilhelm DeBolshevik, to Wretched Whitmer's decreeing of what can and cannot be sold in stores she permits to remain open, and on and on - all of it was and still is breathtaking to behold, if not really all that surprising since it is reflective of the will to power of Leftists.
But what Alan Dershowitz said on a podcast is just staggering, to me, anyway:


..."Let me put it very clearly," the lawyer said, speaking to podcast host Jason Goodman. "You have no constitutional right to endanger the public and spread the disease, even if you disagree. You have no right not to be vaccinated, you have no right not to wear a mask, you have no right to open up your business."

"[But] If you refuse to be vaccinated [for a contagious disease], the state has the power to literally take you to a doctor's office and plunge a needle into your arm," Dershowitz continued...
I remember seeing Monty Clift reacting to lines that are almost verbatim in Judgement at Nuremburg, where he played a simpleton who was forcibly castrated by the Nazis - kissing cousins of the Democrat Party - who also had the power to take you to a doctor's office and make the world safe for democracy, so to speak.
..."You have no right to refuse to be vaccinated against a contagious disease," he said. "Public health, the police power of the Constitution, gives the state the power to compel that. And there are cases in the United States Supreme Court."

"That's what a democracy is about," Dershowitz argued. "If the majority of the people agree and support that, for public health measures, you have to be vaccinated, you have to be vaccinated..."
Ho. Lee. Fook. Joe Biden has an excuse; he's a goniffing, thuggish lowlife who's left a 50-year-long slime trail of corruption, criminality and sexual abuse which is mercifully coming to an end as his brain rots from bovine spongiform encephalopathy. What the hell is Dershowitz's? Forget for a moment he's a liberal; here's a guy who is considered one of the greatest constitutional scholars in American history as well as a supposed champion of that document in the protection of individual rights. For someone like him to make the most basic error in stating we're a democracy and not a representative republic, then to underscore it by negating his own career by championing majoritarian tyranny is the bitter end. Whatever hope I had in him from his defense of Trump during the Shampeachment show trials has completely evaporated.
Even if the nation were ever to face a real health crisis where people were dying in the streets and bodies had to be buried or incinerated in mass graves, we wouldn't even be having a faculty lounge debate about legal niceties and Constitutional case law because the world will have ended. But what's actually happening - or not happening - isn't even in the same universe. What we are dealing with right now is a monstrous fraud and power-grab that makes even the Shampeachment and Coup look amateurish, because right now, it's working. Our right to life, liberty and the pursuit of happiness has been stripped before our eyes. The fact that Dershowitz cannot see this, or worse, that he is perhaps arguing in the abstract, makes his statement that much more monstrous.
Lift the lockdowns. Liberate America.


STRUGGLE FOR LOCKDOWN LIBERATION
Aside from Dershowitz, the struggle for liberation continues with mass defiance in Michigan, Wretched Whitler goes after barbers but lets gay sex clubs stay open, Illinois State Police defy the fat-berg known as Sitz-Pritzker even as he makes threats against the citizenry, an Open-The-States movement wants everyone to bust out on Friday, over a thousand California clergymen tell Gavin Noose-'em to pound sand, bitter irony alert as Massachusetts illegally applying an anti-Commie emergency law from 70 years ago to oppress the people, Maine lawmakers want AG Barr to smack down their own tyrannical governor (why can't they do it themselves?), looking to the courts for remedy and contra-Dershowitz, the Constitution cannot be trumped by a pandemic. Supposedly.


NOTE: The opinions expressed in some links may or may not reflect my own. I include them because of their relevance to the discussion of a particular issue.
ALSO: The Morning Report is cross-posted at CutJibNewsletter.com if you want to continue the conversation all day.
Follow us on Twitter: @CutJibNews


posted by at
07:52 AM
|
Access Comments