« Food Thread: Your Ad Here! Reach Gourmands The World Over!
|
Main
|
Sunday Overnight Open Thread (4/2/20) »
April 26, 2020
Gun Thread: U.S. Rifle Cal. .30 M1 [Weasel]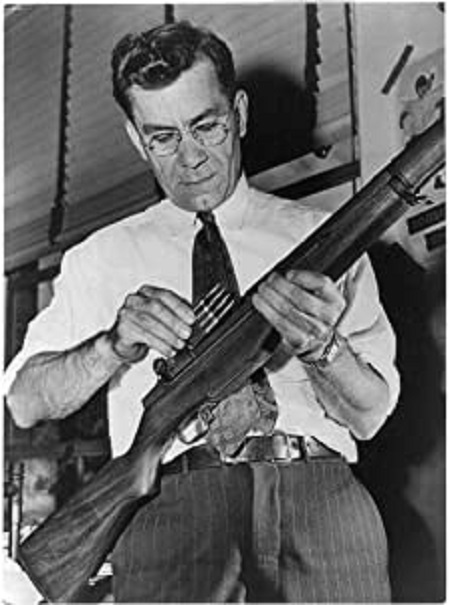 John Garand with his brainchild, the M1
Recently, a number of you expressed an interest in a video of the M1 Garand. Thanks to the Chinese Cootie quarantine in Virginia, I had some time this week so I headed to the farm with the rifle to do some shooting, and the video below is what I came home with. Let's take a look, shall we?
I had a couple of nice days weather-wise for shooting, and my main shooting buddy came down to help. Here 'tis:
Garand collectors and aficionados are a breed apart. The truly dedicated have many examples in their collections and some spend an impressive amount of time, effort, and money making sure they are historically correct. That is, with all of the correct parts as issued from the factory. In practice, as the rifles went through the arsenal process, they became "mix-masters" or an assembly of parts from many manufacturers, and some owners prefer them to be all original. I'm fine with the one I have just the way it is.
There is no shortage of excellent M1 Garand resources on the internet. A few which come to mind immediately are The Garand Collectors Association or GCA, U.S. Rifle cal 30 M1, and The Civilian Marksmanship Program or CMP. There are hundreds of others.
One thing I forgot to mention in the video is the ammo I was using was made at the Lake City Ordnance Plant in 1969. Who says old ammo won't shoot? Another thing is just simply how much fun the M1 Garand is to shoot. Seriously. They are bigly fun to shoot! Whenever I get this rifle out of the safe, I can't help but wonder where it's been since 1945. If you ever see one of these at the range, don't miss an opportunity to shoot it if you can. Better yet, check the CMP sales page and pick up one of your own!
Finally, do you have any idea how hard it is to catch an ejected Garand clip with the bill of your hat? That required something like 30 takes alone! Anyhow, I hope you enjoyed the video, and sorry about the sound dropping out in a couple of the clips. I have a fix for that going forward. For those of you interested, here are the points I was making when the audio dropped:
General
• Semi-Automatic, gas operated, rotating bolt. 9.5#, 24 inch, four groove, 1:10 right twist barrel.
• Cost when new $85
Accuracy Standard
• 2 – 3 MOA
• Accurized Match guns 1 MOA or less from bench
Ammunition
• Fires the .30-06 M2 Ball cartridge (7.62x63mm)
• .30 refers to caliber and '06 refers to year of adoption
• M2 Ball Specification changed over the years 147 - 152 gr, 2,740fps measured at 78 feet.
• 8 round en bloc spring steel clip loads into internal magazine
• Reloaders – Garand not recommended for factory .30-06 or any "hot" loads.
• Bent operating rod may result from excessive pressure
******
WTF Update
So last week I posted a low-resolution photo taken by a trail cam I have down at the farm. The picture shows not the usual bunnies and deer, but rather was taken at night and shows a white streak entering the frame from the left. We had some fun speculating what it might be and I promised I'd follow up. When I was at the farm this week I downloaded the original photo from the camera.
Here is the low-res photo: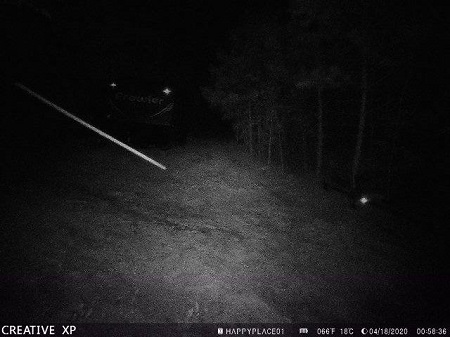 And here is the original: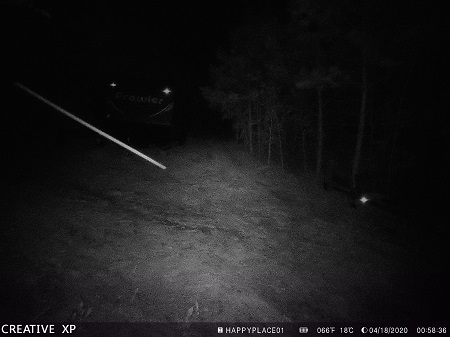 So, not much difference. I looked around and didn't find anything that looked like a meteorite, or tiny UFO, either. I guess it's going to remain a mystery!
******
California
In 2018 and 2019, California passed legislation prohibiting direct shipments of ammunition and requiring background checks for in-state purchases. The
California Rifle and pistol Association (CRPA)
filed a lawsuit,
Rhode v. Becerra
, challenging the legislation.
On April 23rd, an injunction was granted by the court. The next day, April 24th, the California Attorney General sought a stay on the ruling which was denied by the Southern District Court. Later that evening, the 9th Circuit Court of Appeals issued a stay, reinstating the restrictions.
Well, things were looking good there for about 24 hours, but I don't think this comes as a surprise to anyone. To all our brothers and sisters in California, keep fighting! [h/t redc1c4]
******
Have you been to the range? Well out pal
Quilters Irish Death
has, and he took his new Daniel Defense DDM4 with him!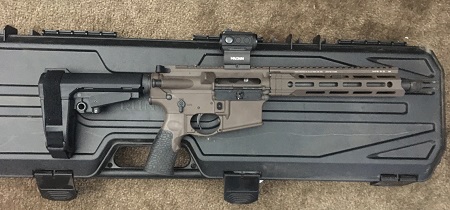 Ran 3 mags through my new DDM4 in 300 blackout (10.3" barrel, Holosun Reddot). Superb "pistol", it's accurate, tested and reliable. However that comes with a price tag, $2000. But I will never replace it. I get a month of free range time with the purchase (Ted's Shooting Range - Queen Creek, AZ). I highly recommend TSR to any AZ moron, they are really good people and not "above it all" like some stores. I've shot 300 before and was finally persuaded by it. It's a great short to mid range caliber and perfect for home defense. Also like the fact I can swap the upper for 5.56 pistol if need be.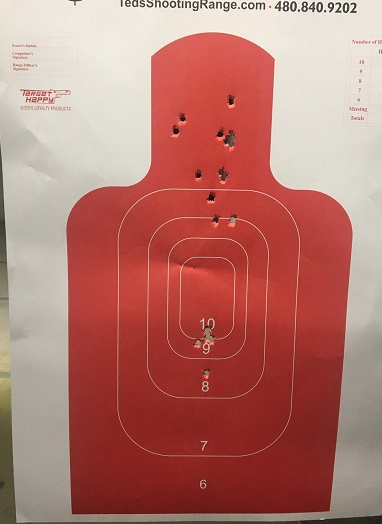 Here is a my target, ran a 15 shot rapid at 75ft and 5 slow at 40 ft. Red dot still needs a little adjustment, but absolutely love 300 for home defense or as a truck gun.
That's a great looking gun and some nice shooting! Congratulations, Quilters Irish Death!
******
Our pal
RI Red
has certainly been upping his shooting and reloading game. Take a look at what he's done with his new Ruger American Predator in 6.5 Creedmoor, during bullet depth seating trials - 5 round groups at 100 yds.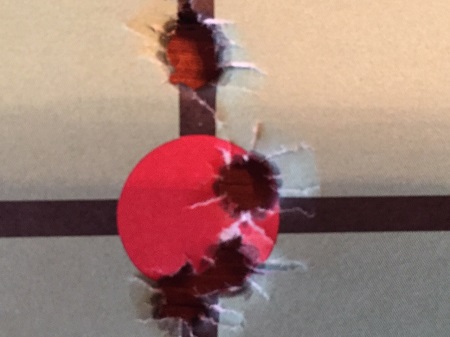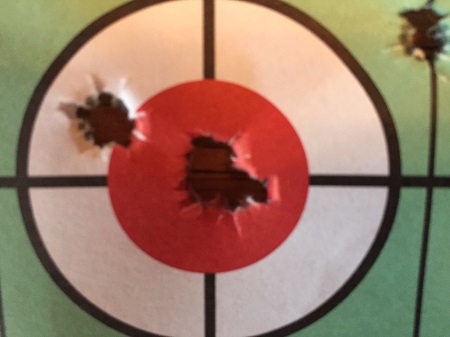 Nicely done, RI Red! Fun, isn't it? You will be shooting circles around the rest of us in no time!
******
ATTENTION NoVaMoMe 2020!!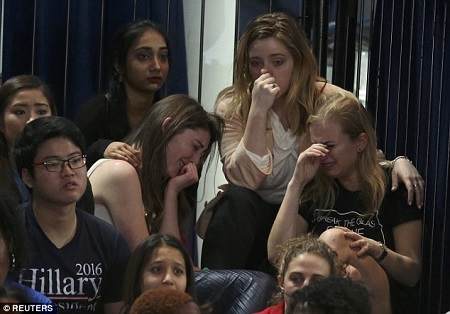 Sad people who cannot make the new NoVaMoMe date of August 29th
Due the Chinese Cooties hysteria in Virginia, the NoVaMoMe 2020 has been postponed until Saturday, August 29th. The time and location remain the same. If you haven't already, please check your email and let the Central Planning Committee know if you are able to make the new date. If not, your registration fee will be refunded and we will open your spot to those on the wait list. Questions? Just email us at NoVaMoMe2020 at gee mail dot com. Thank you!
******
Link-O-Rama
I'm really very seriously not kidding around anymore. Buy Ammo
AmmoSeek - online ammo search tool
GunBot - online ammo search tool
SG Ammo
Palmetto State Armory
Georgia Arms
AmmoMan
Target Sports USA
***Mail Bag***
We have another great entry this week from our pal
ibguy
, a great Jerry Miculek video introducing a practice at home solution, the
Mantis X10
Thanks ibguy!
******
Please note the new and improved gmail account morongunthread at gmail dot com. An informal Gun Thread archive can be found HERE. If you have a question you would like to ask Gun Thread Staff offline, just send us a note and we'll do our best to answer. If you care to share the story of your favorite firearm, send a picture with your nic and tell us what you sadly lost in the tragic canoe accident. If you would like to remain completely anonymous, just say so. Lurkers are always welcome!
That's it for this week - have you been to the range?


posted by Open Blogger at
07:00 PM
|
Access Comments