« First-World Problems...Part V
|
Main
|
Gun Thread: U.S. Rifle Cal. .30 M1 [Weasel] »
April 26, 2020
Food Thread: Your Ad Here! Reach Gourmands The World Over!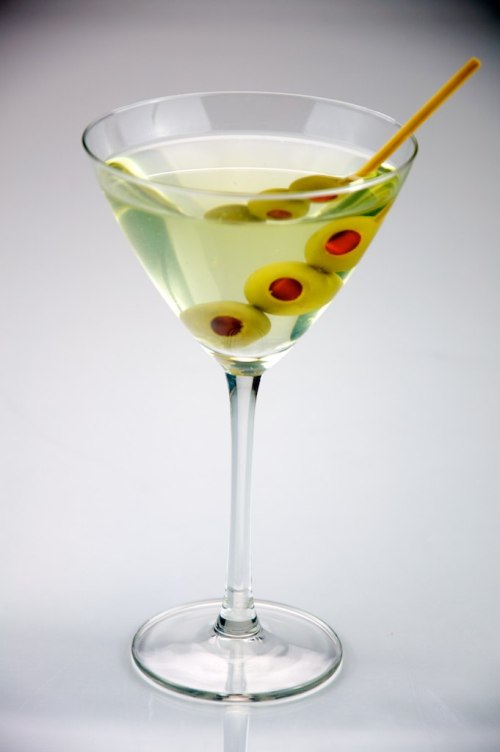 The martini war never really ended, it just calmed down for a few months. Ask 50 people drinking what looks like a martini, and they will give you 50 different answers as to the correct definition. But broadly...you will hear that it's either gin or vodka, with either no vermouth or up to 20% vermouth..and maybe more if you are EuroTrash and play kickball instead of a real sport like baseball. And the garnish is a twist of lemon or an olive or three.
Currently I am drinking 8:1 gin martinis using Noilly Prat dry vermouth, and while it is a fine drink, I preferred my previous vermouth...Dolin. The Noilly Prat seems a bit too austere; it's mostly dry without the hints of herbs that I got from the Dolin.
But before the Dolin I was using Carpano Bianco with a dash or two of Angostura bitters. Yup...try it...you'll like it. And it is a classic recipe, unlike the silly affectations of Vodka and nothing else. If you want shaken vodka, then by all means enjoy! Just don't call it a martini.
But lets get back to that garnish. I like a twist, and the late, great Robert Bork wrote marvelously about the inappropriateness of olives in martinis. He felt that if you want a vegetable you should order a salad. But a good cocktail olive is a pleasure. The question is, How Many? One is too few, and three is too many. That's how many.
Oh...anyone drink Gibsons? That's just a martini with an onion, but for some reason they have never caught on at Chez Dildo.
I bought a bottle of gin at Heathrow duty free last year, and I was excited to try it, mostly because it was a really cool looking bottle so it must be good! And it wasn't. Far too piney and herbaceous. Maybe in a Gin & Tonic, but definitely not in a martini. It sits unfinished in a dark corner of my liquor cabinet, waiting for some unsuspecting soul who asks for something "interesting."
******
One of the unexpected bonuses of sous vide cooking is the vacuum sealer! I have had one for awhile, but I used to use it so infrequently that I had to check the instructions before using it and it was just a bit too unwieldy and slow to be useful. But now that I use it a few times each week it is effortless, and I find myself using it to prepare foods for long-term storage. For instance, I have two massive pork chops from Thanksgiving defrosting for dinner. They are sealed perfectly and my guess is that they will last for years. Unfortunately these are my last two, so I will have to make the dish again if I want to test my theory. But the last two packages came out fine, so all indications are good.
******
Commenter "AZ Deplorably Isolated" has tipped his toes into sourdough baking, and he seems to have a knack for it. He claims his first attempt was burned, but by his fourth attempt he was making this!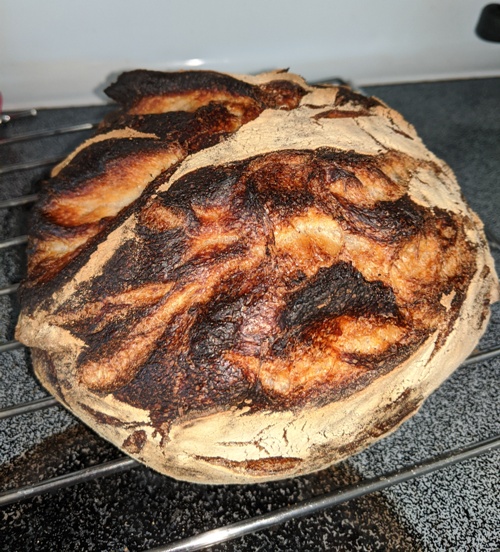 That's gorgeous. And it gets better...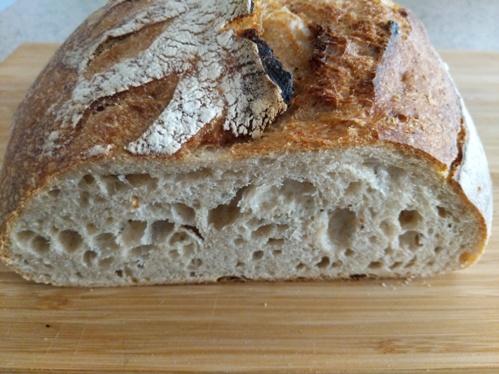 I would be a very happy camper if my sourdough turned out as light and airy as his. I am very impressed...and jealous.

******
Commenter "SATrose" swears that the licorice is in balance in this recipe, and claims that her husband demands it constantly!
MELT IN YOUR MOUTH Chinese Braised Pork Belly
But...she also sent along a carrot cake recipe, so I suspect she is hedging her bets. Good carrot cake is glorious, but I rarely make it because...um...I eat half the thing in one sitting because it is after all just vegetables, and vegetables are good for you!
Here is the recipe for the carrot cake I mentioned. It is amazing!

Couple notes:
1. This works well as a 13 by 9 sheet cake, I did not like the results of the layer cake. Baking times vary, so watch the cake!
2. For my shredded carrots I just splurged and bought a package of matchstick/shredded carrots at the grocery store. Worked perfectly.
3. Definitely sift the first 5 ingredients. Makes a difference.
4. I used Mexican vanilla for the frosting and it makes a huge difference. If you can get good vanilla its worth the price! Mine was a birthday gift, much appreciated!

2 cups flour
2 teaspoons baking powder
1 1/2 teaspoons baking soda
1 teaspoon salt
2 teaspoons cinnamon

2 cups sugar
1 1/2 cups oil (I used vegetable)
4 eggs
2 cups grated raw carrots
1 - 8 3/4 oz. can crushed pineapple DRAINED
1/2 cup chopped nuts (I used pecan it was great)

Preheat oven to 350 degrees

Grease and flour a 13x9 cake pan or 3 9 inch cake pans (I used a Pyrex dish and it worked fine)

Sift together the first 5 ingredients

Add sugar, oil and eggs, mix well

Stir in carrots, pineapple and nuts

Turn into cake pan(s) of choice

Bake 35 to 40 minutes (my oven took a bit longer) until top springs back when lightly touched with a finger. Warning : watch your cake! It can cook faster.

Cool a few minutes in pans, then turn out onto wire racks to cool.

Frost with cream cheese frosting (recipe to follow)

Cream Cheese Frosting

1/2 cup salted butter, softened
8 0z. Cream cheese, softened
1 teaspoon vanilla
1 lb. confectioners' sugar (note: I usually start with three cups of sugar and add from there, this is personal preference )

Combine butter, cream cheese and vanilla until well mixed. Add sugar gradually, beating vigorously. If too thick, add a small amount of milk to thin to spreading consistency.
******
Well...this is a solid entry!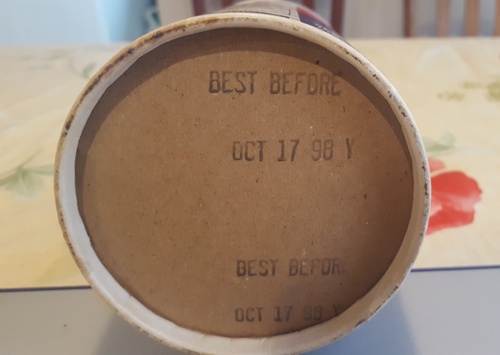 Impressive. Commenter "Not That Guy" must have a very large and very dark pantry, where foods go to rest, and instead fall into a very deep and dreamless sleep...for 22 years!

******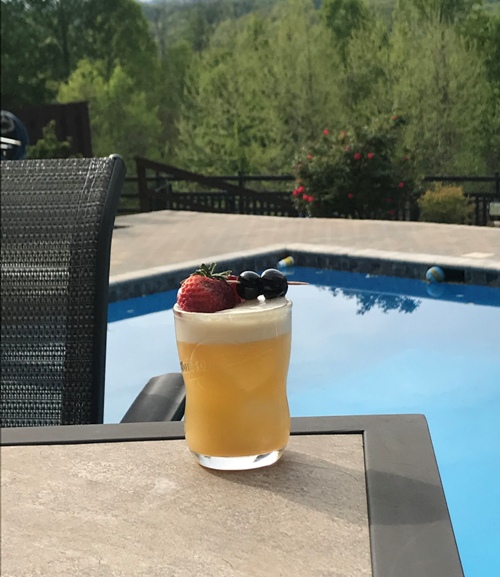 Bitter Clinger has time on his hands, but that doesn't look like the Devil's work!

I've been fiddle-farting around the house because you-know-what has me out of work.

About one of the few shops open is the liquor store, so between reading tiki cocktail books and liquor shopping out of boredom, I've been playing with recipes in the afternoon.

This one turned out pretty decent, so I thought I'd share. And the Horde can spare me the lecture on sweet, girly cocktails, I'd rather have hot chicks in sundresses at the bar than a bunch of scuzzy lawyers drinking scotch.

The Passionate Dame

1.5 oz Silver Rum (I used a Cuban rum)
1.0 oz Trader Vic's Macadamia Nut Liqueur
1.0 oz Pineapple Juice
1.0 oz Orange Juice
0.5 oz Passionfruit Syrup
1 Egg white
4-5 drops Pure Vanilla Extract

Combine all ingredients in shaker WITHOUT ice and shake vigorously until frothy (10-15 seconds).

Strain over ice.

Garnish as you see fit. (I think a pineapple would be better, but I happened to have some strawberries and Luxardo cherries on hand).
******
I had a monster-sized container of honey from Costco that I used for granola making. I have cut way back on carbs over the past year and so my honey consumption has dwindled to normal. The last eight ounces or so of honey was mostly crystallized, and because I am really, really bored, I decided that my sous vide set-up was the perfect way to melt those crystals...
And clearly I am not just bored...I am a geek too.

******
Food and cooking tips, Large-breasted Muscovy ducks, young wild pigs, bartenders who use vermouth in Martinis, crisp bacon (although I am moving toward less crisp), low-temperature-roast chicken, and good tomatoes that aren't square, pale pink and covered with Mestizo E.coli:
cbd dot aoshq at gmail dot com
. Any advocacy of French Toast with syrup will result in disciplinary action up to and including being
nuked from orbit.
And yes, shaking a Manhattan is blasphemy...it's in the Bible!

posted by CBD at
04:00 PM
|
Access Comments