« Saturday Morning Coffee Break
|
Main
|
Saturday Gardening and Puttering Thread 4/18/20 [KT] »
April 18, 2020
Thread before the Gardening Thread: Getting Out [KT]
Serving your mid-day open thread needs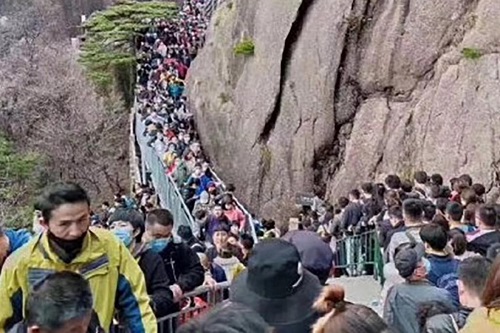 What can happen when restrictions are lifted
They are thinking about letting apartment-dwelling children outdoors for the first time in over a month in Spain. If they are accompanied by an adult. Imagine what it must be like being with kids who cannot go outdoors at all.
This week, right before President Trump's press conference, the one where he mentioned seeing light at the end of the tunnel, Gerard Van der Leun wrote, Come Out, Come Out, Wherever You Are.
It's time for somebody to turn on the light at the end of the tunnel because I have had it up to here with "the inside."

I have struggled to maintain my composure and my facade of good cheer when I am working out in The Yard of the Federal/State exercise program in our self-imposed and, so far, consensual prison. But if California is letting felons out of prison so that they can spread their prison viruses and criminal behavior among us while at the same time checking the homeless into free in fancy hotels, then I need to bust out of this jail if only to stock up on some torches and pitchforks.

I'm not alone.
One of the reasons I did fairly well with magazine and book publishing is that I have always had a good feel for the mood of the American mob. This morning I can feel several hundred million Americans getting fed up to here with this current clown show.

You can feel it too, can't you?
The great part of being in self-quarantine is that you don't have to look your best.

The great thing about breaking out of self-quarantine is you do have to look your best.

"Come out, come out, wherever you are...."
You might want to read the whole thing. It's short.
Signs of Hope
New government testing is modifying the earlier line we all read that sunlight did not kill the virus. A good reason to end some stupid government restrictions!
Today, I would like to invite you to take heart from The Occasional Fishing Threads here at AoSHQ, which also feature other wholesome outdoorsness. We hope it is not illegal to boat where you live.
And of course, the Saturday Gardening and Puttering Threads might also lure some of The Horde out of doors. At least where it is not illegal to buy seeds, and where the governor does not think that landscaping should be prohibited because it exposes people to "risk, serious risk".
Of course, there are always risks that people will go wild when restrictions, say, on beaches, are lifted. Especially if restrictions last too long.
Taking things too far
David Thompson found a piece about a woman who spends a lot of time outdoors.
There are members of The Horde who spend some time preparing for the Zombie Apocalypse, but this is something different - "The Romance of the Primitive:
I'm on my way to meet Lynx Vilden, a 54-year-old British expat who, for most of her adult life, has lived wholly off the grid. The slick roads don't help my apprehension about what lies ahead: a three-day, one-on-one experience of "living wild." The details are hazy. I've been advised to prepare for bracing climes and arduous excursions. "Wear sturdy shoes," Lynx told me. "Bring meat."
This is a woman who travels around the world, often by plane, offering primitive experiences to people.
Primitive living, it turns out, is so much easier with an inheritance.

When I finally arrive at the property in the early afternoon, she welcomes me to her wooded outpost wearing hand-stitched leathers. She heats her 900-square-foot log cabin--also the handiwork of the prior owners--by tending a wood-burning stove.

Again, if you're into Stone Age role-play, then spare cash and pre-built property, complete with solar panels, power outlets and rudimentary plumbing, does seem rather handy, perhaps a prerequisite. Such that our fearless disdainer of modernity can "divide her time" flying between continents as mood suits, from Sweden to France's Dordogne Valley and back to the mountains of Washington, USA. It's the prehistoric way.
Thompson also wrote about a young woman who lives where she could go outdoors, but spends her time stuck in a rented cabin in rural Montana, keeping a wood stove stoked very warm and belching lots of CO2, to defiantly keep a bunch of houseplants alive in the Age of Trump.
Sometimes, it can feel surprising that any beauty still exists in the world. It can feel wrong to keep cultivating our gardens while the world shatters outside our windows.

Yes, it's time to once again gawp at the mindset of the Salon-reader demographic. Or at least the Salon-writer demographic, with which it presumably overlaps. Specifically, a piece by Ms Alex Dew, "a recent graduate of Eastern Washington University's Master of Fine Arts programme in Creative Nonfiction," and whose urgent bulletin to the world is titled My Houseplant Garden Is A Tiny National Park Donald Trump Can Never Destroy.

If that sounds a tad overwrought and not entirely even-keeled, do read on.

I begin each day by taking a mental inventory of whatever horrors Trump has committed since I have been asleep,

As one does.
Don't let the two women above scare you off from the Gardening and Puttering Thread which will be coming up later today.
Music
Have a good weekend. Hope you can get outdoors a little.

posted by Open Blogger at
11:14 AM
|
Access Comments