« Saturday Afternoon Chess thread 04-11-2020
|
Main
|
Saturday Overnight Open Thread (4/11/20) »
April 11, 2020
Occasional Fishing Thread, Up the Creek with a Paddle Edition [Bandersnatch]
Welcome Piscators and Piscatrixes, Nimrods and Nimrettes, and Rough Riders of all genders to the current installment of the occasional fishing and hunting and other wholesome outdoorsness thread, Paddling About Edition.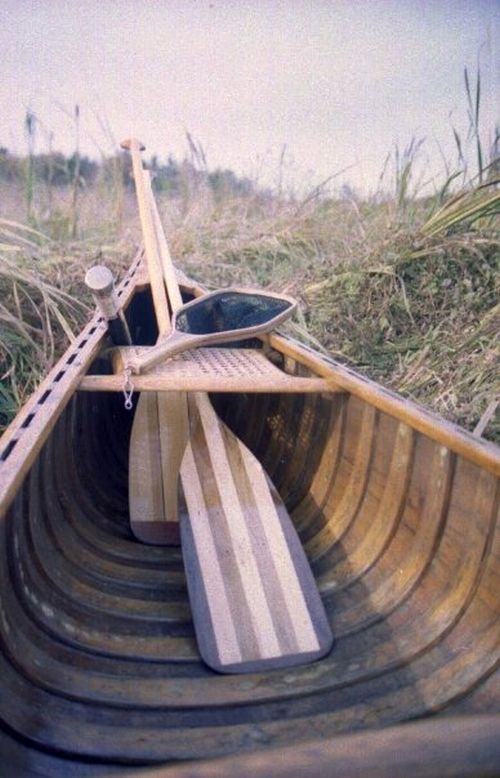 Tonight we're talking about canoes and kayaks and canoeing and kayaking and related paddleborne adventures. We'll talk about all the fun you can have in them, but I'm going to start with how we got to canoes as we know and love them. The one above is my Old Town which was finished in 1937.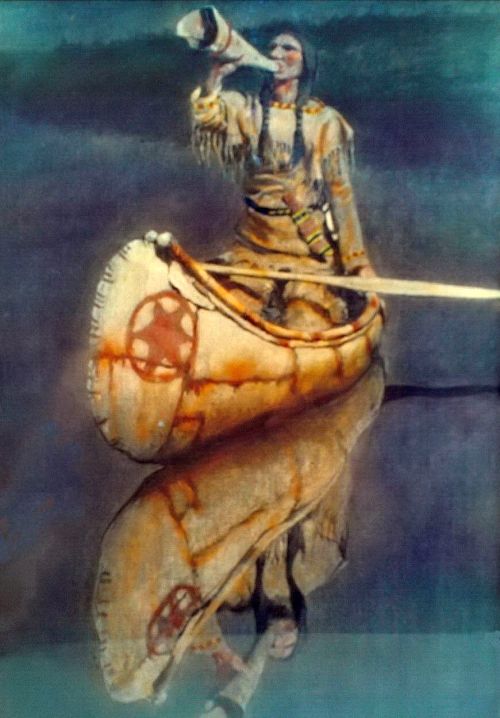 It started with birch bark canoes that the Native Americans used. The method of construction was the opposite of what the Maine Guide builders ended up doing, though the style stayed the same. They'd cut a length of bark off a large live birch tree. It has to be a large birch, at least six feet around, and the bark has to come off perfectly. Then they would make a sort of basket shape of it and start putting in ribs and thwarts and gunwales of flexible woods that would stretch it out and give it shape. Then healthy doses of tar or pitch would keep it watertight.
There's a fairly bad book about the process by a New Yorker writer, John McPhee, who follows a young man keeping the art alive. There are almost no more birch bark canoes because, among other things, there are almost no clean large birch trees around. The taking of the bark kills the tree. I waited tables with McPhee's daughter one summer, I think that's why I mention this.
Then in the late nineteenth century a couple of Maine guys, one named White and the other Gray, worked out a way to make reproducible canoes of wood and canvas. They inverted the process, they made forms of the shape canoe they wanted, then steamed cedar slats and bent them around the forms. Then they get planking, often also cedar, and a tightly stretched canvas covering. When the canvas is filled and everything is varnished and painted you have a flexible, lightweight, beautifully supple watercraft.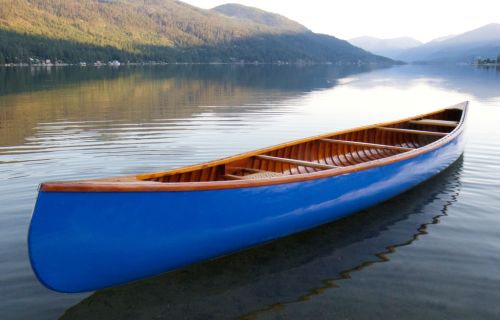 The interesting thing is that even when changing the construction to make it a repeatable process is that the Mainers followed the Indian designs. If you're a boater you know that the best boats for your waters are the ones shaped for you waters, usually designed locally. The Indians really understood their waters. The guy named Gray went on to be the Old Town canoe company. The guy named White's forms are still used by the Island Falls Canoe Company.
A few years ago an outfit called the Wooden Canoe Heritage Association digitized all of the build slips from Old Town's archives. You sent them money and a serial number and they sent you a copy of your boat's build slip. This is the boat in the top picture: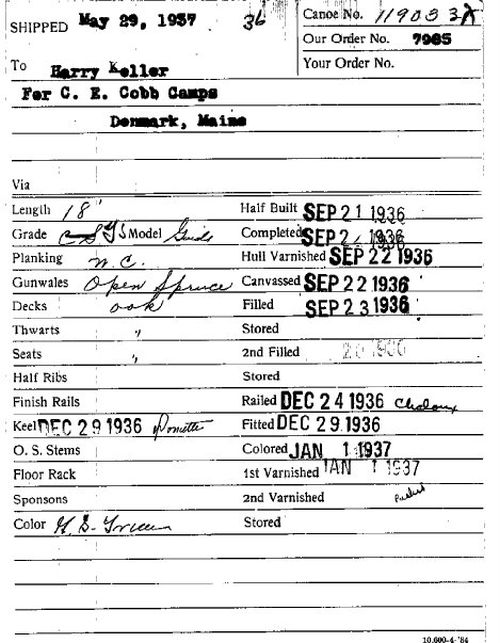 A thing I've always wanted to do and probably won't manage this year is to build my own. The Island Falls people will give you all the stuff and the instruction and their facilities for basically the price of the canoe, which is not cheap, but gosh that will be cool.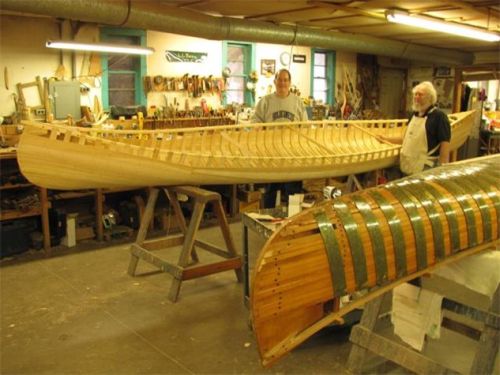 The guy who wrote the book about wood canvas canoes laments the fact that we started making canoes out of material that doesn't float. After WWII Grumman had developed a lot of aluminum bending expertise in order to make Hellcats to shoot down Zeros, and with little demand for Zero killing they started bending aluminum into canoe shapes. Now a lot of canoes are fiberglass or composite. I bought one from a guy, he sells them under the name Ranger, who builds one a day in New Hampshire. He told me how he'd lay down fiberglass and composite material in his mold every morning, affix thwarts and gunwales, and then polish the mold for the next morning. One canoe a day, by hand, every day. I like that.
Kayaks are also an indigenous tradition which has been modernized, but now the solution is rotomolded plastic. They started with Esquimeaux wrapping seal skin around walrus bones. Again they found shapes that work for their waters.
These days I sometimes leave my rotomolded Esquimeaux craft on the roof of the truck just a little too long.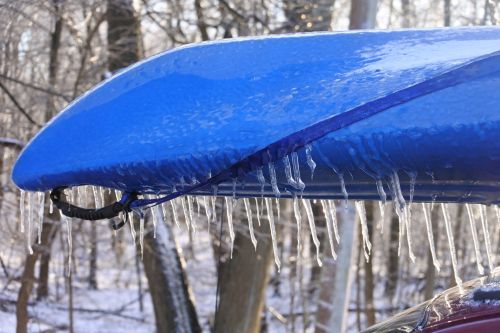 Btw, can someone catch me up on the sea kayaker they arrested in California? What the?
There's a boat that's sort of kin to the wood canoe, the Adirondack Guide Boat. It's rowed rather than paddled.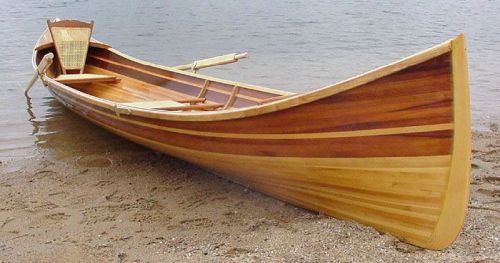 Again the traditional manufacturing techniques are threatened by the lack of materials. The stem of this boat is supposed to be made of a spruce crook – the bit where the roots bend away from the trunk – and it's been hard finding spruce crooks.
I'm throwing this last one in just because. It's a pretty boat. It is also operated by oars rather than paddles. It's a drift boat, popular for fishing big western rivers. If I understand correctly you use the oars to paddle upstream as you drift, so you're not paddling to get somewhere but to get there slower than gravity and hydrodynamics would otherwise have it. We have a Moron who rows celebrities around for a living, his boat is probably something like this.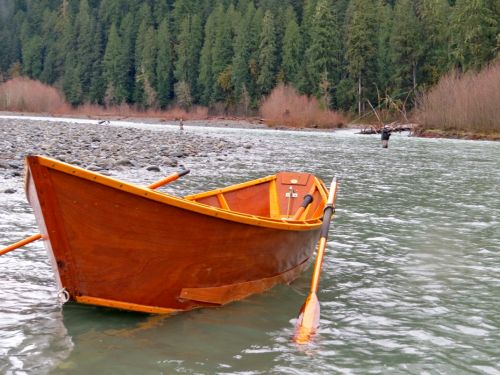 Now I've spent all this time talking about the boats themselves and not about the fun to be had in them. That's your job. Talk about fun canoe and kayak things in the comments. Please.
The mailbag has a good brag pic from RedWhiteAndTrue, who tells us that this Northern Pike is 35", 12 lb. 4 oz.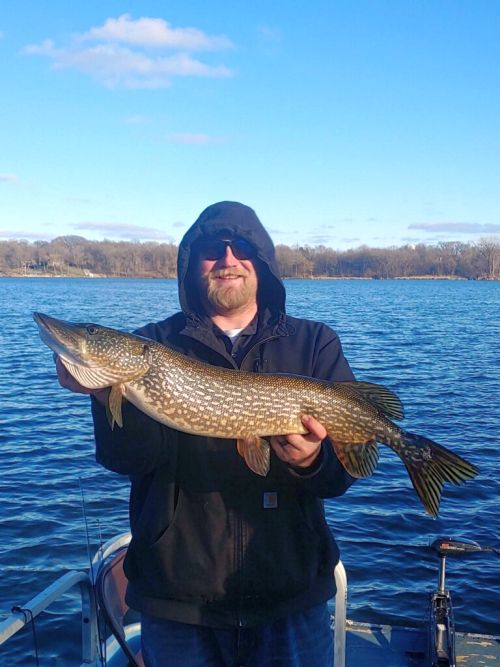 And with that we move on to the raison d'etre of this here HQ, the comments section. Brickbats, praise, and fish brag pics are welcome at aoshqfish at sign gmail thing
This occasional fishing thread is brought to you by BCochran's carrot chili.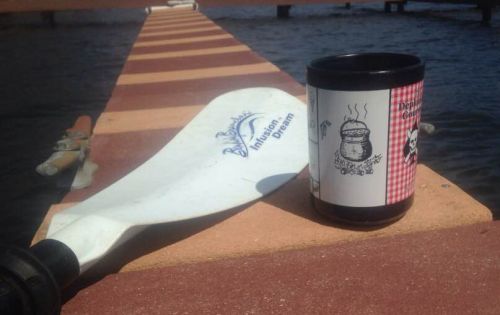 posted by Open Blogger at
07:30 PM
|
Access Comments