« First-World Problems...Part Quatre
|
Main
|
Gun Thread: Pointless Productivity Edition [Weasel] »
April 19, 2020
Food Thread: Oink Oink, Gobble Gobble, Bang Bang.
Suburban Hunting...Is It A Thing?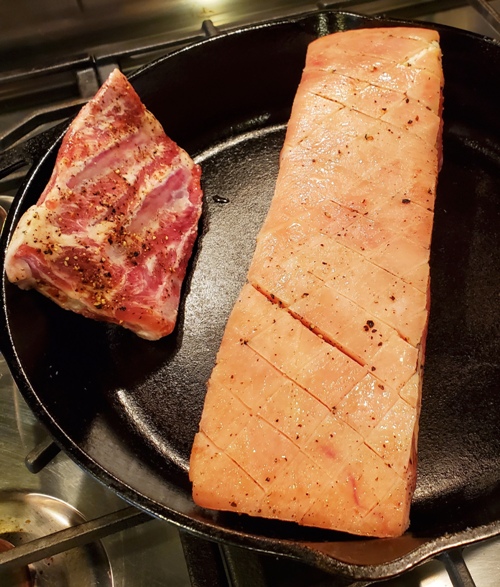 Esteemed commenter, editor, soon-to-be fashion thread writer and unfortunately dedicated Red Sox fan Bluebell sent me a recipe for pork belly. She has not had tremendous success with it until now, and since she is aware of my fondness for it she shared!
So off I went to Costco, only to be met with an absolutely ridiculous line. I mean in excess of 250 yards long. Sorry, but that's why I own guns. If the food situation is really that bad (and of course it isn't) then I am going hunting in leafy and forested Bergen County NJ.
But on the way back I stopped into my local supermarket, and lo and behold! There was sort of pork-belly-like thing available. It looks like it was cut as pork belly but the butcher included some of the ribs along the side of the belly. That's not a bad thing, since all I did was trim them off and season them along with the rest of the chunk-o-pork.
It looked great, roasted great, and I will be serving it as an appetizer this evening...on a bed of arugula with a tart dressing. Yup...ARUGULA!
But it illustrates one of my cooking imperatives...if the raw ingredients aren't exactly what you wanted or planned, but look good anyway, you are most of the way to a good meal, so don't worry!
Why yes...those few ribs were absolutely delicious.
******
Speaking of hunting...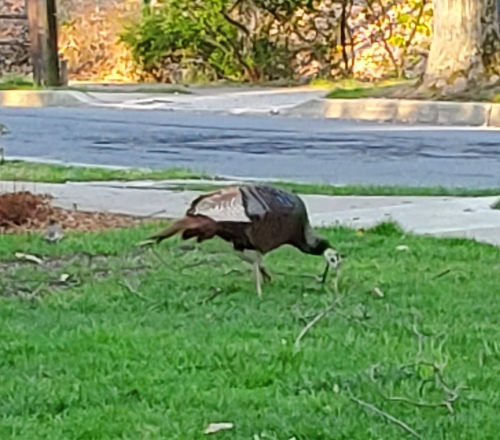 Yeah...it's a terrible photo, but that was wandering in my yard a few days ago. I was tempted to take out my trusty 10-22 with a red dot and see if I could shoot it in the head and get it into my garage before the SWAT teams showed up.
And speaking of hunting in suburbia, I wonder whether a .22LR into the head of one of the big fat deer that wander across my property would drop it in its tracks? That would be the only way I would contemplate shooting one, and that only when we'd eaten all of the neighborhood children. I can't imagine that suburban deer taste good. They eat all sorts of ornamental plants that can't make them taste as good as the stuff they eat in the true wild.

******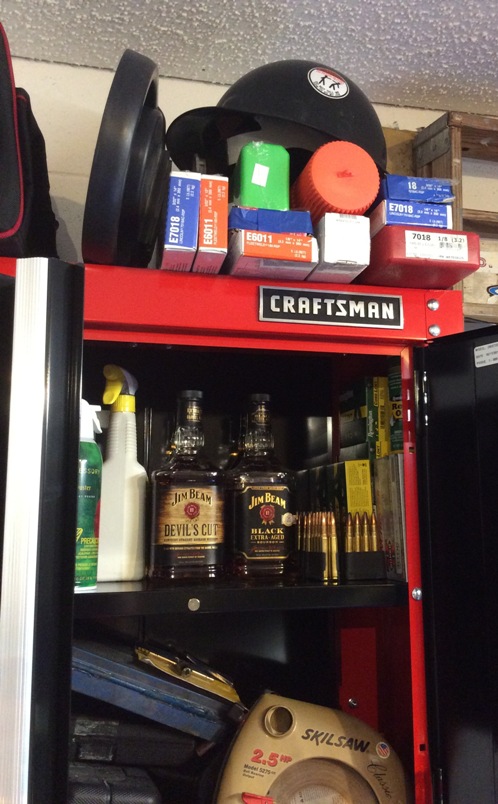 It was a few years ago when you did the last call for photos of how we store our collections. I've upped my game since then. BTW, not intending to cross-over into Weasel's gun-thread, but I keep it all out of reach of the little ones.
Photo courtesy of "Uncle Si"
******
"Nanaimo Bars?" What the hell is that?
These three-layer Canadian treats, with their coconutty cookie bases, custardy centers, and chocolate ganache tops, have a spectrum of sweet flavors and satisfying textures worthy of international recognition.
I think that international recognition is pushing it a bit...I mean...it's from Canada, so it is essentially an afterthought.
Hat Tip: Misanthropic Humanitarian

******
From commenter with the initials "R.C." I have cooked with vermouth maybe three times in my life, and never with bitters, so this is intriguing.
Read what you penned about the swordfish and got me to thinking as I have trouble with fish on the grill too... Used this sauté recipe to baste Halibut while on the grill, liked so much wound up using it as "dressing" for asparagus and broccoli too...

About 2-3 green onions, thinly sliced
Couple cloves of garlic, pressed
1/4-1/3 stick of butter
Couple cap fulls of vermouth
Dash of bitters
Bit of salt(salt in butter may be enough) Pepper to taste

Basically melt the butter over fairly low heat, add the garlic, let it cook a couple minutes add the green onions, once they have softened up and mixed in well add the vermouth and bitters. Stir and Simmer bout five minutes, ready to baste your fish or spoon over the veggies.

What I've described is enough for two to four servings
******
I remember going to one of these places when I was a kid. I don't think my parents were big fans, but I guess it kept us entertained. Our version was Japanese, although commenter "Clyde Shelton" sent this Korean version.
teppanyaki steak master
It's pretty long, and some of it is a bit tedious, but there are a few things he does that are pretty damned impressive.
******
There are too many food writers pumping out all sorts of blather about cooking during a pandemic. Uh...we aren't starving, and most of us can get pretty much what we want, when we want it, with just a few exceptions. The only problem for me is that shopping, which once was a pleasure, is now a tedious slog, coupled with the jack-booted thugs of the NJ authorities trying to bust the vast criminal conspiracy that is Americans going about their business.
So I have been spelunking in the cupboards and freezers and refrigerators, and have found a few gems. The best one is my stash of chickpeas for hummus, which is a marvelous dip that goes with pretty much everything except maybe chocolate cake. One can of chickpeas (drained, but use half the liquid to start), the juice of a lemon, some of the zest, a half container of sesame paste (tahini), some salt, pepper a pinch of cayenne, and maybe a garlic clove. Blend it all together and add a few tablespoons of olive oil and some more of the chickpea liquid to thin it out to taste.
All done. Eat it with carrot sticks or fresh pita or glopped on leftover lamb or steak or add it to a can of tuna. I love it. It's better than the commercial stuff and is really easy to make. And yes, that recipe has changed since I last mentioned it. I use less olive oil, and I am a better man for it!

******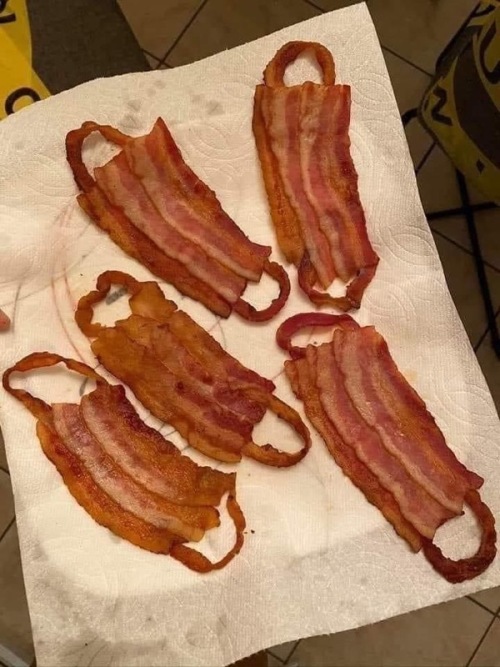 ******
Food and cooking tips, Large-breasted Muscovy ducks, young wild pigs, bartenders who use vermouth in Martinis, crisp bacon (although I am moving toward less crisp), low-temperature-roast chicken, and good tomatoes that aren't square, pale pink and covered with Mestizo E.coli:
cbd dot aoshq at gmail dot com
. Any advocacy of French Toast with syrup will result in disciplinary action up to and including being
nuked from orbit.
And yes, shaking a Manhattan is blasphemy...it's in the Bible!

posted by CBD at
04:00 PM
|
Access Comments