« Saturday Gardening and Puttering Thread 3/21/20 [KT]
|
Main
|
Stay Calm and Comment in Place »
March 21, 2020
Ace of Spades Pet Thread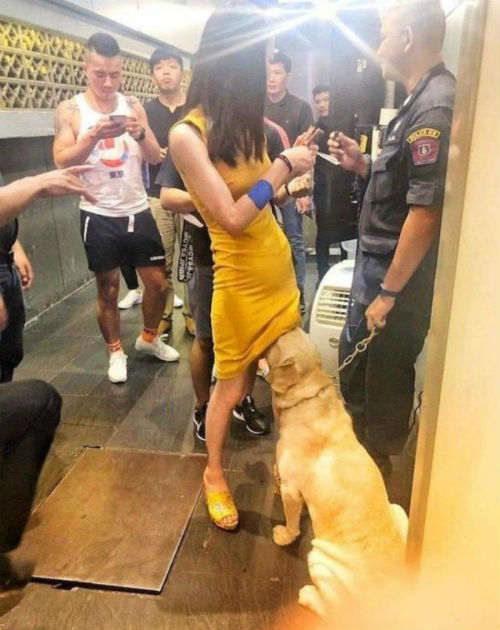 (Add your own caption)
***

Good afternoon pet and animal lovers and welcome to the almost world famous Ace of Spades Pet Thread. Forget about Kung Fu Flu, the leftards and enjoy the world pets. Let us talk about happy times and memories of pets and leave the current events to a different thread.
***
A Little of This. A Little of That.

Well our regular contributors obviously have a life and I didn't hear from them. So the links this afternoon are scarce.
***
Is this one of those things that sounds good on paper and backfires spectacularly?
***

Who says cats can't be helpful?
Meet The PetMorons

The In-Box was a little sparse this week.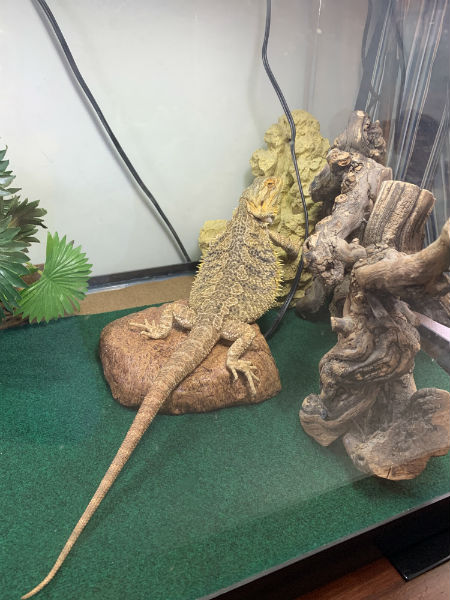 This little girl showed up Friday afternoon. My son found her at his college. We will be her third owners - the previous folks just didn't have the time to care for her properly. She's a bit undersized but is fairly energetic, and has already won us over. Here she's enjoying a heated rock, a heat lamp and a couple of high output UV-B lamps. - Chris?
This submission came from a person who didn't identify himself or give us a name for the PetMoron. If you're around today, come on out and tell us about yourself and this Rescue Dragon.
***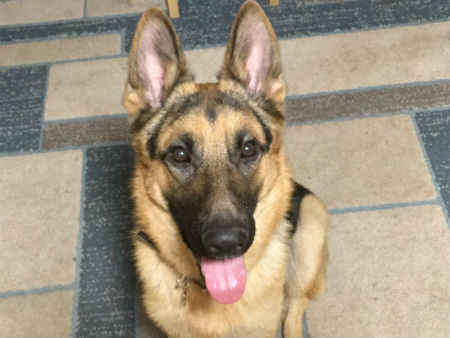 Got new buddy from local pound (Hillsborough county Fl). last fall was tough, euthanized 2 gsd's one for hip displasia and one with
Canine degenerative myelopathy. This is 1 yr old Günter. Hope he has a long healthy life. - Unidentified Proud Pet Owner.
Gunter's human forgot to give us his name today. It's miserable to put down a pet. It's really miserable to put down two in a season. This guy looks like a wonderful companion. Here's hoping for a happy and healthy life.
***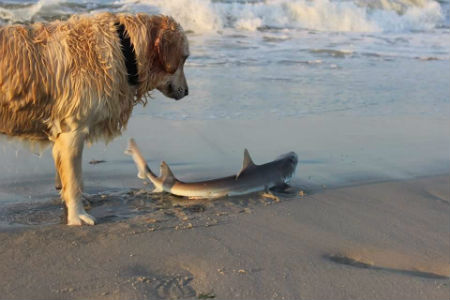 Howdy Mis. Hum. Long time lurker trapped behind enemy lines in NY. Wanted to be part of the Pet Thread and share some pics of our rescue dog with fellow morons & ettes. Really the doggie rescued me and the wife and made living here bearable.

This is Knut with a hard K. The wife is German and named him after an orphaned polar bear raised at the Berlin Zoo. You could kinda see a resemblance to a polar bear when he was a pup. At least that's what the wife said. I dunno. Check the Welcome Knut pic and decide for yourself.

He's a golden retriever/lab mix. We found him in a shelter in a cage sitting under a water bottle with water dripping on his head and I knew he was my guy. His front left paw is splayed out to the left which is probably why he was given up in the first place. Doesn't seem to bother him although he can't run very fast or for very long.

Knut has a great life. He's six now and loves to go swimming. His backyard is a bay and two blocks south is the ocean. The first pic is him wearing his safety goggles because as you can see in the second pic he sometimes encounters wildlife on his journeys.

Thanks for the Pet Thread. It really starts Saturday off in an upbeat way.

Sincerely,

Botched_Lobotomy

PS - No sand sharks were harmed as Knut has no idea what to do with slimy, wiggling things on the beach and this guy was helped back into the ocean where he'll probably grow into a great white and return to bite me one day.

Thanks for contacting us. Knut may not be the perfect dog but he's perfect for you and that is all that matters. We appreciate your kind words here at the Pet Thread.
***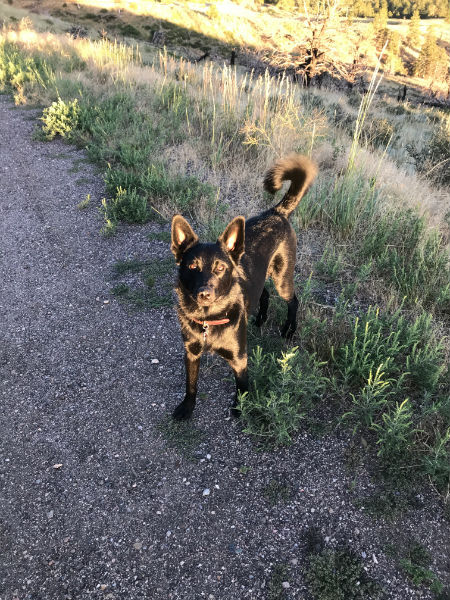 This is my rescue pup Jet. She is now 1 1/2 years old and came out of the Wind River reservation up in Wyoming. These images were taken around 9 months of age, and we have had her a year now.
Macknabs are a willful breed and need firm training, but they're smart and gifted herd dogs. She is gentle with chickens and other fowl, but will nail a back-talking calf or cow in a heartbeat.
What she really loves though is killing rats, as the lower image demonstrates. All in all a super dog all the way. - Cliff Dweller
It certainly looks like you have quite the working companion there. It is how amazing dogs can thrive if they are placed into the right environment. Thanks for sharing.
***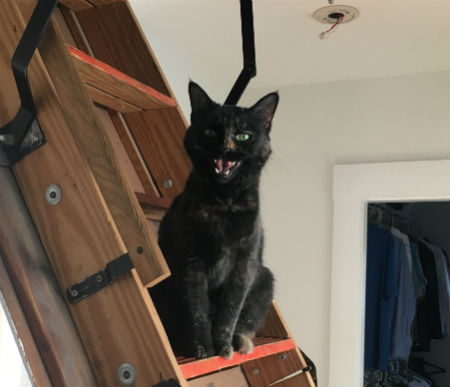 This is my sisters cat Fiona, Fifi for short. Fifi came into my sisters life about 15ish years ago and has been spoiled rotten ever since. Fifi is kind of mean. She doesn't have a lot of love for her fellow man, but she certainly loves my sister. In this pic she is showing her love! - Jennifer
So that's love? Perhaps a reason to visit the ER? J/K. Its good to know you get along with your sister and are impressed by Fifi. Thanks for sharing.
***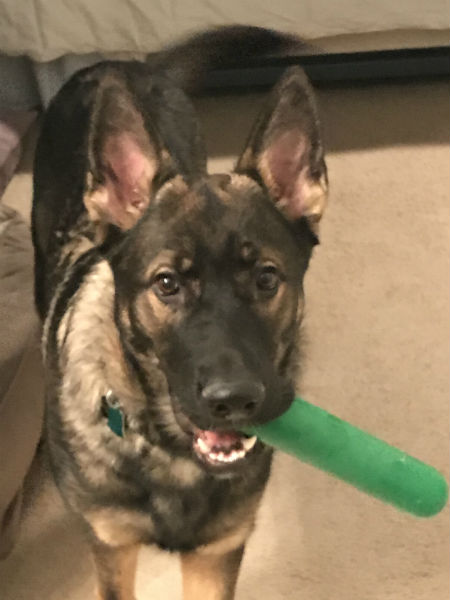 Hi Mis Hum.

Thanks for the pet thread. I love how there are so many morons who love animals. This is our 11 month old German Shepherd, Luca. He's one of the happiest dogs we've ever had. He's my therapy dog in a sense. Coming home from a road trip and being greeted by him is a blessing. He's also a great protector of our family. Here he is doing his Winston Churchill imitation. - RedinaBlueState

Wow, 2 GSD today in the Pet Thread! Awesome looking pup there Red. You know what millions of pet owners know, pets are therapy animals. Thanks for the kind words. We appreciate you reaching out with Luca's story.
***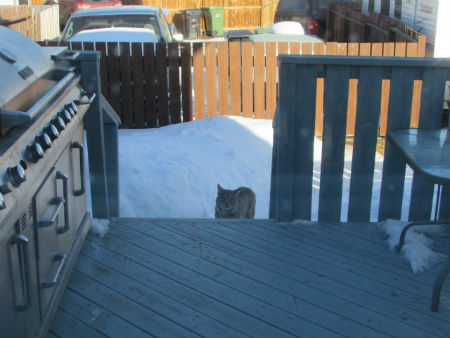 Had this fine feline visit me in southeast Calgary, Alberta late in February
No pet, but a magnificent (bob)cat nonetheless
Cheers
Beardy

That is quite the sighting. Bobcats are one of those mysterious animals that don't show themselves that often. Great timing at the right place. Thanks for thinking of us!
***

What we lack in quantity of pets we made up in quality. A great group of animals and a great group of Morons. Thanks folks.
Do you have something you wish to share with the Pet Thread? Please submit your stories, links, photos, etc. to petmorons at gmail dot com.
Have a great week!!!

posted by Misanthropic Humanitarian at
03:00 PM
|
Access Comments