« The Morning Rant
|
Main
|
After Another Disappointing Primary, Bernie Sanders "Assessing" His Campaign... Again »
March 18, 2020
SJW Marvel Outdoes Itself, Creating an Entire Super-Team of SJW Stereotypes
You might immediately think, "Oh, SJW Marvel is making fun of SJWism, that's progress, right?"
Oh, no my poor sweet naive babies. They're not making fun of it. They're celebrating it, embracing it. They called two characters "SafeSpace" and "Snowflake" to take those words back from the H8rz!
Yes, "SafeSpace" and "Snowflake." I'm not making those up.
85 I shocked that the names "landwhale" and "hugbox" weren't used. Posted by: Surfperch

Other characters: "Trailblazer," a healthy-at-any-size obese black teenaged girl. Marvel makes all black women lesbians (yeah it's weird, but they seem to be employing the "Why have a two-fer when you can have a three-fer" rule), so let's just guess she'll be gay.
What's her -- I think -- power? Well, because we really want to Relate to the Youth, she has a... "magic backpack of divine origin."
What it does, I don't know. But it's a magic backpack, because teens love backpacks or something.
This is real. I say again, this is real.
"Screentime," who is the internet come to life, a geek "obsessed with memes." This "character," and I use the term very loosely, was "exposed to an experimental internet gas" (what?!) and now permanently connected to "the world wide web."
An experimental internet gas? What the living fuck is that?
Are you retarded?
Oh, and there's a "Goth kid" -- Marvel is so relevant to the kids of today! -- who was given a dose of the "living vampire" formula and so is a half-vampire. This Goth has a bad attitude and craves blood. So its name is... "B-Negative."
Guys, I'm not making this up. And no, this is not a parody. Marvel means this seriously.
Then you have "the twins." SafeSpace is a black male who has purely defensive force fields. His twin, "Snowflake," is "non-binary" and refers to themself as "they/them." Snowflake can conjure and throw "snowflake-shaped shurikens (ninja stars).
As Comics Matter points out: this is a typical Marvel thing now, inverting usual gender roles. The male character is defensive, the trans character (who is drawn to look female) is of course the offensive powerhouse.
This is just rote for Marvel. It's not surprising because they literally always do the same thing. Any chance they have to "subvert your gender expectations," they take it.
This includes drawing all women to look like men. Yes, they do that now. "Carol Danvers" is called by critics "Carl Manvers," for good reason: She's drawn as a buff man. Sebatstian Bach of Skid Row seems to be their main model for "her." Dave Mustane is another doppleganger for Marvel Comics' Captain Marvel.
Oh, and another black character who is gay/trans. Once again, Marvel's creepy agenda with turning every black character either gay or trans is in full effect.

Comics Matter underlines the fact that although "writer" Daniel Kibblesmith was the right age to collect the New Warriors when it first came out, he did not, because one character had blades projecting from his wrists and he was "intimidated" by the... imaginary drawn weapons.
Are you kidding me. Are you kidding me.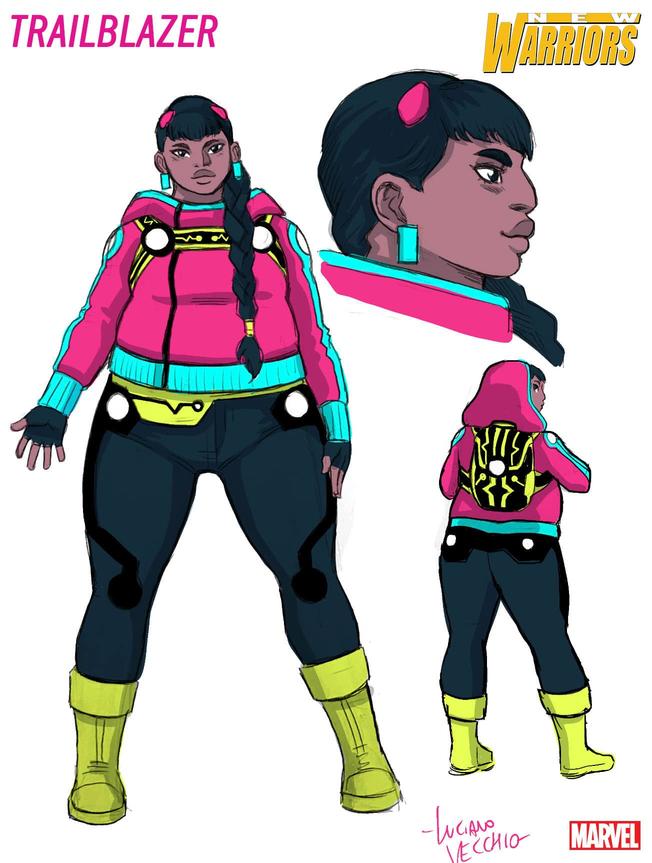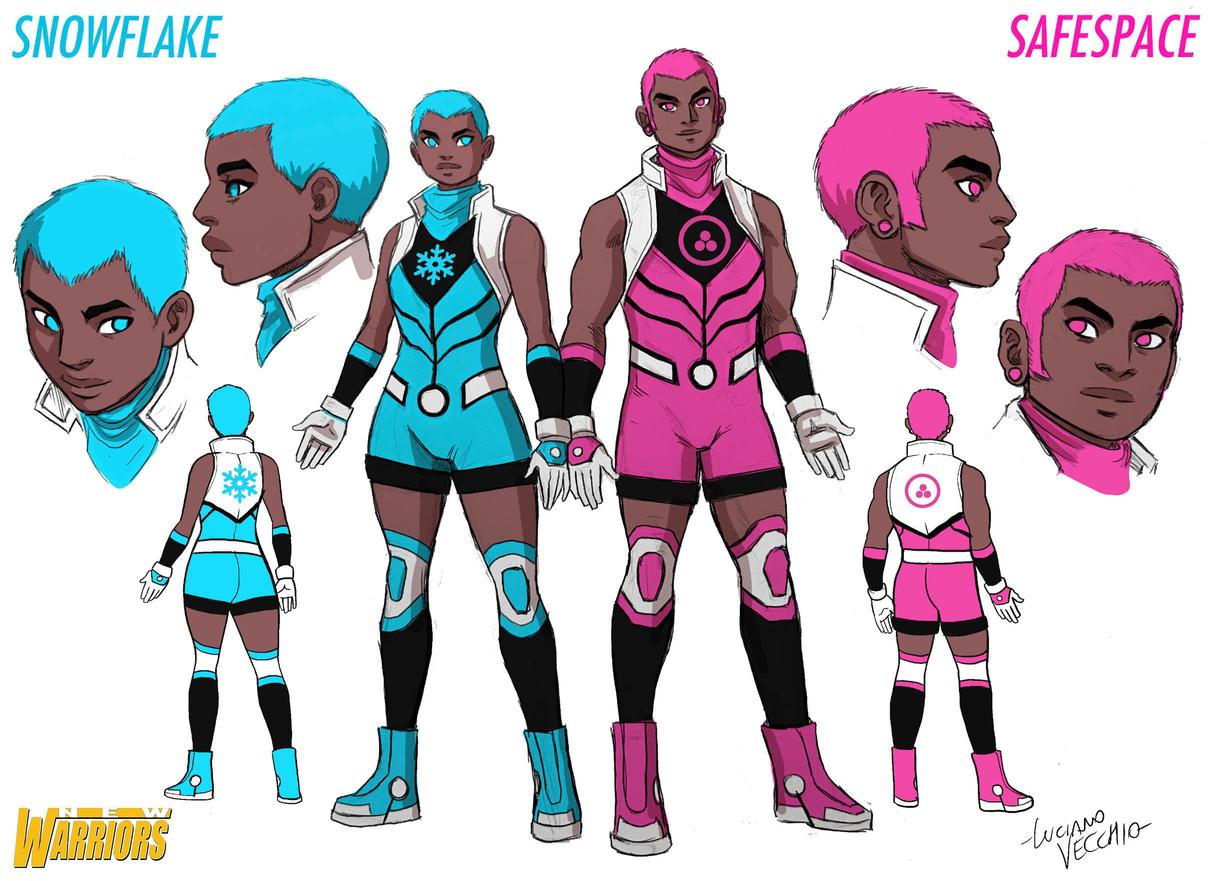 Note today is not April 1st. You know they realized, "We had better rush out this announcement now, because the closer we are to April 1st, the more likely people will think this is an April Fools prank."
But it's not.
What I love here is that millions of "normies" think Marvel is cool because they know it from the movies. They assume Marvel Comics must also be cool. They don't read Marvel Comics (almost no one does) but they just assume it must be a cool thing to be into.
No, it's the most embarrassing, cringey thing ever, and every month they try to make it worse.
These characters won't ever make it into a Marvel movie, but normies who go to Marvel movies are about to hear about them and Marvel's value as a cinematic IP is about to take a steep dive as millions of people realize that Marvel is a company of soyboys and genderfucked weirdos that only creepy dweebs could possibly like.
Here's a real book that Daniel Kibblesmith wrote previously -- so you can see why an action-oriented, male-skewing comic book company snapped this Soy Amoeba up.
Here's Daniel Kibblesmith compared to the sketch Ethan Van Sciver did of every (non-obese) soyboy:
It's uncanny how accurate the Soyboy Sketch is. He has a sketch of Soyboy Model 2, for those who are obese, and that's always accurate for that type.
By the way: Marvel Comics' Vice President in Charge of Creative Direction (or something) is named Sana Amanat. She is a cousin of Huma Abedin and herself connected to the Clintons and the Democrat Political Machine. Whenever she talks about what creative direction she's taking the company in, the answer is always about feminism, transgenderism, etc.
Never about anything but SJW identity politics.
This is Marvel Comics.


posted by Ace at
11:59 AM
|
Access Comments