« The DNC Moves to Protect Its Geriatric, Immunocompromised, At-Risk Candidates, "Social Distancing" Them From the Voters
|
Main
|
Ilhan "Omar" Nur Has Now Beaten Charlie Sykes for Marriages »
March 12, 2020
Is Guy Benson Paid to Spread Misinformation, Or Is He Just Lazy, Uninformed, and Uninterested in His Actual Job?
Maybe it's time to contact Twitter about @guypbenson's constant pushing of fake news and misinformation he got from RUSSIANS and his liberal twitter buddies, but mostly his liberal twitter buddies.
Here, Guy Benson transmits the fake news spread by liberals that Trump will be holding a Cory Garner fundraiser at the White House.

But Trump's not talking about a fundraiser, but a roundtable on conservatism. Guy Benson's liberal twitter "sources" didn't bother to check their facts, so obviously Guy Benson didn't bother to check either.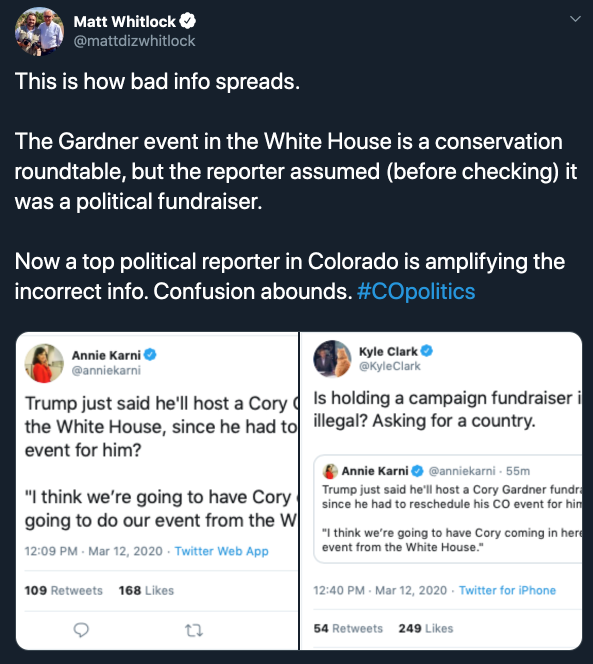 He's got more important things to do, like appearing on Fox every five minutes to expose his complete vapidness and lack of knowledge.
When Guy Benson, pretend TV conservative, isn't spreading fake FusionGPS-level disinformation about Trump holding fundraisers at the White House, he's spreading fake FusionGPS-level disinformation about Trump not testing anyone for coronavirus.
Here, Guy Benson, professional ignorant bimbo appearing on Fox every five minutes to parrot the CNN line, spreads the fake news that the CDC is only testing 77 people per day... without noting that the reason the CDC is testing so few people is that the job is being done almost entirely by private laboratories.
But once again: Guy Benson is so eager to twit out a liberal "twitter sources'" fake news he's got no time to do any fact-checking himself.
I guess he's late for his next Fox hit!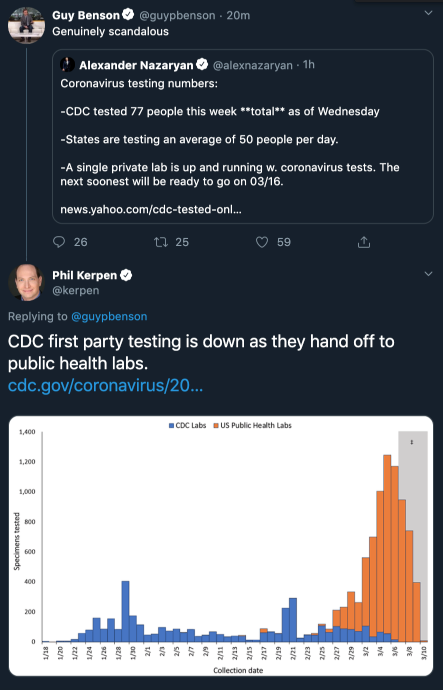 People are trying to get this Professional Retweeter to retract or READ something besides Jake Tapper's twitter feed for once, but I doubt he will. He's got a lack of credibility to protect.
When Guy Benson isn't retweeting mainstream partisan Democrats, he's retweeting fringe FusionGPS loyalists and Iran Echo Chamber members like Laura Rozen, defending his open borders corporatist masters' agenda:
Yes, Guy, why would travel restrictions help slow the spread of a virus largely spread by people from infected areas traveling to non-infected ones?
One of the things I hate most is our class of clueless, credential-free professional bloviators moving from one show to another, one topic to another, speaking authoritatively about subjects they know nothing about.
One thing I've noticed they do to hide (barely) the fact that they have no idea what the fuck they're supposed to be talking about is that they shift every discussion from one about the substance of the debate to an easy-breesy gabfest about optics.
Because "optics" are something literally anyone can have an opinion on. It's how things look. You don't need to know a thing to say how something looks to you, and that's why these clueless incompetents always shift the discussion to "Muh Optics."
It was in fact Guy Benson I was watching when I first noticed this "Muh Optics" gambit.
Amanda Carpetner, another Affirmative Action "conservative" hire, is all about Muh Optics, too.
And here Guy is again, babbling about optics:
By the way, this last complaint isn't just about Guy Benson. If you don't know how these shows book their "contributors" -- they just book you for a slot on a day. They do not pick you because you are knowledgeable about the topic they'll be discussing; they often do not even know the topic -- they'll tell you the topic on the day of the appearance, sometimes an hour or less before. And you'll just have to come up with complete bullshit to babble about to eat up five minutes of Fox "News" time.
So, a lot of these Idiots Without Portfolio fall into this "babbling about optics because I literally have no information whatsoever on this topic" category.
Even when they tell you the topic in advance, they can change that (and usually do) at the last minute to reflect whatever story is Trending on Twitter that minute, giving you a very short time indeed for research and prep for the subject you'll be pretending to be an expert on.
Again: this isn't something Guy Benson invented. Fox invented this.
But Guy Benson is definitely playing the Fake Expert for Five Minutes game.
This raises two big questions:
1, When you see one of these non-expert "contributors" like Guy Benson come on, maybe it's time to change the channel or make a sandwich. Because he's literally just booked to fill time between commercials for Centrum Silver, and for no substantive reason. You will literally come away from his five minute babble-off stupider than you were before, because you'll learn nothing from him, and your brain will degrade from passivity and marinating in ignorance during the time you watch him.
2, why does someone like Guy Benson agree to be guest talking about things he's not even apprised of in advance, and which will almost always be far outside any claim or relevant expertise he could make? He doesn't need me to tell him he has absolutely no expertise in anything except wearing a Sharp Blue Blazer With Big Brass Buttons With Sporty Anchors on Them; he knows that. (I hope he knows that.)
So why does he do it?
But every day he comes down with a bad case of Twitter-Related Sudden Expertise Syndrome.
Currently he's a fucking Doctor of Epidemiology working for the Twitter CDC. He's hitting the "retweet" button with the beakers and Erlenmeyer flasks he's cooking up vaccines in.
When you waste your time listening to Guy Benson, you're literally wasting your time listening to a guy who might have found out the topic he's supposed to confidently expound upon a half hour before he started confidently expounding upon it. And then he did twenty minutes of "Twitter Research" to form his expert opinion -- if he was feeling particularly diligent and energetic that day.
That applies to 90% of these very fake "contributors" who contribute literally nothing except some microbrained pablum Fox can call "content" between commercials for Trulicity. A precious few contributors are so widely read and keep up with major stories in such detail -- and have a very high general intelligence -- that they can parachute in and speak intelligently about almost any subject given an hour's advance notice.
But most people... most people are Guy Benson. And his co-host, Marie Harf.
But to Guy Benson specifically --
Hey, you stupid lazy incompetent bubbleheaded fuckboy-- how about you start taking more of a professional interest in your supposed job of "journalism" and spend less time mindlessly hitting "retweet" on Twitter?
You know, you're allowed to take more than five seconds between reading a liberal twitter buddies' tweets and hitting "retweet," right?
Or is your retweeting the "show prep" you're doing for your six hits on Fox today?
Update: Or is it MSNBC today?
5 Yeah, him and Noah Rothman were having a 'Who Can Get Booked on MSNBC first' race last night.

Cucktacular.
Posted by: El Kabong
125 >>>Is he the one with the beard?

no, he's the one who looks like Lieutenant Data attending a yacht party.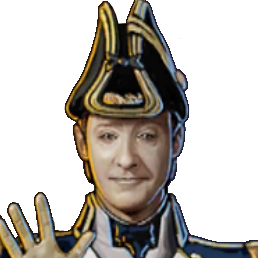 Illustration suggested by All Hail Eris.

posted by Ace at
02:06 PM
|
Access Comments