« Sunday Overnight Open Thread (3/8/20) My Dog Hamster Ate The ONT Edition
|
Main
|
Mid-Morning Art Thread »
March 09, 2020
The Morning Report - 3/9/20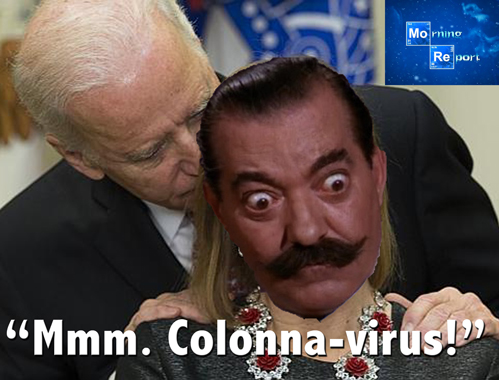 Good morning, kids. Start of a new week, minus an hour thanks to this daylight savings nonsense. In any case, the top stories remain the coronavirus, politics and how the former is now part of the latter in the last Leftist attempt to destroy President Trump's bid for re-election come November. Frankly, unless and until G-d forbid corpses are piling up in the street with blood draining from their lifeless bodies, I think Trump will win a second term, and handily. Yes, I understand that the economy is swooning because of the problems caused by the outbreak yet despite the Democrat-Media Complex attempting to assign blame to Trump, like everything else over the last almost five years, I don't see it as something that's going to be effective. In fact, what's going on only underscores the correctness of the President's wanting to liberate the American economy from China and his tariff policies. As far as lifeless bodies in the street with blood draining out of every orifice, that's part and parcel of the average day in inner city Baltimore, Chicago, Los Angeles, New York and every other area controlled by Democrats. And it's not the coronavirus; it's sudden lead poisoning causing all the carnage.
We'll get to all of that in due course because, despite the numbers and the reality of people contracting the virus, it's not the Andromeda strain so let's dive right in to the race for the Dem nomination and ultimately the White House. The big story over the weekend was the sudden replacement of Mick Mulvaney as chief of staff with Mark Meadows. The North Carolina congressman, who announced his retirement in December has been a staunch Trump booster as well as performed spectacularly during the Schiff show impeachment kangaroo court. As for Mulvaney, he was a bit gaffe-prone this past year and so as we head in to the home stretch to November, putting in someone who can handle the media and has Trump's back is a solid move.
As far as the Democrats are concerned, the polarization between the Trotskyites and the Maoists continues apace. Kamala Harris, who ripped Biden over his longstanding camaraderie with Democrat segregationists and other race issues like busing, suddenly has total amnesia and has come out to endorse him. I assume she's auditioning for the veep slot. On that note, Aimless Klobuchar had a bit of a Freudian slip and alluded to the fact that she might be being sniffed out as a running mate.Meanwhile, racialist demagogue Jesse Jackson has come out in favor of Bernie Sanders. Go figure. Elsewhere, an essay warning that Biden is not going to be the patsy/pushover that he appears to be, yet the DNC is changing debate formats to both protect him as well as screw over Tulsi Gabbard. On on a stage sandwiched (no, not a Kennedy/Dodd special) between those two old geezers and no one else, she'd doubtless look and sound reasonable, rational, and someone who in theory could attract voters. And yet, we have Elizabeth "Fauxca-Has-Been" Warren and other Democrats bitching about misogyny being the reason for the latter's failed candidacy. As Daniel Greenfield notes, Warren only got the support of one in four women, so go square that circle. I guess Gabbard's blood feud with Hillary put the kibosh on her chances. Oh well.
Elsewhere, Bernie Sanders, the man of the proletariat is being funded by anything but, some of Little Big Gulp Mike Bloomberg's ex-staffers were cashing his paychecks while sabotaging the campaign for Bernie, forget the comparisons between Trump and Bernie; the latter is not a populist, this Red-for-Ed commie front group is sliming Trump ahead of tomorrow's Michigan primary, Jackie Speier (D)-Jonestown, is all concerned about Trump's rally-goers getting coronavirus and depressing the Democrats with their size but mostly the latter, the President will be skipping Malig-Nancy Pelosi's St. Patrick's Day luncheon of corned beef and bile, that NC citizen who went on a pro-2A rant has won his primary race, can Trump turn California a bit more purple this time around, Rabbi Fischer on the Dems virtue signaling yielding two grumpy old white men, prospects for Andrew "Out-the-Ying" Yang winning Gracie Mansion, from City Journal "facing a difficult future, Pennsylvania's Trump-supporting mining communities are defiant and resilient," and if you needed any proof about what coronavirus is really all about, Rahm Emanuel confirms it.

NOTE: The opinions expressed in some links may or may not reflect my own. I include them because of their relevance to the discussion of a particular issue.
ALSO: The Morning Report is cross-posted at CutJibNewsletter.com if you want to continue the conversation all day.
Follow us on Twitter: @CutJibNews


posted by at
07:34 AM
|
Access Comments