« Look At Me, I'm ONT. Lousy With Mediocrity
|
Main
|
Mid-Morning Art Thread »
February 14, 2020
The Morning Report - 2/14/20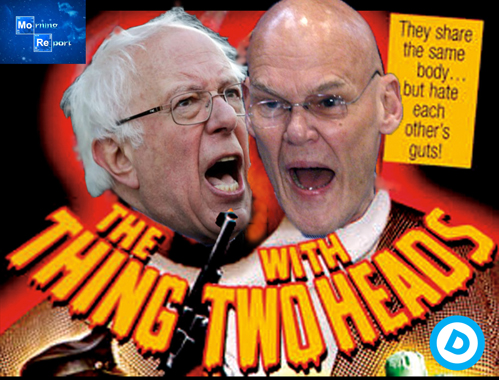 Good morning, kids. The weekend is here so let's begin with the latest act of complete Democrat desperation, which is the attempt to smear AG William Barr as some sort of rogue conspirator of the President to either derail or blunt what is sure to be the long-awaited indictments of the real coup against Trump and the American people. Yes, I know, many of you have your doubts given all that has come to naught before. Also, you could say, and rightly so, that the Dems are just reflexively flailing about wildly a la replicant Pris shot by Deckard. But if you just go on the assumption that Barr and John Durham by their impanelling of a grand jury are serious, then the Democrats reaction makes even more sense. Personally I am hoping that they indeed are quaking in their boots and if Andrew McCabe should find himself cuffed and led off the CNN set on live TV for everyone in Terminal 5 at JFK to see, that would be satisfying enough for me. But let's not start tasting each other's nether regions just yet.
That said, the latest kerfluffle is over AG Barr's "rebuke" of the President's commenting about the outrageous sentencing of Roger Stone as supposedly interfering with his ability to do his, Barr's, job. Ace covered this yesterday but from my perspective, this too will come to naught. Meh, it could even be a head-fake to throw the Dems off the scent while the hammer falls on them from out of the blue. Whatever may or may not be happening between the President and the Attorney General, I think the salient point is the Democrat-Media Complex is in full attack mode as it is trying to destroy the man by labeling him Trump's "Incredible Two-Headed Transplant" of Roy Cohn and Lavrenty Beria, so for them to suddenly back up and say "hey, the President is interfering with the attorney general!" would be ludicrous in the extreme. Meanwhile, Deep State stooge and ex-chief of staff John Kelly is opening his pie hole to criticize the firing of lower-level termite Field Marshal Alexander Vindbreaker, to which PDT naturally retaliated, drawing John "Twain-face" Bolton into the fray to defend Kelly, calling on conservatives to reject Trump.
Look, after the beat down and subsequent grinding into the dirt of the Democrats after the failure of sham-peachment and their rutting monkey display of public masturbation and feces flinging at the SOTU speech, Malig-Nancy Pelosi and her minions would truly be certifiable to even talk about let alone go forward with more investigations and another round of sham-peachment over AG Barr doing his job. And yet, all signs indicate that that is exactly what they are going to do. The last thing the Dems need is for America to see the Democrats tear each other apart over which one is the least anti-American communist candidate. But, thankfully, I think it's too late for that, as we will explore in a minute.
Elsewhere, Mollie Hemingway dissects Chuck Todd's idiotic statement about FISA abuse and the thoroughly corrupted DoJ, while Margot Cleveland has a story on the continued persecution of General Michael Flynn. More and more, it is now evident that he was set up and taken out early because he was hell bent on day one of clearing out the Obama-Clinton nest of termites and traitors that have been eating away at the vitals of the administration. If there is justice, he will be fully exonerated and restored to his post as head of the NSA where he can preside over that agency's complete dismantling in Trump's second term. Seb Gorka underscores that with his call to weed out and completely eradicate every last Vindman. Make it so.


CLINTON/OBAMA COUP, CONGRESSIONAL PERSECUTION, SPYGATE, DEEP STATE, MUELLER DECEPTION, SHAMPEACHMENT

NOTE: The opinions expressed in some links may or may not reflect my own. I include them because of their relevance to the discussion of a particular issue.
ALSO: The Morning Report is cross-posted at CutJibNewsletter.com if you want to continue the conversation all day.
Follow us on Twitter: @CutJibNews


posted by at
07:49 AM
|
Access Comments