« Is It Time To Cut Puerto Rico Loose, Or Completely Take It Over?
|
Main
|
Gun Thread: The CMP 1911A1! [Weasel] »
February 16, 2020
Food Thread: Peanuts And Zero-Proof Drinks And Unicorn Butt Cake: One Of These Sounds Good!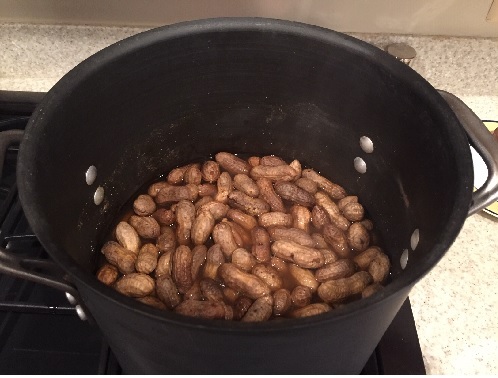 Boiled peanuts. Goober peas. Whatever you want to call them, they are loads of fun to eat! I remember as a little kid, driving through the South with my family and stopping for gas and a bag of boiled peanuts. And then getting in trouble for making a mess, but that's another story.
Above is Weasel's version, which is a strong indication that the recipe is...um...uncomplicated. He's a man who struggles with multi-layer sandwiches like peanut butter and jelly on toast, so if he can make them, you can too!
I don't remember any flavorings besides salt, but it is, at least according to the internet, very common to spice them up with all sorts of stuff. I think I'll try it, although finding green peanuts might be tough in the wilds of New Jersey. Not really...the internet has everything.
******
Whole Foods has moved into the fringes of the far-left part of the progressive mainstream of supermarkets, but if this ridiculous list is any indication, they have a long way to go before I start shopping there for more than a few particular items.
10 Food Trends To Look For In 2020, According To Whole Foods
Get ready to say yes, way to zero-proof aperitifs, see West African cuisine rise to prominence and say goodbye to tired and staid kids' menus. Whole Foods Market just released its list of 2020 food trends to watch for and topping the list of predictions is a continued focus on eco-conscious eats.

More than 50 Whole Foods Market staff members including local foragers, regional and global buyers and culinary experts put together the list of 10 food trends based on consumer preferences data, their own product sourcing experiences and what's been popular at food and wellness industry exhibitions. Here's a look at the food that will be popping up on plates in the year to come.
Where to start...where to start?
How about a big LOLGF? This list is a mass of hipster douche-bag SJW crap, with every leftist political meme inserted into what should be an easy and uncomplicated experience...buying food for the family. But no, they have to thrust their soppy, ahistoric, innumerate, ignorant-of-basic-economics blather into the mundane task of going to the store for dinner.

******
I mentioned to commenter "Roscoe," when he sent me this photo that I had eaten vegemite a long time ago while visitng Australia, and I am still traumatized by the experience. I asked that he explain the deeply psychotic reasons why he eats the stuff!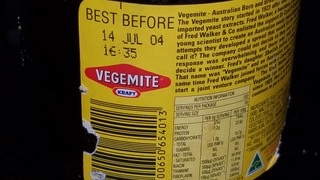 I missed it by only 28 years?!?

Now I regret eating my last jar too quickly. It was probably pre-WWII.

I'm originally Aussie. And a love for black, salty, foul-smelling, brewer's-yeast extract is something that all right-minded Aussies grow up with and proudly exercise. It's another one of the primary things that makes us distinct from & superior to Kiwis, let alone the English.

Regarding your encounter, a few years back at my work we were asked to "bring a plate" for some occasion. I brought Vegemite sandwiches. There are a few co-workers who still remember being traumatized by that experience, I can tell you.
******
Commenter "Butch" emailed with the unsurprising news that I am completely full of shit when it comes to "Balsamic Cream Sauce." Remember the roasted onions with what I thought was going to be a balsamic reduction? Well...I was spectacularly wrong.
BALSAMIC CREAM SAUCE
Why you people listen to me is beyond all reckoning. Except for that whole maple syrup brouhaha. About that I am 100% correct!
******
Long-time lurker "RS" has sausage on the brain, just like me! But he is luckier than I...
What purports to be the oldest continuously operating restaurant in the world serves only bratwurst cooked over a charcoal grill, It's on the banks of the Danube in Regensburg, Germany. The sausages are authentic Bavarian brats which are the diameter ob our breakfast links and the length of a over-sized hot dog. They are divine. I've eaten there many, many times.
Here's the restaurant's
website
, the
menu
, and it even has a
wiki
entry!
******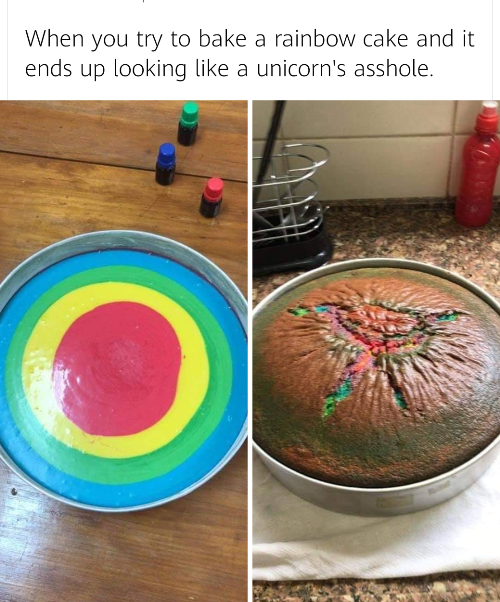 [Hat Tip: ibguy]

******
Food and cooking tips, Large-breasted Muscovy ducks, well-marbled NY strips, bartenders who use vermouth in Martinis, crisp bacon (although I am moving toward less crisp), thick and fluffy pita, and good tomatoes that aren't square, pale pink and covered with Mestizo E.coli:
cbd dot aoshq at gmail dot com
. Any advocacy of French Toast with syrup will result in disciplinary action up to and including being
nuked from orbit.
And yes, shaking a Manhattan is blasphemy...it's in the Bible!
&topic=world_news">
posted by CBD at
04:00 PM
|
Access Comments