« Food Thread: Peanuts And Zero-Proof Drinks And Unicorn Butt Cake: One Of These Sounds Good!
|
Main
|
Sunday Overnight Open Thread (2/16/20) »
February 16, 2020
Gun Thread: The CMP 1911A1! [Weasel]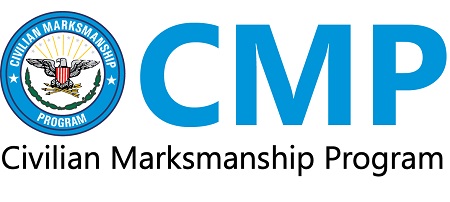 Last week, our pal The Walking Dude reported taking delivery of a surplus 1911A1 from the CMP. Whoa! What gives?! A 1911 from the CMP?! Who doesn't want some of that action? Let's find out more below, shall we?
NOTE: I'll be checking in periodically during the thread this evening so please don't burn the place down, 'kay? Remember, you're all Gun Thread Safety Officers!

******
According to their website, The Civilian Marksmanship Program (CMP) is a national organization dedicated to training and educating U. S. citizens in responsible uses of firearms and airguns through gun safety training, marksmanship training and competitions. The CMP is a federally chartered 501(c)(3) corporation that places its highest priority on serving youth through gun safety and marksmanship activities that encourage personal growth and build life skills.
They also do really cool stuff like selling and repairing old martial arms!
Yep. That's right. In a 2 year pilot program allowed under 2018 National Defense Authorization Act, surplus 1911 semi-automatic pistols were released to the CMP for sale to the public. Apparantly, the government was spending $2 million per year to store 100,000 surplus 1911s which had been replaced in 1985 by the Beretta M9. Here's a 2018 article on the program from the American Rifleman Magazine.
Anyhoo, Mr Lucky-pants Walking Dude jumped through all the right hoops and was a lottery winner, and agreed to his story:
Every year the CMP will receive up to 10,000 1911A1 pistols from military arsenals for sale to the public. The funds from these sales will support CMP (Civilian Marksmanship Program) programs. Pistols are inspected and sorted into 3 grades (rack, field and Service ). People who wanted to purchase a 1911 pistol submitted an application packet to the CMP. Packets were assigned a random generated lottery number The initial lottery they are still working through had almost 20,000 applications with lottery numbers assigned. When your lottery number comes up you are contacted by phone or email and provide payment prior to shipment. Two background checks are performed, an initial background check prior to shipment and another at the 01 firearms dealer the pistol is shipped to. I had submitted my packet in Sept of 2018 and was assigned lottery number 11,7xx. The scuttlebutt I'm hearing is that in 18-24 months they will be taking new applications.
For more information see 1911 Information - Civilian Marksmanship Program
Well danged if this isn't Gun Thread worthy! One of our own Morons scores and scores bigly! Congratulations, The Walking Dude! Can we see some pictures?
As promised here are some photos of the 1911A1 I just got from the CMP. Years ago I waited too long to order a M-1 Carbine and one day they were gone never to be seen again at that price so I did not make that same mistake with the M-1 Garands and now the 1911's they offer. I really wanted a war time 1911A1 because my Dad carried one through France and all the way into Berlin when it fell. He actually got a marksmanship medal for it, a pin that looked like a little 1911A1, in addition to the marksmanship medal for rifle which is a musket in a long blue box with a wreath. He said not many people qualified for the marksmanship medal for the 1911A1. He passed away in 2017. We are losing the greatest generation as they march off into time. Not many of them left.
Man, ain't that the truth. Great story, The Walking Dude, and thank you for sharing it with us. Now let's see those pictures!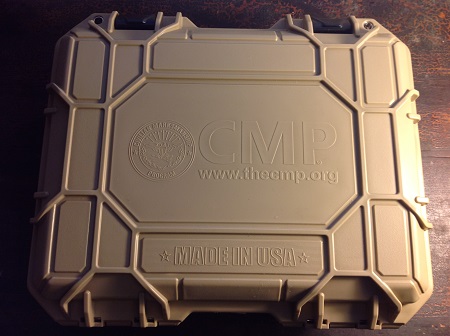 Shipped in a lockable case which much better than the cases used to ship M-1 Garands.
***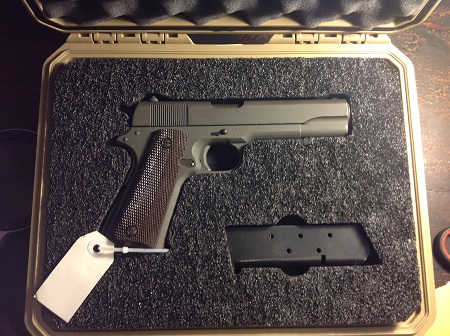 Nice foam insert with cutouts for the pistol and magazine.
***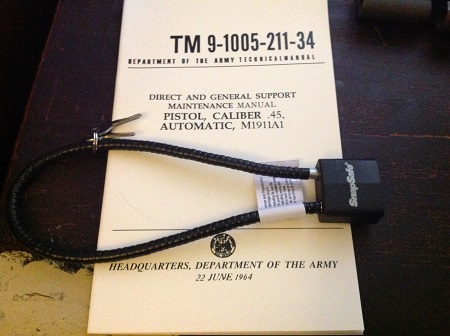 As a gun collector you learn pretty early that you need to look in every nook and cranny of these boxes. Underneath all the foam was an Amry tech manual for the M1911A1 and a lock to safely secure the pistol from young'uns.
***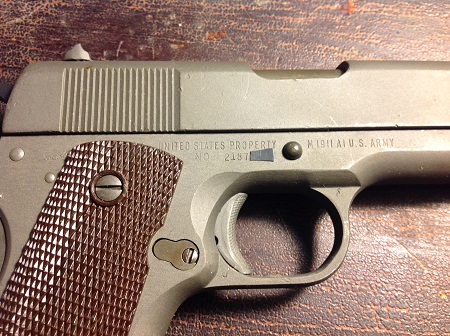 Markings right side. US govt property mark , SN (the large O in No. without a line under it indicates its the last marking iteration used by Remington Rand when they resumed production in 1943). From researching the SN it left the factory in March of 1945. To the left of the top of the grip if you look closely you can see partial stamp of the ordnance dept inspection (crossed cannons) which started appearing on pistols in 1942. Partial stampings of this are common. The 8 or & upper right of trigger and the J or 0 on the trigger guard directly below the trigger are some sort of factory inspection marks. I don't know what they mean yet and am still researching those.
***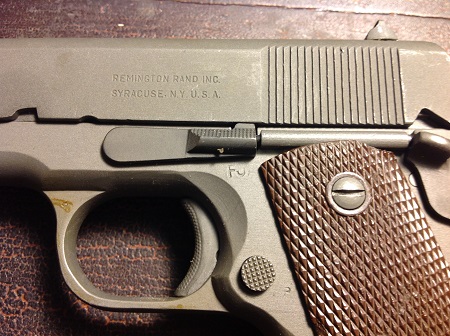 Left side of pistol- last of 3 iterations of Remington Rand Slide marking (shorter than the slide stop) which was used from SN 980000 until end of production. Notice P proof mark near magazine release button to right of trigger. Also notice the FJA to the upper right of triggers which are the inspectors Initials (Col Frank J Atwood) only found on Remington Rand and Ithaca frames.
***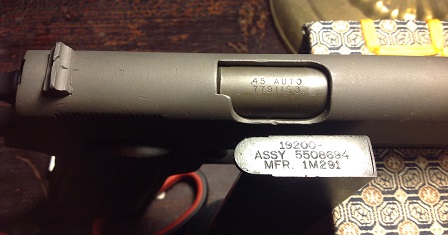 Top of slide and magazine heel- Notice P proof mark on top of slide to the right of the rear sight. The markings on the barrel indicate it is a govt contract barrel made after 1949 ".45 auto" and "7791193 " The 7791193 is the govt contract number. The magazine markings indicate it is a post WWII govt contract magazine made by Checkmate Industries.
***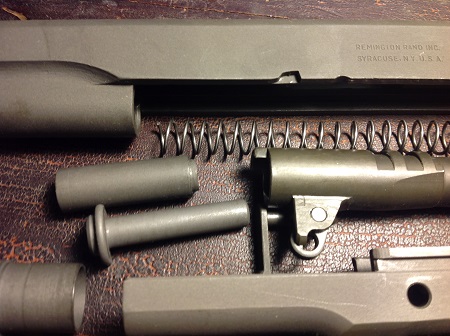 Disaasembled - the C in a box on the bottom of the barrel Lug indicates the post 1949 govt contract barrel was made by Colt.
***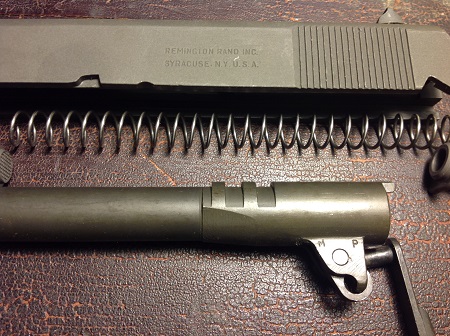 Barrel lug - other side.
***
Barrel Rifling- looks like new or very little use to me.
***
For more info on markings follow the Cool Gun Site link where you can find out a lot about these pistols.
The Walking Dude goes on to mention the CMP currently has lend/lease M-1 Garands returned from the Philippines for sale and he is waiting for a Winchester rack grade special which should ship out in a few weeks. For more information on the Garands they have see M1 Garand - Civilian Marksmanship Program.
******
Most of us remember Neon Madman as a collector of rare and unusual cartridges which he frequently shares with us. Well, he's obviously a pretty damn good shooter, too! I'll let his target speak for itself: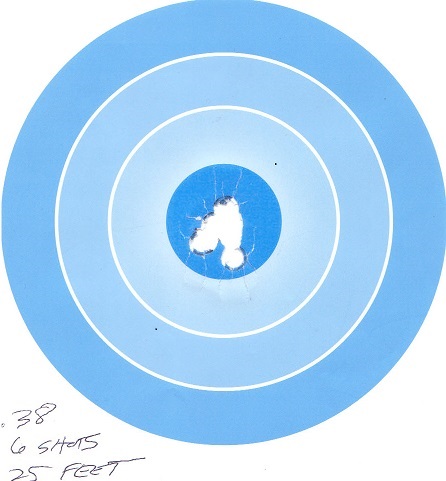 Damn, man! That's some nice shooting right there! What gun were you using?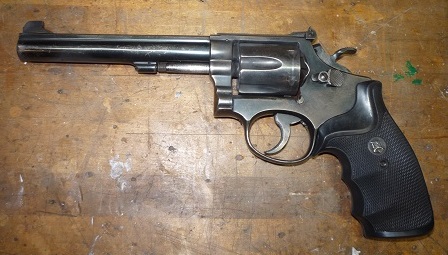 Sweet! A Smith & Wesson revolver, and a K38 to be exact. Neon Madman tells us:
I am mainly a target shooter, favoring .22 and .38 Special. I mainly shoot revolvers in single-action mode with a two handed hold and factory iron sights, although I'll also occasionally break out one of the autoloaders for variety. I sometimes save my good targets to take along and show to my dad when I go to check on the old folks on Sunday nights. The attached target is from a week ago, and is a personal best - 6 shots of .38 wadcutter from my old K-38 at 25 feet.
Those of you who have been reading here for long will know I'm a big fan of Smith & Wesson revolvers, and the K38 model in particular. They do not call this the Masterpiece for no good reason! I have lots of old guns and lots of new guns but for dead level accuracy and the simple joy of shooting, it's hard to beat the K38.
Very nicely done, Neon Madman, and be glad you have your dad around to show your targets to. Thank you for sending this in!
******
Not all threats to your gun rights come directly as a frontal assault on the 2nd Amendment. With alarming frequency, privately owned gun ranges and shooting clubs are being dragged into court over noise complaints and safety concerns. In many cases, these facilities have operated safely for years, a fact the sometimes new "neighbors" often brought to an area by urban sprawl, typically fail to appreciate.
A good example of the clash between neighbors and shooting ranges is the Panteo Sportsman's Club in Lexington, SC which has been taken to court by residents in their area. As reported here, the range owners assert they are operating safely and the neighbors claim to be living in a war zone.
People have a right to be safe on their own property, but people also probably shouldn't locate near a shooting range if they don't like the sound of gunfire. These situations will only continue to occur with increasing frequency. What do you think is the solution?
A big thanks to our pal Will, a member of the Panteo Sportsman's Club, for sending this in!
******
NoVaMoMe 2020!!
For those who might've missed it, NoVaMoMe 2020 was announced to great fanfare a few days ago. The NoVaMoMe, a Weaselbell Production, is pretty much the social event of the season, and one you simply cannot afford to miss! Well, at least it's the can't miss social event for May 9th between 5pm and 10pm in the small geographic region of Fairfax, Virginia. All of the details and instructions for claiming a spot can be yours simply by emailing the Central Planning Committee at the link provided on the main page, left sidebar; novamome2020 at gmail dot cee oh mmm. The email address is also usually linked in our nics. As of Saturday, we're about halfway to the 100 person maximum capacity of the new and exciting venue.
Our best buddy and planner/hostess extraordinaire bluebell was quoted recently regarding the big event:
There will be plenty of Horde spouses at the MoMe, some of whom read the blog, some of whom don't, and some completely apolitical. I want to assure everyone that MoMes are a place to relax and have fun and meet your grey-box friends in person, and rarely does politics even come up! Think of it as a big family reunion, only with people you actually like.
Totally not at shiv-point, I vigorously agree with all of bluebell's comments. For the introverts and lurkers out there, its a very casual, low-key, and FUN affair. I have been to a bunch of these around the country, and can honestly say nobody comes away thinking it wasn't a great time. Some people mingle and others don't. If hiding behind a plant in the corner and just observing is your thing, have at it! If dancing naked on a folding chair with Cheetos stuck in your nose is how you like to roll, you can do that too! You can be as involved or as barely involved as you like. I swear you will enjoy yourself, and if you don't believe me, which is always smart, you can completely believe bluebell!
Don't be a sad, sad loser, and miss an evening of food, drink, laughs and valuable prizes! Register today!
******
Link-O-Rama
I'm really very seriously not kidding around anymore. Buy Ammo
AmmoSeek - online ammo search tool
GunBot - online ammo search tool
SG Ammo
Palmetto State Armory
Georgia Arms
AmmoMan
Target Sports USA
***Mail Bag***
ibGuy brings teh funneh!
******
Please note the new and improved gmail account morongunthread at gmail dot com. An informal Gun Thread archive can be found HERE. If you have a question you would like to ask Gun Thread Staff offline, just send us a note and we'll do our best to answer. If you care to share the story of your favorite firearm, send a picture with your nic and tell us what you sadly lost in the tragic canoe accident. If you would like to remain completely anonymous, just say so. Lurkers are always welcome!
That's it for this week - have you been to the range?


posted by Open Blogger at
07:00 PM
|
Access Comments