« Saturday Afternoon Chess Thread 02-01-2020
|
Main
|
Saturday Overnight Open Thread (2/1/20) Bare Bones Edition »
February 01, 2020
Saturday Evening Movie Thread 02-01-2020 [Hosted By: TheJamesMadison]
Movie Music: A Celebration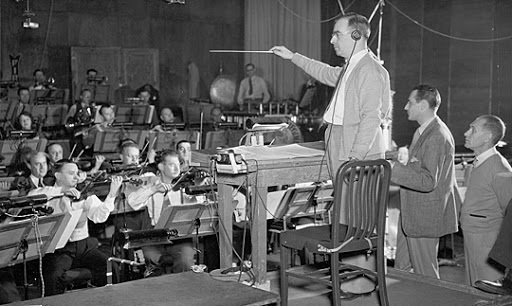 I don't know music. I don't have the vocabulary, education, or basic knowledge to talk about it with any real intelligence. I can read sheet music to a degree thanks to piano lessons when I was younger, but that's about it.
However, being a movie fan, I do get exposed to music a lot. Film music has gone through a lot of changes over the years. I can't speak with great authority, but it's obvious that the sort of thematic based film scoring that was prevalent for most of cinema's history is having a down moment. Written scores tend to be more tonal and generic, using rhythm to imply excitement instead of trying to be meaningful by itself.
So, based on the suggestion from Bean Counteress of Rohan, I'm gonna bring movie music back to the thread. I did this once before, focusing mostly on recent stuff that I liked, but I'm going to be pulling from much further back.
Don't expect much analysis. This is just music appreciation, not musical theory.
Early Days
I want to start with a small anecdote about the Marx Brother's first film, The Cocoanuts. It was one of Hollywood's first musicals ever, very early in the sound era. No one knew how audiences would react to the sight of people spontaneously breaking out into song on screen, so they decided to try and include an on screen band that would accompany the actors as they sang. They simply never included the band in the final cut, though, and audiences didn't care because movies are lies and they were okay with that.
Anyway, that score was written by Irving Berlin who went on to have a very successful career in film, writing scores and songs for dozens of films for decades including Top Hat. The song "Isn't this a Lovely Day" is a very nice example:

Another major figure in the earliest days was Max Steiner. He did a lot of work, but I always immediately think of his score for King Kong. It's big and exciting work. Probably not his best, but I have such a soft spot for that original Kong film and its innocent puppet that I pretty much forget everything else he ever wrote:

Adventure!
Erich Wolfgang Korngold is a name that I sort of recognize, but I know his music very well. In particular, it's his Oscar winning score for Errol Flynn's The Adventures of Robin Hood that I instantly know within a few measures.

In the same vein, we can highlight one of the great director and composer pairs in cinema, Bernard Herrmann and Alfred Hitchcock. North by Northwest is fun and fits the light adventure tone of the movie perfectly:

Some of his other work included the scores to Vertigo:

And Psycho:

Electronic Music
With advancements in technology, music moved into the electronic realm as well. One of the most famous of the electronic musicians was Vangelis, a Greek musician who, through the 60s and 70s worked his way through the Greek film industry and went to London. His breakout was the famous score for Chariots of Fire:

It was Blade Runner, though, that everyone seems to know him for:

And then there's his score for 1492: Conquest of Paradise, Ridley Scott's underrated Christopher Columbus film:

I wish I could talk more about this
I can't break down this stuff like I try to do the narrative elements of movies. I can do little more than sit back and say, "Yeah, that's pretty awesome."
Still, I can do that, and this post is essentially me doing just that.

Movies of Today
Opening in Theaters:
Gretel & Hansel
The Rhythm Section
Next in my Netflix Queue:
Hidden
Movies I Saw This Fortnight:
Thunderball (Rating 1.5/4) Full Review "Even Sean Connery doesn't seem as interested in the role as he had been. It's a slog of a film, and I find it, well, tedious." [Personal Collection]
On Her Majesty's Secret Service (Rating 3.5/4) Full Review "It keeps the formula in form but changes the nature of it, providing earned context to Bond's inability to stick with a woman for more than a single act of a single film." [Amazon Prime]
Midsommar (Rating 3/4) Full Review "Still, I got into it for enough of the film, and I really like what Dani goes through, even if it does get lost a bit for a time." [Amazon Prime]
Peeping Tom (Rating 4/4) Full Review "It's a really intellectual, almost literary in construction, type of film that still asks you to connect with a psychopath. I felt it at a distance the first time, but the second time, I knew that it was something special." [TubiTV]
1492: Conquest of Paradise (Rating 3/4) Full Review "It's not Scott's greatest work, but it takes a large subject and boils it down to a compelling theme that twists around its main character in interesting ways. It's a solid effort, and a quality entertainment." [Personal Collection]
1941 (Rating 3/4) Full Review "It's manic and chaotic, but I never felt overwhelmed or lost. I enjoyed it from beginning to end." [Personal Collection]
Bedknobs and Broomsticks (Rating 1.5/4) Full Review "The drama is completely empty. The highest moments barely have anything to do with our characters, functioning as empty displays of dancing, cartoon, and special effects." [Netflix DVD]
Monty Python and the Holy Grail (Rating 4/4) Full Review "It's tightly crafted humor at the hands of two surprisingly firm directorial hands (each in their first attempts) with varying styles that merge together really well. It's beautiful to look at, using the most out of their location shooting. It's fast at a quick 90 minutes, and it's consistently funny throughout." [Personal Collection]

Contact
Email any suggestions or questions to thejamesmadison.aos at symbol gmail dot com.
Follow me on Twitter.
I've also archived all the old posts here, by request.
I'll add new posts a week after they originally post at the HQ.

posted by OregonMuse at
07:03 PM
|
Access Comments