« Schumer: Our Kavanaugh Strategy of Carefully Sequenced Disclosures and Demands for More Witnesses and Investigations Will Probably End Tomorrow
|
Main
|
The Morning Report - 1/30/20 »
January 29, 2020
Wednesday Overnight Open Thread (1/29/20) Listener Commenter Sponsored Edition
If I remember my alphabet correctly, the following photos are listed in alphabetical order by commenters.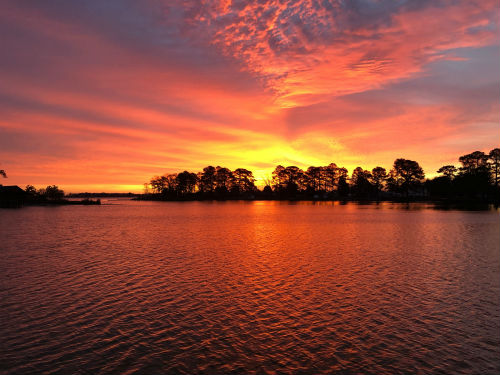 (Submitted by Hrothgar)
***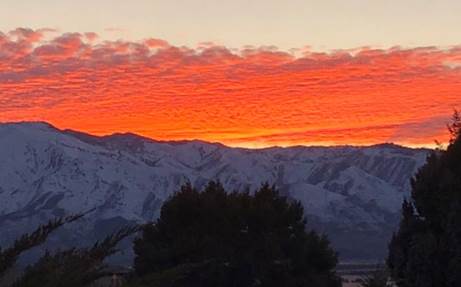 (Submitted by Legally Sufficient)
***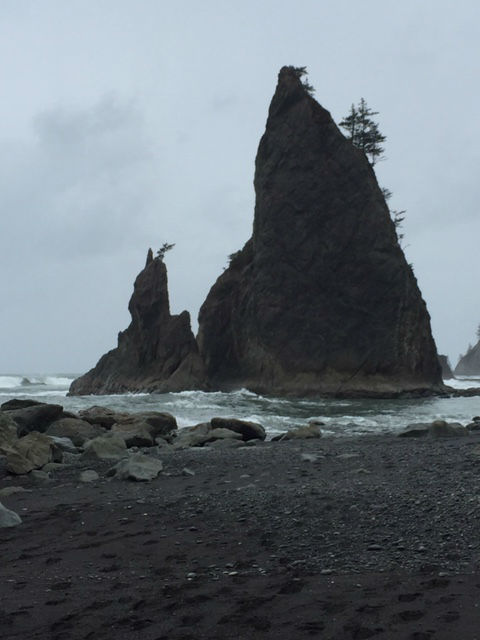 (Submitted by Nurse Ratched)
***
The Quotes of The Day

Quote I

No wonder they're all so angry. Had I lived my life in the grip of social media, I'd probably be an inmate in an insane asylum by now, or convicted of having raped that pachyderm Lena Dunham. Abused, trolled, bullied, incapable of having a relationship, today's youth have rap stars as heroes, and that includes the ghastly Kardashians and Hiltons. Social media is now the echo chamber where one hears nothing but one's own prejudices fed back to them. Their inner voice tells them that it's all the fault of the oldies, people like myself who don't care about the future. Bad, bad Taki. "Taki" Theodoracopulos

Quote II


"Democratic" bias in the polls coupled with an overwhelming liberal bias in the media means that one should certainly pay little to no attention to most every poll between now and mid-October, and absolutely no attention to mainstream media reports on polling, from now until the end of time. Trevor Thomas

Quote III

"Studies have shown that scent can reduce food cravings. Our sense of smell is strongly connected to our ability to taste therefore experiencing food related cues such as smelling a bacon aroma, can lead us to imagine the act of eating that food. Imagine eating enough bacon and you might find yourself sated." Charles Spence, a professor of experimental psychology at the University of Oxford

Quote IV

It's a piece of crap. Are you kidding? That's Fisher-Price quality. That's like Captain Kangaroo, your new engineer. A MacBook Pro? What are you talking about? You can't get anything out of that thing. The only way you can get it out is if you put it in. And if you put it in, you can't get it out because the DAC is no good in the MacBook Pro. So you have to use an external DAC and do a bunch of stuff to make up for the problems that the MacBook Pro has because they're not aimed at quality. They're aimed at consumerism. Neil Young
***

Do you have youngsters or relatives thinking about going to college? Top 10 colleges not noted for free speech.
One can only imagine what type of brainwashing goes on at these "institutions of higher learning".
***

First there was Brexit. Could Vexit be right around the corner?

Jerry Falwell Jr., president of Liberty University, has voiced his support for efforts to allow counties in Virginia unhappy with the state's Democrat-controlled Legislature to join West Virginia.

Standing alongside West Virginia's Gov. Jim Justice in a roomful of whirring robotic factory machinery at Blue Ridge Community and Technical College in Martinsburg, Falwell told reporters that he backs so-called Vexit efforts.

"Many counties (in Virginia) are taking a long hard look at escaping the barbaric, totalitarian and corrupt Democratic regime that is trampling on individual rights throughout the state," Falwell said.
***
So much for mending fences and extending the proverbial 'olive branch'.

Georgia Senate candidate Jon Ossoff (D.) told a crowd earlier this month that Democrats needed to defeat President Donald Trump's backers so badly that they wouldn't be able to show their faces in public.

"We need to send a message this year," Ossoff said. "We need to send a message that if you indulge this kind of politics, you're not just going to get beat. You're going to get beaten so bad you can never run or show your face again in public, because we have had enough, absolutely enough of what we are getting from Donald Trump and his fellow travelers right now."

He made the remarks at a Jan. 19 Democratic candidate forum in Dunwoody, a northern suburb of Atlanta.

I'll make you a deal you vile piece of crap. If you win, I won't show my face and you leave my paycheck alone. Go eat a bag of dicks.
***

Just what the f*ck is LGBTQQI2SAA? If your answer was some special snowflake exteremist asshole population, you win a Recycled Cardboard Subscription to The ONT for a year.

The newsletter, titled "Social Justice Collective Weekly," reads: A four-year, traditional university is supposed to be a place of learning, of understanding, of safety and security. However, there is an element among us who may be frustrating those goals: Veterans.

UCCS is known for its number of veterans who are full and part-time students. But these veterans of much the school prides themselves on may be hurting the university. [sic]

But the problem lies in their socialization into the military culture that is that of a white supremacist organization. They have been permanently tainted, and are no long fit for a four-year university.

The flyer also claims "students are frightened by the presence of veterans in their classrooms," particularly members of the "LGBTQQI2SAA" community: Veterans usually have an overwhelming presence in the classroom, which can distract other students. This is usually true for vulnerable individual such as LGBTQQI2SAA, who have been known to be the butt of insensitive jokes made by veterans. Then it was back to connecting dots between veterans and "right-wing groups": Finally, veterans usually are associated with extremists right-wing groups such as the tea party and the NRA. In order to provide a safe place for all students, extremist right-wing groups must be suppressed on campus. This would include their followers: veterans.
***

I'm glad I live in the middle of nowhere and have 4 legged door bells. Amazon engineer says 'Ring' should be shut down.

An Amazon software engineer named Max Eliaser is calling for the shutdown of Ring, the doorbell camera company Amazon paid $2 billion for in 2018.

Hundreds of Amazon employees recently banded together to form Amazon Employees for Climate Justice, an organization dedicated to holding the company's feet to the fire when it comes to taking the steps necessary to face the global climate crisis. The group published a post on Medium yesterday sharing its members' views on climate change, but Eliaser apparently felt the need to speak out on a different subject.
***
Earlier today Ace covered John Bolton's character. (John Bolton in 2010 Interview: Why Yes, I'd Gladly Lie If I Believed It Would Further My Ideas About National Security)If we are to #BelieveAllWomen Bolton has a problem.

John Bolton was accused of harassing a government contractor by chasing her through a hotel, 'hinting' she was a lesbian, commenting on her weight and banging on her door to shout threats

Melody Townsel described how, in 1994, John Bolton harassed her, chased her around a hotel and criticized her weight

Bolton has denied her allegations

She described his behavior in a 2005 letter to the Senate when he was in the confirmation process to be UN ambassador

'Bolton proceeded to chase me through the halls of a Russian hotel,' she wrote
'He made unconscionable comments about my weight, my wardrobe and, with a couple of team leaders, my sexuality, hinting that I was a lesbian (for the record, I'm not),' she noted
***
Speaking of living in the middle of nowhere. Once again, I'm happy that I don't live in San Francisco.

The head of San Francisco Public Works, which is in charge of cleaning up the city's feces-filled streets, has been arrested by the FBI on suspicion of public corruption.

San Francisco Public Works Director Mohammed Nuru was arrested Monday alongside Nick Bovis, the owner of a popular sports bar in Fisherman's Wharf, Lefty O-Doul's. Sources told NBC Bay Area that Nuru was arrested on suspicion of accepting bribes for airport concession contracts.

Both Nuru and Bovis were released on bond following their arrest.

As the top official in charge of the $312 million city public works budget since 2012, Nuru was tasked with cleaning up San Francisco streets, which critics note remain cluttered with feces, trash and used needles amid a homelessness crisis.
***

I'm not surprised by this at all. And I doubt if you are either. People believe that the Coronavirus is related to Corona beer.

A Disturbing Number of People Think Coronavirus Is Related to Corona Beer

Google search trends illustrate that we're surrounded by very, very confused people when it comes to the rapidly spreading illness.
***

The Jones Act, (I never heard of it either) is contributing to Alaska's high cost of living. Nothing like a 100 year old law.

A plan to tap reserves on the far-flung northern coast of Alaska is expected to produce about 80 million tons of liquid natural gas (LNG) over the next 20 years—but thanks to a protectionist shipping law, it's likely that Americans won't have access to a single drop.

There are no pipelines serving the Arctic coast of Alaska, where a joint effort by ExxonMobil and Qilak LNG, an Alaska-based subsidiary of a Dubai-based energy firm, will be extracting the gas. Instead, the companies plan to use ships to get LNG to market.

That's where the Jones Act comes into play. Passed nearly a century ago to protect U.S. shipbuilders, the law requires that ships carrying goods from one American port to another must be American-built, must be American-flagged, and must have a crew that's at least 75 percent American. Right now, no icebreaking, LNG-carrying freighters in the entire world meet the Jones Act's archaic requirements. As a result, it will be perfectly legal for ships from other countries to pick up liquid natural gas from the new production facility in northern Alaska—as long as they don't stop at any other American ports to unload.

Does Congress ever remove any outdated laws?
***

The Rageaholic gives us his thoughts on political moderation. Language-NSFW

***

Tinder. It just isn't for booty calls.

Who says there's no decent guys online?

A road-tripping German woman was rescued from the treacherous Norwegian wilderness when she set up a Tinder account — and enlisted help from one of her matches, according to a report Friday.

Lonia Haeger, a pro kite surfer and self-styled "adventurer," was traveling through the remote Nordkapp region in a camper van with two friends when they became stranded on the side of a mountain by a deluge of freezing rain, according to Central European News.

"The moment you realize you are helpless against Mother Nature," she wrote of the incident on Instagram — admitting she was terrified of sliding down the mountain or being struck by another car.
***
The ONT Musical Interlude

***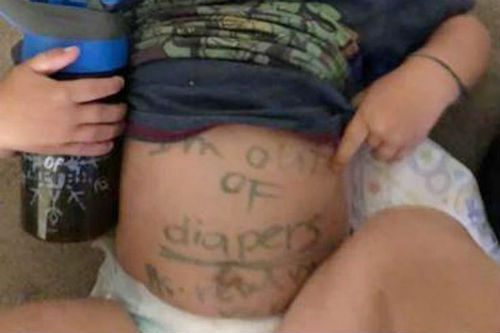 Poor customer service or
major prank?
A furious mum has hit out at a nursery who left her a message by scrawling it on her toddler's stomach in green marker.

Single mum-of-two Heather discovered the writing when changing her son Milo's nappy after a long day at work, leaving her 'furious'.

Writing on Facebook, she says the daycare put a daily report in both of her children's lunchboxes to let her know how they had behaved that day, what times they were changed, and if either of them need more nappies or wipes bringing in.

The American mum she must have missed a message from the day before that Milo required more diapers, as she was then faced with a huge message written in marker on his torso, as reported by Kidspot.

It read: "Mum I'm out of diapers please read my report."

UPDATE
So the truth comes out, Worker fired for using marker on toddler. Of course, it's Florida. H/T Bitter Clinger
The owner of the daycare confirmed to WINK the teacher responsible was fired, calling the action a "breach of professional ethics." They said they are reviewing protocols to make sure the situation doesn't happen again.
***
A Yooper hat and the Manitowoc Minute guy hit up L.A.

***

Genius Award Winners-Florida Edition
The family that preys together stays together and win Genius Award Winner Awards.

JANUARY 28--A Florida Mother served as the lookout and getaway driver for her 15-year-old son who robbed a convenience store at gunpoint, according to police who arrested the pair on felony charges.

Investigators allege that Amanda Chere Meador, 37, drove her son and two other males to a Circle K store in Winter Springs, a city about 15 miles north of Orlando.

Wearing a mask, Meador's son entered the store carrying a gun, according to a Seminole County Sheriff's Office report. The boy--who was not wearing gloves--handed "a note on paper demanding money" to a terrified cashier who "provided him with money and he left the store."

The underage gunman, cops say, then departed the Circle K and headed for a 2002 Chrysler Town & Country minivan with Meador at the wheel. When the boy dropped what appeared to be money while fleeing the store, the vehicle "stopped and allowed him to exit and recover the money."
***
What were the odds that the attempted stolen car was a police vehicle? You guessed it, Genius Award Winner.

A St. Petersurg man who was running from the police tried to carjack a vehicle.

Inside was an undercover cop.

Arrest reports detail how police say the incident unfolded near the intersection of Gulfport Boulevard and 49th Street S at about 8:45 p.m. Wednesday night.

When it was over, Donald Steven Dugray, 20, was arrested on multiple charges, including attempted carjacking.
***
Fill 'er up. Genius Award Winner.
Firefighters in Florida said a hazmat team responded to a gas station where a man filling up his boat confused a fishing pole holder for the gas tank.

Orange County Fire Rescue said the customer at 7-Eleven in Orlando was attempting to fill up his 18-foot boat about 11:35 a.m. Monday when he accidentally pumped 30 gallons of gas directly into the cockpit.


Fire Rescue said the man pumped about $60 worth of fuel into the cockpit and then put another $40 of gas into the actual gas tank.
***
***

Tonight's ONT has been brought to you by Virus Protection Measures.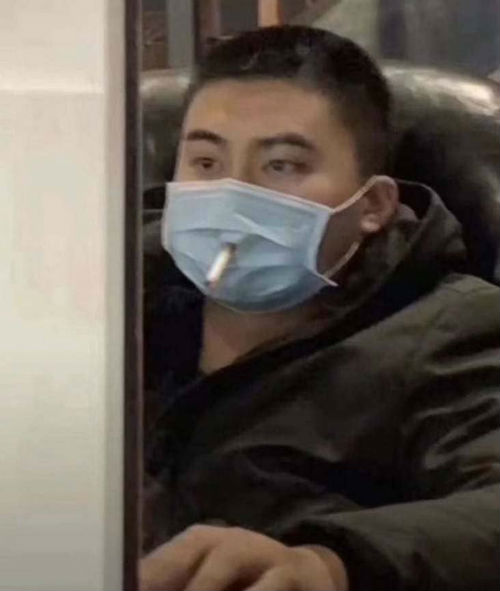 Notice: Posted with permission by the Ace Media Empire and AceCorp, LLC. For goodness sake don't taunt the otter.

posted by Misanthropic Humanitarian at
10:00 PM
|
Access Comments