« John Bolton's Close Ally Fred Fleitz Turns Against Him, Charging That His Book Is Unethical
|
Main
|
The Morning Report - 1/28/20 »
January 27, 2020
Monday Overnight Open Thread (1/27/20)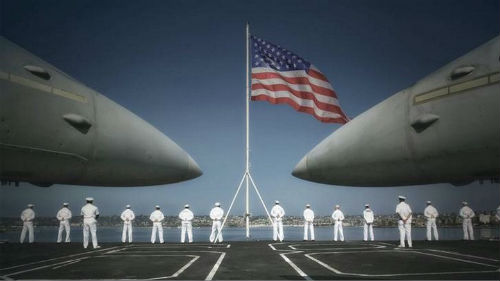 ***
The Quotes of The Day

Quote I

"Anyone with any doubt who the bad guys are here ... be certain it is the City of Tempe, City of Phoenix, and police forces valleywide. There is no excuse for pointing an AR-15 in the face of a non-violent offender."Dustin Shomer

Quote II

"No, no, the country's finished," Actor Hugh Grant

Quote III

Never in human history have so many rich, pampered, cosseted people of all colors steadfastly refused to see how good they have it, or been so unwilling to defend the very system that gave them every single privilege and comfort they enjoy. They are still looking for the Magic Victim Lotto Win, even if they have to pay their own attackers, deface their own property, or put vulgar epithets on their own birthday cakes.Ammo Grrrll

Quote IV

That folly has deformed our politics. Now, in 2020, voters are faced with a choice between two parties led by conspiracy theorists and gaslighters. Instead of saving America from Trump, the Resistance may have reelected him. Eli Lake, Bloomberg Opinion.

Quote V

"The pole stigma is associated with sex work, but sex workers whether they're on a pole or not are humans, too, and shouldn't be discriminated against for providing a service as old as time," Steven Retchless, 2010 American Pole Fitness Champion.

Quote VI

If the political culture forbids respectable politicians from raising certain topics, then the electorate will turn to unrespectable politicians. Mark Steyn
This is what Steyn is talking about.

***
Here is a recap of today's Impeachment proceedings............
***

Yup, President Hillary Clinton would have been proud of her SCOTUS nominee and his decision. Justice Gorsuch rips activist judges a new anal opening.

On Monday, the Supreme Court allowed the Trump administration's public charge rule to go into effect, striking down a nationwide injunction from a New York judge. The rule allows the government to deny green cards to immigrants who receive public assistance and are therefore considered a "public charge."

In addition to the 5-4 decision allowing the rule to go into effect, Supreme Court Justice Neil Gorsuch issued a concurring opinion rebuking activist judges and their rush to apply "nationwide injunctions" against Trump administration policies.

"Today the Court (rightly) grants a stay, allowing the government to pursue (for now) its policy everywhere save Illinois. But, in light of all that's come before, it would be delusional to think that one stay today suffices to remedy the problem. The real problem here is the increasingly common practice of trial courts ordering relief that transcends the cases before them. Whether framed as injunctions of 'nationwide,' 'universal,' or 'cosmic' scope, these orders share the same basic flaw—they direct how the defendant must act toward persons who are not parties to the case," Gorsuch wrote.
🚢 🚢 🚢 🚢 🚢
***
Autonomous vehicles without steering wheels or pedals? Am I the only one who thinks GM is nuts?
Last week, GM-subsidiary Cruise unveiled the Origin, its first self-driving car without a steering wheel or pedals. At the time, the company's CEO Dan Ammann promised to reveal production details in the days to come. Well, today's the day, with GM announcing plans to spend $2.2 billion to retrofit its Detroit-Hamtramck plant for the production of autonomous and electric vehicles.

In addition to the Origin, the facility will also produce all-electric SUVs and pickup trucks. The automaker plans to release 20 electric nameplates by 2023, the first of which will be an electric truck slated to go into production in 2021. This will be followed "soon after" by the Cruise Origin, a shared, electric, self-driving vehicle unveiled in San Francisco last week. Detroit-Hamtramck will be GM's first "fully-dedicated" electric vehicle assembly plant, the company said. (The news was first reported by The Detroit News last week.)
Even carnival rides have "some" supervision.
***
Did you know that Kobe Bryant was a saint? Neither did I.

The Washington Post has suspended a journalist after she tweeted about Kobe Bryant's historical sexual assault case shortly after the basketball player and his daughter died in a helicopter crash.

Felicia Sonmez was put on leave after posting a link to an article about the 2003 rape allegation against the former LA Lakers player, with the newspaper saying her "poor judgment" in sharing the story had undermined the work of her colleagues.

It raises questions about how to deal with the media legacies of much-lauded individuals and which aspects of their lives to highlight in the immediate aftermath of their deaths.

Sonmez did not write the piece, which was published by the Daily Beast in 2016 and is entitled "Kobe Bryant's Disturbing Rape Case: The DNA Evidence, the Accuser's Story, and the Half-Confession". Nor does she cover sport – she writes for the Washington Post's politics team.
***

One fewer mouth to feed on the Arkansas welfare system.

Hunter Biden has agreed to pay monthly child support retroactive to November 2018, ending a standoff that began after the judge in his Arkansas paternity case ordered him to appear in person for a hearing to explain why he shouldn't be held in contempt.

The court redacted the amount of child support that Biden agreed to pay, pursuant to his agreement with plaintiff Lunden Alexis Roberts. However, Independence County Circuit Court Judge Holly Meyer noted that she "lacks sufficient information" to determine the appropriate amount of child support "based off the defendant's income," and that modifications to the child support owed each month could be made based on additional evidence.

Contempt proceedings over Biden's failure to turn over relevant financial documents have been delayed until March 1, giving Biden an opportunity to resolve the issue in the meantime by turning over the information.
***

If there are any Lefties reading tonight's blog. This is what Facism and Nazis look like. Auschwitz Death Camp liberated this day in history.

On January 27, 1945, Soviet troops enter Auschwitz, Poland, freeing the survivors of the network of concentration camps—and finally revealing to the world the depth of the horrors perpetrated there.

Auschwitz was really a group of camps, designated I, II, and III. There were also 40 smaller "satellite" camps. It was at Auschwitz II, at Birkenau, established in October 1941, that the SS created a complex, monstrously orchestrated killing ground: 300 prison barracks; four "bathhouses" in which prisoners were gassed; corpse cellars; and cremating ovens. Thousands of prisoners were also used for medical experiments overseen and performed by the camp doctor, Josef Mengele, the "Angel of Death."
ICE Detention Centers are not Nazi facism.
***
So who is contributing to "global warming"? How about those pesky politicians. Those emails which are required by law to be saved for umpteen years, you guessed it, "Global warming".

NEW YORK – Everyone has seen warnings at the end of email saying, "Please consider the environment before printing." But for those who care about global warming, you might want to consider not writing so many emails in the first place.

More and more, people rely on their electronic mailbox as a life organizer. Old emails, photos and files from years past sit undisturbed, awaiting a search for a name, address or photo of an old boyfriend.

The problem is that all those messages require energy to preserve them. And despite the tech industry's focus on renewables, the advents of streaming and artificial intelligence are only accelerating the amount of fossil fuels burned to keep data servers up.

Right now, data centers consume about 2 percent of the world's electricity, but that is expected to reach 8 percent by 2030. Moreover, only about 6 percent of all data ever created is in active use today, according to research from Hewlett Packard Enterprise. That means 94 percent is sitting in a vast "landfill" with a massive carbon footprint.
***

What's as bad as TDS? Anything Brexit, including coins.

It is a debate that has torn the nation in two, ripped friends and family apart, and entrenched deep and uncrossable lines throughout the land. Should the Royal Mint have used an Oxford comma on its Brexit 50p piece?

Three million coins bearing the slogan "Peace, prosperity and friendship with all nations" are due to enter circulation from 31 January, with Sajid Javid, chancellor of the exchequer, expressing his hope that the commemorative coin will mark "the beginning of this new chapter" as the UK leaves the European Union.

However, early responses include His Dark Materials novelist Philip Pullman's criticism of its punctuation.

"The 'Brexit' 50p coin is missing an Oxford comma, and should be boycotted by all literate people," wrote the novelist on Twitter, while Times Literary Supplement editor Stig Abell wrote that, while it was "not perhaps the only objection" to the Brexit-celebrating coin, "the lack of a comma after 'prosperity' is killing me"
***

The good old days, no cell phones, no GPS units. Just good old maps.

Gone are the days of printing out directions or following physical maps. If you're trying to go somewhere and need directions, there are plenty of apps to update you while you travel in real-time.

But nothing is foolproof and that's what drivers using the Google-owned, navigation app Waze are finding out after they were sent many miles away from the Borgata Hotel Casino & Spa in Atlantic City, New Jersey, according to Jackson Police Department's public information officer Lt. Christopher Parise.
***

Do we have the new Jusse Smollet? Meet Dr. Joseph Sakran, anti-gun activist. And fake hate crime perpetrator?
Is a Prominent Anti-Gun Physician Lying About Receiving a Death Threat From Gun Owners?

Dr. Sakran could not be reached for comment on the over 250,000 people who die annually — more than six times the number of firearms deaths — due to medical mistakes and malpractice (that's according to, er, Johns Hopkins).

He's been the subject of fawning profiles and interviews by Gun Control, Inc.'s adjuncts at The Washington Post, Forbes among others. But it appears that Dr. Sakran may crave still more attention.

The good doctor issued a flurry of tweets yesterday announcing that he'd been threatened and implied that he suspects the culprit is targeting him due to his gun control advocacy.

UPDATE

That's odd, Dr. Jusse errrr I mean Dr. Sakran removes the entire thread of his life horrifying experience.
***

Militant atheists once again ruin a good thing. Say goodbye to dog tags with Bible verses.

A battle is brewing in the military over dog tags that contain Bible verses.

A dog tag is basically a nameplate used to identify injured or dead soldiers. Every military soldier carries two, one usually worn around his or her neck, and the other usually kept within his or her shoes.

According to the First Liberty Institute, a legal non-profit that defends religious liberty, secularists with the notorious Military Religious Freedom Foundation are actively seeking "to undercut our troops' spiritual readiness by denying them the ability to obtain replica dog tags with Bible verses inscribed on them."
***

If snakes don't bother you. If you are competitive. The Florida Python Bowl might be the sport for you.

Once again, we have a winner in the annual contest of your dreams -- your very, very bad dreams, that is.

More than 750 people from 20 states turned up for Florida's 2020 Python Bowl, catching 80 of the giant invasive snakes, the Florida Fish and Wildlife Conservation Commission said in a release.
The grand prize winner in the 10-day contest is Mike Kimmel, who caught eight Burmese pythons, the commission said Saturday. His prize was a Tracker 570 Off Road all-terrain vehicle.
***

It's all fun and games until some classless idiot ends up injured or worse.

The simple website "Selfies with Homeless People" shows people taking pictures with homeless people. They collect and share images from people around the web who have posted pics of themselves with homeless people, as if being homeless is something to laugh at. Needless to say, it's disturbing and offensive. You'll feel your blood start to boil the more and more you look at these pictures.
***

Brotherly love! A fun click, I promise. Would I do something contrary?
***
The ONT Musical Interlude
Born on this day: 27 Jan 1951
Brian Downey, Irish drummer and founding member of Thin Lizzy, who had the 1973 UK No.6 single 'Whisky In The Jar' and hits with 'Jailbreak' and 'The Boys Are Back in Town'. via thisdayinmusic.com
&&&
On this day: 27 Jan 1973
British Glam Rock group Sweet appeared at the Grand Hall in Kilmarnock, Scotland and were driven offstage by a barrage of bottles. The incident inspired their song 'The Ballroom Blitz' which went on to reach number one in Canada, number two in the UK and the Australian Chart, and number five on the US Billboard Hot 100.via thisdayinmusic.com
&&&
Glam rock, I'll present you Glam Rock

***
Even lowly city aldermen are too good for us. And one is tonight's Genius Award Winner.

ST. LOUIS – A St. Louis alderman is in the hot seat again, accused of driving without a license.

St. Louis police cited Alderman John Collins-Muhammad Tuesday for "speeding in a safe zone" and "driving while revoked."

Fox 2 asked Collins-Muhammad on Thursday if he'd gotten his license. He didn't answer. Our news crew saw him leave city hall, get into his car, and drive off.
***
People can be so vile. Yet people can be so good. Tonight's Feel Good Story of The Day.

A man in Alberta rescued three kittens that were frozen into the ice.

Kendall Diwisch says he was doing the rounds near one of his wells near Drayton Valley when he discovered the helpless kittens.

"So today I found these three fellows on one of the back roads near one of my wells. Most likely dropped off. Poor things were frozen into the ice so they had to have been there all night," Diwisch said.
***
Tonight's ONT has been brought to you by Self-Awareness.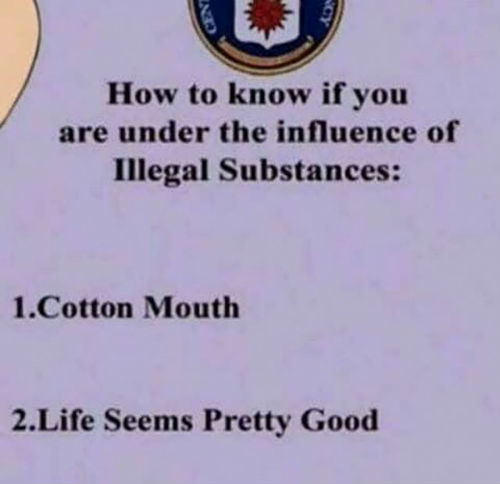 Notice: Posted with permission by the Ace Media Empire and AceCorp, LLC. Loose change, drink tokens and burner phones to petmorons at gmail dot com. Complaints? To starving kids in China.


posted by Misanthropic Humanitarian at
09:55 PM
|
Access Comments