« Monday Overnight Open Thread (1/27/20)
|
Main
|
Mid-Morning Art Thread »
January 28, 2020
The Morning Report - 1/28/20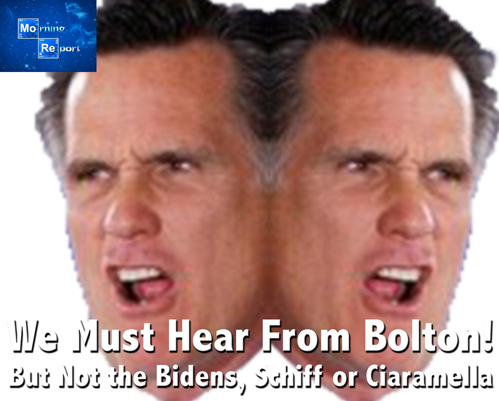 Good morning kids. Tuesday, and despite the so-called non-bombshell of the fortuitously timed release of that excerpt from John Bolton's book that again alleges nothing that was truly illegal, rises anywhere near the level of an impeachable offence or relevant to what actually happened in the timeline of actual events, the Trump defense team yet again absolutely dismantled the Democrats case. Alan Dershowitz shifted (no pun) brilliantly in taking on this garbage by citing the leaked excerpt:
... "Quid pro quo alone is not a basis for abuse of power," said Dershowitz. "It's part of the way that foreign policy has been operated by presidents since the beginning of time. The claim that foreign policy decisions can be deemed abuses of power based on subjective opinions about mixed or sole motives, that the president was interested only in helping himself, demonstrates the dangers of employing the vague subjective and malleable phrase of abuse of power as a constitutional criteria for the removal of a president. Now it follows, it follows from this that if a president, any president were to have done what the Times reported about the content of the Bolton manuscript, that would not constitute an impeachable offense..."
The other notable defense came from former Florida AG Pam Bondi who, in defending the President's dealings with Ukraine, and with the decision to hear more potential witnesses in the balance, brought up the real criminals, blackmailers and bloodsuckers in Ukraine and in probably half a hundred other places around the globe. I mean, the Biden family:
... [Bondi] also noted that Hunter Biden was involved in business with Chris Heinz, the stepson of then-Secretary of State John Kerry. Both were involved in Ukraine - and elsewhere at a time when ending corruption was said to be the top priority of the United States and other western governments in dealing with Ukraine.

Bondi also noted that journalists had asked the Obama administration about the Bidens' conflict of interest, and that American diplomats - including State Department official George Kent and former Ambassador to Ukraine Marie Yovanovitch, who testified in the House impeachment inquiry - had raised concerns as well.

Nothing was done, she pointed out, and Hunter Biden only left the board of Burisma in April 2019, the same month that his father announced his campaign for the presidency, when under closer scrutiny than usual.

Bondi noted that the House Democrat impeachment managers had referred to "the Bidens and Burisma 400 times" in their presentation in an effort to pre-empt the argument that there was any legitimate basis, other than the president's own political interest, for asking the Ukraine to investigate them...
Other stand out speeches were given by White House Counsel Eric Herschman and Jane Raskin, and even Ken Starr fired off some well aimed torpedoes (see links below). In a sane world, not only would we never even have had the House hearings but the preponderance of evidence and the lack of even a shred of any substantive evidence or direct witness testimony that can be corroborated would have stopped this thing dead in its tracks weeks ago. Yet here we are and despite all of this, the Bolton non-revelation nothing-burger of a fart in a hurricane is all that will be needed to give cover for Pee-Air Defecto, the Maine Pain and the Alaskan Snow-Blower to side with the Democrats and call Bolton to testify and express his hurt feelings about Trump not taking his advice, which is, of course, a hanging offense in the Deep State - just like every other "witness" who witnessed nothing but their worldview torn up in their faces by OrangeManBad as he implemented policies that actually work and to America's advantage.
That will fail, of course, but what I am truly wary of is in voting for more witnesses, watch as the aforementioned RINO traitors pull a fast one with the Dems and try to block the Bribems, Eric "Whistleblower" Ciaramella or even Schiff-for-Brains from facing the Team Trump collective blow torch. Is that possible if the control of who calls witnesses and other procedural matters are controlled by McConnell or Graham? Are procedural matters even up for a vote in the first place? No matter what, Cocaine Mitch has got to read the riot act to these turds and threaten to strip them of any perk, privilege and committee chairmanship if they continue with this garbage. Meh, he should do it anyway. Romney is gone. He's angling to sabotage the President, period, full stop. He is probably deluding himself into thinking he's going to be the savior of the party in 2024. Perhaps sooner than that if he has gone off the deep end.
Circling back to Bolton, George W. Bush, who is no fan to say the least of this President, thinks he (Bolton) is not credible at all and more tellingly, Bolton's former chief of staff ripped him a new one and called on him to suspend the release of the book. In any case, as Bill Hemmer asked Democrat hack Val Demings - three times with no real response - why didn't the Democrats subpoena Bolton when Schiff-for-Brains and Gas Giant Nadler were running the House committees? Yes, Trump would've put up a fight but they could have taken him to court and probably won, all things considered with the state of the judiciary, especially in DC. But of course they didn't, and here we are.
The bottom line is, whenever this comes to an end, not only will the President be acquitted but his approval rating and perception with the public that he is the victim climb, and concomitantly the Democrats will continue digging their way past the earth's lower crust and into the upper lithosphere. Daniel Greenfield is right that as Trump derangement increases it yields diminishing returns in terms of the public's engagement and willingness to go along. In fact, just the opposite as I have stated. But it won't end. There will be more charges, yet another House panel and so on, and so on and scooby dooby dooby right up until the election and really for all time.

NOTE: The opinions expressed in some links may or may not reflect my own. I include them because of their relevance to the discussion of a particular issue.
ALSO: The Morning Report is cross-posted at CutJibNewsletter.com if you want to continue the conversation all day.
Follow us on Twitter: @CutJibNews


posted by at
07:30 AM
|
Access Comments