« Wednesday Overnight Open Thread (1/22/20)
|
Main
|
Mid-Morning Art Thread »
January 23, 2020
The Morning Report - 1/23/20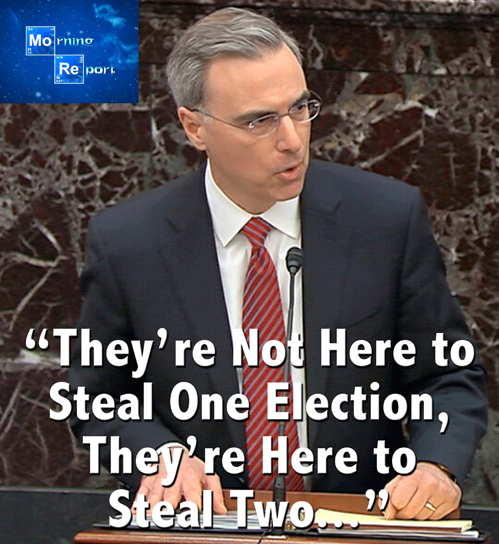 Good morning kids. Thursday and sham-peachment is underway where, if you were watching was what Michael Goodwin of the NY Post labeled a massive "TV rerun." About the only thing that was new or different from the first go-round in the House was the depths of depravity to which both Adam Schiff-for-Brains and Jerry Nadless sank, especially the former, in regurgitating and rehashing the same lies, tropes, falsehoods, distortions and deranged fantasies that they hope will convince 67 Senators, and more importantly, a majority of Americans to dump Trump; either at the end of this embarrassing fiasco or this coming November. Spoiler alert: it ain't happening. But still, they persist. Whether it's because he knows he's up to his ping-pong-ball eyes in witness tampering/collusion with Eric "Whistleblower" Ciaramella to manufacture his testimony - NB: new revelations show Ciaramella discussed with a co-conspirator removing Trump just two weeks into his presidency - or just frustration that nothing he or his allies and henchman have done since July of 2015 when Trump came down the escalator, Schiff-for-Brains has gone off the deep end.
The long and the short of it is, despite the blathering, bloviation, "witnesses," and assorted eight-by-ten color glossy photographs with circles and arrows and a paragraph on the back of each one explaining what each one meant, there is zero real evidence of any high crime or misdemeanor because President Trump did not commit any. Despite the clever by 1/1024th phraseology, Schiff-for-Brains himself states plainly that all of this is about preventing Trump from winning the next election. Ostensibly, and most outrageously is because the pencil-necked psycho claims that Trump is now going to steal the upcoming election just like he purportedly did the last one. I can't even...
I don't know how this "trial" is supposed to be run, vis a vis procedural rules, but if I were one of the GOP trial managers, I would be shouting "objection" probably every five seconds since every word that bug-eyed traitorous criminal is spouting was a lie, including pronouns, prepositions and conjunctions. But, I guess it doesn't work that way. Really, what's the point in my going on, ranting and raving? In the last analysis, whatever happens during the course of all of this is in no way, shape or form going to move the needle insofar as convicting and removing the President. It will move the needle in the court of public opinion, and further into support for Trump and revulsion at the Democrat-Media Complex.
The upsides are that Cocaine Mitch got the upper hand in getting his rules passed and preventing a rerun of the Kavanaugh kangaroo kourt fiasco, despite having to endure the endless Stalin/Castro-esque blathering of the House's little Freislers, and that after yesterday's disaster for the Dems, more and more Americans will be tuning out. Let's unpack some of the links.


SHAM-PEACHMENT FOLLIES
Again, Schiff-for-Brains droned on endlessly about the same old tired, debunked myths from the Mueller fraud and cover-up and, once again, he actually played and made a huge deal out of the sound-bite of Trump allegedly asking the Russians to find Hillary's missing e-mails. Um, that was a joke. I mean, he is conspiring with a foreign government to commit a crime... in the open, in front of thousands of people with cameras rolling?! Sheesh. Elsewhere, Tom Fitton of Judicial Watch and several other pundits shred the pencil-neck's arguments and expose his lies, Josh Hawley on Roberts smacking the Dems down for their hideous theatrics in the Senate, the debate over whether or not witnesses will be allowed continues. Allegedly a "quid pro quo" (heh) of Bolton for Bribem is in the works but Gropin' Joe is digging in his heels on that. Personally, I'd rather no witnesses be called because none are warranted. But I don't see a downside especially since the Cipollone, Sekulow and team will destroy Bribem and expose the real crimes he committed which are the ones Trump is accused of. I also want them to call Schiff-for-Brains himself since he is a material witness as well as a co-conspirator vis a vis manufacturing the testimony of Eric Ciaramella. Message to McAssKill: get some towels for the underarm sweat stains, toots. Also, Rand Paul says the more Schiff talks the more he unifies the Senate GOP, and Alan Dershowitz edjumacates Palsi-Von Poligrip on what label history really has in store for the President after all of this.
NOTE: The opinions expressed in some links may or may not reflect my own. I include them because of their relevance to the discussion of a particular issue.
ALSO: The Morning Report is cross-posted at CutJibNewsletter.com if you want to continue the conversation all day.
Follow us on Twitter: @CutJibNews


posted by at
07:39 AM
|
Access Comments