« Tuesday Overnight Open Thread (1/21/20)
|
Main
|
Mid-Morning Art Thread: Postmodernism Is Dead. It's The Remodern Era. [Richard Bledsoe*] »
January 22, 2020
The Morning Report - 1/22/20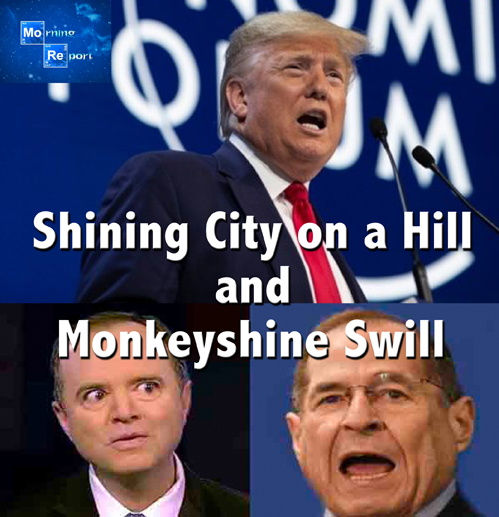 Good morning kids. Wednesday and the big story is, of course, the sham-peachment "trial" in the Senate where the top items in that category are a breaking/developing story that Adam Schiff-for-Brains is reported to have "mischaracterized" evidence, specifically involving communications between Lev Parnas and Rudy Giuliani in order to attempt to show the President guilty of withholding Ukraine aid. I can hear a chorus of myriad Claude Rains' shouting "I'm shocked!" coming from my USB port. Let's see if Cocaine Mitch hit his "kill switch." I tend to doubt that, but still, the superstar defense team of Pat Cipollone and Jim Jordan are going to be wiping the Senate floor with that beady-eyed little paskudnyak over this and more for the duration. And speaking of kill switches, after a marathon session of "debate", meaning Democrats lying through their teeth and the GOP pimp-slapping them mercilessly, the Senate passed Cocaine Mitch's ground rules, denying the Dems' the opportunity to hijack the proceedings and turn this into another Justice Kavanaugh fiasco.
Besides wanting to ding the President and his associates as loudly and as long as possible as the 2020 election season heats up, knowing that he is more than likely going to crush whoever their candidate is, they had hoped they could get four seemingly vulnerable Senators - McSally, Tillis, Collins and Perdue - to "Flake" out and give them the 51 votes needed to thwart McConnell and effectively hand this over to Schemer and company (this is also Tim Scott's observation [see last link]). Those four realized that doing so would also doom them to defeat next November. It would also hand control of the Senate back over to the Dems for the next four years and effectively stop Trump from reshaping the judiciary, especially the Supreme Court if Ruth Bader Meinhoff final descends to the Infernal Reaches to join Hugo Black. That is if he'll let a Jew sit next to him, but I digress. The other assumption that they are counting on is that the House will remain in their hands and along with thwarting whatever legislative agenda the President has, they will theoretically have the votes to impeach him again, this time with the pressure in theory to get the RINOs and squishes in the Senate to actually convict.
But you know what that sounds like? The conversations in the buknker between Hitler and Albert Speer, looking over the architectural models of Berlin when they achieve the promised endsieg... even as Russian artillery pounds the ground above them and concrete dust falls on their heads. Even Mittelschmerz Pee-Air Defecto knows to keep his forked tongue sheathed if they want to survive politically, much as they hate Trump (the people of Utah are kind of fed up with him, but that's another story). The reality is this is not a midterm election, and given the American people's disgust at the Dems over this, as well as enthusiasm over Trump's accomplishments including the greatest economic boom in American history, not only will the Senate remain in GOP hands but more than likely they will retake the House as the 30 or so freshman Dems from districts Trump took in 2016 who went along with Palsi von Poligrip on this kamikaze mission will be kicked to the curb and wonder what fell on them. Inshalla.
In any case, other key links include White House Counsel Pat Cipollone destroying Jerry Nadless as well as accusing Schiff-for-Brains of other malfeasance stemming from that closed door confab in the House basement, Jay Sekulow using the Pencil-Neck's own words to hoist him on his own petard, Lindsey Graham fisking the beady-eyed fuck in real time, and Jim Jordan dismantling their entire "House" of cards piece by piece.
As delicious as it is to witness this, it is sobering and depressing to have to endure the Democrats utterly trashing the rule of law, comity, tradition and any chance of reconciliation between what is more than likely a disunited people, seemingly forever. Michael Goodwin is right about the Founders rolling in their graves. Frankly, they've been doing that for close to 200 years; it's just now they're doing it so fast the Iranians can use them to enrich uranium.
Tragedy.

NOTE: The opinions expressed in some links may or may not reflect my own. I include them because of their relevance to the discussion of a particular issue.
ALSO: The Morning Report is cross-posted at CutJibNewsletter.com if you want to continue the conversation all day.
Follow us on Twitter: @CutJibNews


posted by at
07:42 AM
|
Access Comments