« Monday Overnight Open Thread (1/6/20)
|
Main
|
Mid-Morning Art Thread »
January 07, 2020
The Morning Report - 1/7/20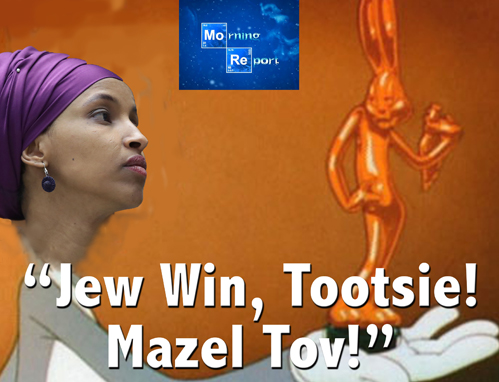 Good morning kids. Tuesday and the fallout continues over the liquidation of Iranian terror mastermind Soleimani, piss be upon him. Both the President and the Pentagon defended the decision to stomp on this cockroach, the latter in fact revealing intelligence that an attack against American military installations and/or personnel had been imminent. I don't know if I can be any more revolted by the Democrat-Media Complex's kneejerk axiomatic gainsaying or 180-degree opposition to anything and everything this President says and does, but to actually weep, mourn and heap praise upon a known mass murderer and the actual implementer of Iranian terrorism almost since the takeover of that imprisoned nation 40 years ago is stunning. Let's face it; President Trump could announce that he has found the cure for cancer and is making it available free of charge and the Left would shout its opposition and derision. And so it goes.
Of course, considering all we have learned about the politicization and corruption of our intelligence apparatus since the Obama regime, and with the garbage intel that was used as a pretext for the 2003 Iraq and Afghanistan quagmires (all of it an outgrowth of Deep State/Globalist indoctrination of its members since their Ivy League school days), nowadays I am rather wary of any statements coming from those quarters. But, assuming American operational-level intel and Trump's advisors are acting in good faith, and given what we know about Soleimani, his role as the operational #2 of the regime, his most recent actions as well as his long, bloody history of butchering Americans and allies all over the region and the world, taking him out was not only more than justified but long overdue.
Just as an observation, I find it rather interesting that the Left, after decades of making the CIA and our military out to be bloodthirsty, evil tools of imperialist repression, suddenly the likes of Brennan, Clapper, Comey and all the rest are revered heroes and leading a noble cause against a rogue President. And yet taking out Soleimani is evil or something and will lead to World War III, or something. The paroxysms of pretzel logic they are twisting themselves into is something to behold.
But back here on planet Earth, the impact of the excision of this cancer cannot be understated. It puts Iran and indeed other bad actors (hello, Whoa, Fat!) on notice that the days of America taking it in the shorts, at least through January 20th, 2025 (please G-d) are over. In fact, Iran is on the ropes and contrary to the conventional wisdom that something like this will galvanize the Iranian people against the US, the truth on the ground from what is leaking out is very different. As the regime has called for days of rage, people are baking cakes and sweets and handing them out in praise of President Trump. Those who have taken to the streets to "protest" are no doubt doing so at gunpoint by the mullahs. For their troubles, 35 have been reportedly trampled to death at the internment of Soleimani's hand and a few small tissue samples.
Elsewhere, the rhetoric from the regime ramps up after Trump's "52" targets Tweet, the reports of US troop withdrawal from Iraq are fake news (though we should get the hell out at some point), but that said we should withhold all foreign aid from what is now a de-facto puppet Iranian government in Baghdad, a look at how we can use electromagnetic warfare to help speed the toppling of the mullahs (although I doubt the UN is going to be an ally in this) and Iran expert Michael Ledeen weighs in and tries to read the tea leaves.
SOLEIMANI LIQUIDATION, IRAN TENSIONS
NOTE: The opinions expressed in some links may or may not reflect my own. I include them because of their relevance to the discussion of a particular issue.
ALSO: The Morning Report is cross-posted at CutJibNewsletter.com if you want to continue the conversation all day.
Follow us on Twitter: @CutJibNews


posted by at
07:36 AM
|
Access Comments