ę No Cash Bail...What Could Possibly Go Wrong?
|
Main
|
Gun Thread: And So It Begins [Weasel] Ľ
January 12, 2020
Food Thread: The Joys Of Eggs And Pork And Chili, All Without Listeria!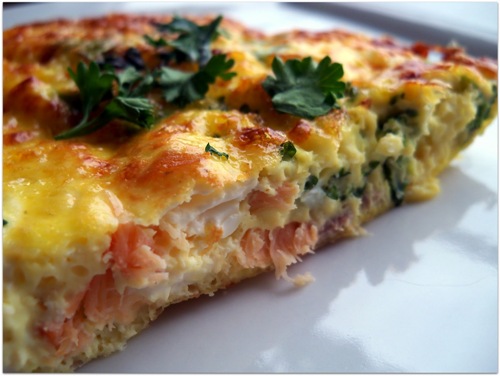 Frittata for the win! It's just a thick (sort of) omelet filled with whatever you have in the refrigerator or cupboard, but as a quick snack or an impromptu bag lunch it's hard to beat. I participated in the planning and execution stages of one last weekend (yes, there was alcohol involved), and it is amazing what works in them. Smoked salmon? Yeah, I wouldn't have considered it, but all reports indicate a tremendous success.
My next attempt will be more traditional, with caramelized onions, bacon, tomatoes, a bit of spinach, and for a twist some artichoke hearts, about which I am ambivalent. But it is in the name of science, so someone has to try!
I used to make them at high temperatures, and found them predictably tough. Gentle heat seems to be the key...my guess is that 350° should work just fine. As for timing? Eh...touch the top...if your finger sinks in, then cook it some more. If I were forced to provide a time, I would say 10-15 minutes.
I have a big old restaurant sauce pan with high sides. It will hold a nice thick frittata of 10-12 eggs with room to spare. The only trick is keeping it from sticking, and I figure that copious quantities of butter will help. Or maybe olive oil, though that will add a strong flavor that might not work for my purposes.
What Is odd about the word "Frittata" is that its root is Italian for "fried." I guess the originals were fried in oil, which is tempting, because it satisfies Dildo's First Rule Of Cooking: when in doubt, use more fat.
But I'll stick to baking them with a lot of butter, which goes so well with eggs. It seems a shame to break up that friendship.
And...as I write this it occurs to me that a crust-less quiche might be a distinct possibility. Any thoughts?
******
If I had to narrow my choice of meats down to one for the rest of my life, I am quite certain that meat would be pork.
-- James Beard
He was a proud and vociferous champion of American cooking, and his influence is felt to this day, so who are we to argue this point?
My guess is that he saw pork as the most versatile meat, not the most flavorful. It's hard to beat a prime steak cut from good American corn-fed beef, but there is a limit to what can be done with beef, and it seems as though pork is infinitely malleable.
Anyone feel like dubbing in "pork" for shrimp?

******
Here is Chef John, of irritating voice fame, making what sounds like a really interesting and good scallops recipe. It was recommended by a lurker from South Dakota who tells me he has made this dish and
"itís a killer recipe."
Seared Scallops with Jalapeno Vinaigrette and Orange Supremes
And there's more. Apparently there is some serious eating being done in North Dakota. I had an uncle from North Dakota, and he didn't strike me as a serious eater, so times may have changed.
FYI, if you're interested in great bison, try these folks (local here in Rapid City, but I have no stock in their company; just enjoy their products). Their bison filets are wonderful and have zero fat/silversides.

(Sold out now, but they'll get more. Cook to about 120°F max internal temperature. (My wife prefers more like 140°F.) I sautée shallots with Knorr® bernaise to add, and it's heaven, esp with a nice inky-black cab. Get on their mailing list to see specials. Unfortunately, I don't like bison burgers-in general; they're rather dry due to the lean nature of the meat. YMMV.)
Wow....120 degrees? That's bloody rare. I'm impressed. Might as well just make bison tartare!
I have a couple of bison burgers in my freezer. I have made them, and while I like the idea of bison, they just don't cut it in burgers, for exactly the reason our lurker mentions. So I am intrigued that he likes this company's product. MAybe they figured out how to fatten a bison...

******
I have been playing around with spiced nuts (go ahead...I'll wait) and found this recipe for plain old roasted almonds. Aside from the breathless tone, it does sound like it would work well.
Perfectly Salted DIY Roasted Almonds
One thing I discovered in my seminal work with nuts is that while they require medium temperatures to thicken and caramelize whatever salt and sugar coating one is using, a lower temperature (about 250°) for about an hour will dry them out completely and make them spectacularly crunchy.
This is the stuff that keeps me up at night.

******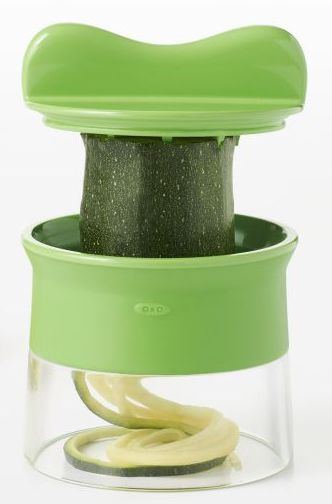 Shut up. Just shut up!
It is designed primarily for zucchini, and they taste great sauteed in lots of fat. We tried the commercial ones out of the freezer, and they were just...okay. Sort of soggy and mushy, but it was clear that there was promise in the idea. So off to the store to buy another utensil with extremely sharp blades. Some of you may recall that I have a rare capacity for slicing my fingers with sharp objects, but this thing is designed with people like me in mind.
The tool works reasonably well, and yielded long, consistent strands of zucchini. I cut them into manageable lengths, dried them with a paper towel, and cooked them in butter until lightly browned. Salt and pepper, and that's it. Good stuff, especially if you brown the butter beforehand.

******
Well! It looks like Instapundit is horning in on the Food Thread recipe action.
A recipe for Texas Red Chili from Karl Bock
This is a classic chili recipe that can be tailored to whatever meat or liquid you feel like using. I know it sounds stupid, but starting with a tried and true recipe, even for something seemingly so simple as chili will do wonders for your cooking. Make the template, then modify it to suit your taste. otherwise the learning curve will be shallow and frustrating.
[Hat Tip: Hrothgar]

******
One of the many advantages of cooking at home is the almost complete control you have over the safety of the ingredients and the cooking and cleaning techniques. Each time you introduce a commercially prepared fresh food or ingredient to the process there is a risk of contamination and the resulting illness.
Outbreak of Listeria infections linked to hard-boiled eggs
Commercially produced hard-boiled eggs! It never occurred to me to buy them in the supermarket, mostly because making them is so stupidly easy, and because I shy away from prepared food. But it makes perfect sense for commercial food preparations to take advantage of the economies of scale an buy stuff like this rather than make them in house. But...each handling of the ingredients for whatever is being made increases the possibility of contamination, and because these are often large-scale processes, the chance that lots of people get sick is significant.
Nobody cares if you get yourself sick because you splashed raw chicken juice onto your salad and made your family puke for two days. When Sysco or Archer Daniels Midland does it that is several orders of magnitude more dangerous.
The moral of the story is simple: don't buy commercially prepared food if you can help it. I imagine there are products that are cheaper to buy than to make, although I can't think of any off hand. But most stuff you can make in your kitchen is better and cheaper than the commercial versions.
Yes, there are arguments to be made for convenience and lack of time and the difficulties of cooking for one or two people, but they are manageable.

******
Food and cooking tips, Large-breasted Muscovy ducks, well-marbled NY strips, bartenders who use vermouth in Martinis, crisp bacon (although I am moving toward less crisp), thick and fluffy pita, and good tomatoes that aren't square, pale pink and covered with Mestizo E.coli:
cbd dot aoshq at gmail dot com
. Any advocacy of French Toast with syrup will result in disciplinary action up to and including being
nuked from orbit.
And yes, shaking a Manhattan is blasphemy...it's in the Bible!
&topic=world_news">

posted by CBD at
04:00 PM
|
Access Comments