« Saturday Morning Coffee Break
|
Main
|
Saturday Gardening And Puttering Thread [KT] »
January 04, 2020
Gender Revelations [KT]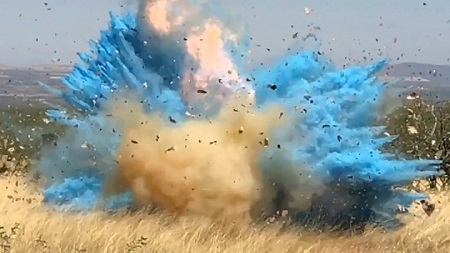 A gender reveal that went too far
Via Grim's Hall:
They say white people don't have their own culture but I just got invited to a gender reveal party for a dog and there's no way we appropriated that from anyone else.
Interesting that prenatal gender reveal parties have become a thing at the same time that people are often terrified to discuss gender issues with regard to children or adults. A few days ago, I ran across a piece in Quillette about gender-critical feminists paying a price for speaking out. It was apparently triggered by the cancel culture going after J.K. Rowling after she stuck up for a woman who was fired for believing that biological sex exists. Quillette is not a conservative or libertarian site. It is primarily dedicated to free speech, with a side of respect for science and classical liberalism. You see a lot of disillusioned lefties writing there, but also other types of writers.
For years, women have been hearing the message that they should "lean in," tell their truth, and speak up against threats to female personhood, from sexual harassment to the perceived wage gap. Social-justice types tell society to #BelieveAllWomen. Yet gender-critical feminists are supposed to keep quiet, acquiesce, give in to those who call them bigots, transphobes and "TERFs." We're supposed to believe that we're the bad guys, and applaud the doctors performing invasive, sterilizing surgery on the healthy bodies of our daughters and sisters. We're supposed to be "cool" with that, and to make room in our parades for hulking "women" who instruct us on how to be allies, who we should want to sleep with, and what we're allowed to wear, lest we "exclude" them with, say, a pussy hat, or proclaiming ourselves same-sex-attracted lesbians.
Conservative women, often derided by the left for their views on family, motherhood and religion, may seem like awkward allies for gender-critical, radical feminists. But there are a few key views that we have in common: women have the right to choose their own path in life, without interference; women and men are different on a biological, cellular level; and children need to be protected from exploitation. This is how we came to extend our "hands across the aisle."
I guess that attacking fellow leftists is one way to get them to be civil to conservatives. I thought it might be interesting to see what else has been going on with regard to gender/sexual orientation issues at Quillette. Any trends emerging?
Well, this is interesting: Confessions of a social constructionist about gender theory. From 2017:
The problem is: I was wrong. Or, to be a bit more accurate, I got things partly right. But then, for the rest, I basically just made it up.
2019: Ignoring differences between men and women is the wrong way to address gender dysphoria.
Trans activists vs. everybody
2018:
How trans theory hurts women, children and trans people
A long, detailed piece on how the "new patriarchy" developed.
Gays vs. Trans activists
2019: Homophobia and the modern trans movement
Author has a point.
Organizing in opposition to ultra-woke homophobes
Related: Time for LGB and T to separate
Gay counter-culture or gay rights?
Drag kids and the death of gay culture
Blaming the kids?
What have you noticed about how these or other trends concerning gender and sexual orientation are treated in popular culture, academia, etc? I have seen mentions of gender fluidity. In fact, it plays a part in the J.K. Rowling story. Haven't seen much academic discussion. Haven't really been looking for it, though.
Assistant Village Idiot has a nice little piece on the word transphobic.
Music
From a century ago:
Hope you have a good weekend.

This is the Thread before the Gardening Thread.
Serving your mid-day open thread needs

posted by Open Blogger at
11:35 AM
|
Access Comments