« Food Thread:The Question Of The Day: Is The Appetizer The Highest Form Of Food?
|
Main
|
Sunday Overnight Open Thread Holiday Christmas Party Edition (12/15/19) »
December 15, 2019
Gun Thread: 2nd Amendment Sanctuaries [Weasel]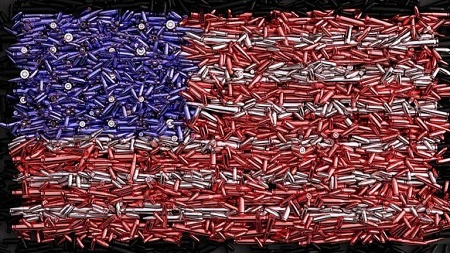 Faithful readers of the Gun Thread will know by now that I try and keep politics out of our weekly discussions. I do this for a couple of reasons. First, I think we all basically agree on the issues, and second, because by the time the weekend comes around I'm usually pretty damn sick and tired of thinking about the constant stream of bullshit from the left. For a few hours I thnk it's nice to have a place where we can discuss guns and shooting without having the veins pop out on our foreheads while pounding the table over the latest outrage. Having said that, I feel compelled to make an exception from time-to-time, and this is one such occasion. Lets find out what in the ever-loving hell I'm talking about below, shall we?
The State of the Commonwealth
In the recent elections in my home state of Virginia, control of the state legislature was taken by the Democrats. There were a number of reasons for this, which yours truly was given the opportunity to rant about here, but whatever the cause, in a few weeks the Democrats will be making the laws with little the Republicans can do to stop them. To make matters worse, we have a certified retard in the governor's mansion whose long stated goal, among other abominations, is to enact a radical agenda of gun control measures. With me so far?
For those of you who are unfamiliar with the Commonwealth, there are really two Virginias (three if you count West Virginia) which are culturally and economically very different. By size, the overwhelming majority of the state is occupied by good, decent, hard-working and God-fearing people. These are people who have lived and worked in the same typically rural places for generations and are predominantly very conservative. The connections to family and the community at-large in these areas is very strong, and so is a long tradition of hunting and gun ownership. By contrast, the areas around DC, Richmond and Hampton Roads are very densely populated by people who rely on the federal and state governments for employment and who often have very little connection to the areas in which they live. While small in relative size, the concentrated population of affluent and liberal-minded people in these places create reliable Democrat Party strongholds.
I will spare you details of the long history of outside money and influence in Virginia politics. Suffice it to say it exists, as for many years the Democrats have seen the opportunity for gains in Virginia. This time it worked and the Democrats in the state will soon be running the show and are ready to enact all of their stupid ideas, beginning with guns. The results of the elections had barely been announced, when all sorts of radical anti-2nd Amendment measures were being advanced in the Virginia House of Delegates, which the Senate can't wait to approve, and which Governor Retard is itching to sign.
Virginia Citizens Defense League
The Virginia Citizens Defense League, or VCDL, describes their purpose as follows:
VCDL is a non-profit, non-partisan, grassroots organization dedicated to advancing the fundamental human right of all Virginians to keep and bear arms as guaranteed by the Second Amendment to the United States Constitution and Article I Section 13 of the Constitution of the Commonwealth of Virginia.
Fortunately, the VCDL takes their work seriously. Amid all the post-election incendiary rhetoric, and with Governor Retard doubling down on stupid and declaring the election represented a gun-control mandate, the VCDL launched a 2nd Amendment Sanctuary campaign and provided sample adoption language to counties and independent cities, with the following results over a matter of weeks: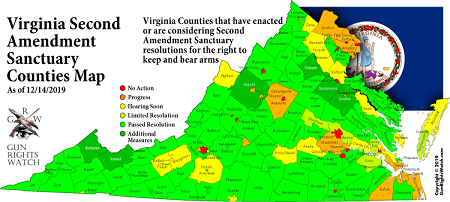 [credit: Gun Rights Watch]
Pretty impressive, huh? I'm thinking there was a mandate after all, but it's not exactly what Governor Retard thinks it is, and with him muttering about "consequences" for localities that don't comply, this idiot decides to up the ante and pour gas on the fire by suggesting the Virginia National Guard may be needed to enforce the anticipated new laws. This in turn resulted in the Adjutant General of Virginia releasing the following statement:
"We have received multiple questions regarding proposed legislation for the 2020 General Assembly session and the authority of the Governor of Virginia to employ the Virginia National Guard in a law enforcement role. We understand and respect the passion people feel for the U.S. Constitution and 2nd Amendment rights. We will not speculate about the possible use of the Virginia National Guard. I encourage everyone to be patient while we allow our elected officials to work through the legislative process. We have not received any requests from the Governor, or anyone on his staff, about serving in a law enforcement role related to any proposed legislation. I expect our Soldiers, Airmen and members of the Virginia Defense Force to be professional and respectful in their discussions about this subject. As private citizens, our personnel are free to express their opinions to their elected officials, but they should not engage in any political activity while in a uniformed status. We will provide regular updates when appropriate during the General Assembly session. Please utilize your chain of command to direct any questions or concerns to my office, and we will do our best to address them."

- Maj. Gen. Timothy P. Williams, the Adjutant General of VA
So we have a lot to unpack here, and I'm going to let you do the unpacking. I realize the 2nd Amendment Sanctuary declarations hold little weight in terms of the law, but they sure as hell send an unambiguous message to Richmond and the rest of the nation regarding the opinion of the people of Virginia on the subject of gun control. My little farm is located in Appomattox County, and I'm here to tell you this is the topic being discussed both in public places and in private conversations around the dinner table. Said another way, the people in the overwhelming majority of the Commonwealth are not amused. Already tired of the antics in Washington and Richmond, any significant push in this direction could very well have dire consequences.
So how about you all? How far away is this from happening where you live?
******
Link-O-Rama

Buy Ammo
AmmoSeek - online ammo search tool
GunBot - online ammo search tool
Palmetto State Armory
SG Ammo
Georgia Arms
AmmoMan
***Mail Bag***
Why didn't I think of this? [H/T multiple people]

******
Please note the new and improved gmail account morongunthread at gmail dot com. An informal Gun Thread archive can be found HERE. If you have a question you would like to ask Gun Thread Staff offline, just send us a note and we'll do our best to answer. If you care to share the story of your favorite firearm, send a picture with your nic and tell us what you sadly lost in the tragic canoe accident. If you would like to remain completely anonymous, just say so. Lurkers are always welcome!
That's it for this week - have you been to the range?



posted by Open Blogger at
07:00 PM
|
Access Comments