« Saturday Morning Coffee Break
|
Main
|
Saturday Gardening And Puttering Thread [KT] »
December 14, 2019
The stars come out above the states, even the flyover ones [KT]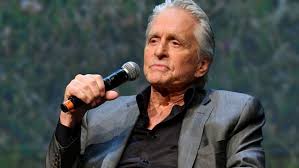 We're saved! If we follow their lead.
The stars are coming out to push the activities of a "non-partisan" anti-corruption organization which aims to save America, state-by-state, by way of voting laws, campaign finance laws, anti-lobbying measures and such. The organization is called Represent.Us. Their eventual goal is to change federal laws.
They emphasize that it's not fair that lobbyists have more influence on politicians than ordinary people. They don't seem to push any measures to limit the unfair influence of celebrities on (and in behalf of) politicians, though.
The first star chosen to save America, early this year, was Jennifer Lawrence. She is pretty much on the same page as Al Gore when it comes to the environment. I am not aware of any particularly moderate political stances she has taken outside of this organization.
A new video features Michael Douglas. "Unbreaking America: Divided We Fall".
O.K., even if he was just reading a script, maybe he shouldn't have donated money to Valerie Plame. Doesn't seem very non-partisan. Other left-wing celebrities are also involved with this organization.

The fundraising arm of this outfit is funded by such left-wing organizations as the Tides Foundation. They have already had some success, but a measure (involving public campaign finance) they got passed in Arizona was found unconstitutional, in part.
More on Represent.Us and its activities here:
One board member of note is John Johnson - co-founder of Buzzfeed, current chairman and founder of Harmony Labs.
Despite the efforts of Represent.Us to curtail campaign contributions, many of Represent.Us' board members participate in the same kind of high-dollar political funding that the organization criticizes. John Johnson donated $100,000 to Mayday PAC in 2014, an ironic "super PAC that would spend big money in order to fight super PACs and other groups that spend big money."

In 2016, Jon DeVaan donated over $12,000 to a variety of Democratic political candidates such as Hillary Clinton, Suzan DelBene, and Patty Murray. In 2014, Matt Cutts donated $50,000 to Every Voice Action, the PAC for a 501(c)(4) organization, Every Voice, which endorsed Hillary Clinton in 2016.
One of the issues they push is ranked-choice voting, even if dark money is required to pass it. Ranked-choice voting is now used in Maine and has been adopted in some regions in other states.
In 2018, after ballots were counted in Maine's second congressional district, Democrat Jared Golden trailed Republican incumbent Bruce Poliquin by about 2,000 votes. But with the ranked-choice voting system, Golden ultimately won by about 3,000 votes, picking up Democratic votes that initially went to independents Tiffany Bond and Will Hoar.
So, I guess it could be an advantage to have a crowded field on your side of the ideological fence with this voting system. What do you think about it?
Conservatives did pretty well in the last election in Australia, where ranked-choice voting started, but another Australian innovation, the secret ballot, may have had a greater effect. Voting was not predicted by the polls.
Back to Represent.Us: This outfit is hiring. Which shows that it is totally grass-roots.
One of the founders, a marketing/branding guy, tailored (ahem) a message to the fashion industry:
He argues that, as "the system that got [elected officials] in power is the one we're asking them to fix," the challenge of unrigging the system befalls grassroots, non-partisan cooperation, which his non-profit organisation RepresentUs facilitates. As evidenced by past reforms such as women's suffrage and interracial marriage, the momentum behind state-level activity is what pushes political issues into the purview of federal law.

Graham Lynn concluded with a call to action specifically tailored the fashion industry and its influence over culture: "What I would ask of you as a group is to actually help us shape history. Take a chance... and I assure you that if you do, things will get better."
I am looking forward to the new non-partisan anti-corruption clothing designs which we can expect soon from major fashion houses. Of course, he might also mean turning to Greta Thunberg's admonishment that we should only wear old clothes. The fashion industry can help shape history.
My least favorite idea from Represent.Us is public financing of campaigns. I always think of the LaRouche folks and Hitler mustaches when I think of public financing of campaigns. This is weirder, though. LaRouche PAC trolls AOC, AOC doesn't rule out eating babies.
On a more serious note, I think this essay makes a good point -- The danger of making ruthlessness seem reasonable:
A leftist politician no longer has to explain why socialism has never worked anywhere else, and how exactly it will work here. That's a tough sell. All he/she has to do is convince voters that Republicans are evil capitalists who want to get rich by destroying the world, like a James Bond villain. And then convince those voters that global catastrophe is certain unless they vote for the leftist, who cares for the environment. Skip the details, just paint the picture.

At that point, no actions, no matter how drastic or ruthless, are off the table. Confronting and shaming people in public. Chasing the families of suspected conservatives out of restaurants. Scaring the families of prominent conservatives. Arresting elderly nobodies like Roger Stone in SWAT raids in the middle of the night, with CNN along to broadcast it worldwide. It seems vicious, but hey, we're trying to save the world here, so it's ok. Really. Are you with us, or against us? Are you evil, or nice?

These people are dangerous.

So when I hear Nancy Pelosi say, "Civilization as we know it today is at stake in the next election, and certainly, our planet," I don't laugh. When I hear Greta Thunberg say, "For way too long, the politicians and the people in power have gotten away with not doing anything to fight the climate crisis, but we will make sure that they will not get away with it any longer," I don't just roll my eyes. When I hear AOC say, "There's no debate as to whether we should continue producing fossil fuels. There's no debate," I don't wonder what she's been smoking.

These people are dangerous. They make ruthlessness seem reasonable.
This is one of those essays you might like to pass around.
Who wants public funding of the left's everyday extremism? Or of alt-right extremism?
Music
Hope you have a nice weekend. Buying any clothes for Christmas?
Remember that this is the Thread before the Gardening Thread.
Serving your mid-day open thread needs

posted by Open Blogger at
11:21 AM
|
Access Comments