« Wednesday Overnight Open Thread (11/27/19) Thanksgiving Eve Edition
|
Main
|
Presidential Thanksgiving Proclamations [KT] »
November 28, 2019
The Morning Report - 11/28/19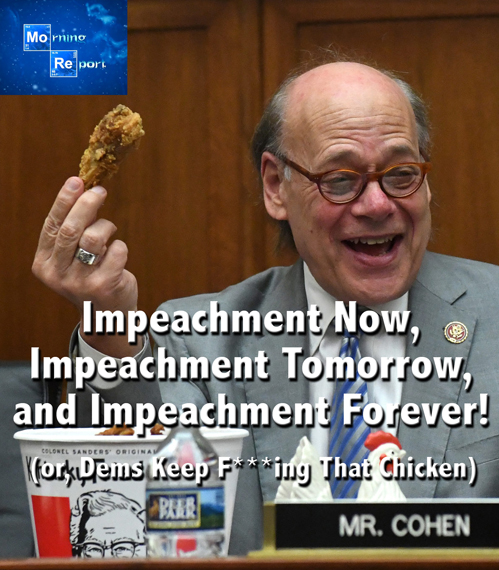 Good morning kids. Thanksgiving is here, and I will try to keep it brief and let the headlines do the talking. First up, sure as G-d made little green apples, for destroying the Democrat-Media narrative of quid-pro-quo, Gordon Sondland is suddenly being hit with sexual misconduct charges from three different women. It's so transparently obvious and pathetic, yet disgusting and evil. I suppose the Earl Blumenauer orchestrated campaign of threats and intimidation to him and his family didn't quite do the trick. And make no mistake; this is the dead-fish-wrapped-in-Luca-Brasi's-bullet-proof-vest aimed at anyone who dares defend the President in any future proceedings of this sham-peachment or future sham-peachments. Yes, you heard that right. Steve Cohen, the bespectacled turd out of Tennessee has stated that even if Trump is found innocent should this travesty fall apart, it's not going to be a one-off. They will trump up more charges and pressure more phony witnesses until hell freezes over, apparently. If that link about swing states coming from the reliably Leftist AP is accurate, the Dems are going to get wiped out in 2020.
Elsewhere, Mollie Hemingway reports on the latest attempt to smear Devin Nunes who, from what I have seen has hit CNN and the Daily Beast with lawsuits. Good. Lastly, Larry Elder on what a difference a change in presidents makes when it comes to whistleblowers.

NOTE: The opinions expressed in some links may or may not reflect my own. I include them because of their relevance to the discussion of a particular issue.
ALSO: The Morning Report is cross-posted at CutJibNewsletter.com if you want to continue the conversation all day.
Follow us on Twitter: @CutJibNews


posted by at
06:15 AM
|
Access Comments