« Open Thread - Jerks. The Lovable Ones Not Drunk Uncle Larry
|
Main
|
The Morning Report - 11/28/19 »
November 27, 2019
Wednesday Overnight Open Thread (11/27/19) Thanksgiving Eve Edition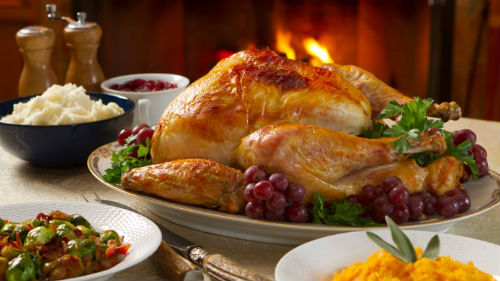 ***
THE QUOTES OF THE DAY

Quote I

"Remember God's bounty in the year. String the pearls of His favor. Hide the dark parts, except so far as they are breaking out in light! Give this one day to thanks, to joy, to gratitude!"
– Henry Ward Beecher

Quote II

"Gratitude is the inward feeling of kindness received. Thankfulness is the natural impulse to express that feeling. Thanksgiving is the following of that impulse."
– Henry Van Dyke

Quote III

"A thankful heart is not only the greatest virtue, but the parent of all the other virtues." Cicero

Quote IV

"Americans have always understood that, truly, one must give in order to receive. This should be a day of giving as well as a day of thanks." President Ronald Reagan
***
From The ONT Kitchen

Not only is this a great Christmas dinner. It is also a great Thanksgiving meal. You too can make it.
*

As we approach the big dinner Mrs. Mis. Hum. has been wondering if she should make the Green Bean Casserole in the Crock Pot. So, everything you wanted to know about the Crock Pot but were afraid to ask.

The Crock Pot's story began during the 19th century in Vilna, a Jewish neighborhood in the city of Vilnius, Lithuania. Once known as the "Jerusalem of the North," Vilna attracted a thriving community of writers and academics. There, Jewish families anticipated the Sabbath by preparing a stew of meat, beans and vegetables on Fridays before nightfall. Ingredients in place, people took their crocks to their towns' bakeries—specifically, to the still-hot ovens that would slowly cool overnight. By morning, the low-and-slow residual heat would result in a stew known as cholent.
*
Things to boisterous at your place? Everyone likes pie. Here is the pie that cures the unwanted ruckus.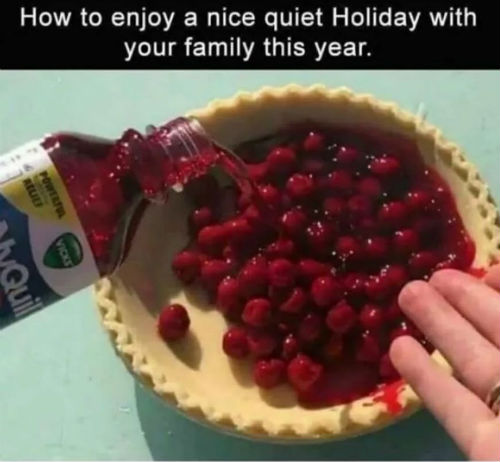 ***
The ONT Turkey Facts
***
THE ONT MUSICAL INTERLUDE
&&&
***
***

Speaking of fraternities, forrmer Delta House dropout is tonight's Genius Award Winner.

A Florida man was arrested after allegedly trying to recruit ISIS to attack the deans of colleges he formerly attended.

Salman Rashid, 23, was arrested on charges of soliciting another person to commit a violent crime, according to a Monday release from the U.S. Attorney's Office for the Southern District of Florida. Rashid allegedly attempted to call on ISIS members to target two deans from Miami-Dade College and Broward College.
***

82 year old Willie Murphy is thankful and Tonight's Feel Good Story of The Day.

Last Thursday around 11 p.m., a man broke into 82-year-old Willie Murphy's Rochester home.

But she's not pressing charges.

"I already sent him to the hospital," she said Monday, following a workout at her home away from home, the Maplewood YMCA at 25 Driving Park Ave.

Murphy, who is barely 5-feet tall and weighs 105 pounds, beat the intruder so hard with a small table that it broke. Then while the man was on the floor, dazed, she poured shampoo in his eyes. Then, while he screamed at her — calling her "everything but the mother of God!" — she jumped on him. And then Murphy — who admitted to uttering a few four-letter words herself — grabbed a broom (the one she uses to clear snow off her car) and repeatedly jabbed him "with all my force," she said.
***

Tonight's ONT has been brought to you by My Thanksgiving Dinner Plans.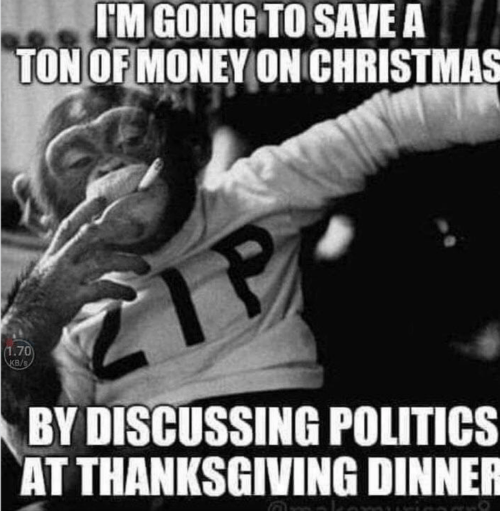 Notice: Posted with permission by the Ace Media Empire and AceCorp, LLC. I personally want to thank Ace for allowing me to hang with you folks. I'm thankful for your readership and friendship. We have a wonderful community here at the AoS. I hope that each and everyone of you has a wonderful Thanksgiving Day tomorrow. If you are traveling this holiday weekend please be careful.

posted by Misanthropic Humanitarian at
09:30 PM
|
Access Comments