« The Morning Report - 11/28/19
|
Main
|
Mid-Morning Art Thread »
November 28, 2019
Presidential Thanksgiving Proclamations [KT]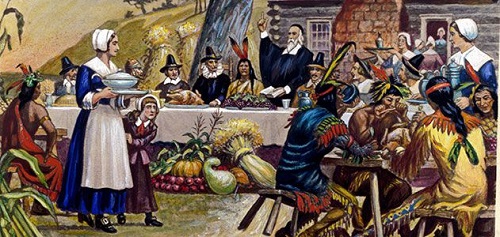 Menus: First Thanksgiving vs. Thanksgiving in Lincoln's Time
Have you thought about starting a tradition of reading a Presidential Thanksgiving Proclamation on Thanksgiving? This is a really American holiday, and we don't have a lot of rituals that remind us that we are a nation. Dennis Prager usually reads one on the radio on Thanksgiving, about the time people on the West Coast are cooking. J.J. Sefton included one from George Washington at the end of his Morning Report this morning.
President Trump has delivered the 2019 Proclamation. It starts:
On Thanksgiving Day, we remember with reverence and gratitude the bountiful blessings afforded to us by our Creator, and we recommit to sharing in a spirit of thanksgiving and generosity with our friends, neighbors, and families.

Nearly four centuries ago, determined individuals with a hopeful vision of a more prosperous life and an abundance of opportunities made a pilgrimage to a distant land. These Pilgrims embarked on their journey across the Atlantic at great personal risk, facing unforeseen trials and tribulations, and unforetold hardships during their passage. After their arrival in the New World, a harsh and deadly winter took the lives of nearly half their population. Those who survived remained unwavering in their faith and foresight of a future rich with liberty and freedom, enduring every impediment as they established one of our Nation's first settlements. Through God's divine providence, a meaningful relationship was forged with the Wampanoag Tribe, and through their unwavering resolve and resilience, the Pilgrims enjoyed a bountiful harvest the following year. The celebration of this harvest lasted 3 days and saw Pilgrims and Wampanoag seated together at the table of friendship and unity. That first Thanksgiving provided an enduring symbol of gratitude that is uniquely sewn into the fabric of our American spirit.
More than 150 years later, it was in this same spirit of unity that President George Washington declared a National Day of Thanksgiving following the Revolutionary War and the ratification of our Constitution. Less than a century later, that hard-won unity came under duress as the United States was engaged in a civil war that threatened the very existence of our Republic. Following the Battle of Gettysburg in 1863, in an effort to unite the country and acknowledge "the gracious gifts of the Most High God," President Abraham Lincoln asked the American people to come together and "set apart and observe the last Thursday of November next as a Day of Thanksgiving and Praise to our beneficent Father who dwelleth in the heavens." Today, this tradition continues with millions of Americans gathering each year to give their thanks for the same blessings of liberty for which so many brave patriots have laid down their lives to defend during the Revolutionary War and in the years since.
Daniel Horowitz writes about one of the proclamations by Coolidge, who wrote some proclamations worth reading aloud.
In 1924, President Calvin Coolidge noted in his annual Thanksgiving message, "An abundant prosperity has overspread the land." He exhorted the nation to use the abundance to please the giver of that bounty and to lift our spiritual state to equal our physical one. "We shall do well to accept all these favors and bounties with a becoming humility, and dedicate them to the service of the righteous cause of the Giver of all good and perfect gifts," wrote the quiet and humble 30th president. "As the nation has prospered let all the people show that they are worthy to prosper by rededicating America to the service of God and man."

As we stand here today, nearly a century later, nobody would wish to live in that era, which Coolidge later referred to as one of "comfort" where "wealth is almost incalculable." Most people didn't even have the full bathroom amenities of hot piped water, a bathtub, shower, or a flush toilet in their homes, yet they were happy with their state of being. Why? Because as Coolidge observed in his 1928 Thanksgiving proclamation, the spiritual wealth of the nation grew commensurate with its physical wealth:

Our fields have been abundantly productive; our industries have flourished; our commerce has increased; wages have been lucrative, and comfort and contentment have followed the undisturbed pursuit of honest toil. As we have prospered in material things, so have we also grown and expanded in things spiritual. Through divine inspiration we have enlarged our charities and our missions; we have been imbued with high ideals which have operated for the benefit of the world and the promotion of the brotherhood of man through peace and good will.
I don't think he was talking about charities controlled by the federal government there.
As the wise President Coolidge once said, "If at any time our rewards have seemed meager, we should find our justification for Thanksgiving by carefully comparing what we have with what we deserve."
My own theory is that societal rewards seem to work differently from personal rewards, which sometimes seem to go to undeserving people.
Hope you experience some blessings this Thanksgiving. Here's an old Shaker song.
And in case your are curious about Thanksgiving foods at the time of Lincoln, a little history from the link under the art at the top of the post, from culinarian Kathleen Wall:
Sarah Josepha Hale, editor of the popular women's magazine Godey's Lady's Book, , a real trendsetter for running a household, was a leading voice in establishing Thanksgiving as an annual event. Beginning in 1827, Hale petitioned 13 presidents, the last of whom was Abraham Lincoln. She pitched her idea to President Lincoln as a way to unite the country in the midst of the Civil War, and, in 1863, he made Thanksgiving a national holiday.

Throughout her campaign, Hale printed Thanksgiving recipes and menus in Godey's Lady's Book. She also published close to a dozen cookbooks. "She is really planting this idea in the heads of lots of women that this is something they should want to do," says Wall. "So when there finally is a national day of Thanksgiving, there is a whole body of women who are ready for it, who know what to do because she told them. A lot of the food that we think of--roast turkey with sage dressing, creamed onions, mashed turnips, even some of the mashed potato dishes, which were kind of exotic then.
I have never had creamed onions for Thanksgiving. Have you?

This is an open thread.

posted by Open Blogger at
08:50 AM
|
Access Comments