« Something Light For The Start Of A Short Week
|
Main
|
Gun Thread: But Wait, There's More! [Weasel] »
November 24, 2019
Food Thread: Gobble-Gobble-Gobble...er...Oink-Oink-Oink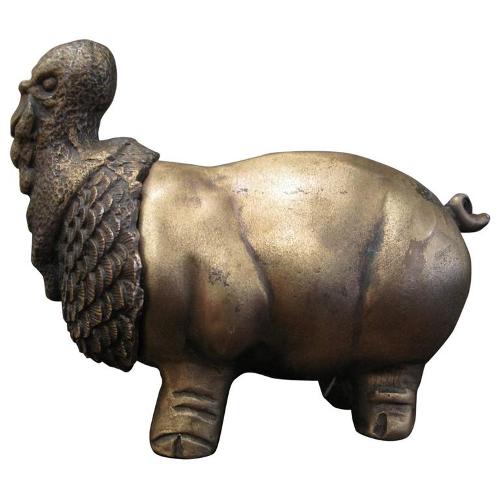 After many years of observation and study, I have come to the conclusion that turkey is a communist plot designed to lower the defenses of Americans so the socialist hordes, carrying quinoa (pronounced kwi-no-ah in Chez Dildo), tofu, mock burgers and fat-free mayonnaise can infiltrate our kitchens and destroy what makes us great.
And what makes us great? Pork. Lots of fatty, unctuous pork belly and bacon and wonderful rib chops and pork butt and incredible pork sausages and...
Turkey is boring and bland, and millions of Americans agonize every Thanksgiving over how to make it a halfway decent main course. Brining and frying and stuffing it with all sorts of stuff and basting it endlessly with fat, when a much simpler and tastier option is snorting and grunting in the pig-pens of Iowa.
As Psalm 2:3 says: "Let us break Their bonds in pieces And cast away Their cords from us." David was talking about turkeys....
******
From commenter "Jane D'oh" comes a request to get the fvck out of her kitchen, but said with a sweet Southern lady's style.
Help for the Controlling Holiday Hostess This Season

I completely understand where you're coming from, because I'm also a controlling person (in many areas, not just entertaining). Southerners are often so good at hosting that we let the rogue, foil-wrapped offering get under our skin. I, for one, don't like surprises in the form of unexpected cheese straws that upset my appetizer balance, and when people offer to assist me in the kitchen, a small troll that lives in my gut starts to shiver in panic.
I'm on Jane D'oh's side. Get the hell out of the kitchen, don't bring food unless specifically requested by the host, and if you want to help, do exactly what is requested, and nothing else.
My pet peeve is people who clear the table and stack everything in the damned sink. Uh...retard! I use the sink to wash the pots and pans. How can you possibly be that fvcking stupid? Just scrape the plates, stack them neatly on the counter, and place all of the flatware on the top plate or in an empty serving bowl. And then get out of the kitchen.
How about you? What guest behavior infuriates you? Pleases you? Makes you question your life choices?

******
From commenter "Otto Zilch" comes a recipe for cranberry sauce that looks pretty good. Lots of interesting flavors! And it has got to be better than the crap my SIL brought one year.
Zinfandel Cranberry Sauce

2 cups zinfandel wine (*)
3/4 cup sugar
5 two-inch strips of orange peel
1/2 cup fresh orange juice
6 whole cloves
4 slices fresh ginger, peeled
2 cinnamon sticks
12 oz fresh cranberries

Make a syrup by combining everything but the cranberries in a medium saucepan. Bring it to a boil over high heat. Reduce heat to medium and cook for 15 minutes or until mixture begins to thicken, stirring occasionally. Strain the mixture into a bowl so you can remove the cloves and other solids. Return the mixture to the pan and add cranberries. Cook over high heat 10 minutes or until berries pop. Reduce the heat to low and simmer uncovered for 30 minutes. Pour into a bowl and let cool. Best made a day or two before serving: keep refrigerated.

*—Inexpensive zin is fine, maybe even better for this recipe, but you definitely want something from a winemaker who knows what zin is supposed to taste like. Suggestions include Ravenswood, Rosenblum, and Cline.
Yeah...the whole wine for cooking thing is fraught with danger. Personally I find nothing sillier in a recipe than reading "use a good Burgundy" or something similar. Folks, you are cooking the wine. 99% of the varietal differences are going to evaporate or be blended with everything else. Use whatever cheap wine you can find at the wine store or supermarket. Most wines are perfectly palatable, and will work fine for whatever dish you are making. It's getting tougher and tougher to find a truly crappy wine, mostly because of that interesting oddity of human culture called a "free market economy," and the rest of it because of tremendous advances in viticulture and oenology.
******
The Brits are big fans of this wonderful dessert, but it is not a trivial exercise. It can be dry, or too sweet, or both. Yuck.
This recipe looks to be solid, although Gordan Ramsey's restaurant version is the gold standard, and one that I am still looking for. Apparently the limey bastard doesn't share his greatest recipes with randos who call his restaurants looking for free stuff.
Perfect English Sticky Toffee Pudding

******
This is a repeat, but it's also really easy, really good, and can be doubled or tripled or quadrupled.
Dildo's Butternut Squash Soup
You can garnish it with pretty much anything that will float, even a nice fat strip of bacon!
******
If you must eat turkey, then give this technique a try. Spatchcocking is my preferred chicken cooking technique, and it sizes to turkey very well. The real advantage with turkey is the cooking speed, although with more surface area comes more exposure to whatever you are using to flavor the tasteless mass of protein. And the skin will get nice and brown and crispy.
******
Thanksgiving is the quintessential American holiday, and one that does not require endless preparation, huge cash outlays, formal wear and butlers to answer the door. Just keep it simple, and remember that the point is not the meal, it is the pleasure of the company of the people you have invited into your home. The meal is a bonus, and even if it sucks it will be a fond and amusing memory in a few years.
So keep it light, have fun, and don't suffer fools.
[Jeffrey Epstein didn't kill himself]

******
Food and cooking tips, Castelvetrano olives with a sprinkle of chili flakes, young wild pigs, crisp bacon (although I am moving toward less crisp), thick and fluffy pita, and good tomatoes that aren't square, pale pink and covered with Mestizo E.coli:
cbd dot aoshq at gmail dot com
. Any advocacy of French Toast with syrup will result in disciplinary action up to and including being
nuked from orbit.
And yes, shaking a Manhattan is blasphemy...it's in the Bible!
&topic=world_news">

posted by CBD at
04:00 PM
|
Access Comments