« Food Thread: Gobble-Gobble-Gobble...er...Oink-Oink-Oink
|
Main
|
Overnight Open Thread (11/24/2019) »
November 24, 2019
Gun Thread: But Wait, There's More! [Weasel]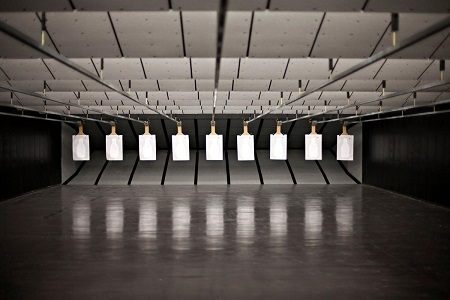 We had even more great submissions in the mailbox this week. Thanks! This is what it's all about, guys and gals, getting to the range and shooting. It's fine to read about shooting related topics, especially Sunday evenings at 7pm, but you need to get out and practice your skills! Let's look at what some of our friends are doing at the range, shall we?

So just how often are you getting to the range, anyway? Weekly? Monthly? Semi-annually? Once every few years?
We had a great question in the comments last week from our pal Vashta Nerada:
An item for discussion is whether firing hundreds of rounds at a range session is the best method, versus a lower round count and more frequent visits. Since I don't pay for range time, I prefer option two. I feel that it helps my muscle memory to do it this way.
This is really a very good question and I'd like to hear your thoughts. High round count occasional visits, or more frequent, lower round count trips? Which do you think is better, and which one are you doing? Which one helps build on previous training sessions in terms of muscle memory, sight picture and so forth? How long between range trips is too long and allows your skills to degrade?
******
First up, many of you will recall our pal Scuba_Dude whose story of acquiring a New York City handgun license was recently featured here in the ol' Gun Thread. Well Scuba_Dude had a mini shooting MoMe with our other pal RPL and gave us a preview last week in the comments.
Here is the full range report from SD:
Just got back from meeting and shooting with RPL. A great guy and someone who definitely knows how to shoot. He was kind enough to help me with things such as my stance and my grip which I think more and more might be the root of my problems. We met up at the West Side Rifle & Pistol range. A nice cozy indoor range located in the basement of one of the buildings on 20th street in the Flatiron section of Manhattan.

I got there a few minutes before RPL and started filling out the form for people who are not members and are shooting for the first time there. They also looked at my handgun license as it would be against the law for me to shoot there without one (yep, crazy NYS law). I also purchased 100 rounds of 9mm and RPL got 50. Well we went over to a table to get our things together, basically unpacking the pistol and getting our eyes and ears on and proceeded to the firing lanes. This is definitely an old style range, you had to turn the light on to illuminate your port and it had a wheel and pulley system to move your target back and forth.

RPL had brought two targets with him, a diagnostic target and another type for doing drills. He put the diagnostic target up and put it out about 7 or 8 yards down range and had me take my stance and start shooting at the target. As the picture shows I was mainly shooting low and left. RPL made suggestions for my stance and most importantly to my grip. He had me make sure my thumbs were both facing down range as I tend to curl them downwards and he suggested I try to push/pull with my hand - pushing with my dominant/trigger hand and pulling with the other. These tips definitely helped and I am going to be working on it a lot at home just working on gripping the gun.

It was great meeting a fellow moron and RPL really helped with my shooting. He also suggested going to the Sig Academy which I will look into doing next year when its warmer.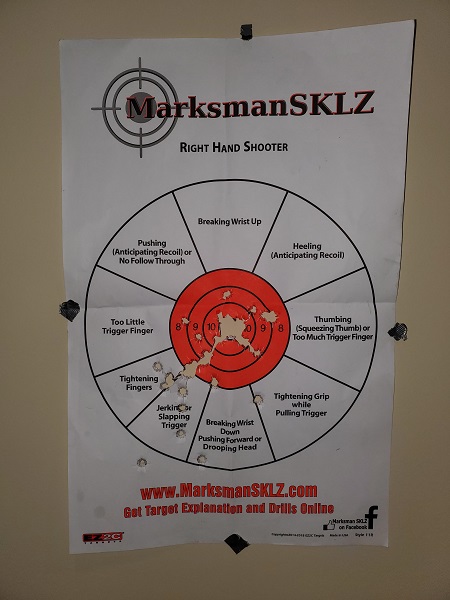 I like the diagnostic target, and I wish more ranges offered them for sale. We get questions here all of the time that these targets would answer!
Also, I've talked about the Sig Sauer Academy in New Hampshire before, and heartily endorse the idea! They have a lot of courses from which to choose, and the ones I've attended have been well worth the time and money. The programs are very well organized and the instructors are both knowledgeable and helpful.
******
Next we have a range report from our pal RedinaBlueState who recently spent some time shooting with his son:
Last week my 30 year old son and I went to the local indoor range to sight in my AR. We're in Chicago so shooting outdoors for fun right now is out of the question. I bought the weapon back when HILLARY! was going to be president and I knew she would ban them. Since Trump won I got lax and never used it. It took me a while but finally got it dialed in on the iron sights. Once that happened it immediately turned into a competition between us. It always does. Well, I held my own against his young eyes and steady hands.

We then turned to our handguns and shot about 150 rounds through his Glock 17 and my Springfield XDS which is my EDC weapon. He kicked my ass, and made me proud. We've shot together for over 20 years now. Even when he was a teenager and things were strained between us we have always been able to go shooting and have fun. When he still lived at home we would also spend an hour or two afterward cleaning our guns and talking.

The smell of Hoppes and gun powder will always bring back great memories for me. Something the gun haters just don't understand.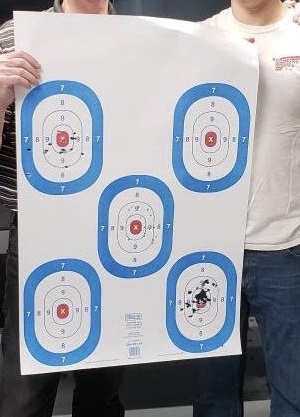 Very nice, RedinaBlueState! I was only able to go shooting once with my dad, and I really wish we had been able to go more often. Rest assured your son enjoyed himself just as much as you did! How many of you have sons and daughters who would appreciate a trip to the range? How many of you have a mom or a dad that would appreciate a trip to the range? The holidays are coming, why not make a range trip part of your annual family tradition?
******
Here is a great suggestion from our pal Diogenes:
The Civilian Marksmanship Program 2020 schedule for their Advanced Maintenance Class has been released. This is for those interested in the M1 and attending the course to learn how to do detailed maintenance on the weapon. It's not cheap but a big hit.
I have read several comments over the years from people who have attended this class, and without exception, they rave about it! There are two pricing options; one where you bring your own rifle, and another which includes the purchase of a CMP M1 Garand. It really sounds like a great time!
******
I really cannot watch enough Jerry Miculek videos, and apparently I'm not alone. Here is a video montage sent in by a lurker:
******
Our alert pal Jim Sunk New Dawn sent in this great deal. I've pimped the Lab Radar here before, and now they're on sale for just $499! That's significantly less than I paid for mine a number of years ago. If you are even remotely serious about shooting and handloading, particularly precision shooting with rifles, you need one of these. They are solidly built, very accurate, and about fifty times easier to use than other chronographs. WeaselApproved!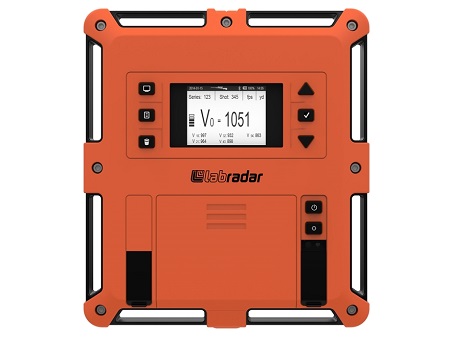 Link-O-Rama
The holidays are coming and Black Friday will be here before you know it. Its a great opportunity to shop for the gear you need and save a few bucks in the process.
Buy ammo.
AmmoSeek - online ammo search tool
GunBot - online ammo search tool
Palmetto State Armory
SG Ammo
Georgia Arms
AmmoMan
***Mail Bag***
This is pretty damn funny! - h/t CBD.
******
Happy Thanksgiving to each and every one of you!
******
Please note the new and improved gmail account morongunthread at gmail dot com. An informal Gun Thread archive can be found HERE. If you have a question you would like to ask Gun Thread Staff offline, just send us a note and we'll do our best to answer. If you care to share the story of your favorite firearm, send a picture with your nic and tell us what you sadly lost in the tragic canoe accident. If you would like to remain completely anonymous, just say so. Lurkers are always welcome!
That's it for this week - have you been to the range?


posted by Open Blogger at
07:00 PM
|
Access Comments