« Luxury without the guilt [KT]
|
Main
|
Ace of Spades Pet Thread »
November 23, 2019
Saturday Gardening And Puttering Thread, Nov. 23 [KT]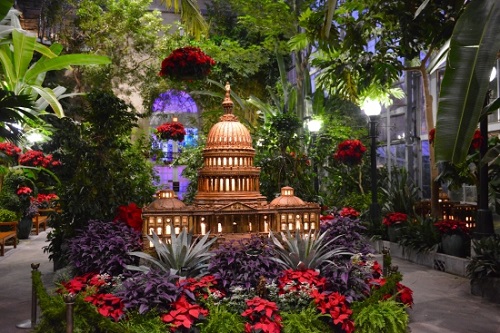 Hi, gardeners, putterers and friends. The photo above is from the U.S. Botanical Garden, which will be opening its holiday show on Thanksgiving, celebrating train stations of the USA. Of course, we all can't decorate like that for Thanksgiving. Ever thought about combining succulents with a pumpkin, squash or gourd you grew for Thanksgiving decor? Directions at the link.
I expect it would take something bigger than succulents to switch this scene from the Dallas Arboretum over to a Thanksgiving theme. Photos by Larro.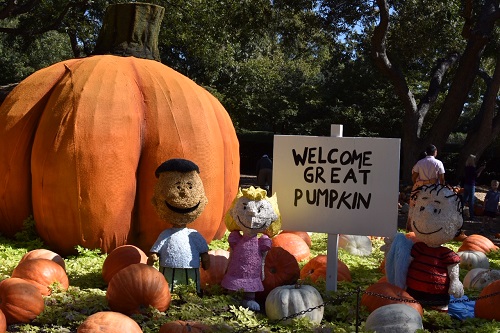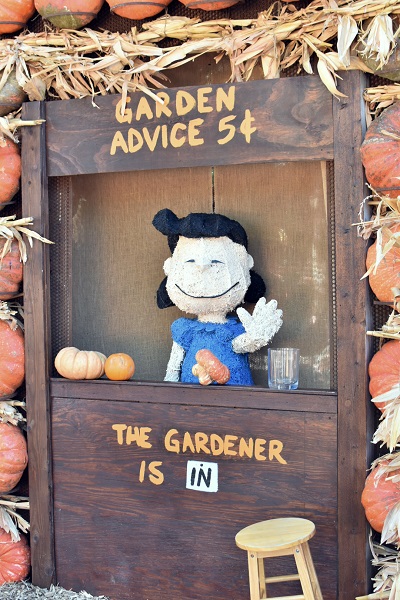 Fall colors courtesy of Jake Holenhead:
They're Fall colors I took while on a trip to the Keweenaw Peninsula in the U.P. of Michigan this past weekend. It was past peak colors by about a week, but there's still plenty of color.

This overlooks Copper Harbor, MI at the tip of the peninsula.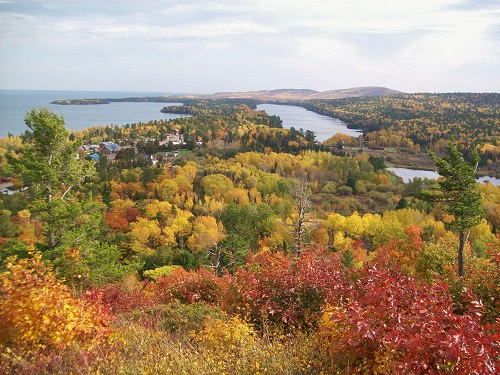 Looking towards the West along the spine of the peninsula.
Kewee SnoGauge: I took this one last year in October of the Keweenaw Snow Gauge. They sure do get a lot of snow up there.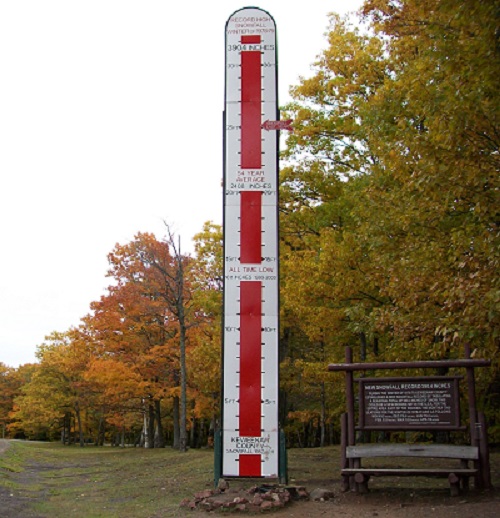 Invasions
Back last April, Gordon in Minnesota wrote:
New neighbors. I'm not sure what it will mean for the garden.
Illiniwek had 17 turkeys on his trailcam last year. His farm can support some turkeys. Has anybody else had experience with turkeys in the garden?
With Thanksgiving coming up, there are stories and videos popping up concerning aggressive wild turkeys invading towns and neighborhoods. But this story is from 2012. Not a new problem:
Rogue turkeys are terrorizing residents of suburbs across the country. Last month, the Boston Globe reported wild turkeys were menacing visitors at the Mount Auburn Cemetery by "chasing them, pecking at them, and going after baby strollers."

Residents of a San Jose, Calif., suburb complained that turkeys were standing on cars and scratching the paint, a behavior officials there attributed to the mating season. And, in a Detroit suburb, there were recent reports of a 69-year-old woman afraid to leave her home after a large, aggressive wild turkey stalked her, clucking at her whenever he saw her, and bumping into her torso. She had to put a broom by her door to fend it off.
The Humane Society suggests that you assert your dominance over turkeys. And for gardens,
Most of the crop and garden damage blamed on wild turkeys is actually caused by other animals (such as raccoons, groundhogs, foxes, deer, or squirrels). Still, you can keep wild turkeys from feasting on your garden or shrubs by using a motion-activated scare device (such as a Scarecrow Motion-Activated Sprinkler) or by protecting plants and vegetables with hardware cloth. (Try to avoid the use of netting, which can entrap birds and other animals.)
Via Hank Curmudgeon, why you're being invaded by ladybugs: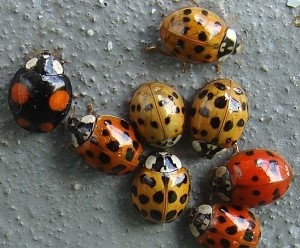 From the hills of southern Appalachia to the Canadian border, there is a bizarre invasion conquering the land. Not the invasion of a foreign army with legions of militant soldiers, but swarms of tiny beetles, complete with red backs and black spots, affectionately known as ladybugs.

Across the nation these otherwise cute and harmless creatures are being spotted blanketing the sides of vehicles, penetrating the interiors of homes and swarming in large mass throughout residential areas. . .

For starters, the ladybugs you're seeing today are probably not the same ones you remember from your childhood: Though ladybugs are native to North America, in 1916 wildlife officials attempted to establish a non-native species of ladybugs, the Asian Ladybeetle (Harmonia axyridis) which they believed would be more effective in controlling aphid populations. . .
But it is believed the the bugs that are being seen now are descended from some that escaped from a freighter in New Orleans, rather than from those released by scientists.
Although Asian lady beetles do not transmit diseases per se, recent studies suggest that infestations can cause allergies in some individuals, ranging from eye irritation to asthma.

"Asian lady beetles are also becoming a concern of the wine industry. Due to their noxious odor, even small numbers of beetles inadvertently processed along with grapes can taint the flavor of wine."

Residents wishing to remove ladybugs from their homes are encouraged to vacuum them; however, most agree that the greatest way to curb their entry is to ensure that all areas of the home are properly sealed so that there are no entry points for them to infiltrate.
In 2015, there was an invasion of spiders in Memphis, Tennessee. Naturalists called it a sign of a health environment. Likely juvenile Sheetweb Weaver Spiders. Made the news in Europe:
Not quite as dramatic as this invasion in Australia.
Wine
We have had a little wine-making going on within The Horde. Guess one needs to be mindful of ladybugs now, along with everything else. Here are some Chardonnay grapes before de-stemming and pressing.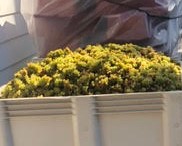 And Pinot grapes.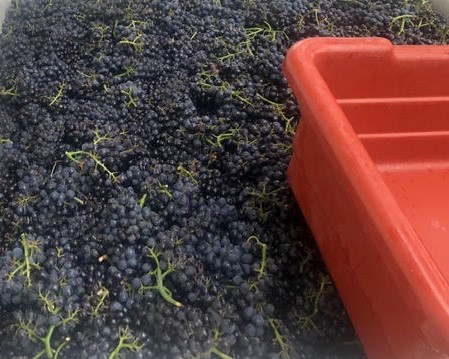 Punching down Barbera or Syrah. Not sure which.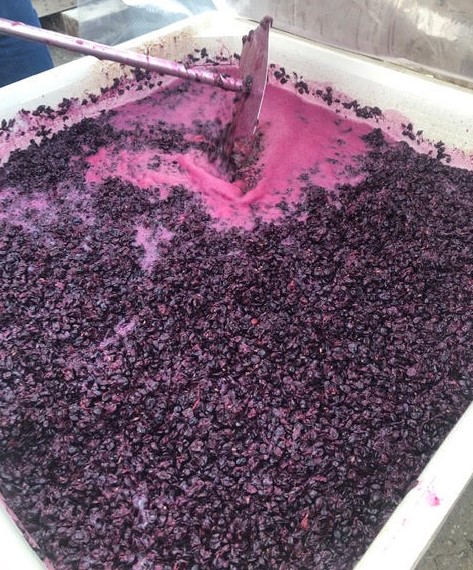 Indoor Gardening
My cousin in Utah reports that some of her geraniums in the basement are still hanging on to their flowers, but she is trimming them back anyway, in preparation for spring.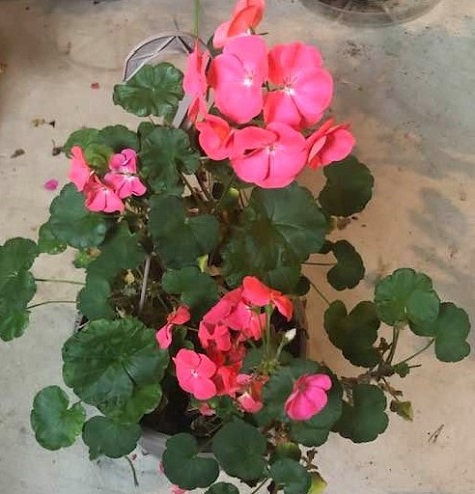 This is her childhood friend's ivy geranium. They over-winter these in Switzerlan for all those chalets with balconies and window boxes.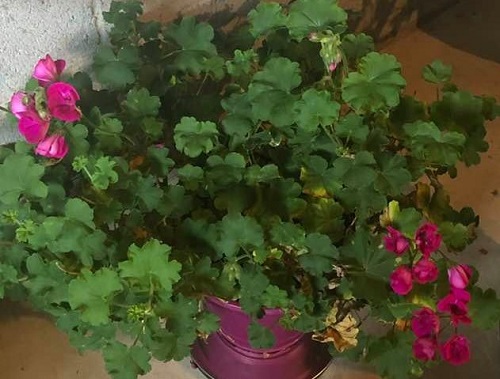 She potted up a petunia as an experiment. She does not expect to keep it until spring.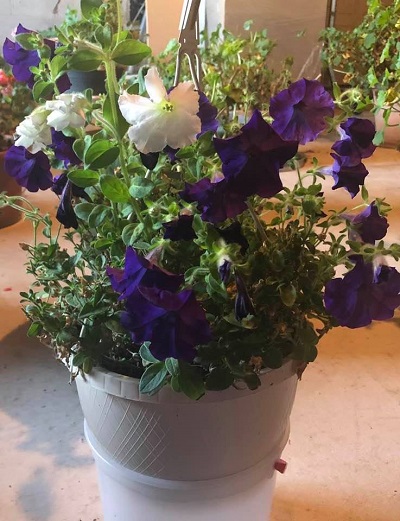 Puttering History
Where would putterers be without screws? Here, an interesting history of certain Canadian vs. U.S. screws via Hank Curmudgeon:
Gardens of The Horde
Anything going on in your garden?
If you would like to send information and/or photos for the Saturday Gardening Thread, the address is:
ktinthegarden
at g mail dot com
Include your nic unless you want to remain a lurker.

posted by Open Blogger at
01:30 PM
|
Access Comments