« Food Thread:The Belly Of The (Tasty) Beast, Sex In The City And Russian Layer Cake?
|
Main
|
Sunday Overnight Open Thread (11/17/19) »
November 17, 2019
Gun Thread: Mail Call!! [Weasel]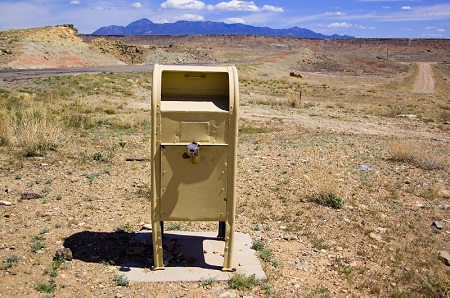 Dayum! You people really hit the ol' Gun Thread mailbox hard this week! So much so, you all have pretty well written the thread your own bad selves! Thank you, thank you, thank you!! And this means I get to use the lonely mailbox picture again! Life is bueno, amigos and amigettes. Without further introductory blabbering on my part, lets get right to it, shall we?
First we have this story and question sent in by our pal ibguy whose friend Sam had a recent confrontation:
Sam's story:

"How sad. I suppose civility is truly dead with the younger generation. As many of you know, I live downtown above my business (really cool). This afternoon a young man parked next to me in my small parking lot (right next to a massive, public lot). Normally I am not bothered (I don't care about such things) BUT my wife was leaving soon and was uncomfortable that someone was parking in our lot after hours. I get it. Women should be concerned about their safety and it was odd that he parked where he did - considering that the large, public lot was closer to where it turned out he was working). There is a prominently displayed no parking during non-business hours sign (tow sign specifying parking in our lot after-hours may cause your vehicle to be towed - pretty standard stuff for businesses).

So, I go out.

I don't see anyone around and as I'm starting to take a phone pic of his license plate, this young man comes running up to me - threatening to "knock my teeth out" and "shoot me" if I don't get away from his car. He was around the corner of a nearby building taking pictures of a young girl. I was surprised. He was a very nice-looking young man who I would think was taught better manners and behavior.

I tend to do the unconventional when surprised. I spread my arms wide and told him to go ahead and hit or shoot an old, fat man. He continued to threaten me as he (and she) entered the car and drove off. OK, his camera was a digital SLR and he had a nice car. He was well groomed and nicely dressed (as was she). So, I didn't think I was dealing with any sort of thuggery. But his vehemence made me wonder how his Mother raised someone who felt so entitled as to do such actions without permission. I am a BIG believer in entrepreneurship. So, had he asked I would certainly given him "run" of the entire place. Ah well, we move on."

Here's my question; draw or no (not necessarily shoot)?
Well that's an interesting problem. Sam was threatened with bodily harm, but apparantly no weapon was evident. What do you all think? Was there enough provocation there for Sam to draw a weapon, or would you have done as Sam did and try to diffuse the situation another way? As you consider your answer, think about how a prosecutor might spin this to a jury if things had escalated and the troublemaker had been shot.
*******
Next we have a range report from our pal That Deplorable SOB Van Owen:
I had an interesting and instructive visit to our range yesterday.

I had saved my nickels and saved my dimes and finally got the scratch together to indulge my lust for a brand new Colt Combat Elite Commander in .45 ACP. 4.25" barrel, ambi safety, for my southpawness, and Novak night sights that I can actually SEE. Excited as Ralphie with his Red Ryder, I took it with a bunch of ammo to break it in some.

Functioned great with 230 grain hardball from Speer, Remington, and of course Winchester White Box. Not a hiccup with Winchester PDX1, which I use as my defensive load. Then I tried some TulAmmo that I had.

First round . . . POP. Not good, I sez to myself. I drop the mag, point the muzzle in a safe direction, and wait a decent interval. Jack out the round and see that the primer detonated, but not the powder. Maybe an aberration, I tell myself. Fire another couple of rounds without incident, then on the third round I notice that the recoil was very light, and I swear I heard a sizzling sound.. I couldn't tell if the slide had cycled or not. So I drop the mag and wait again. Pull back the slide. No round in the chamber, and no (Thank God!) round stuck in the barrel.

I may be dumb, but I ain't stupid. I unloaded the TulAmmo and decided to consign the remainder of the box to the bottom of the lake where I may have an unfortunate canoeing accident if Blackface Northam gets his legislative agenda passed. Interestingly enough the TulAmmo wasn't ancient, maybe three years old, and had been stored in good conditions in the same metal GI ammo box as the Speer that I shot. Inspection of the rounds themselves showed no evidence of corrosion or other problems.

This was the second incident I've had with TulAmmo. The first was 5.56 mm that had consistent failure to extract from my S&W M&P 15. I know lots of people swear by TulAmmo, but I will never buy that Russkie crap again. BTW, the gun shot better than I do. Much more practice is indicated!
Great report. Thanks That Deplorable SOB Van Owen! I've used TulAmmo some in 7.62x39 for plinking purposes, and haven't had a problem. I doubt I'd ever choose it for carry ammo, but for goofing around it seems OK. How about you all? What has your experience been with TulAmmo? Good, bad, or indifferent?
Here's a pic of TDSOBVO's neww shootin' iron. Congratulations on the Colt!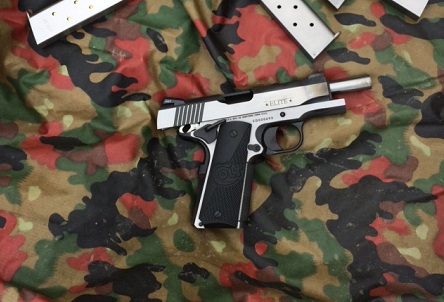 We also have a picture of the offending cartridge. Anyone see a problem with the primer?
*******
Next up we have a tree stand report from our pal Eromero al BigDaddy:
Big Buck probably said 'Damn the free corn. That position is held by Isis, steer well clear of it'. I only saw does and young bucks this past week. But that 6 point will look pretty damn legal on the last day of deer season in January.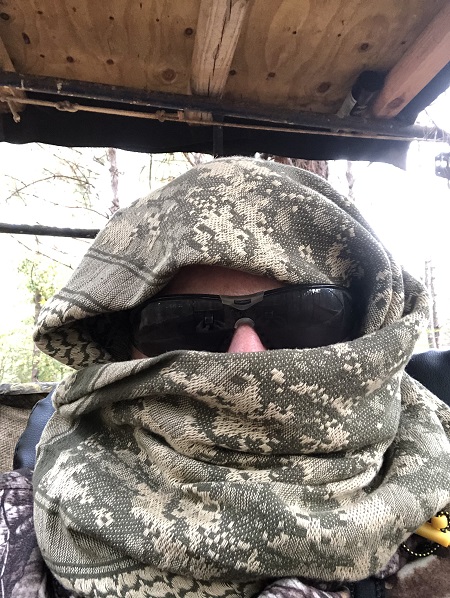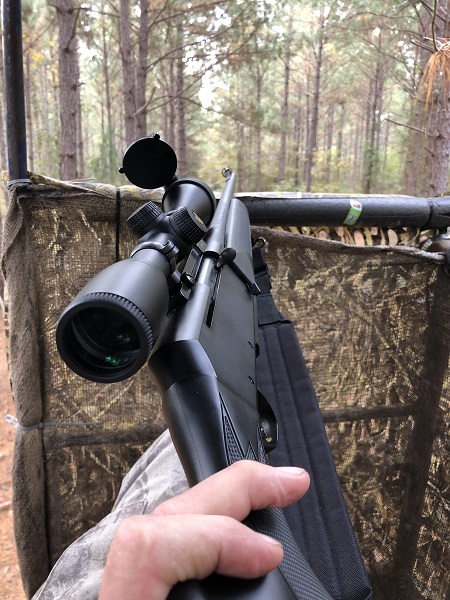 Word of your lethal bad-assery has reached the East Texas deer population! Thanks Eromero aB!
*******
Next we have a cleaning tip from our pal Neon Madman: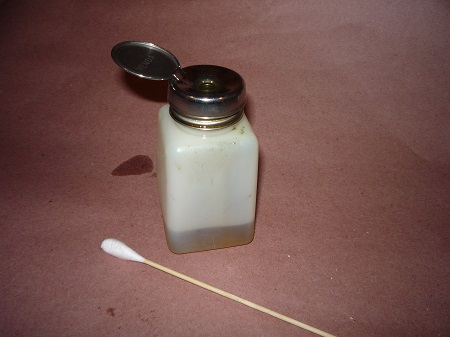 A recent article in American Rifleman about gun cleaning had mentioned using small Dixie cups to hold cleaning solvent for patches and brushes, so as not to contaminate the main bottle by dipping dirty brushes into it.

Something that I have found to be very useful over the years is a solvent pump bottle, available for a few bucks from Amazon or various industrial suppliers. Put some solvent in it, and a pump or two gives you a nice little pool of solvent for wetting patches, swabs, or brushes. When done, either close the cap and put it on the shelf, or pour the unused (and still clean) solvent back into the main bottle. They work great and also prevent the nasty type of mess you would get knocking over an open bottle of #9. The pic shows a bottle along with a .38 caliber swab, another handy item for working with revolvers.
Great tip! Thanks Neon Madman!
*******
Link-O-Rama
White Oak Armament: Black Friday Sale Preview
NRA Range Test: Savage 110 Storm Rifle
NRA Range Test: Springfield Armory Hellcat
Keefe Report: Taurus G3 9mm
Georgia Arms: Buy Ammo
Shooting Sports USA: Springfield Armory XD-E 9mm
Shooting Sports USA: Finding Your Natural Aiming Area (Natural Point of Aim)
***Mail Bag***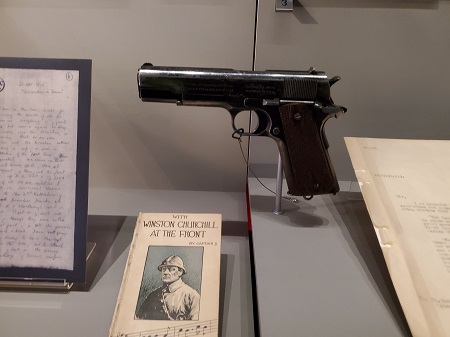 Winston Churchill's 1911 - - h/t CBD
Guess who was a 1911 fan? From the Churchill War Rooms of the Imperial War Museum in London. If you're in London, CBD reports the museum is worth a visit. Thanks CBD!
******
Please note the new and improved gmail account morongunthread at gmail dot com. An informal Gun Thread archive can be found HERE. If you have a question you would like to ask Gun Thread Staff offline, just send us a note and we'll do our best to answer. If you care to share the story of your favorite firearm, send a picture with your nic and tell us what you sadly lost in the tragic canoe accident. If you would like to remain completely anonymous, just say so. Lurkers are always welcome!
That's it for this week - have you been to the range?



posted by Open Blogger at
07:00 PM
|
Access Comments