« The Arc Of Turkey's Descent Into Islamic, Third-World Madness
|
Main
|
Gun Thread: Mail Call!! [Weasel] »
November 17, 2019
Food Thread:The Belly Of The (Tasty) Beast, Sex In The City And Russian Layer Cake?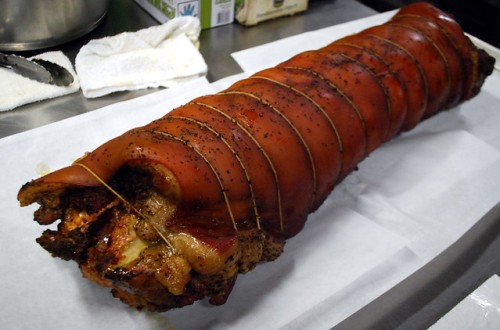 I recently had a marvelous dish, but I can't find a photograph of anything similar, and I was too frantically stuffing it into my mouth to push myself away from the plate long enough to take a photograph. Above is a porchetta from New Orleans, and it looks similar enough, although the spicing would, I guess, be radically different.
What was it? Well, as far as I can tell it was a trimmed pork loin wrapped with pork belly, then slow roasted for awhile, then finished in a very hot oven to crisp the skin. It was served in three-inch slices, and every bite was wonderfully moist meat coupled with the fat of the pork belly and the intense crispiness of the skin. It was served with a Yorkshire pudding and sage gravy, with apple sauce (thankfully on the side, because apple sauce is disgusting).
Many pork belly recipes call for aggressive spices and herbs, but this one was pretty simple: salt and pepper and maybe a bit of thyme. Nothing else except for that luscious pork and pork fat...
This is excellent cooking. It wasn't chef food, it was more like the stuff great cooks make when they want something simple and wonderful. Start with good quality pork, pay attention to time and temperature, and you will be good to go. That's the kind of cooking most of us love, and actively seek out, whether it's coming out of a local restaurant or an aunt's kitchen.
******
For some strange reason, commenter Bluebell thinks this is the greatest cocktail in the entire cocktail-drinking world, and held her breath and stamped her feet until I posted the recipe. Personally, I think it is way too much work for what shakes out as a fancy Cosmo. I don't drink 'em, but some of you people (probably Mets and Red Sox and "Sex In The City" fans) might...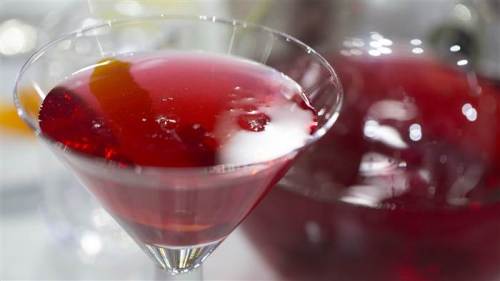 The recipe is from Bobby Flay, via Ina Garten and The Today Show, which should tell you all you need to know.


Ingredients



1 cup sugar

1 cup fresh cranberries

6 1 x 3-inch strips orange zest, plus extra for garnish

1 cup water

1 750ml bottle good vodka

1 cup cranberry juice cocktail, preferably tart

1/4 cup Triple Sec

Ice

Preparation

1. Several days ahead: Place the sugar, cranberries, 6 strips of orange zest, and 1 cup of water in a small saucepan. Bring to a boil, lower the heat, and simmer for 5 minutes, until the cranberries start to pop open. Pour the vodka into a large pitcher, add the cranberry mixture, and store covered in the refrigerator for at least 2 days and up to 5 days.

2. When ready to serve, strain the vodka mixture, reserving the cranberries and discarding the orange zest. Stir in the cranberry juice cocktail and Triple Sec. Fill a cocktail shaker with ice, add the drink mixture, shake for a full 30 seconds (it's longer than you think!), and strain into martini glasses. Rub the rim of each glass with fresh orange zest, spoon a few cranberries into each glass and serve ice cold.
The recipe claims this makes enough for six drinks, but as Bluebell pointed out, that is a hefty pour, even for tough Yankee fans. It's also pretty sweet, which would suggest a smaller drink, at least for me. Actually it's the sugar that makes it too big a pour, not the alcohol. My martinis and Old Fashioneds are that big, but they aren't sweet.
******
Chef John is a loon. By design. But still a loon. However, he is a very good cook, and behind the weird vocal tics and strange pacing lies a very useful source of cooking info.
Russian Honey Cake sounds great. And way too much work for me. But I am not a very good baker (except for bread), and even worse at fine baking like layer cakes. So someone please make this and invite me over for a slice or three. I'll bring the port.

******
Okay, I have a vague recollection of this stuff, but not in my house. Maybe on a camping trip with someone else, or just walking past it in the supermarket and pausing in horrid fascination.
Anyone remember this stuff? Here's a crazy Russian and a ditzy American tasting canned bread and not being sure what to make of it.
Hat Tip: redc1c4, who had it as a kid and blotted out the memory.

******
This is a very good question, and I have first-hand knowledge that this guy is correct about one of them, and second-hand knowledge that he is correct about a second one. I will defer to The Horde for the tequila tasting....
What Booze Is Worth Buying at Costco?
******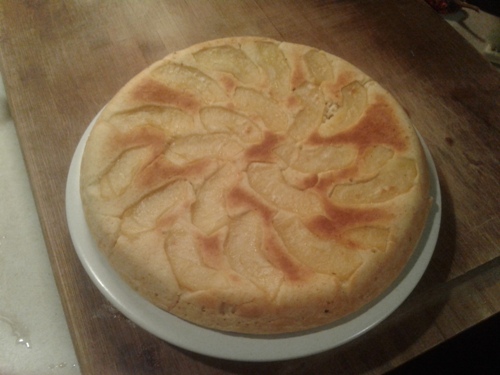 Skip continues on his quest to feed The Moron Horde. Hopefully he is a better cook than photographer, although he is an early riser, so he is forgiven for the paleness of his Dutch Baby...

This is the Dutch Baby I made Thursday morning, The top should have been a little more fried but was rushing it.

Buttered Black iron pan, apples sliced and placed pinwheeled fashion fried a bit, pancake mix poured over and covered on stove top. After judging the time right move to 350 degree oven until toothpick comes out clean.
******
Za'atar roasted chicken over sumac potatoes
I like za'atar quite a bit, but sumac less so, so I will try this without the sumac. The technique is solid, however I would suggest that you simply use a temperature probe and shoot for about 155 degrees in the breast.

******
Food and cooking tips, Castelvetrano olives with a sprinkle of chili flakes, young wild pigs, crisp bacon (although I am moving toward less crisp), thick and fluffy pita, and good tomatoes that aren't square, pale pink and covered with Mestizo E.coli:
cbd dot aoshq at gmail dot com
. Any advocacy of French Toast with syrup will result in disciplinary action up to and including being
nuked from orbit.
And yes, shaking a Manhattan is blasphemy...it's in the Bible!
&topic=world_news">

posted by CBD at
04:00 PM
|
Access Comments