« Wednesday Overnight Open Thread (10/30/19) - Too Much Content Edition?
|
Main
|
Mid-Morning Art Thread »
October 31, 2019
The Morning Report - 10/31/19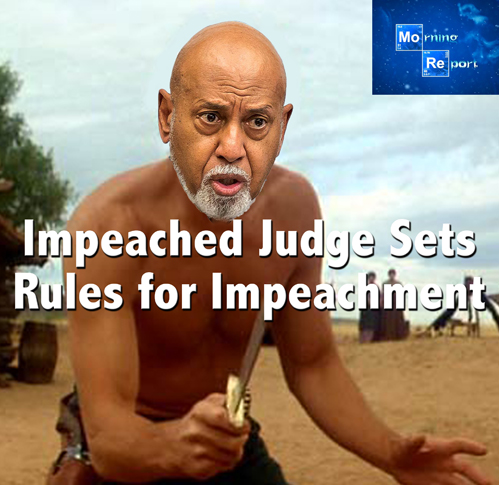 Good morning kids. Happy Halloween and let's dive right into the sewer this Thursday morning where it seems as if this promised vote on impeachment procedures, or whatever the hell Palsi Pelosi describes it to cover up for the fact that it's not impeachment, looks like it's in serious trouble. Longtime Palsi ally and majority whip Steny Hoyer is not even confident he can get the votes because, despite the media's lies to the contrary, impeachment is political death, especially to those Democrats in purple or red districts. The polling proves it, even in one published by the Slimes and Siena College from battleground states. But still they persist, because impeachment is their platform - not immigration, gun control, abortion, healthcare, or anything else, mostly because all their positions are so utterly repulsive to a majority of Americans. And now that they have decided to openly espouse them instead of doing the socialist version of taqqiya, silencing the opposition along with seditious and even treasonous acts are the order of the day to obtain absolute power. Plus, as we have learned all too well with every Wile E. Coyote surefire plan to oust Trump, this Ukraine gambit is not the end nor anywhere near the end. The "impeachment" resolution slated for today gives the Democrats carte blanche to go after Trump, his business dealings, family and allies in almost every area of his past public and personal life. As if to rub salt into an open wound, one of the people, biologically anyway, who sits on the rules committee and crafting the guidelines for impeachment is none other than Alcee Hastings. Alcee-Fucking-Hastings. For those not aware, Alcee Hastings was a federal judge from Florida who was impeached, convicted and removed from the bench on charges of bribery, one of only eight judges IIRC who have ever been removed from the bench in US history. You'd think that that would be enough to send one into the wilderness to avoid the scorn and derision of the public as well as to attempt to repent and atone. Well, you'd be wrong as Alcee Hastings actually ran for and won a House seat and has been there since 1993. Meh, forget Hastings; what does that say for his constituents? Yeah, I know.
Tired of all this banana republic third world tyrannical dumb-fuckery, Matt Gaetz has filed an ethics complaint against Schiff-for-Brains, Ol' Yeller Levin dismantles Palsi's theatrics, Pompeo defends the President's "perfect" call with Zelensky and blasts Hunter Bidet in the bargain, Cocaine Mitch tells it like it is, uniform or not, this Vindman is a complete fraud and this quid pro quo bullshit is bullshit.

Anyway, links from around the world, across the nation and up your street. Have a better one and remain blessed.
NOTE: The opinions expressed in some links may or may not reflect my own. I include them because of their relevance to the discussion of a particular issue.
ALSO: The Morning Report is cross-posted at CutJibNewsletter.com if you want to continue the conversation all day.
Follow us on Twitter: @CutJibNews


posted by J.J. Sefton at
07:28 AM
|
Access Comments