« Clinton Lawyer and Kavanaugh Smear-Whisperer Max Stier Worked With the Washington Post Since 2016, But Forgot to Mention the Brett Kavanaugh Smears Until Democrats Needed Them in 2018
|
Main
|
The Morning Report - 9/17/19 »
September 16, 2019
Monday Overnight Open Thread (9/16/19)
***
The Quotes of The Day

Quote I

"A lot is happening in Washington and across this great country of ours. And it's because we have a president who is a true leader. And I believe will be regarded as one of this country's greatest presidents." Lou Dobbs

Quote II

"They are not dangerous animals. They are trained. They assist me. I have PTSD because of something that happened to me, a very bad thing that happened to me a long time ago," Texanne McBride-Teahan

Quote III

"This action cost our community many, many millions of dollars in lost commerce," Sean Teare, a Harris County prosecutor

Quote IV

"My grandmother didn't get here because she was forging a path for herself, but because she was thinking about other women and other men. Those who look like you, those who do not." Lauren Secatore

Quote V

"I believe that our country has become excessively punitive and vindictive about remarks that people find offensive or racist and that we need to try and move beyond that if we can," Presidential candidate Andrew Yang
***

No Tatter commentary but still good.....................

***

Do you have a sh!t ton of cash burning a hole in your pocket? Do you want to make a scene? Boy oh boy, this show is right up your alley.

Michelle Obama must really need the extra cash to pay for that new Martha's Vineyard mansion that she and her husband, Barack Obama, bought — ticket prices for her latest event are through the roof.

The former first lady is hosting an event called "A Moderated Conversation with Michelle Obama," and ticket prices are as high as $4,200 each.
What insights could she give? She's nothing more than an unaccomplished individual with a chip on her shoulder.
***
Vapers are quitting and going back to smoking.

E-cigarettes, long touted as a healthier way to move off the original cancer sticks, suddenly face an alarming bad rap: mysterious lung diseases; random explosions during use; a link with cancer and heart disease.

At the same time, the devices' so-called strengths have become weaknesses. Users originally drawn to the cheap hit—you get more nicotine for less cash—now find that it's not always ideal to be able surreptitiously suck on the sticks wherever you choose, whether in subways or school hallways.
***

There could be a dangerous bias against people undergoing cancer treatment.

There Seems to Be a Big Issue When It Comes to Single People Being Treated For Cancer

When it comes to receiving cancer treatment, your marital status might make a significant difference in the level of medical care you get, according to a new study.

University of Delaware researcher Joan DelFattore suggests there's a subtle bias at work when physicians weigh up which treatments best suit their patients' needs - one that prizes a spouse's support above all others, in sickness and in health.


DelFattore, a professor emerita of English and legal studies, was inspired by her life experience as a cancer patient to delve into a close examination of literature analysing data from the US National Cancer Institute database.
***
US armed forces die in part to protect every day citizens free speech rights. They even die for this worthless company, Face Book.

Mary Ann Mendoza is not a popular woman among tech companies, it seems.

Mendoza, an "angel mom" whose son was killed by a drunk driver that was illegally in this country, was suspended from Twitter in July for doing what she's done for years: Posting about illegal immigration.

Now, according to Breitbart, Facebook has done something similar. Not only has it taken down two of her posts for violating "Community Standards on hate speech," she says the donation button on her organization's page has been permanently removed, according to Breitbart.
#MuhPrinicples echos the cuckservatives.
***

'Then came the lawyers, then came the rules'

A Federal Judge Says Anheuser-Busch Can't Advertise MillerCoors' Use of Corn Syrup

One of the best things about the otherwise tedious Super Bowl broadcast earlier this year was the debut of a mildly amusing, medieval-themed Bud Light beer commercial that attacked rivals Miller Lite and Coors Light over the latter two's use of corn syrup as an ingredient in their respective brewing processes.

"Bud Light," one such ad closes. "Brewed with no corn syrup."

That is, by all accounts, a true statement. But it's also one that helped spur MillerCoors, which brews (as its name implies) Miller Lite and Coors Light, to file a federal lawsuit in Wisconsin against Bud Light brewer Anheuser-Busch.

The Bud Light ad, court documents state, "claims that Miller Lite and Coors Light are 'made with' or 'brewed with' corn syrup." All parties to the lawsuit agree that MillerCoors uses corn syrup as an ingredient in brewing both Miller Lite and Coors Light.

The crux of MillerCoors's claims against Anheuser-Busch, then, is that "when viewed as a whole, [the advertisements] deceive[] consumers into believing that Miller Lite and Coors Light final products actually contain corn syrup and thus are unhealthy and inferior to Bud Light."
***

Something is better than nothing, even if it is less than one wanted. The makers of OxyContin file for bankruptcy after several states reject their offer of settlement.

At a time when some 130 Americans are dying every day from opioid-related overdoses, Purdue is hoping that its settlement will placate most of these plaintiffs, allowing the company to restructure and emerge from bankruptcy, likely under new ownership. Though many litigants agreed to the company's settlement proposal last week, a number of holdouts, including two dozen states, refused, insisting on more onerous terms for Purdue, the New York Times reports.

The company was the first to introduce fast-acting OxyContin to market in the 1990s, the drug that more than any other pharmaceutical has been blamed for jump-starting the opioid crisis.
***
The ONT MUSICAL INTERLUDE
RIP Eddie Money
&&&
RIP Ric Ocasek
***

Too drunk to fly? No problem for our Genius Award Winner.

A furious ballerina kicked a police officer in the testicles after being told she was too drunk to get on a plane.

Daiana Andreas Rivera found herself in a confrontation with cops at Heathrow airport after fellow passengers told staff she had had too much to drink.

They saw the 33-year-old being 'drunk and disorderly' in the airport Wetherspoon.

When she was approached by staff Ms Rivera kicked one in the genitals and scratched another in the face.

Officers searched her they found she had a lock knife in her possession.
***

Elevated gardens. Tonight's Feel Good Story of The Day.
After Terry Garrett witnessed his ailing brother lose the ability to pursue his love of gardening, he took it upon himself to ensure that anybody—regardless of whether they are confined to a wheelchair—could keep their green thumbs in the dirt.

Garrett is the mastermind behind the Elevated Garden: a tabletop garden that has been designed specifically for people in wheelchairs. The idea for the elevated garden was born after his brother was diagnosed with Stage IV chronic obstructive pulmonary disease.
***
Weekly commenter stats for week of 9-15-2019
Top 10 commenters:
1 [558 comments] 'Insomniac' [78.33 posts/day]
2 [508 comments] 'TheJamesMadison, The Winter Soldier'
3 [450 comments] 'garrett'
4 [360 comments] 'Jane D'oh'
5 [338 comments] 'Crazy Miklos' Tzampotli Family Fun Park and Endless Taco Bar'
6 [320 comments] 'Blonde Morticia'
7 [312 comments] 'Tom Servo'
8 [297 comments] 'Pig to man dreaming of lions'
9 [296 comments] 'qdpsteve'
10 [295 comments] 'Lurking Lurker - Not In My Purview'
Top 10 sockpuppeteers:
1 [332 names] 'Crazy Miklos' Tzampotli Family Fun Park and Endless Taco Bar' [46.61 unique names/day]
2 [53 names] 'Surfperch'
3 [45 names] 'Notorious BFD'
4 [41 names] 'Ha'
5 [28 names] 'My Pimp Shot My Dealer'
6 [25 names] 'ace'
7 [25 names] 'davidt'
8 [22 names] 'LeftCoast Dawg'
9 [21 names] 'Bertram Cabot, Jr.'
10 [20 names] 'boulder t'hobo'
***

Tonight's ONT has been brought to you by Assurances.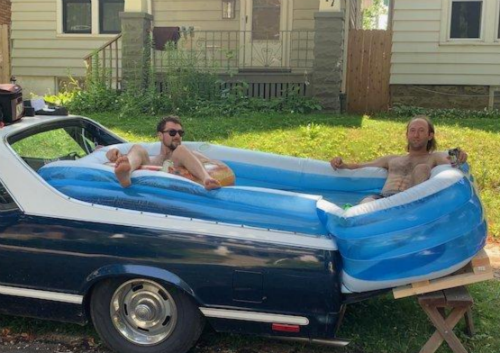 Notice: Posted with permission by the Ace Media Empire and AceCorp, LLC. Loose change, drink tokens and burner phones to petmorons at gmail dot com.


posted by Misanthropic Humanitarian at
10:00 PM
|
Access Comments