« Study: There Is No Single "Gay Gene," But a Range of Genes Explain 8-25% of Homosexuality
|
Main
|
Unknown Party Tries to Break Into Tim Pool's House at 4:37 AM; Then Comes Back and Tries to Break In Again While Tim Is Podcasting About the First Break-In »
August 29, 2019
Maniac Murders Entire Family, Including 1-Year-Old Child, of Tampa Bay Pitching Prospect Blake Bivens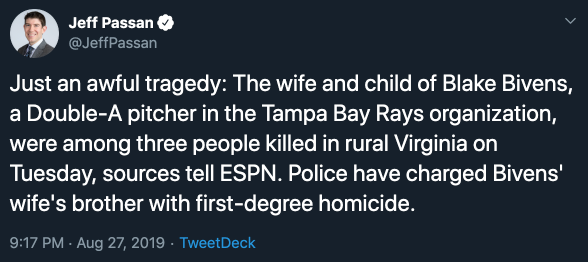 The man has been confirmed as mentally ill.
The Virginia man accused of murdering his mother, sister and nephew -- the mother-in-law, wife and baby of a Tampa Bay Rays minor league pitcher -- had been battling mental health issues and snapped after reaching a "breaking point," a relative said.


A cousin of Matthew Thomas Bernard -- who is facing three counts of first-degree murder -- said the slayings stemmed from Bernard's ongoing mental instability.


Bernard, 18, was taken into custody Tuesday while running naked through a Virginia town after authorities found the bodies of Bivens' wife, Emily, the couple's 1-year-old son, Cullen, and Emily Bivens' and Bernard's mother, Joan Bernard, inside a home in Keeling, Virginia.

Below is the capture of the man, arrested as he ran away from the site of the murders, naked, and attempted to carjack a man's car. Why the cop is not using force to put him down hard is beyond me; what if he'd badly hurt the civilian he tried to carjack?
The far left is trying to make this a racial issue: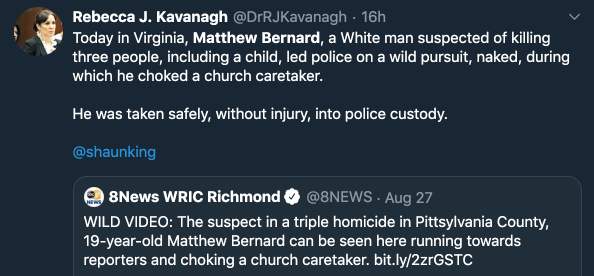 In other words: Gee, the cops would have shot him if he was a black man.
Would they have, though? A friend points out that it's pretty easy to determine that a man is unarmed when he's completely naked.
This pursuit and capture was strange:


posted by Ace of Spades at
04:15 PM
|
Access Comments