« Thread before the Gardening Thread: School Days [KT]
|
Main
|
Ace of Spades Pet Thread »
August 31, 2019
Saturday Gardening And Puttering Thread, Labor Day Weekend [KT]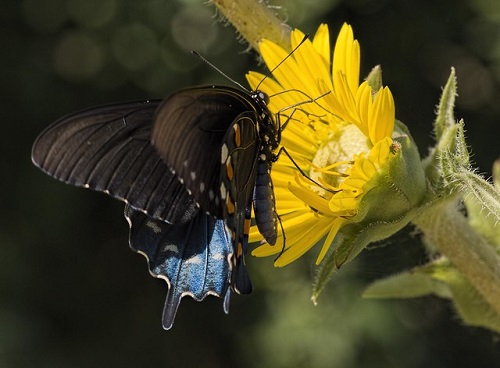 Swallowtail on Silphium
Good morning, Gardeners, Putterers, Decorators and Photographers! Hope everything is going OK in the hurricane preparation zone. Help your neighbors where you can. Today's puttering will focus on photography, hobby gardening and decorating. We have some nice edibles, too. And a plant you would NOT want to eat.
Don't you love the photo of above? Don in Kansas went to visit a botanical garden, and took in an orchid show. Check out his remarkable photos, which you can reach through the link above. Most of the flowers are labeled with their botanical names, which is very helpful. Some even with species names. There are several flowers shown which attract butterflies. And there was a lot of variety at the orchid show. There are a couple of sample photos below.
Decorating
The Invisible Hand and his wife have put up some nice decorative touches, inside and out, in preparation for Labor Day. Here's a Molly Ross Flag, proudly displayed: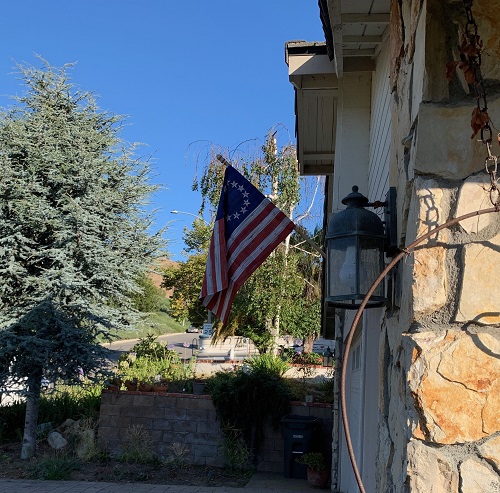 And here are remarkable likenesses of two of our favorite garden dogs, Darla and Kaz (featured in a recent Pet Thread), portrayed in a banner available on Amazon!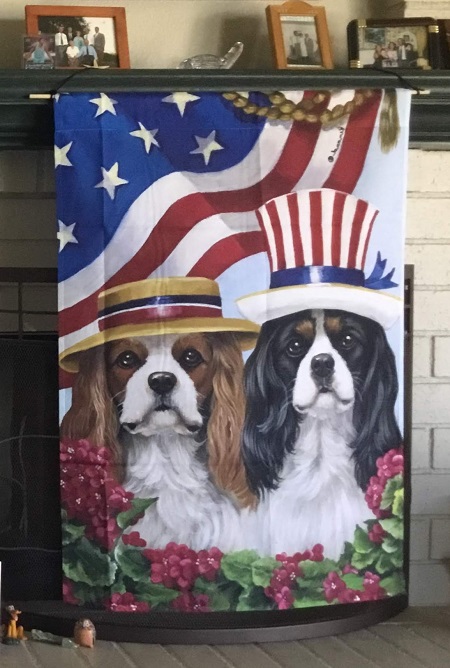 Larro, who did our bee feature recently, reminds us that even American birds are lucky. He calls this "Back porch doin's". Love the little flag. And the bird.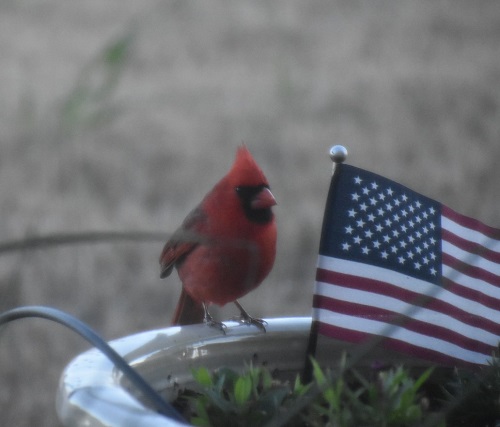 Hobby Gardening
Zanne has a question for The Horde about her Phalaenopsis:
Do you or anyone you know tell me how long this orchid will last in this little pot? I'm afraid to transplant it because the last one died. This one seems to like the window sill I have it on. The last orchid's roots never had this kind of root growth, it's wonderful. I am also wondering if I should leave the brown stalks alone or remove them? I'm thinking that is where new growth will begin but not sure. This orchid was prolific at flowering.

Beautiful.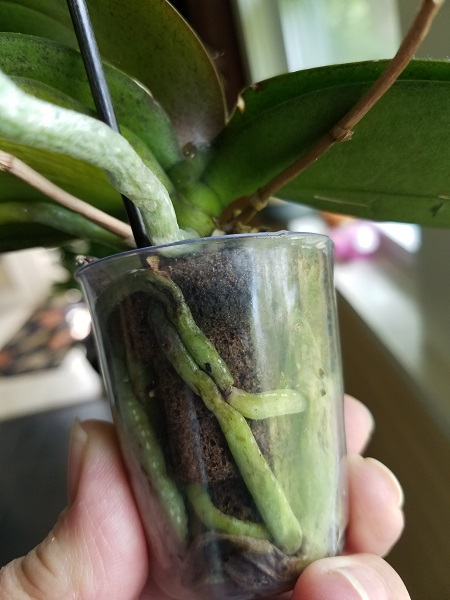 The clear insert makes it easy to see the roots.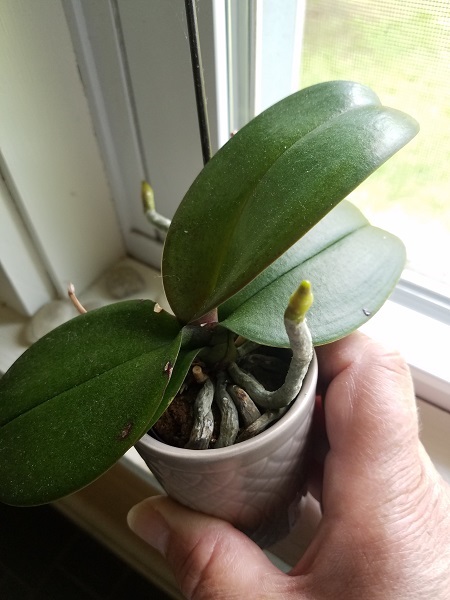 From Don's visit to the orchid show, a reminder of what a Phalaenopsis looks like: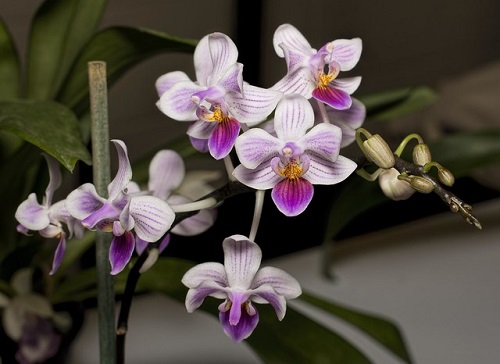 Phalaenopsis
This is NOT a Phalaenopsis.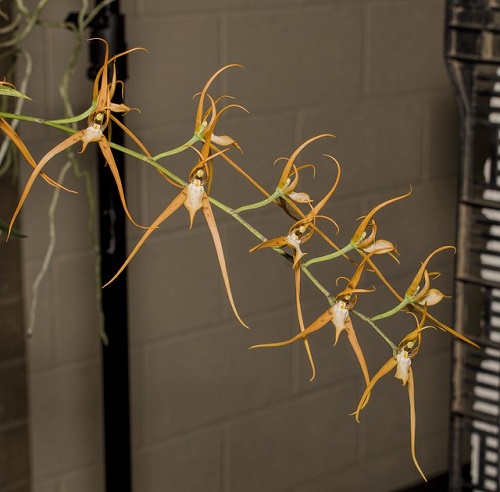 Brassia jipijapaensis
More Botanical Garden Excursions
Fantastic trip report by Moron Robbie:
North Carolina State University had a corpse flower bloom. It might seem a bit dramatic to say it was a once-in-a-lifetime event for me, but they're pretty rare already, and they only bloom every decade or so, and this one was close enough to visit AND occurred on a day we could go, *AND* we were able to get on the reservation list... So yeah, I'm sticking with once-in-a-lifetime for me. It really is a rare event, though. According to the school's website there have only been about 400 cultivated blooms in the last 127 years, and I'm assuming that's around the world since it mentions the first one happening in London.

It was worth the drive, too. Here's a link to NCSU's website regarding it, and there are some informative links at the bottom. I liked how the whole thing came about:

Brandon Huber, a Horticultural Sciences student pursuing his doctoral degree at NC State, received his titan arum nine years ago when he was visiting the Huntington Botanical Gardens in California. Then, it was a dormant four-year old corm, an underground stem about the size of a softball. The corm has since grown to 51 pounds. Huber brought the titan arum with him to NC State.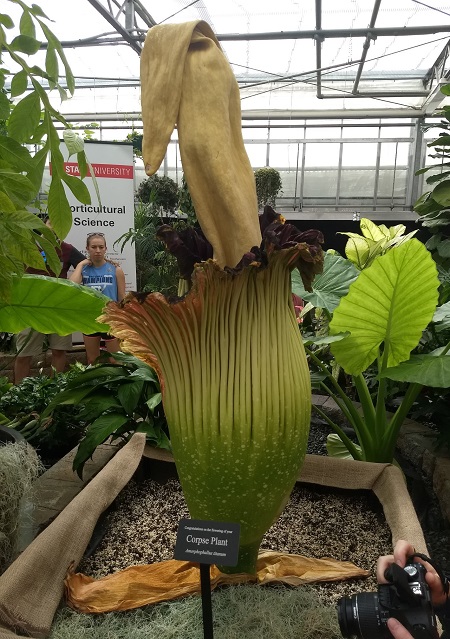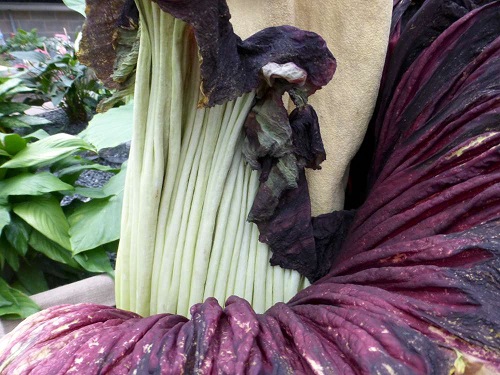 The full photos are fairly self explanatory, but the most interesting part was that they cut a rectangular hole for visitors to see what the pollinators are after. It's beautiful inside, isn't it? And yes, it smells like rotten meat. That's what attracts the pollinators.

They have two other plants and expect one of the others to bloom in the next two or so years, so keep an eye out if you'd like to see it.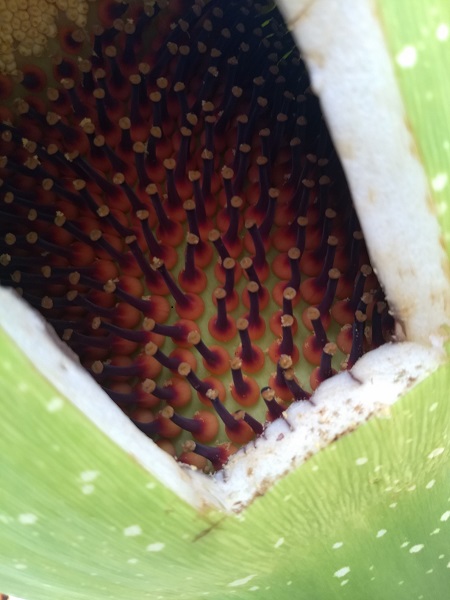 What do these look like?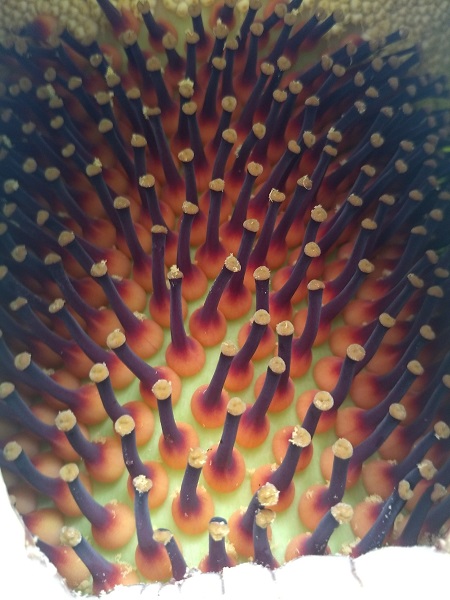 Absolutely amazing. The rest of the photos are great for a pre-Halloween thread, I think. Saving.
Meanwhile, through the magic of Horde Telepathy or something, what one of these flowers looks like when the top doesn't flop over like a sorting hat:
I am a new lurker submitting a picture for your garden article. It's a stinky corpse flower that bloomed at the Huntington Library in Pasadena, CA in 2014.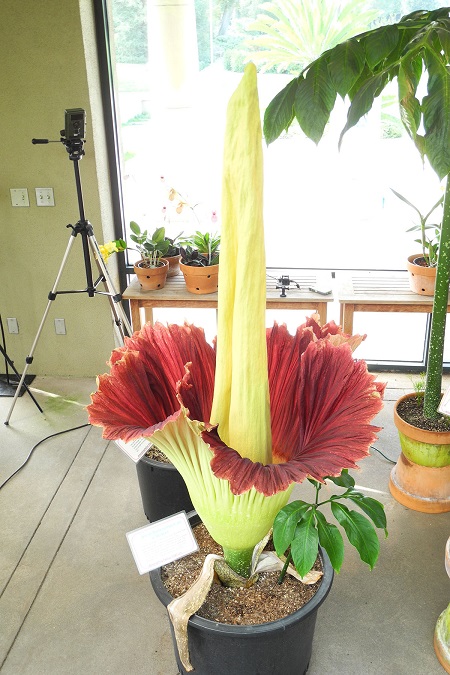 Labor Day Excursion?
Fresh corn dogs in the wild.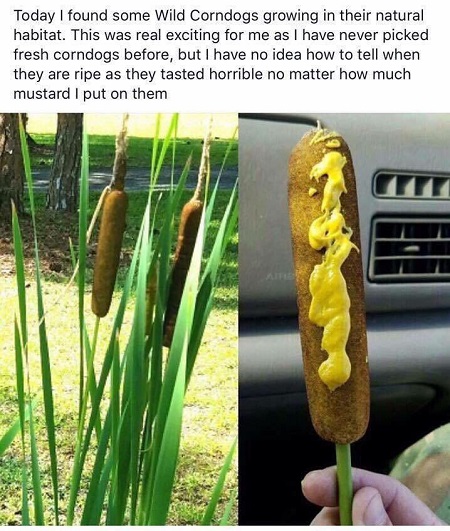 And now for something actually edible:
From S. Lynne:
We have an orchard of apples, pears, plums, apricots, walnuts and peaches. Finally have about 30 walnuts on our tree. The Fuji apples are red-hued and ready to pick. Honeycrisp apples are giant this year. Got a handle on the coddling moths-keeping them at bay with home-made traps of ammonia, molasses and apple cider vinegar in milk cartons. We have five varieties of grapes but the flames are my favorite. One peach and the apricot is done. The second peach is almost ready and the third is a white peach which will be ready in a couple of weeks. Pears wont be ready till maybe next month? And my new australorp hens have started laying beginner eggs. The cotton plant is finally growing after a long dreary spring and putting out flowers. Hopefully it will be hot enough for them to produce bolls. At least the flowers are pretty. And the sunflowers are at least 12 feet tall. And waiting for the thai chilies to turn red and HOT.
Walnut. Big leaves.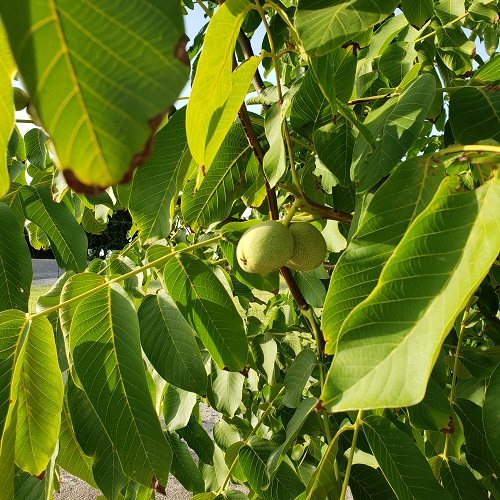 Fuji apple. Mmmm.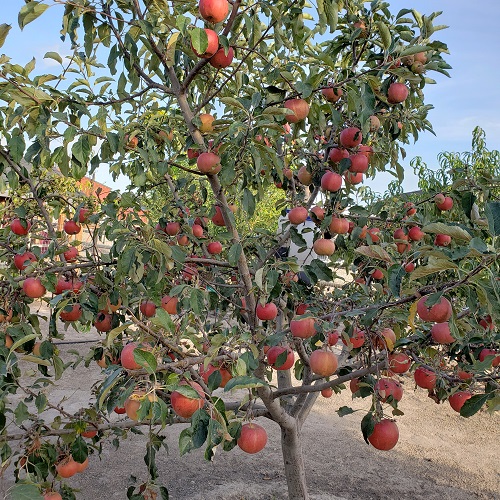 Gardens of The Horde
August is ending hot here. My Pluots are hanging in on the tree (two varieties).
Anything happening in your garden?
If you would like to send information and/or photos for the Saturday Gardening Thread, the address is:
ktinthegarden
at g mail dot com
Include your nic unless you want to remain a lurker.

posted by Open Blogger at
01:25 PM
|
Access Comments