« Saturday Gardening And Puttering Thread, Labor Day Weekend [KT]
|
Main
|
Saturday Afternoon Chess Thread 08-31-2019 »
August 31, 2019
Ace of Spades Pet Thread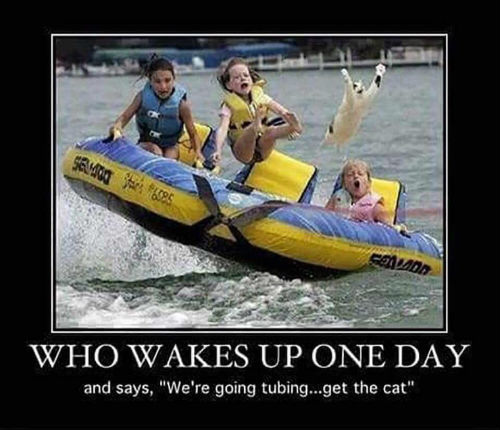 (H/T Ladyl)
***

Good afternoon and welcome to the almost world famous Ace of Spades Pet Thread. Hope you're having a good Labor Day Weekend. Take some time off and enjoy the world of pets.

***
A Little of This. A Little of That.

From our friend Miley the Duchess, cute video of a rodeo fan.
***

The following story was submitted to us by Hrothgar. Woman really loves her horse.
***

Kittehs at work. H/T Shibumi
***

Really good news after 11 years.
***

The problem with pets? They do not live long enough. A Vet Reveals What Pets Do in Their Final Moments, and All Pet Owners Need to Read This

We've been there twice this past year. I couldn't imagine not being there to say "Good-bye".
***
Meet The PetMorons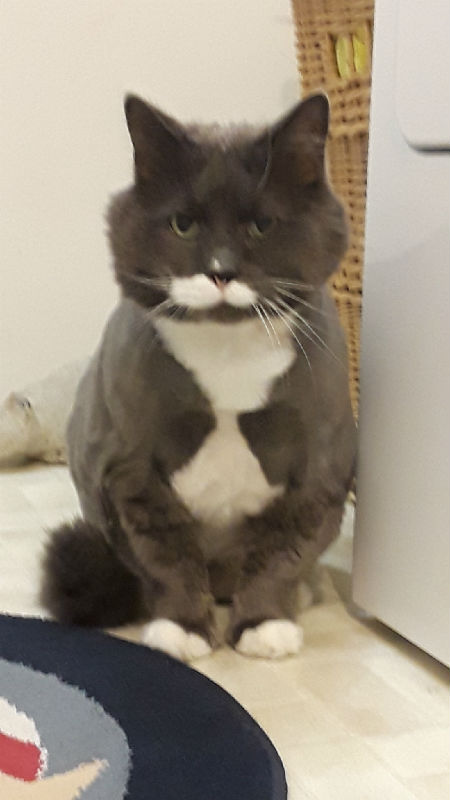 &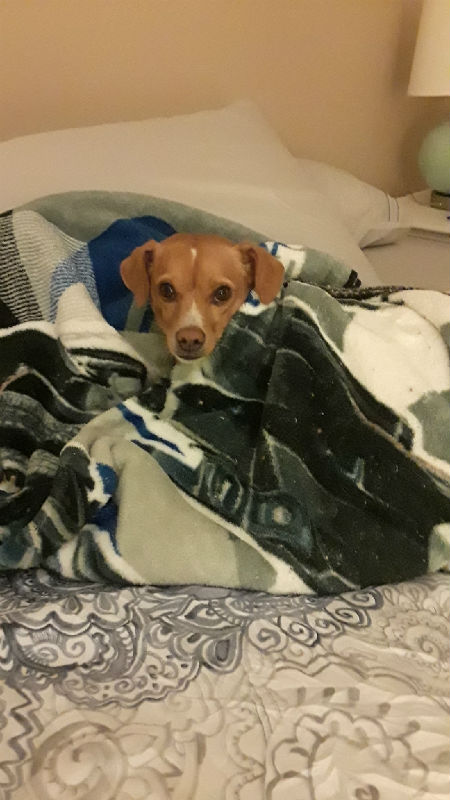 I love this site, and I love the pet thread. I always feel at home here, among friends.

That's Dusty, the handsome Maine Coon mix – a perfect gentleman who is Lord of the Manor; and Ricky, the Chihuahua/Rat Terrier mix with a face of innocence masking a Dennis-the-Menace lifestyle.

Dusty came to me from a shelter when he was about 1-year old. The story I got was that his elderly owner passed away and the family brought him to the shelter. I'm glad they did the right thing, but it was their huge loss. This big boy (20 pounds) has been a part of my life now for 12 years and is as sweet and loving a companion as you could ever find.

I crossed paths with Ricky early one morning (pre-dawn) in 2017 while on a run. It was clear to me from the get go that something was wrong. We had a stare down for about five minutes while I tried to coax him to come to me. He sat there assessing the situation and me, then decided he'd do better on his own and started off down the road. Good call on his part, but I knew it wouldn't end well, so I started off after him. Nearly a half mile later, he tired out, and I was finally able to grab him and walk him to the police station and await animal control.

Turns out the little guy was brought up here after Hurricane Maria hit Puerto Rico. Planes, trucks, vans, and an overrun shelter were enough for him, so he busted out of the sad shack in the night, which was when I met him. All that was missing from the picture was a stick and bag over his shoulder, a campfire, and a hobo packet. The last thing I needed was a dog, but I didn't have the heart to send him back to that shelter, so I paid them the ransom and brought him home. Life hasn't been the same, because, as my Irish mother used to caution us, no good deed goes unpunished.

These two little guys, who love each other and get along so well, lost out in this match up, because they really should be with a family with kids and activity. But, God has His ways, so I figure they're doing this for me as a favor to the Lord. I'm the rescue, and I'm okay with that.

-- A Connecticut Yankee looking for the way out
First of all, thank you for your support of the Pet Thread. Greatly appreciated. You are a saint to adopt these two pets. Yes, God has plans for us. And He isn't shy to use animals in that plan. Thanks for sharing Dusty's & Ricky's stories with us.
***
WeaselDog sporting some new threads. Get it? Threads! I crack myself up. - Weasel
MPGA (Make Puns Great Again) J/K Weasel. Weasel dog is looking impressive and cool in the new collar. Thanks.
***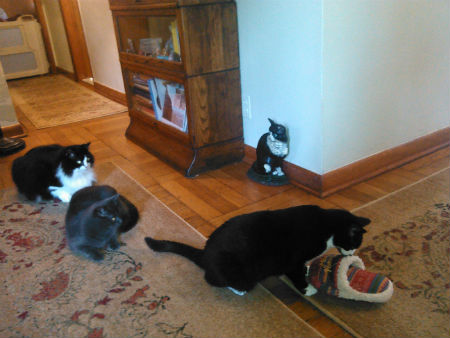 Hi, I'm a long time lurker who just returned for a long weekend with a college pal....and her eight cats. She had a laser pointer,
which proved to be fabulous entertainment, and it tired them out so they wouldn't 'play fight" in the guest bedroom and disturb me.

Best results when I made the pointer mimic mouse movements - hugging the walls and finding hiding places.


First Pic: Cher inspects the fluffy slipper toy that was the last known Hiding Place, while Mabel the Maine Coon and Zena look on. "I know it's in there!"

It was a fun time in New Hope with my friend, and the laser game was a great way to suss out all the cats' personalities.

XOXo to all the Horde from NYC (home of the world's stupidest mayor - and Killer Elevators). - vivi

Hi, thanks for being a lurker and thinking about us enough to share your friends cats with us. 8 cats? Holy-moly that is a lot of them.
***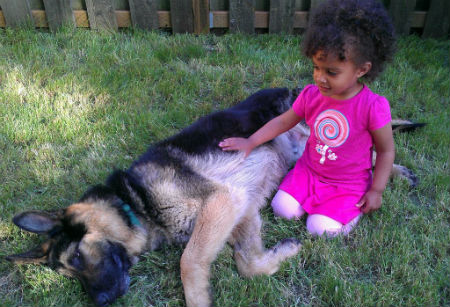 Hello MisHum!
My handle is Shepherd Lover, and I tend to do much more lurking than posting. However, I love the Saturday pet thread! In addition to that, Ace (and all you great COB's) have become my go-to site for what's happening in the world. I appreciate the razor-sharp wit, and the savvy analysis from all those who contribute.

Anyhoo, let me get to the point of this email:

Presenting Noble, our roughly 7-year-old rescue GSD.

Noble was quite a find… I located him through Northwest German Shepherd Rescue, who I had fostered for in the past. Noble, when he was approx.. 15-18 months old, was found along a roadside down in Oregon, huddled under a tree in the rain. He was severely malnourished, only weighing around 36lbs. I figure he had found himself a good spot to die. Shortly after he was found, he was brought to a foster who then passed him on to me. I can honestly say I picked him up at Nike (the headquarters), so they're not all bad (even if I'd never spend a dime on their products). The first pic is his first day at his new home, and his very first meeting with my daughter, who was 3 at the time. We figured out quickly that he loves children; the more the better. I once took him for show-and-tell at my daughter's preschool, and he practically melted from all the attention from the little ones.

I managed to get him fattened-up fairly quickly, and today he's as healthy as a horse. He's a fiercely loyal companion, exceptionally intelligent, and one of the most loving and playful dogs I've ever had the pleasure of knowing.


Thanks for all the great stuff you post on the blog, and all the time and effort you put into it! - Best regards, and God bless!! Brian aka: Shepherd Lover

What a wonderful story and photo. Every child deserves to grow up with a pet. It appears that Nobel lucked out with you folks. Thanks for your appreciation of the AoSHQ. It's folks like you that make it work.
***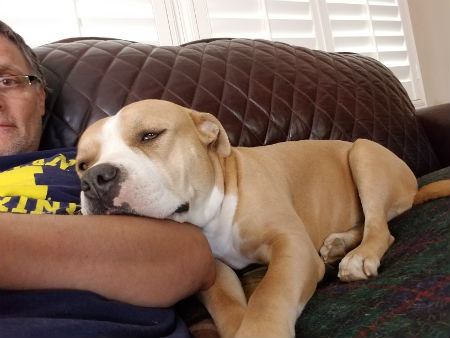 AoSHQ -
Here's our boy "Woodson" a 4 yr old Staffy we rescued last year after the sudden loss of our dear girl "Bella," a German Shepherd.

A more relaxed and seemingly at peace dog I've never seen - and I've experienced many. He literally gets along with every living creature, even overly aggressive alpha-pups at the park who snap at him....he simply walks away. Needs no leash when out for his daily walk and only barks when coaxed to "speak" for dinner. A truly PERFECT dog. Believe what you hear - the bull terriers (Staffys, Pits, etc) can be amazingly wonderful dogs if raised correctly. Loving, affectionate, obedient. Thanks,
Emil Moresi
Congrats on your recent adoption. Woodson looks totally spoiled rotten and living the dream. It sure sounds like he is a great dog. Thanks for sharing.
***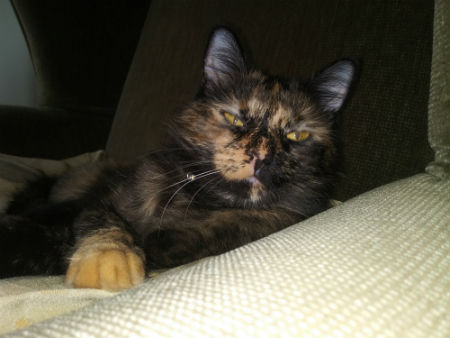 Dear MisHum:

Yet another longtime lurker here. I love the blog in general, and specifically you and Sefton. I look forward to both of your posts and I read them religiously, lol. Love the pet thread!!!

Meet Wilma, my new roommate. She's a sweet little Tortie who was in a hording situation when she was rescued, and, she was pregnant. She was fostered until the kittens were born and weened, then she was spayed and sent to the cat shelter to (hopefully) find a forever home. That's where I came in. She's probably the sweetest animal I've ever had and I was raised with cats, so that's saying something. I've had her now for about 4 weeks and she has adapted to my home beautifully. So well that she feels safe exposing her belly to me or waking me at 5:30 am to play. :/ She's eating like a pig and playing like a kitten (she's about 16 months old), and of course she has me wrapped around her delicate little paw. She's a petite lil' thing and she was super skinny when I got her, so I've embarked on a mission to put a little weight on her. It's working. It looks like we both lucked out, because I needed a companion to love and she needed staff. LOL

Thanks for doing the pet thread every week. I love seeing the animals and reading about their stories. Regards, Kelly
Wilma, tell your staff that the AoSHQ appreciates her. Hey Kelly, great story with a happy ending. It sounds like you two were made for each other. Thanks for sending in Wilma's story.
***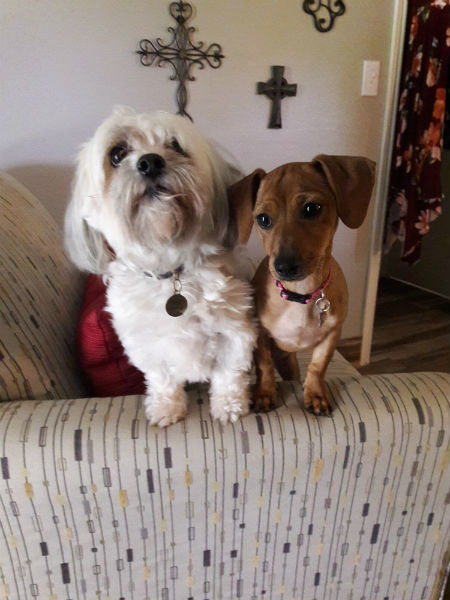 As a long time lurker whose day isn't over till I read AoS HQ I figured it was time to submit my girls to the almost world famous pet thread. There's my 6y old granddog Phoebe who is a Maltese Shih Tzu/cordless doorbell. And my 8mo old baby Maisy. A rambunctious Jackweenie who is a connoisseur of all things cheesy. They're the best of friends and constant companions. - Ray from Texas
Looks like you are a softie Ray, dogs on the furniture. A cordless doorbell? I think we all like that description. Maisy looks like she could give anyone a run for their money. Thanks for coming out of the lurker shadows today.
***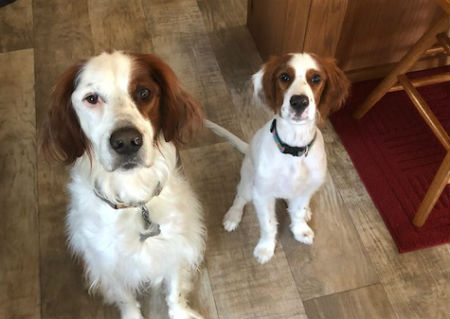 Dreamer & Izzy sitting patiently waiting for a T-R-E-A-T. (Isabel) Izzy is now 4 months old. House training has gone well. She knows her name for the most part and we have started obedience training. She's a great pup. - Mis. Hum.
***

A great group of pets today. The Lurkers really showed up. Thanks for that.
If you have something pet related you would like to share with us, please do. You can reach us at petmorons at gmail dot com.
Have a great weekend!! And a great week!!!

posted by Misanthropic Humanitarian at
03:04 PM
|
Access Comments