« Apollo 11 and American History [KT]
|
Main
|
Ace of Spades Pet Thread »
July 20, 2019
Saturday Gardening Thread: The littlest pets [KT]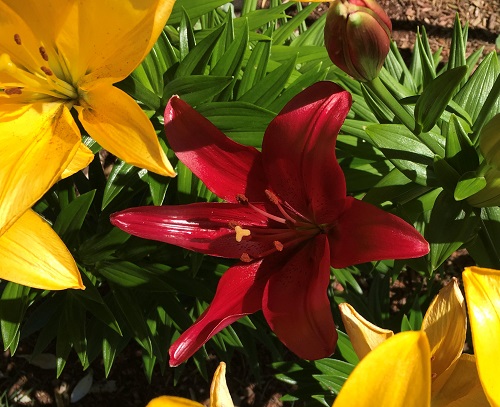 Hello, gardeners and friends of gardeners! The lovely photo above is from NaughtyPine, whose favorite red lily is always the last to bloom.
Today, we have a special feature from a member of The Horde who has some special pets. I know this isn't the Pet Thread, but these pets are bees. In the garden. There are some nice things from other folks, too. Flowers and food.
Bees
We have had some interesting things come in on insects lately, but this feature from long-time lurk-o-ron Larro has some really great information! Take it away, Larro:
Well, I guess bees aren't great pets...
They won't come when called
They can put some hurt on you
They wont bark to warn you of danger
They wont welcome you and sit on your lap.
All and all, they just as soon you stay the hell out of their way and leave their Queen alone. "THEY" are referring to the most common members of the hive, the worker bees, and they are females, and they can get to number 50,000 in a hive.
They are very busy, you understand. I've read their average life is about 90 days this time of the year. After they crawl out and learn to fly, they are trained to work, and work they do. They spend the first part of their life doing chores in the hive, then they go out and spend the last part gathering pollen to bring back to store. They work themselves to death, literally. Just so the hive can survive.
Who are the other members of the hive? How hard do they work? Well, the Queen numbers only ONE.

There can only be one Queen, and she runs the joint hard and fast. She hands out orders through scents she emits (pheromones). I've never smelled them, but a friend said the attack command smells like bubblegum. All I know for sure is the result of that command; it's perhaps a circle Dante could not reach....
The queen works very hard. To maintain roughly 50,000 workers at one time, of which only live for 90 plus days, she better be laying 1,200 or more eggs per day. Consider she only breeds once early in her life, stores the sperm, and lays eggs until her body starts giving out... at which time the colony will replace her by supersecdure.
Then, there's the lazy bum drones. These are the only males, and mostly they hang around and eat. The only thing they are good for is mating. Period. There may be 300 or more ( I heard because I never tried to count) hanging around in the hive... every time a new queen is hostaed ( I heard every 2-4 years0 the queen takes her maiden flight, and is inseminated by about 10-15 males. She stores their sperm, and the lucky males now get to die.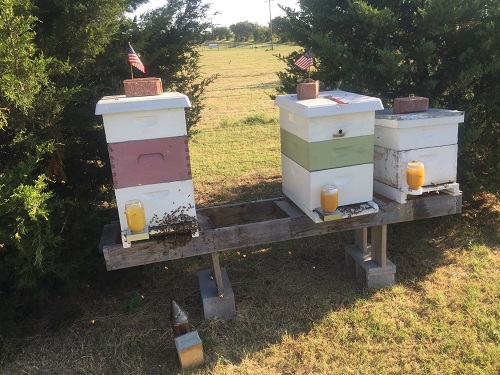 My Pets
The drone is always the first to get thrown out when times are hard.
I've heard about colony collapse disorder, and pesticides killing bees, and mismanagement. I can't do much about outside my realm. I do like to watch the girls work the blooms in my flowerbeds and gardens. They will let you come close and don't mind you as their only job is to get home with a load for their hive.
Besides, if they are provoked ( and my observation it must be really threatening) they will sting, which means they will die shortly thereafter, and not get their load back home.
They just want to work.
How do I benefit? Not much- I have some tomatoes that may get pollinated, some flowers, maybe some peppers. I only have less than 1/4 acre in a developed neighborhood (my yard...)
In California, crop pollination is a huge deal. Almonds are a $5 Billion industry there, and many bee hives are trucked in expressly for cross pollination.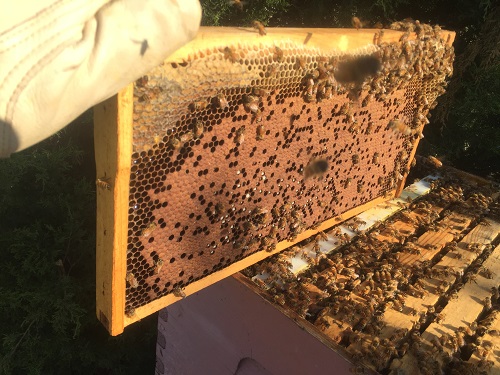 A frame of brood and capped honey
Here's a slo mo movie I took of rush hour traffic.
Thanks to CBD for the video edit. And for Larro for all the extra work.
Back in June, we posted a link to an article sent in by Hank Curmudgeon on saving the bees, with notes on their need for a variety of pollen. It's under the photo of the honeybee on Lantana, not a favorite flower of honeybees, but one they will visit if no more tempting flowers are available.
They like sunflowers better. Here are some now, sent in by Island Girl. Sunflowers are a great source of pollen for bees, as long as they aren't those pollen-free hybrid florist types:
Aloha, this is at my parents house in Cottonwood AZ elevation 3500?? They used to grow in our side yard in So Cal many many years ago, Mom still has the touch.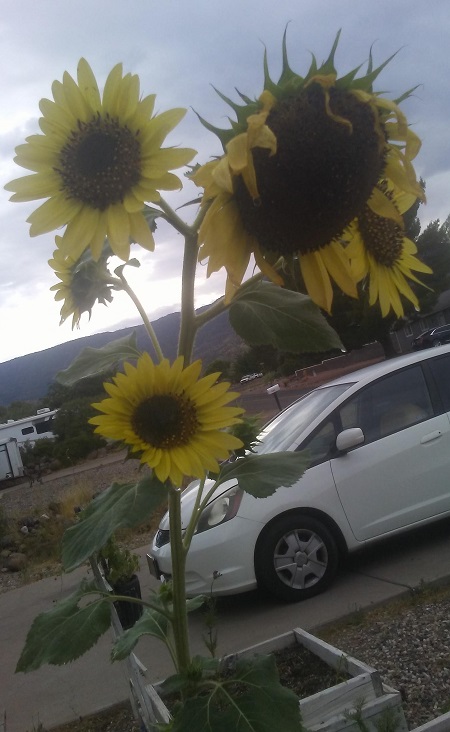 And here's a honeybee coming in for a landing on a Digitalis (foxglove) sent in by Admirale's Mate:
The excess rain has been good for the flowers this year.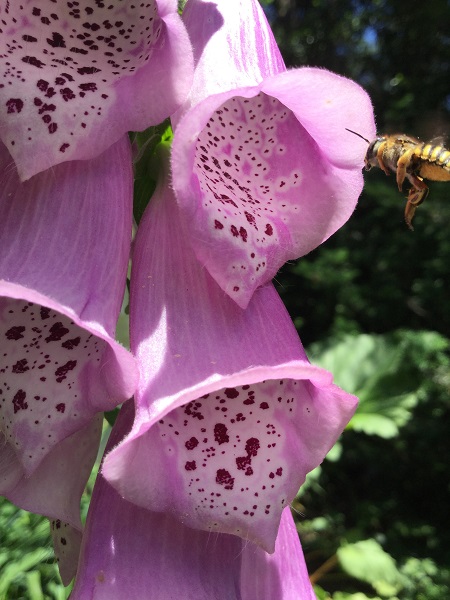 I see some pollen showing on the peonies growing with this foxglove, which I think may be a perennial type. Not sure if the one above is a biennial or a perennial.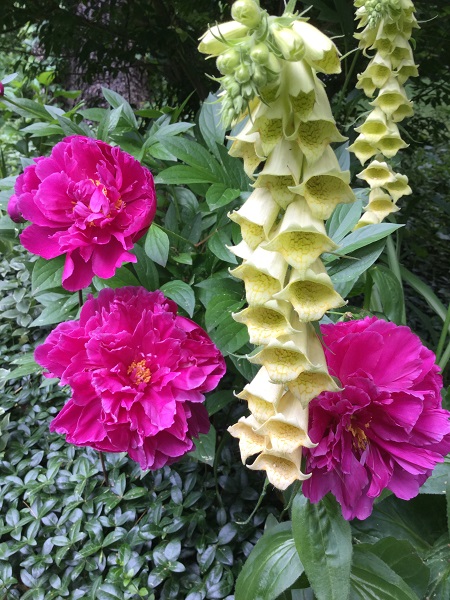 We have had some great photos of peonies from The Horde this season. We posted this photo from Dr_No a while ago. The color is altered. Think it is a peony? He says the open blooms are about 3 to 3.5 inches across.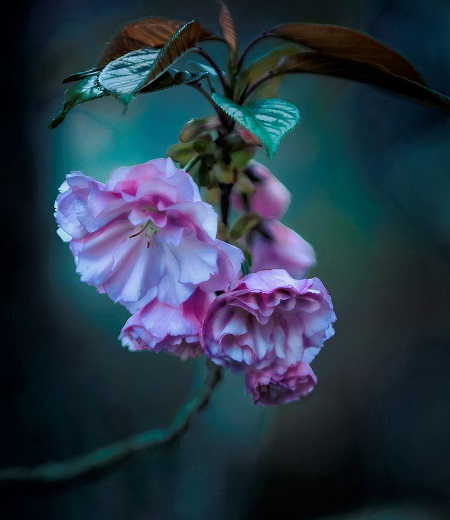 Here is the natural color: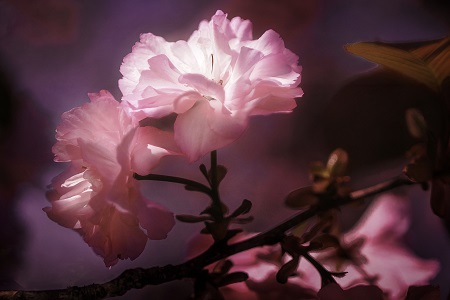 And here is a peony from the garden of LurkerLou Here for Five Minutes in Fairbanks, Alaska:
I hated to cut them but my mother in law was coming and I wanted her to have a treat. Stunning. These lasted about two weeks in the vase.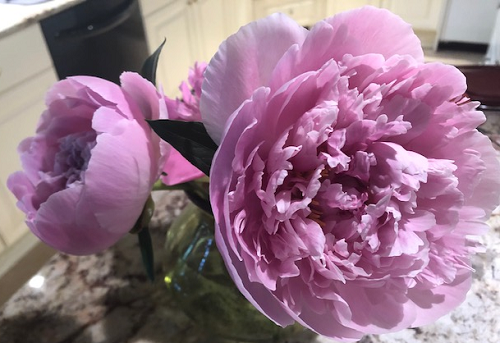 We're getting behind in posting photos of lilies from The Horde. Here's one from Don in Kansas. He is not a fan of fake plants in botanical gardens. There are some lovely photos at the link. Have fun.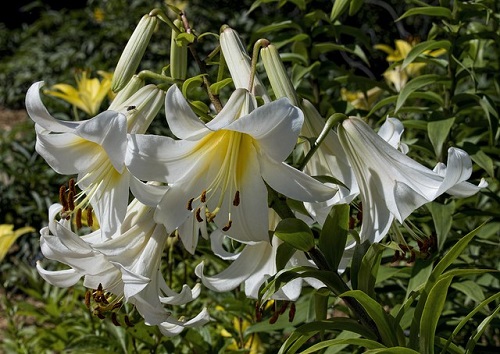 The Edible Garden
Wee Kreek Farm Girl sent the following update from the desert earlier in the month:
The trellis has been a huge success. It is like a treasure hunt finding things on it as they are all intertwined but that makes it fun. I am glad I made a map of what I planted in there because it helps identify some of the things. I have cushaw squash, crenshaw melon, a cucumber called Jibai, Armenian cucumbers, and the last is a Richmond green apple cucumber.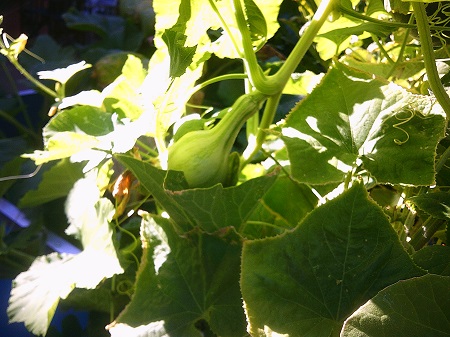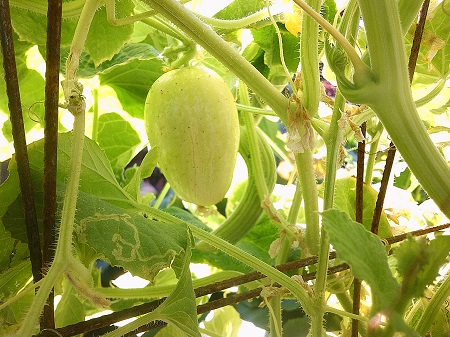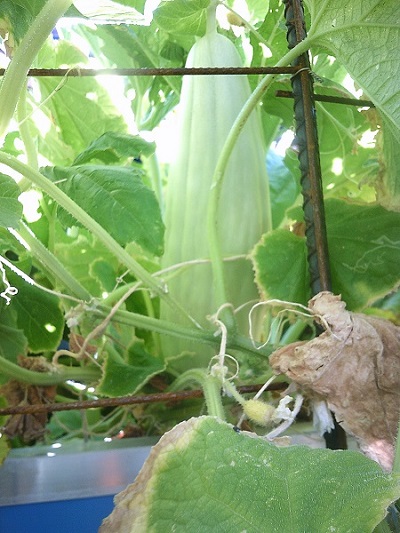 This looks like a real cucumber, with spines and all. Not a melon like the Armenian Cucumber.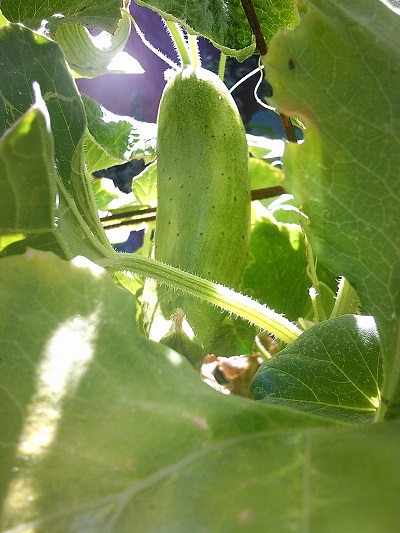 I'm pretty sure this is the Crenshaw melon.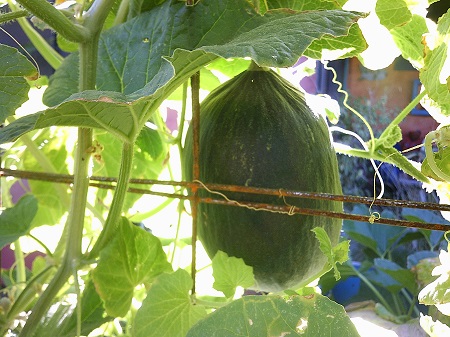 There are also lemon cucumbers growing in there somewhere. Also a picture of my Dorsett Golden Apples, I am having a bumper crop this year. We have been eating apples for over a month, I have made a pie, pork and apples, applesauce, and just eating them on a daily basis and we still have at least a hundred more apples on the tree. Only two years in the ground as well. My hot lemon pepper plant has been producing so many peppers (it is three years old now) I have taken to making hot sauce. I am trying a fermented hot sauce recipe, but always interested if the horde has any homemade hot sauce recipes they like.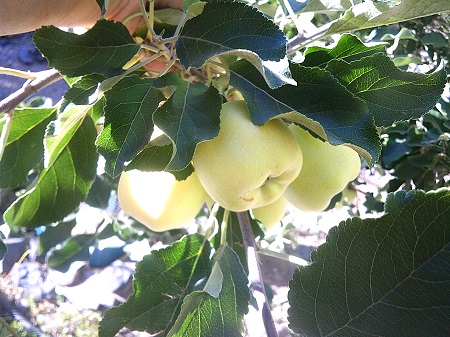 Stay tuned for a blueberry zucchini bread recipe.
OOPS. The one that may have come from The Horde seems to have disappeared into computer limbo. But here are two others that look pretty good.
This one has some some applesauce, a little whole wheat flour and cinnamon/nutmeg.
Here's one for lemon blueberry zucchini bread. No applesauce, so it uses more oil. You could add a thin lemon glaze or syrup if you wanted too.
If you would like to send information and/or photos for the Saturday Gardening Thread, the address is:
ktinthegarden
at g mail dot com
Include your nic unless you want to remain a lurker.

posted by Open Blogger at
01:24 PM
|
Access Comments