« Saturday Gardening Thread: The littlest pets [KT]
|
Main
|
Saturday Afternoon Chess Thread 07-20-2019 »
July 20, 2019
Ace of Spades Pet Thread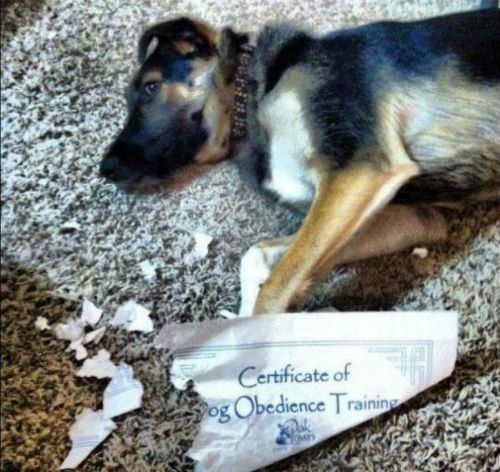 I don't know about you, but this photo above the fold, been there, done that. How about you?
***

Good afternoon and welcome to the almost world famous Ace of Spades Pet Thread. Why don't you take a break from your Saturday toils and chores and enjoy the world of pets!?!
***
A Little of This. A Little of That.

An interesting tidbit from our friend Hrothgar. Play Bow. Or in doggy language, "Let's Go!!!
***

A cute video from our friend Creeper. Keep your friends close and your enemies closer. I think.

***

Once again, regular contributor Hank Curmudgeon submits a hilarious video.
***

A touching story about rescue cats. Blind rescue cats look exactly alike.
&&&

High Five contest winners. Both stories H/T from Shibumi.
***
Meet The PetMorons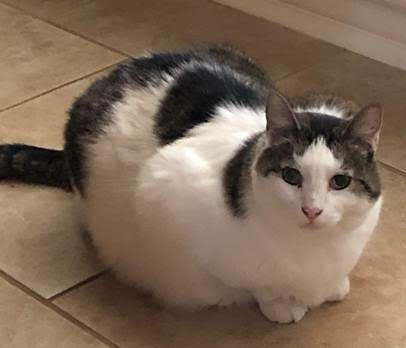 Mis Hum,
Nine years ago, Gizmo joined our household at the tender age of 12 weeks when he slipped between the skid plate and oil pan in my 4Runner and "followed" me home. Once discovered, he promptly ran off to the nearest wood pile to hide until I was able to coax him out with food and water. Over several days he was enticed to venture ever closer to the house, and then I was permitted to touch him, then to pet and, finally, to hold him on my lap. The feral never totally left the cat, but he was happy in his new country home, with "big brother" Dirt to show him the ropes and to teach him manners and hunting. An outdoor cat officially, Gizmo decided somewhere along the way that he much preferred to be indoors. He would retreat to his little kitty bed underneath our bed after breakfast to sleep all day, emerging at dinner time for food, a trip outside, and limited companionship. He preferred to sleep on the big bed at night and would curl into my husband's belly for warmth. It was this strict health and exercise regimen that saw him grow to over 15 pounds. Dirt crossed the Rainbow Bridge in February, and while Gizmo seemed to notice the absence, he did not appear to be disturbed by the loss.

We completed a cross-country move at the end of June and Gizmo was a real champ during the entire process. He adapted well to staying in a hotel and rode in his kitty carrier in the back seat of the pickup for three long days without complaint as we traveled over 1,300 miles. Once in the new home, Gizmo found comfort in hiding behind the dryer all day until he emerged in the evening for food and a little companionship. Eventually he wanted to go outdoors, and for a few days he explored the yard (and slept) until it was time to go inside for the night. But when Gizmo failed to show for dinner last Tuesday we began to worry. By Friday we struggled to accept the fact that we might never see Gizmo again or know for certain what happened to him. But God smiled on us, as God so often does, and gifted us with the very knowledge that we had prayed for, but did not deserve. We now know that Gizmo decided to run away from home, and that he traveled safely almost three miles over four days before going down a little country road. It was there that he crossed the Rainbow Bridge, and it was there that God led us to find him. We thank God for letting us have Gizmo for nine years, and for showing us what happened to our boy. RIP, Gizmo. - Legally Sufficient
What a handsome cat. We know how much he meant to you and we are sorry for your loss.
***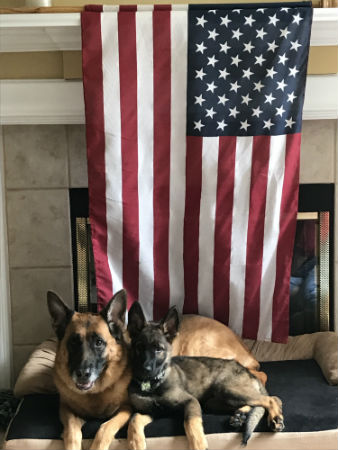 I'm a rare commenter, mostly lurker who goes by the name Redinabluestate. Meet Luca our newest moron family addition. He's named after Luca Brazzi from The Godfather. He is sharing Bella's home with her. As you can see, she has given him grudging acceptance after 10 days of growling and bared teeth (no nips or bites thank God). We were a family of three dogs but our son got married a year ago April and took his shepherd, and our daughter had to put her Maltese, Molly, down a year ago June so it's been a bit lonely for us and Bella. She's 9 and now she's having to cope with a 3 month old shepherd in her pack. He loves anything he can chew on, and driving Bella crazy. After raising three shepherds and going through two vacuum cleaners I swore I would never get another shepherd. But they are such smart, loyal and protective dogs. And that face! Thanks for doing the AOS Pet Thread. It's got to be my favorite.
Ahhhh, the new puppy entering the home of an older dog. It can be a challenge at times. But, worth it in the long run. What a nice story. Thank you for sharing.
***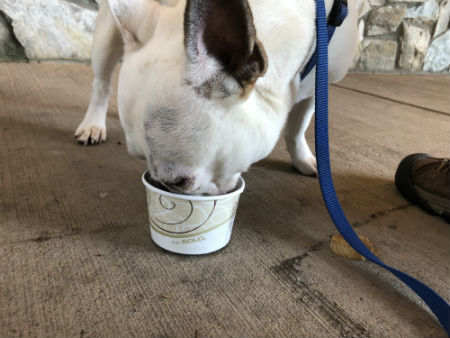 Conor, again.
There is a great farm market (Messicks) outside of Warrenton VA, that I pass fairly frequently in my travels. In addition to great fresh farm produce, they serve homemade frozen custard. The important thing is that if you buy a custard for yourself, AND you have a dog with you, they throw in a free vanilla "Pup Cup". Conor has been there often enough that he virtually drags me from the parking lot to the custard window, Needless to say, it is a great break for both man and/or beast to get some custard whilst traveling! - Regards Hrothgar
I don't believe in reincarnation. But, if I did, I would pray to come back as a dog of yours. Custard? Your rock! Thanks.
***
This is Clover. We haven't had a dog for twenty five years so we figured it was time. She is rescue of some indeterminate terrier breed. She is every bit as cute and quirky as her picture. - Michelle
She is cute. And what an unusual name. I think it is a great name. We are happy that you added a pet to your world. Congrats!
***
It's always good to read the AoS pet thread. You have featured my 2 Bloodhounds, Scarlett O'Hara and Duchess of Marlborough, under my nom de plume, Swim Mom, before on your thread. I also have 2 other dogs, Sophie and Latté.

Attached is a picture of my dog Latté, a pure-bred yellow Labrador with the daintiest paws in the world. Her 2 quirks were that she hated water and getting her photo taken.

She was given to my family by a student when he overheard me telling a colleague that our vet recommended that we get a "friend" for our first Bloodhound, Belle Watling, (I'm a fan of Gone with the Wind, ) because she was eating $75 brass sprinklers, accidentally knocking our first Dachshund, Maggie, into the pool, and stripping the husk off our palm trees.

Latté's original owner was moving into a small apartment after a divorce and needed some place for her and another littermate named Mocha. My husband was open to owning 4 dogs, but 5 made him whimper, so we took Latté and another colleague took Mocha.

Today, Latté died "from having lived..." (one of my favorite lines in "Death Comes For the Archbishop," by Willa Cather.) She was 18 years and 7 months old. We knew it was only time once her eyes and ears went, and walking became harder and harder, but we're hoping to keep her quiet beauty with us for at least another 5 or 6 years.

The other 3 dogs can't understand why she isn't laying on her bed. They are actively avoiding it. I try not to project anthropomorphism onto dogs, but old habits die hard. The other three, in my opinion, are in mourning.

It will comfort my daughter to see that others will mourn Latté's death. Stay cool.
So sorry to hear of your loss. What a long and happy life Latte had. From my experience pets do mourn the loss of other pets.
***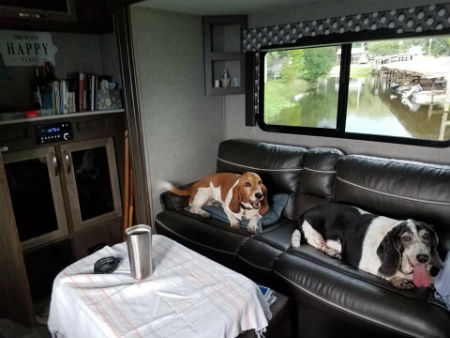 Longtime lurker here with a picture of my two rescued girls, Chloe and Bella, trying out our new camper. Not a bad life for a couple of retirees (the dogs, not their human servants).
It appears that the 2 pooches have quite the gig going for them. We see water in the background. So do Bassets swim? Enjoy your camping time and thanks for sharing.
***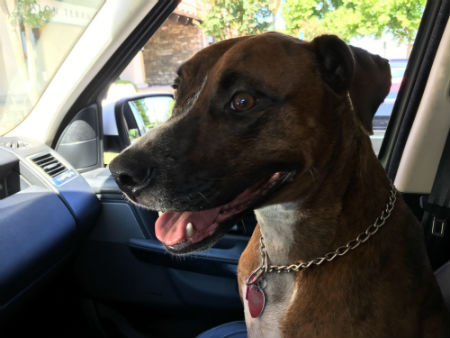 I'm JC. Just JC. Long time lurker. 1st time poster.

This is a picture of our lovely Lola. Beautiful North Carolina Plott Hound rescued by our Marine son-in-law while stationed at Kaneohe, and she ended up ours. Sweeter soul you will never find and great with our grands. A year ago her love of chasing the bunny's onto to the only road facing our property finally got the best of her, so she is sittin' on the Rainbow Bridge waiting for us. We miss her ALOT.

JC thanks for the submission. Our condolences on Lola's passing. She sounds and looks like she was a sweet dog. Dang rabbits.
***
Thank you guys and gals for your pet photos and stories. PetMorons are the best and they have the best humans.
If you have something you wish to share, photos, links, videos heck even a treat or a biscuit. You can send them to petmorons at gmail dot com.
Have a great week!!!

posted by Misanthropic Humanitarian at
03:03 PM
|
Access Comments