« Saturday Morning Coffee Break
|
Main
|
Saturday Gardening Thread: Special Visitors [KT] »
August 24, 2019
They think you are enabling violent white supremacists [KT]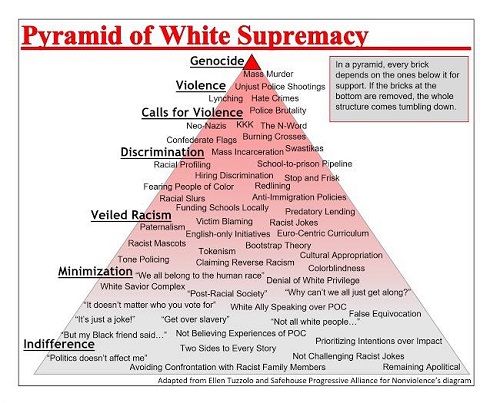 Thoughts from a Progressive Alliance
If you have ever said "we all belong to the human race," you are part of the structure supporting white supremacist genocide. See above.
It's not just the New York Times going after Donald Trump with charges of racism. Progressives are coming after you as an individual.
This week, an outfit called CA25 United for Progress started a boycott against a weekly newspaper, the Santa Clarita (California) Gazette. They put a defamatory summary of editorial content by the publisher online, along with links to advertisers, so other progressives could do email blasts.
Bottom line is that if you think the media, politicians and educators talk too much about racism and white supremacy, you are in league with David Duke in covering up for white supremacists. And if you favor nationalism over internationalism, you are almost certainly a "white nationalist."
Here's a quote:
"Defender of the problem of whiteness" -- Nov. 16, 2019

Sutton's remarks echo recent comments shared by KKK activist David Duke, who said white supremacy concerns were part of a "Zionist hoax." "The term is itself a lie. Millions of White activists are NOT 'supremacists' We seek NOT to oppress or destroy any race! Human Rights for all -- EVEN FOR WHITE PEOPLE! Stop antiWhite racism!" Duke tweeted.
This is inane. There is NOTHING connected to a Zionist conspiracy or millions of white activists in anything they quoted. Though there were a couple of "trigger words" in the newspaper. I was kind of surprised that the authors included the David Duke libel, in particular, because they had resisted truncating quotes in a way that could have made the editorials in the newspaper sound awful.
But what they DID say was awful enough.
In my dreams, I would love to see people who write attacks like this aimed at destroying lives forced to state and defend their own views. And forced to state their support for, or to disavow, progressive extremists and extremist positions.
For example, does CA25 United for Progress support typical classes and other educational programs on The Problem of Whiteness?
Whether they support these kinds of classes or not, do they concede that this topic (as presented in schools, etc.) goes way beyond white supremacist domestic terrorism and that they, therefore, misrepresented the meaning of "the problem of whiteness" as mentioned in the little weekly newspaper they are trying to shut down?
Getting deeper into "problem of whiteness" theory, does CA25 United for Progress believe that Students of Color who take science classes are race traitors and that their white teachers should be hunted? They need to take a stand.
CA25 United for Progress got an elected representative to support their libel, too.


Assemblywoman Christy Smith, representing the 38th district, expressed support for a boycott of the Gazette today. "I will no longer be promoting my official state activities, nor sponsoring paid campaign advertising in Santa Clarita Gazette and Free Classifieds," she wrote on her Facebook page.

Assemblywoman Smith invoked Sutton's own complaints about "white privilege." "I'm exercising my 'white privilege,' the privilege of moving money, marshaling resources, and saying no more," she wrote. "I urge anyone who supports this publication with your ad dollars to do the same. Let's show our neighbors we stand with them."
They are destroying a neighbor. He didn't do anything to hurt his neighbors.

Back to The New York Times
I think the main topic of last week's post, the decision of the NYT to devote the next two years to the topic of the President's "racism", is going to be an enduring one. I thought it might be a good idea just to have a place to leave some links. We can add to the list over time. This post also includes the Codevilla piece now in the sidebar. It relates to the kind of attack described just above.
In the comments, there was a link to a piece by Sarah Hoyt about other publications rolling hard, hard left then dying.
This preceded the piece by Scott McKay that J.J. Sefton linked suggesting that Dean Baquet has killed the New York Times.
Sharyl Attkisson said,
The NYT says it is mapping out a narrative in advance of any naturally-occurring, true news events, and plans to shape all natural-occurring, true news events so that they are reported in the context of racism. This is what they believe their readers want.
In Emergency Meeting New York Times Editor promises never to tell the truth again.
Heh.

And have you noticed that The New York Times grew out of slavery?
Richard Fernandez:
The NYT is deciding what is going to happen tomorrow. Always selling something, and it's not the paper.
Ace picked up a great piece by Julie Kelly at American Greatness. Plus one that preceded the "emergency meeting". This "racism" business did not start with the "emergency meeting".
Via J.J. Sefton: No, America was not built on slavery.
August 22, Ace summarized the Rasmussen poll which found that a majority of likely voters thought that most reporters are trying to block Trump's agenda.
They don't seem to have asked if Trump is a racist. Though the NYT story from last week may have played some part in the survey results.
Also via J.J. Sefton, the 1519 project: European helps natives take downs a mass-murdering cult. Cortez was no angel, but he was bold.
Who benefits from the 1619 Project?
The Pulitzer Center has already put out lesson plans for teachers on the 1619 Project.
New York Times blasted in (not by) the Chicago Tribune.

Hope you are having a better week than the New York Times. And hope you have a great weekend.

Yes, This is the Thread before the Gardening Thread.
Serving your mid-day open thread needs

posted by Open Blogger at
11:21 AM
|
Access Comments