« Saturday Morning Coffee Break
|
Main
|
Saturday Gardening Thread: August? [KT] »
August 03, 2019
Airplanes, Dancing, and Saving the World [KT]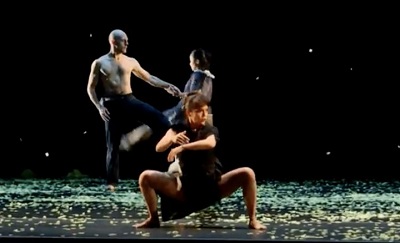 Progressives saving the world
Airplanes, Dancing and Climate Change
While the really big celebrities were traveling to Sicily on private jets to discuss how you should change your life to protect the planet, the academic world had a more serious response: fighting climate change with dance.
In our view, solving the world's climate problems will require tapping into brainpower beyond science. That's why the two of us - an ecologist and a humanities dean - are teaming up to rethink climate solutions. Recently we developed a program to embed humanities graduate students in science teams, an idea that climate research centers are also exploring.
Also at Wattsupwiththat, some interesting thoughts by the idea man of the democratic debates, Andrew Yang.
The important number in this is 15 percent of global emissions . . .

We like to act as if we're 100 percent. Even if we were to curb our emissions dramatically, the Earth is going to get warmer. The last four years have been the four warmest years in history. We are too late. We are 10 years too late.
Too late to give up airplanes, for example?
We need to do everything we can to start moving the climate in the right direction . . .

. . . but we also need to start moving our people to higher ground--and the best way to do that is to put economic resources into your hands so you can protect yourself and your families.
Better get dancing. To get in shape for moving people to higher ground.
From the comments, some indirect connections between Tulsi Gabbard (who wants to give up the fossil fuels that connect Hawaii to the mainland) and the Hare Krishnas who used to talk to people in airports. See the 7 hour video. She is at 4:41 hours. I am just impressed that she can say that guy's name.
American Exceptionalism
The idea of American Exceptionalism is challenged by progressives and their big ideas for all our lives, of course. Here, commentary by three of the folks at the Manhattan Institute. First Fred Seigel, in a WSJ piece that has gone behind a paywall now if you don't have a subscription. It notes some fascinating historical roots to President Trump's comments about Baltimore this week:
To make sense of President Trump's dust-up with Rep. Elijah Cummings, Speaker Nancy Pelosi and the rest of the Democratic Party, you have to go back to Baltimore in April 1968, when the city was overwhelmed by a riot in the wake of Martin Luther King Jr.'s assassination. The National Guard and city police proved unable to contain the situation. Mayor Tommy D'Alesandro III, Mrs. Pelosi's elder brother, pleaded with President Lyndon B. Johnson to send in federal troops.
There was a New York precedent for President Trump's statement, by Rudy Guiliani, also disparaged as a racist for criticizing Charles Rangel's indifference to his Harlem district.
The "white privilege" theme so evident in the debates this week and in the news didn't get its start with the academic term, "white privilege". This was 1968:
Earlier that year, the Johnson administration reluctantly released the report of the National Advisory Commission on Civil Disorders, commonly known as the Kerner Commission. The report wasn't to LBJ's liking . . . America's racial problems, the report claimed, could be singularly attributed to white racism: "Our nation is moving toward two societies, one black, one white--separate and unequal."

Over time, the Kerner Commission's view of racism became gospel in the media, academia and the Democratic Party. An intellectual Iron Curtain descended to protect black politicians--including ineffective ones like Mr. Cummings and even con men like the Rev. Al Sharpton--by denouncing their critics as racist.
Black neighborhoods cannot become exceptional if black politicians are treated by separate and unequal standards.
Next up, a relatively long piece by Allen C. Guelzo that places American Exceptionalism against the background of the world in which it developed, What's Exceptional about America? You might want to bookmark this one. It may become valuable to you or to a serious student you know. Some samples:
Creating a new politics in America that broke decisively with the past proved surprisingly easier than we might have expected. Whatever lip service they had paid to the old theories of hierarchy during the century and a half before 1776, the colonists, in everyday practice, had developed their own consent-based civil society, created ad hoc legislatures, written their own laws, and spread landownership so broadly across the North Atlantic seaboard that, by the time of the Revolution, 90 percent of the colonists were landowners.
. . . In America, wrote the French evangelical pastor Georges Fisch, in 1863, "There is no restraint whatever on the liberty of business transactions." Nor did it matter much who succeeded on a given day and who didn't, because the next day those who were down were likely to be up.

Abraham Lincoln captured this dynamic when he said that in America, "every man can make himself." There would always be extremes of wealth and inequalities of enterprise. What mitigated those inequalities was an incessant tumbling-up and tumbling-down, so that one man's wealth achieved at one moment could pass into the hands of others at another. "The prudent, penniless beginner in the world," Lincoln said in 1859 (with his own history in mind), "labors for wages a while, saves a surplus with which to buy tools or land, for himself; then labors on his own account another while, and at length hires another new beginner to help him." This, Lincoln believed, represented a "just and generous, and prosperous system, which opens the way for all." Not all would prosper, but that was no argument against the "system" as a whole.
This kind of counters the new narrative that Lincoln was actually a Marxist.
Significantly, the energy with which Americans threw themselves into unfettered commercial exchange was soon seen as a primary obstacle in the path of a newer enemy of hierarchy--socialism--which emerged out of the self-inflicted wreckage of nineteenth-century aristocracies. Socialism's great architect, Karl Marx, believed that every society would move out of the old world of hierarchy into capitalism; inevitably, capitalism would yield to socialism; hence, the more advanced a nation becomes in capitalism, the closer it must be to embracing socialism--and eventually Communism.

But Marx was baffled by how the United States defied this rule. No nation seemed more fully imbued with capitalism, yet no nation showed less interest in becoming socialist. . .
Finally, a long video interview with Heather MacDonald on the breakdown of American Exceptionalism via victim mentality and identity politics. She's not 100 percent on board with President Trump, but she understands why we have President Trump, I think. Some good quotes here. Scroll up.
Traditional social structures in the US are disintegrating...You have a culture now that has decided...to hate its own accomplishments. The only analogy I can think of is the Chinese Cultural Revolution.
As much as I revere the ideal of college...currently, however, they are the engines of this toxic victimology and #IdentityPolitics.
73% of black children are being raised by single mothers. That is a social catastrophe of a civilization-crushing magnitude.
LBJ had a lot to do with that. But he had help.
Music and Dancing
OregonMuse on the last day of July:
If the progressives ever succeeded in destroying the country, I think Hungary is the country I would flee to.
Maybe we can help OregonMuse become accustomed to the culture a little. Just in case.
Wonder if there will still be airplanes then?
Brahms wrote 21 Hungarian Dances, though he wasn't Hungarian himself. As a young man, he had accompanied a famous Hungarian violinist on the piano for a while. Brahms' dances were originally written for piano four hands and later orchestrated. You are probably familiar with parts of the orchestrated version of the fifth dance, if only from cartoons.
Brahms enjoyed playing the dances on the piano with friends. He was kind of a music party animal. Once when accused of practicing an improvisation in advance, he took the music off the stand of the cellist next to him, turned it upside down and improvised from it.
I learned a few of these dances while growing up. There are some challenges involved in playing them. Tempo and key changes, the occasional setting of different tempos in the right and left hands (such as two or four beats per measure in one hand vs. three or six in the other). Along with the challenges of playing with a partner. This is the first dance. We didn't play it quite this fast. But I notice they they have fluffed a few notes. No matter. It's for fun. They put passion in their performance.
In all the time I practiced these pieces, I never imagined myself dancing to them. Can you imagine this troupe dancing to that music?

If you are more into American culture, there is a Commemorative Air Force Big Band Hangar Dance in Heber City, Utah tonight. Sounds like fun. You could maybe do some actual dancing yourself. And it sort of involves airplanes, some of which may have been involved in saving people at one time, like those celebrity private jets this week, so it may help combat Climate Change.
Hope you have a great weekend.
Reminder: This is the Thread before the Gardening Thread.

Serving your mid-day open thread needs

posted by Open Blogger at
11:18 AM
|
Access Comments