« Airplanes, Dancing, and Saving the World [KT]
|
Main
|
Ace of Spades Pet Thread »
August 03, 2019
Saturday Gardening Thread: August? [KT]
Hello, gardeners and those who like to eat garden produce. We happen to have a lot of pink things today. Refreshing for August, I think. The photo above is from 40 miles north:
Pink Ladies

Not to be confused with deranged ladies in Code Pink. There are definitely more exotic lilies, but these old bulbs bloom in swarms.
I think this is an Amaryllis belladonna. AKA 'Naked Lady' because it has no leaves when it blooms. The leaf you see probably belongs to another plant. They can multiply in place in California gardens, even in dry locations. So best not to move them. If they need to be moved, you should maybe move them while they are in bloom. They are "dormant" then. Oddly. Not setting seed, not making leaves.
Le Garde Vieux photographed the Eastern version, probably a Lycoris. He is in Northern Alabama. Notice that the petals are not evenly spaced around the center of the flower, unlike the Amaryllis above:
Surprise flowers

Also known as naked ladies because they have no leaves. That's a local joke.
They just pop up out of nowhere (surprise!), Along the sides of roads, in the middle of the lawn but they sure are pretty.

I enjoyed the thread about the bees.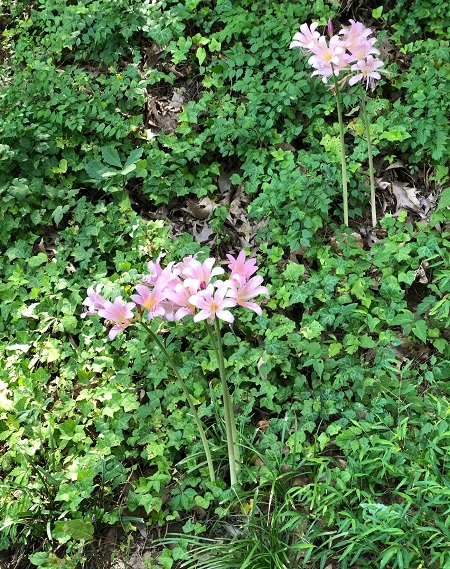 The Edible Garden
Last week, Cumberland Astro was asking for advice on protecting his apple harvest, most likely from racoons. 40 miles north had sent in photos of a protective set-up for grapes, though I'm not sure it would keep racoons out.
The grapes are starting to ripen here

...and that means deploying grape cages that can stop rats, possums, and raccoons.

Materials:

1) Chicken wire
2) Twisties
3) Old shoelaces
4) Stakes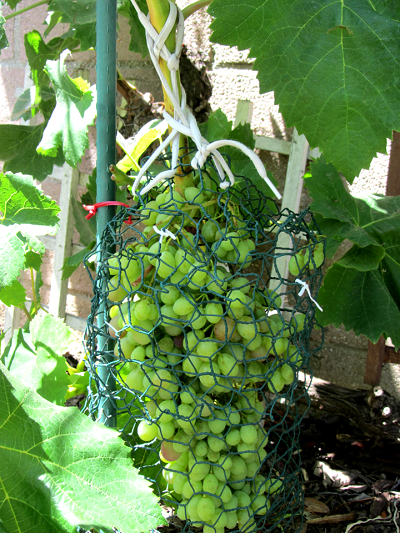 Installation:

1) Make an open top cylinder out of chicken wire
2) Slide the chicken wire cylinder up over the grapes
3) Pinch the top shut using twisties. Use at least four and make sure each one is very tight!
4) Secure the cage to the vine using the shoelace.
5) Tie the cage to a post or a branch using twisties. Or put a stake (or stakes) through the chicken wire.

This setup may not stop the rats. Try smaller gauge wire. The possums will get a few grapes by pushing their snouts into the chicken wire holes. The raccoons are the most trouble where I live. They have two types of attacks:

1) They push the chicken wire apart at the top and pull out the grapes
2) Use all their weight to rip the cage clean off the vine. Then either open it or flatten it and eat the grapes sticking out. This is why you attach the cage to a stake as well as the vine using a shoelace. The stakes limit the movement of the cage, and the vine will bend, but not break. Keep in mind that the grapes near the ground will get attacked very heavily. The stakes must be strong, and you might want to double up on the chicken wire.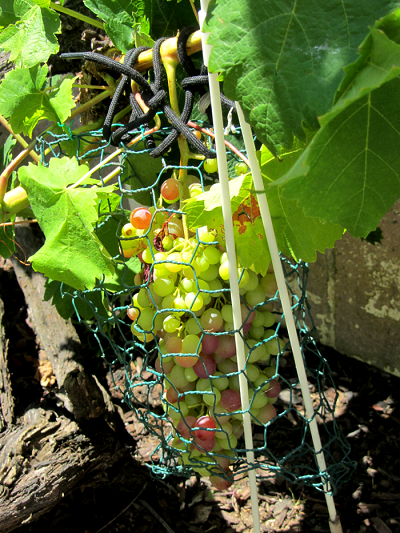 FAQ: 1) Does this take a long time to do? Yes, but you can create the cage in the shade.

2) I lost some grapes putting on the cage.
Yes, some grapes are better than no grapes. (Harvest grapes > 0).

3) When I put the cage on some white spiders came scurrying out of the grapes!
Gotta love those little guys protecting your grapes from pests free of charge.

4) My cage is too small
Use another piece of chicken wire to make the cylinder wider or longer.

5) I can't get the cage on, There is another vine in the way.
Unless there are grapes on it, cut if off.
Grapes are looking nice this week. Still sour: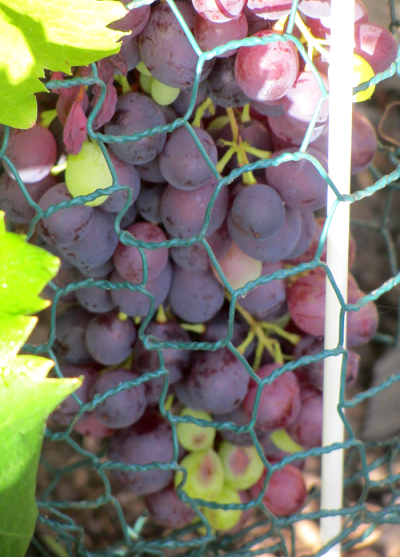 Informative. He also got those little white spiders in his grapes that eat leaf hoppers. Nice!
Kindltot finally sent in some photos of his Three Sisters planting:
I have planted scarlet runner beans, indian corn, and sweet meat squash. I also have a volunteer sunflower.

I also have some volunteer tomatoes and peppers. I planted this patch on my old compost heap.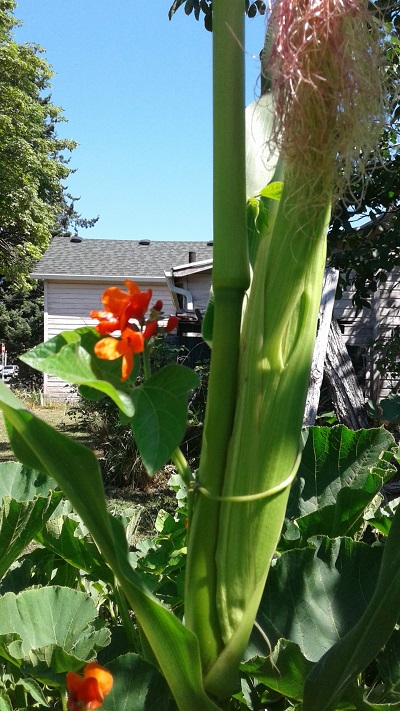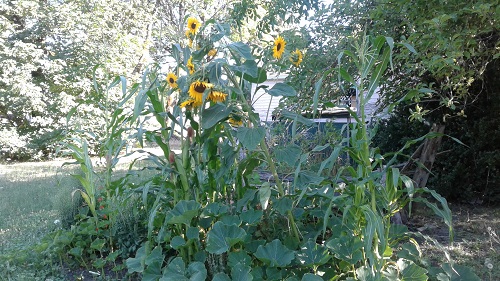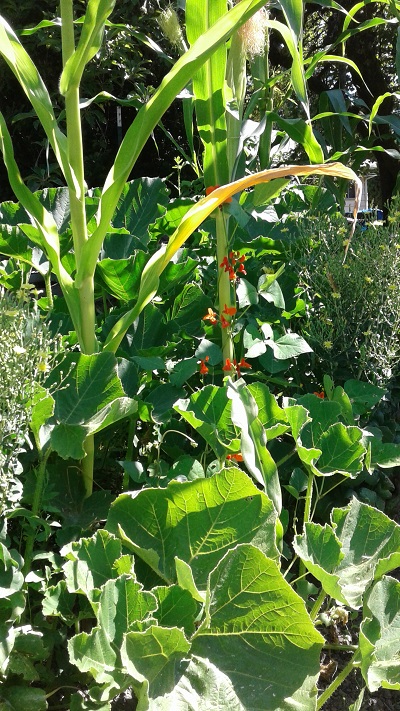 Gardens of The Horde
My favorite aunt passed away this week after a long and productive life. When she lived in Clairemont, California, she shared a lemon tree on the property line of her front yard with her neighbor. In back, the swimming pool had a pump nearby in case of wildfire. Shake roofs everywhere in that wildfire-prone area.
She had a big Fuerte avocodo tree in back and a "Strawberry tree" that bloomed in fall and winter. She had a big rose garden. This was her favorite rose. First Prize.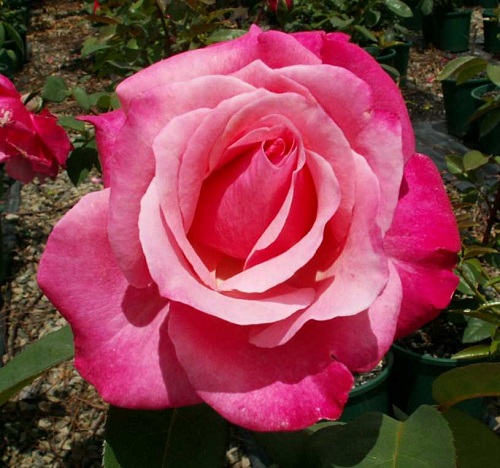 Ladyhobbit, who is usually a lurker, sent in the following impressive plant:
Joe Pye "weed" is a native flower blooming right now in my area (Pennsylvania), but this specimen is actually in my garden. It is a favorite of mine for several reasons: its spectacular size and beauty and the way it attracts bees and butterflies. I've attached a photo of the whole planting for an idea of the size.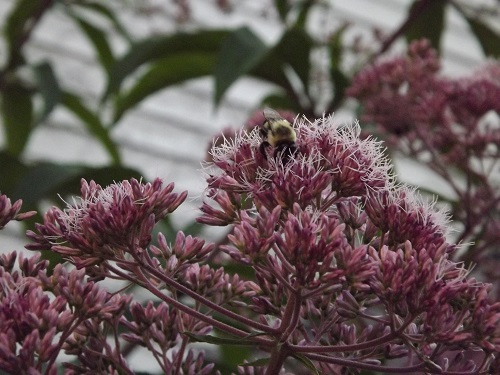 I've always been intrigued by those big "weeds".
Update: Speaking of bees and butterflies, Illiniwek send in the following update on the habitat parts of his farm. Fun!
The unattended deer resistant patch is ragged but interesting, Queen Anne's Lace invading, but it looks OK.
Queen Anne's Lace feeds pollinators, too.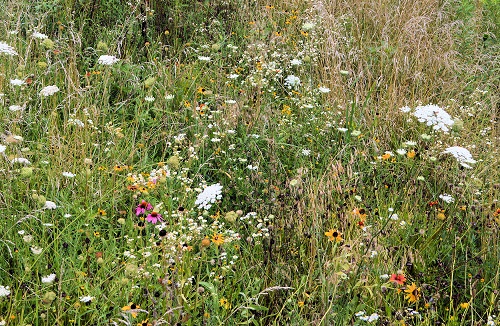 Milkweed is plentiful, and monarchs are showing up, especially on the red clover.

Find the bumble bee.
Can you find it?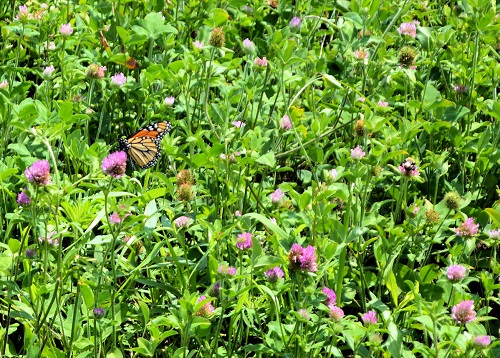 The fawns are growing ... still have the nice spots.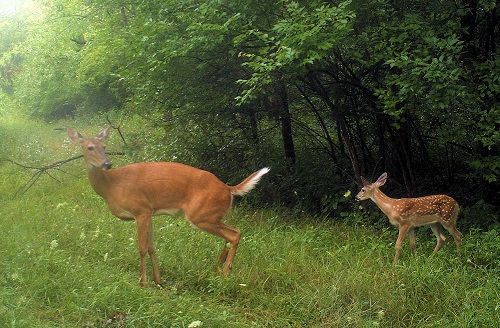 It is so nice that Illiniwek has a place set up for fawns to visit, so we can see them not eating our own gardens.

If you would like to send information and/or photos for the Saturday Gardening Thread, the address is:
ktinthegarden
at g mail dot com
Include your nic unless you want to remain a lurker.

posted by Open Blogger at
01:18 PM
|
Access Comments