« Saturday Morning Coffee Break
|
Main
|
Saturday Gardening Thread: Invasions! [KT] »
July 27, 2019
Thread before the Gardening Thread July 27 [KT]
Serving your mid-day open thread needs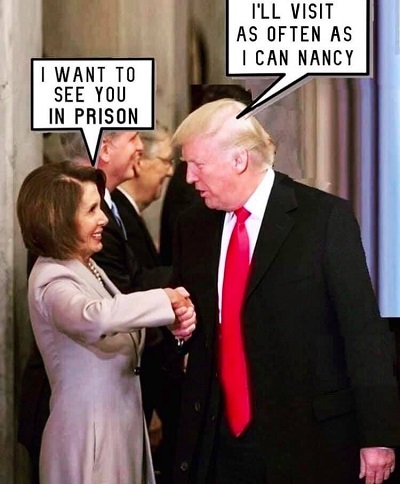 It's been quite a week, hasn't it? Via Larry Elder, could Nancy have some friends in prison soon?
This assessment by VDH from back in May seems even more accurate this week than it did then: Democrats face a bleak post-Mueller landscape.
Remember this moment in time?
Democrats have grown infuriated by Attorney General William Barr's indifference to their hysteria over the Trump-Russia collusion narrative.

Barr recently released a brief summary of special counsel Robert Mueller's conclusions that Donald Trump did not collude with the Russians to warp the 2016 election. Barr added that Mueller had not found enough evidence to recommend that Trump be indicted for obstruction of justice for the non-crime of collusion.

Progressives, who for 22 months had insisted that Trump was a Russian asset, were stunned. But only for a few hours.

Almost immediately, they redirected their fury toward Barr's summation of the Mueller report. Yet few rational people contested Barr's synopses about collusion and obstruction.
But now Democrats are calling for Barr to resign or be impeached for not regurgitating the unproven allegations against Trump. In other words, Barr acted too much like a federal prosecutor rather than a tabloid reporter trafficking in allegations that did not amount to criminal conduct.

The besmirching of Barr's conduct is surreal. He certainly has not done anything even remotely approximating the conduct of former President Obama's two attorneys general.
The Mueller report ignored the likely illegal origins of the Christopher Steele dossier, the insertion of an FBI informant into the Trump campaign, the unlawful leaking of documents, and the conflicted testimonies of former high-level intelligence officials.

All of those things were potential felonies. All in some way yielded information that Mueller drew on in his investigation. Yet Mueller never recommended a single indictment of any of the Obama-era officials who likely broke laws.
Since late 2015, Trump, as the supposed Russian puppet or the Machiavellian obstructer of justice, was nightly cable-TV news fare. Now, such fantasies are shattered. But progressives are not willing to let the Mueller investigation rest in peace and move on with their lives.

Perhaps they feel in the political sense that there is nothing to move on to. . .
Is there something for them to move on to?

Language Control, Image Control, Thought Control
Peggy Noonan asks, What were Robespierre's Pronouns?
We start with the moral and political catastrophe that was the French Revolution. It was more a nationwide psychotic break than a revolt--a great nation at its own throat, swept by a spirit not only of regicide but suicide. For 10 years they simply enjoyed killing each other. They could have done what England was doing--a long nonviolent revolution, a gradual diminution of the power of king and court, an establishment of the rights of the people and their legislators so that the regent ended up a lovely person on a stamp. Instead they chose blood. . .
It was a revolution largely run by sociopaths. One, Robespierre, the "messianic schoolmaster," saw it as an opportunity for the moral instruction of the nation. Everything would be politicized, no part of the citizen's life left untouched. As man was governed by an "empire of images," in the words of a Jacobin intellectual, the new regime would provide new images to shape new thoughts. There would be pageants, and new names for things. They would change time itself! The first year of the new Republic was no longer 1792, it was Year One. . .
I thought of all this this week because I've been thinking about the language and behavioral directives that have been coming at us from the social and sexual justice warriors who are renaming things and attempting to control the language in America. . .
His/Her--Zir, Hir, Eir, Vis, Tem, Eir Himself/Herself--Zieself, Hirself, Eirself, Verself, Terself, Emself

People are free to call themselves whatever they want. I'm free to be uninterested in learning a new language.
(slightly edited to remove Twitter length restrictions on language)
Ed Driscoll's response to the Noonan piece this morning is that Jessica Yaniv is the Democratic Party Poster Gal. With a piece by Rod Dreher.
I was thinking along similar lines, except that I thought first of the Canadians. How could they go along with state enforcement of sexual assault by a sexual predator? Seems like a sociopath to me. How were people conditioned to accept this? I think Ace had some thoughts along these lines yesterday about why nobody has called Hillary to testify under oath about payments for Russian collusion.
Democratic Presidential Race
Something a little different from outlier Andrew Yang, perhaps with AOC and The Squad particularly in mind:
I'd make financial literacy a national priority and provide free financial counseling to all who need it - I studied Economics in college and still didn't understand personal finance until years later.
I think greater financial literacy in the USA is a great idea. I have my reservations about what free federal financial counseling would look like. Anyway, maybe it's because I've only casually encountered him on Twitter, but Yang seems like a guy with a bunch of random ideas.
Music
I always thought the words to La Marseillaise were kind of bloody. Can't say it's not rousing, though. Pick your fights carefully.

posted by Open Blogger at
11:20 AM
|
Access Comments