« Thread before the Gardening Thread, Post-Fourth [KT]
|
Main
|
Ace of Spades Pet Thread »
July 06, 2019
Saturday Gardening Thread: July 6 [KT]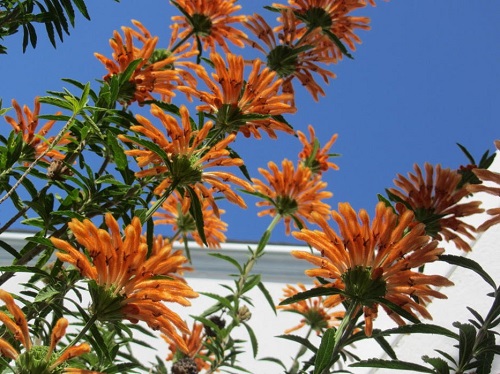 Last week, we posted photos of flowers that sort of looked like fireworks. The one above is another, from 40 miles north. Care to identify it?
We also have reports of more edibles coming in from The Horde. Like TOMATOES. Ready for a slice on a burger or a BLT?
From Cumberland Astro:
I plant six tomato plants each year, and this year I tried two new-to-me varietals among my six tomato plants.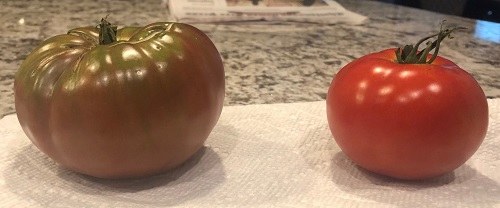 1) DEBUT TOMATO: This is a smallish tomato plant that is said to be suitable for pots. I like shorter tomato plants on my front row, so I gave it a try. It's a potato leaf that started off great, with robust fruit production. The plant got sick however and is producing no more blooms. I'm eating the fruit (tasty but acidic) but once the fruit is gone I'll rip it out. A picture is attached.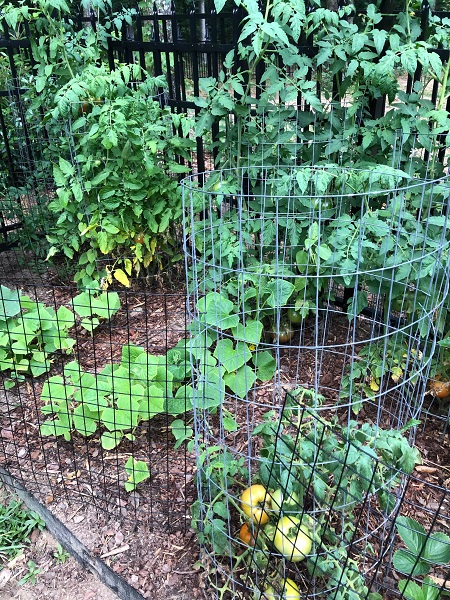 2) CHEROKEE CARBON: I normally plant one Cherokee Purple each year. In its place this year I planted a Cherokee Carbon - a hybrid of the Cherokee Purple that is supposed to have the same flavor but more productive. It is a good plant, very healthy, and so far a little more productive than the Purple. The fruit is beautiful and the flavor is very good. Like the Purple it is low acid, but it may have a little less "smoky" flavor than the Purple. A picture is attached of a Cherokee Carbon tomato next to a Celebrity tomato. Also attached is a picture of the Cherokee Carbon tomato plant - it is the tall plant with a big green tomato hanging on it.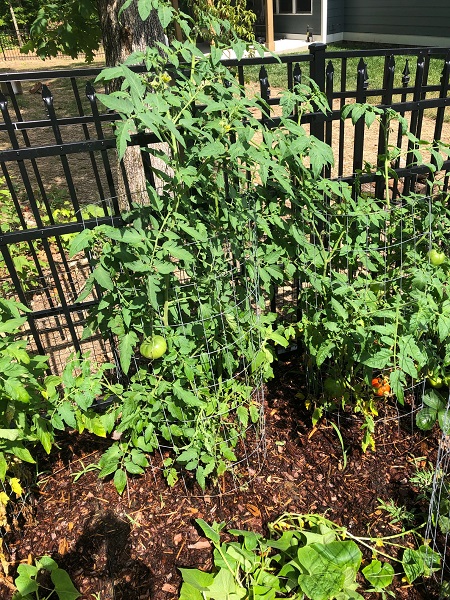 As always, CELEBRITY is the workhorse. It's healthy and productive. A picture of the Celebrity tomato plant loaded up with fruit is attached.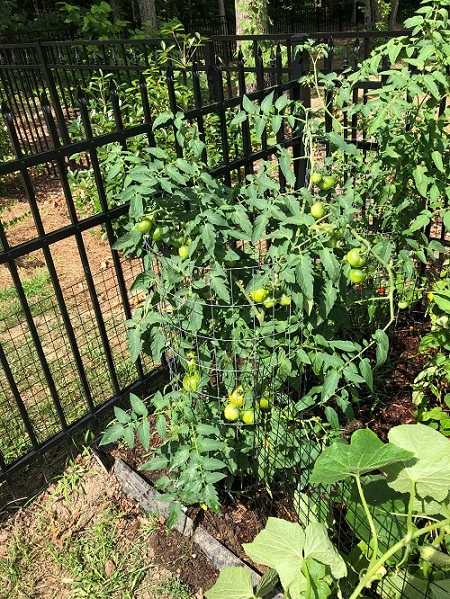 Hope I got those in the right order. Thanks for the great information, Cumberland Astro!
Gardens of The Horde
From S. Lynn:
When I posted a pic of carrot tops planted last fall one of your commentors said they would go to seed heads. He was correct. They smell heavenly and there's about 10 varieties of bees and wasps all over the flowerettes. It'a a great attractant for pollinators.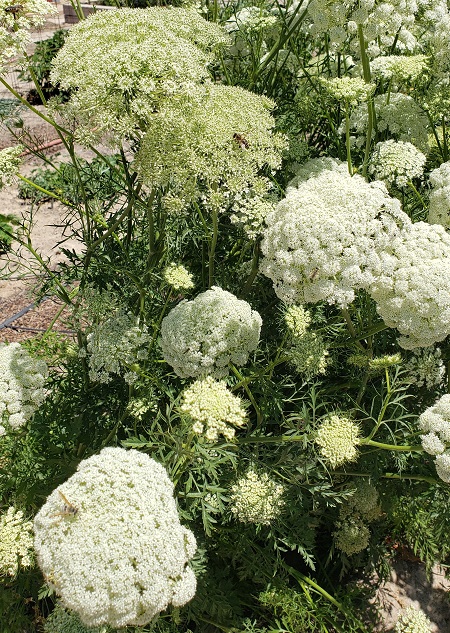 If they were wild carrots, they would be called Queen Anne's Lace. Plant carrots in the spring unless you want flowers like these.
Another lovely Asian lily bursting forth from 40 miles north. Photo taken near sunset. Won't scare the dogs like other fireworks. The Horde has been growing lots of lovely lilies lately.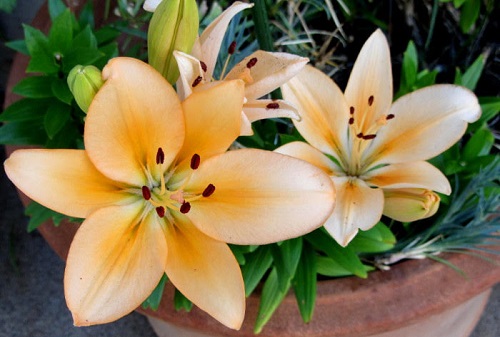 I have been saving these spring bulb photos from Illiniwek for a time when there was hail in Mexico and a heat wave in Alaska: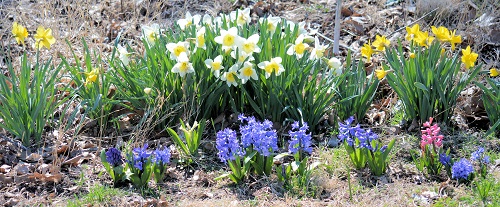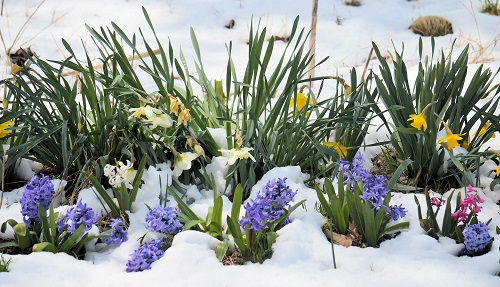 Something special:
TL/DR: here are pics from a garden in Fairbanks, Alaska.

Hi KT. I've followed the garden thread for years but my scrubby, east-west facing home had limited potential for sharing or participating due to the light situation and a lazy owner. Solidly Zone 2.

And last year, in early winter, we bought a new house. With a garden. An established PERENNIAL garden. Dream come true for a maybe brown thumbed me. Location in the hills says we are Zone 3 but some of the buds make me think maybe a titch warmer?

All winter (a long one up here in the subarctic), I plotted and planned about how to do roses and mock orange and peonies. We had not been able to put the beds to bed in the fall, so at first, I thought I would let the garden do its thing just to see what is there. But with the midnight sun and an unexpectedly rainy June, I am living in Jurassic Park. Guess what? Previous owners had roses, mock orange, and peonies! I am now learning how to tie-back, prune, and not be afraid to prep it for next year. The garden is training me. It has demands.

First photo is a good, late June photo of a garden path. In this pic, you can see pink peonies, giant rhubarb, mock orange, and giant delphiniums. I don't know what the yellow, orange, and red flowers are. A lot of this got squashed by the rain and my doodle, so I have a strategy to address that next year.
This makes my heart glad: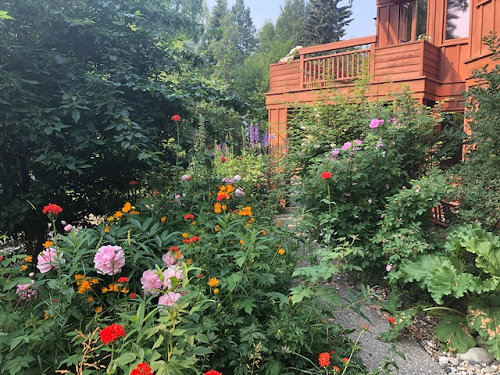 Love the thread! It sustains me through the winter months!

Happy Fourth of July, Independence Day, Day to Celebrate Wonderful Marching Band Music!

Signed,

LurkerLou Here for Five Minutes
Close-ups of some of LurkerLou's plants later. . . . . I had some technical difficulties with my brain this week, so more from some other members of The Horde later, too.
If you would like to send information and/or photos for the Saturday Gardening Thread, the address is:
ktinthegarden
at g mail dot com
Include your nic unless you want to remain a lurker.

Update: Clue to the identity of our top photo, a view from the top of the flower: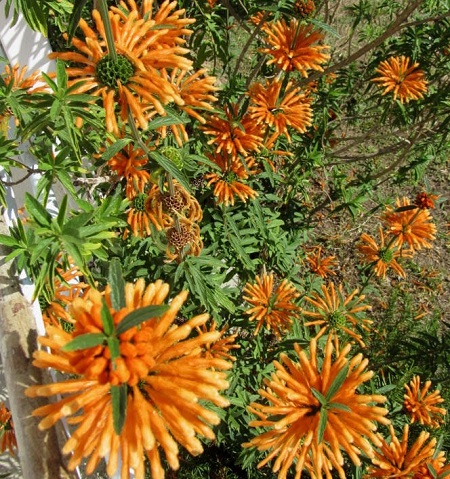 posted by Open Blogger at
01:22 PM
|
Access Comments