« Saturday Morning Coffee Break
|
Main
|
Saturday Gardening Thread: July 6 [KT] »
July 06, 2019
Thread before the Gardening Thread, Post-Fourth [KT]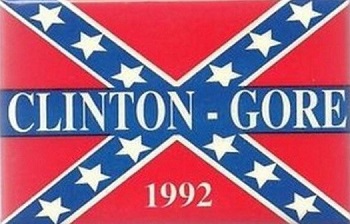 Serving your mid-day open thread needs
Well, there was a fairly strong earthquake to our Southeast yesterday, following one on the Fourth. A few particulars below.
Also some recent responses to Nike's recall of the Molly Ross flag-themed shoe:
The Fourth of July and the Colonial Flag
Okay, it's Charles C.W. Cooke, but he's right:
In a couple of days, we've gone from a celebrity saying a flag is bad, to a major corporation indulging that judgment, to presidential candidates and governors blithely confirming and cementing it. In my view, though, the scariest part is not so much "how quick it has been," but that there has been no argument or explanation to speak of. Upon the instant, professional progressivism has accepted the change as if it were taking orders from on high. "The flag is in the bad column now? Got it. Will amend attitude and proceed accordingly."

Asked about the flag, Beto O'Rourke said, "I think it's really important to take into account the impression that kind of symbol would have for many of our fellow Americans, respect the decision Nike made and grateful for the conversation."

What "impression"? Which "fellow Americans"? What "conversation"?

Nobody has answered these questions. Nobody can. The Party has spoken, and the apparatchiks are enforcing the new line. It's creepy as hell.
Then Kaepernick posted a quote from Frederick Douglass to reinforce Candace Owens' observation that the move against the Molly Ross flag was segregationist. He actually suggested that the Fourth of July was not his holiday!
Ted Cruz and others schooled Kaepernick about what was in the rest of the speech he had quoted. But the most astounding thing to me about this kerfuffle was the statement of a New York Times editor to Ted Cruz.
Frederick Douglass is an American hero, and his name has no business in your mouth.
Ted responded. Heh.

The Earthquake
Saw in the ONT last night that there are members of The Horde who were seriously affected by the quake. Keep them in mind.
When I felt it, I checked the USGS website, and they reported it as a magnitude 7.1 quake. This was later revised down to 6.9, then revised up again.
Here is the event page. "Nearby Seismicity" takes you to a summary of aftershocks. You can also access a very rough estimation of intensity of the quake as it radiated outward through the surrounding area.
Shook things up some here in the South-Central San Joaquin Valley, but no damage that I have heard of. It lasted a lot longer than the quake on the Fourth. Some water left swimming pools in town. Quite a bit of sloshing. The San Andreas fault is to our West, as people were reminded during the Coalinga quake years ago. This earthquake was to our Southeast.
Time to review your emergency kits? Do you know where your gas shut-off is? A proper wrench?
Hope you have a great weekend.
Music
Post-earthquake mentality may show in this choice:

posted by Open Blogger at
11:25 AM
|
Access Comments