« Saturday Gardening Thread: July 6 [KT]
|
Main
|
Saturday Afternoon Chess Thread 07-06-2019 »
July 06, 2019
Ace of Spades Pet Thread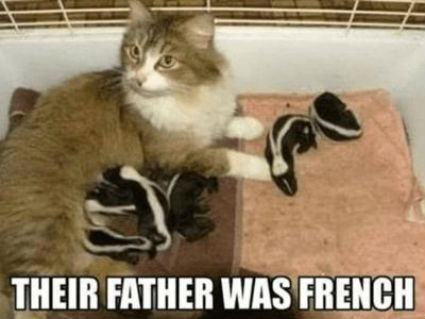 (H/T Legally Sufficient)
***

Good afternoon Morons & Lurkers. Welcome to the almost world famous Ace of Spades Pet Thread. What's the procedure? Same as every Saturday afternoon. Kick back and enjoy the world of animals.
***
A Little of This. A Little of That.

I love animals period. The statute of limitations is over. So I can be honest with you. Drunk or stoned I would have never been tempted to buy this. What about you?
***

Finally Vice makes a video worth watching...Bunny jumping. H/T Hank Curmudgeon
***
Cute Joke
A blind guy walks into a bar with his seeing eye dog, he orders a beer and then picks the dog up by the tail and twirls him around in a circle and the dog starts barking and growling.

The bartender says "What the hell are you doing?" and the blind guy says "I'm just looking around.
H/T Hrothgar
***

A tribute to a pet Hedgehog. H/T Hank Curmudgeon
Meet The PetMorons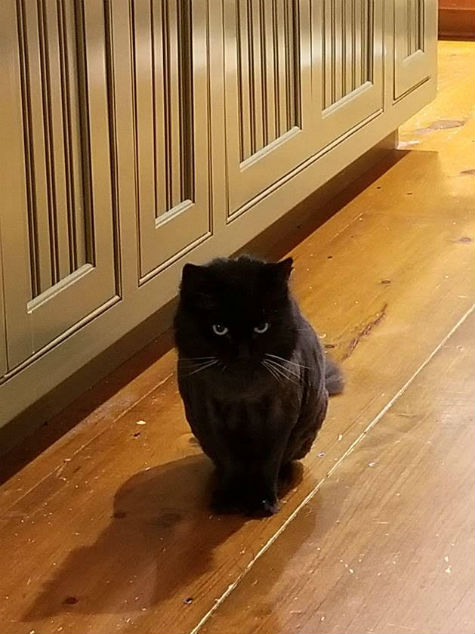 &&&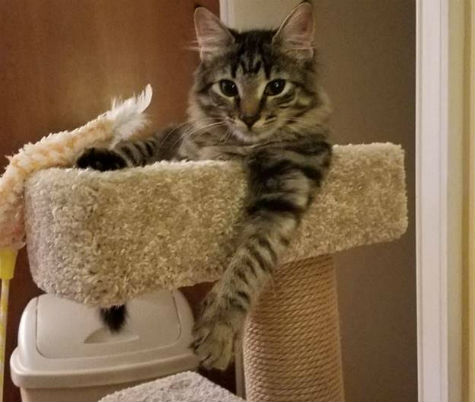 These are our two rescue cats Stella and Lola. We got Stella about 5 years ago and she is a very timid cat but super sweet. We got Lola as a kitten almost a year ago and she is a hellion (and also a model). We are always yelling at her to stop attacking her sister. She puts her in a headlock and drags her around the house until we intervene (sigh). But she is full of life and very beautiful and brings us joy constantly. We don't let them go outside so sometimes Lola gets annoyed with that. -
Di
What a sweet pair of looking cats. Hard to believe that Lola is a little hellion!!! What a great story. Thanks for sharing Di.
***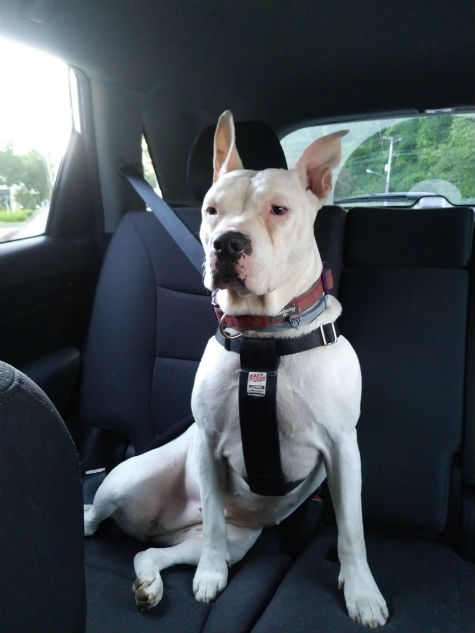 ong time lurker here, LOVE the pet thread (and everything else!)

This is Angel. The new girl in our house pitbull mix with something. She was abandoned by her previous owner, while on the run from the law.

The law caught up to owner and thankfully Angel. We adopted her from an animal rescue run by a lady police officer in near Johnstown PA. They are a great organization!

She's been with us for 3 weeks now, and she loves walks,cuddles and our big city dog park. She is also deaf, but understands hand signals and the vibration collar - when not playing at the dog park! - Angela

How exciting for Angel to find herself in a nice home! A deaf dog? I've never met one, I bet that can be challenging at times. Hope you're around today and can comment about it. C'mon in the water is fine.
***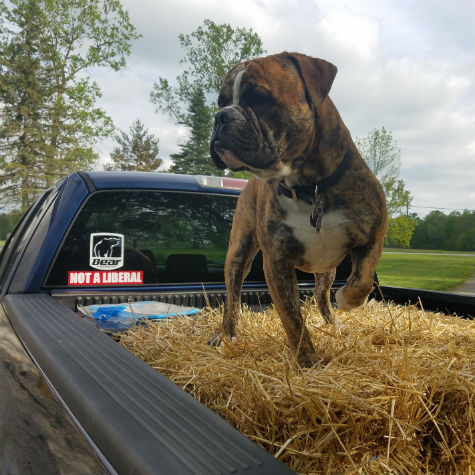 &&&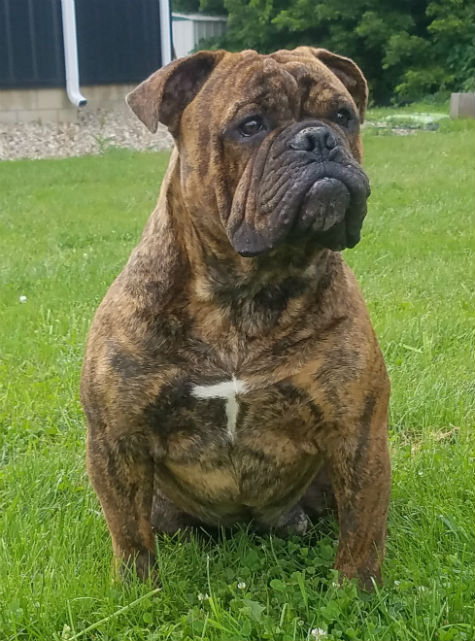 My two Old English Bulldogs. Miles Savage (3.5 years), on the bail of straw, was on the pet thread a few years ago as a cute puppy. Since then I acquired the pick of his first -and only- litter, Durzo Blint (2 years). Both are very good protectors but lack aggressive behavior. There is a lot of testosterone in this house and on occasion Miles likes to test the waters on exactly who the pack leader is. They are great dogs and buddies. They love riding in the truck and go absolutely everywhere with me. They are even nice enough to let me have a few inches on "their' queen size bed.

I read AoSHQ daily and occasionally post something dumb.
aka: Horus Hearsay

Good luck with all that testosterone floating around the house Horus. Been there, done that. And won't do it again. They are handsome dogs and quite the buds! Thanks for sharing.
***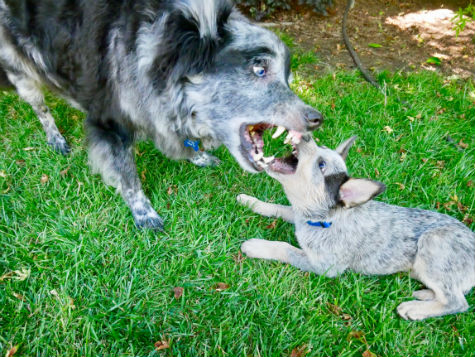 Hi MisHum,

Here's a pic for you to use, if you wish. That's Smokey and Clover.

-Average Guy

Quite the action shot there Average Guy. Looks like they are having fun!! We appreciate the submission.
***
&&&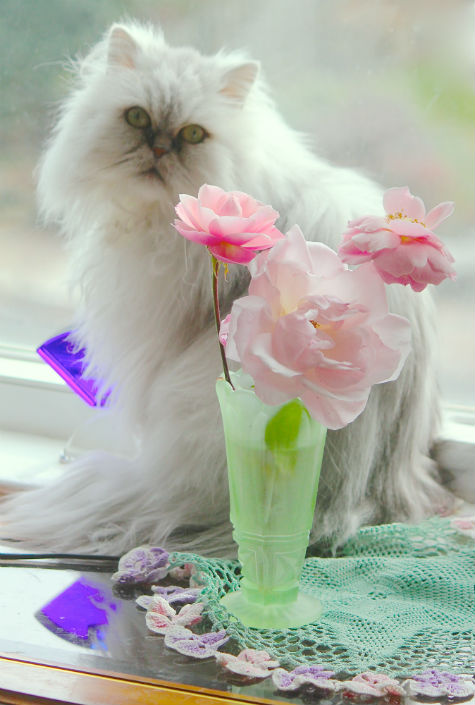 Hello all! I love the pet thread and envy all who can participate reasonably in the chess thread. Oh well. Soon I will send a photo of my new LIBRARY! yes! I'm waiting for the ladder, but ....soon!

In the meantime, here is a photo of my gorgeous 11 year old sweetie pie--Romeo, who has too much fur for this hot spell. He is an accurate predictor of the weather around here. The other photo is Lucy, the assassin, who despite her ravishing beauty and desire to pose for all and sundry, is an indoor insect killer (not to mention going for a bat, a chipmunk, and a field mouse who all got inside by accident--fair warning, critters!). - Kate
Congrats on the new library, we wonder what books you will have your cats? They appear to keep you quite busy! We thank you for your submission today.
***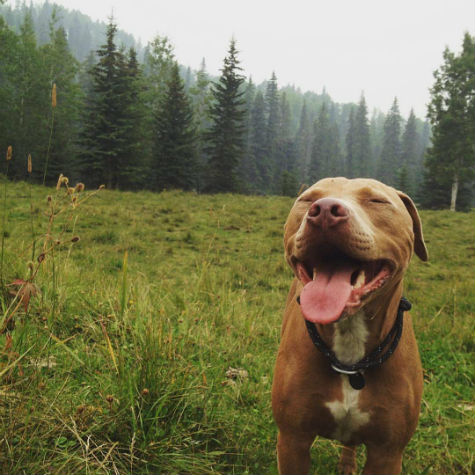 This is my son's dog Charlie aka Chuckles. Sadly he succumbed to injuries from a dog fight this past weekend. He was a great dog. Theirs was one of those adoptions where the dog and the man saved each other. We are all going to miss him. - Susan
Beautiful photo of Charlie. So sorry to hear of your loss. What a tough way to lose a loved one. Our condolences.
***

A great group of pets this week. You folks never cease to amaze me with your photos and links. Your support is greatly appreciated. Thank you!
Do you have something pet related you wish to share here at the almost World Famous Ace of Spades Pet Thread? You can reach us at petmorons at gmail dot com.
Thanks again and have a great week!!!

posted by Misanthropic Humanitarian at
03:00 PM
|
Access Comments