« Memorial Day Weekend [KT]
|
Main
|
Ace of Spades Pet Thread »
May 25, 2019
Saturday Gardening Thread, Memorial Day Weekend [KT]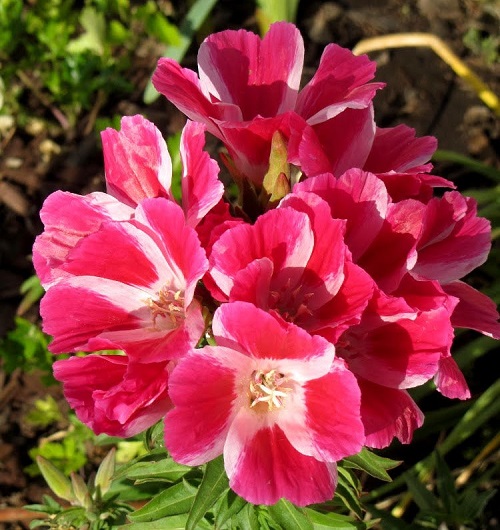 Farewell to Spring from 40 miles north
Hello, Horde! Hope your Memorial Day Weekend is starting out well. We still have some significant weather in parts of the country, but some of our gardening friends are making progress.
Weather
Naughty Pine sent in the following update and photo from Michigan:
Here's my front garden before another rain which added to the floods from Lake Huron down. Everything Is growing faster than normal. I can't seem to kill the wild violets that are taking over the lawn.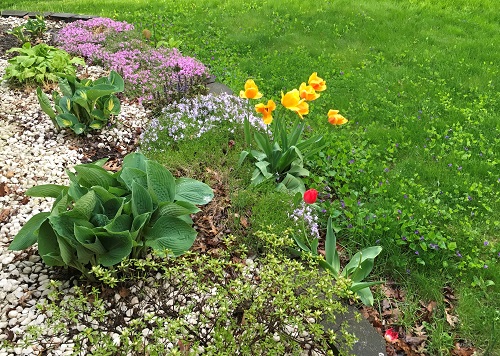 Anybody gotten around to cleaning out their pool yet?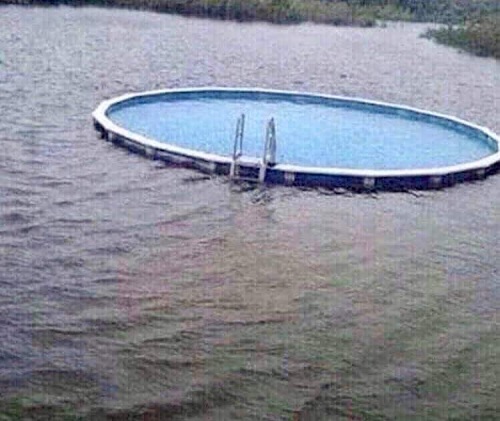 Anybody's driveway need a little work due to the weather?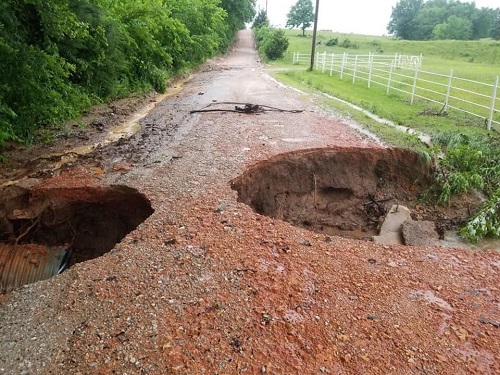 There may be skiing at Mammoth Mountain into August.
There is snow in much of the Intermountain West, and there have been some high winds. Not like in Missouri. What's the weather like where you are?
Critters
Sometimes Hank Curmudgeon helps us ask the questions no one else is asking. like what do bees do during an eclipse?
Everybody wants to know what their dog and cat are doing during the eclipse, but they don't think about the flea.
And here are 10 things you didn't know about bumblebees
Illiniwek sent in a couple of photos of that bee favorite, Crimson Clover.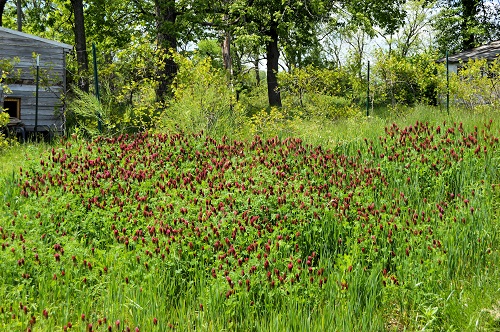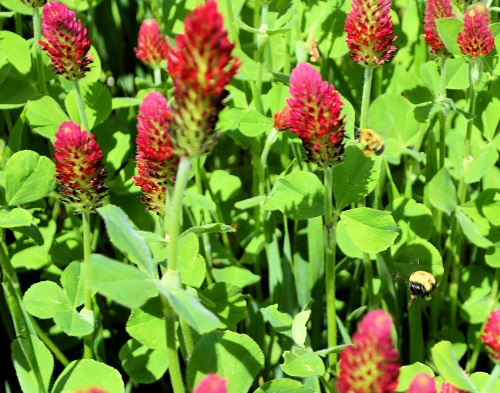 Here's an update from last Saturday:
I've seen some tiger swallowtails around, and some black swallowtails (I think) ... but not a lot of anything, including honey bees.

The lilacs had a nice smell, but I don't notice the iris aroma ... will have to get closer.

Our cool late start seems to have messed up the early blooms ... I just put some things in the garden today before another big rain, some even after the first rain.
And a Bearded Iris: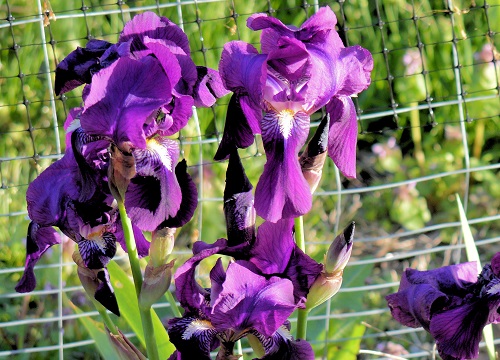 The Edible Garden
I got the following message Saturday after the Gardening Thread went up:
I am a long time moron lurker from North Alabama, and though this is a long shot, thought I could do something to help out fellow morons in the area, if there are any. I went a little overboard seed-shopping this winter with all the really cool varieties of tomatoes at Baker Creek, and didn't think they would germinate as well as they did, so have a few hundred extra heirloom tomato seedlings. If you know of anyone in the Huntsville/Decatur/Athens area, I would love to share. I really don't want them to die, and if I plant 300+ tomato plants, I will die.

Absolutely love your garden thread every week.
This is about 1/3 of them over a month ago. I am up to 10 trays now, at 15-18 a tray. Lots of neat ones like Blue Beauty, White Tomesol, Yellow Garden Peach, and the bizarre Reisetomate. I have some extra peppers too, and had some heirloom french artichokes that sprouted fantastically in my aerogarden, just a few extras of those. I even loaded up the poor Fedex guy.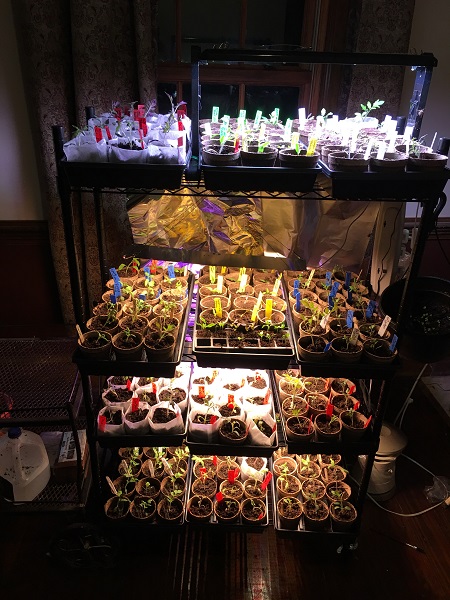 So many of us have been there . . . . .
Don't know if there are still some possibilities to pass along plants, but we can relate to the situation. Let us know how things turn out. If anybody is interested, mention it in the comments.
Get those tomato recipes ready . . . . .
Le Garde Vieux sent in a couple of garlic photos. You can eat garlic blossoms or leave them for the hummingbirds and butterflies.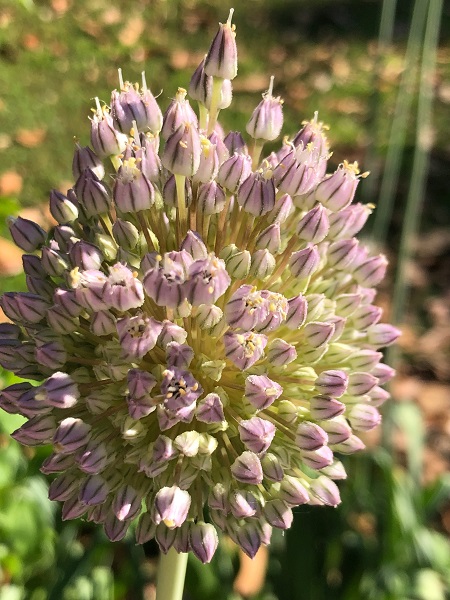 There's a magnolia behind this one. I don't think he should eat it.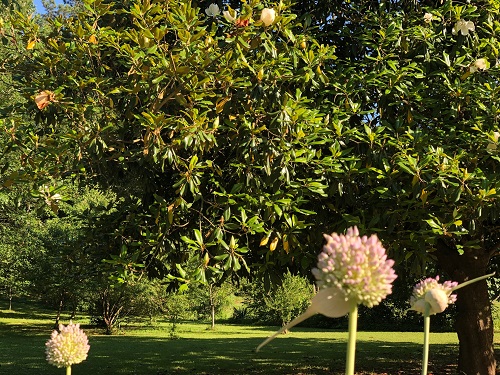 News from Garden and Gun
A magazine to which you might consider a subscription, and/or sign up for updates via email.
Via redc1c4:
Another plant pathogen invades the Southeast:
Josh Meyer was ten days into his position as the director of buildings, gardens, and grounds at Tudor Place Historic House and Garden in Washington, D.C.'s Georgetown neighborhood when a staff gardener told him something was up with the boxwood. This was on a Friday last October, and Meyer, trained as a landscape architect, didn't think much of the minor defoliation and leaf spotting. "But here's where it gets crazy," he says. "We came back on Monday, and the symptoms had spread to pretty much all the collection areas. You could see this thing just descending on the property."

The "thing" was boxwood blight, a fungal disease wiping out generations-old boxwood with the heartless efficiency of an Ebola epidemic.
A nursery may have developed a resistant cultivar.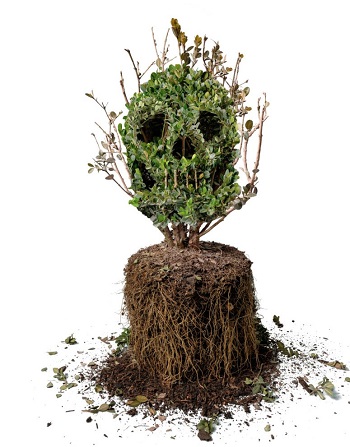 Big bat house in Florida:
In Miami, Florida, an ambitious conservation project is underway: the introduction of the world's largest bat house. "The bigger your bat house is, the better your chances of getting it inhabited," Fred Hubbard, part of the team that oversaw its construction, told the Miami Herald. Built within Patch of Heaven, a nature preserve in the Redland region, the soaring two-story structure will hopefully provide a safe haven for a variety of bats, but it's been specially outfitted for the Florida bonneted bat. Once thriving in South Florida's pinelands, the endangered bats have found their habitat gravely depleted by development--the total population now stands in the mere hundreds.
While there's no guarantee the new house will successfully attract the animals, the team is optimistic, this month installing speakers to pipe bat calls throughout the area. And they hope it will help foster a greater appreciation for all bats and the challenges they face. "One bat can eat 1,200 mosquitoes in an hour," Hubbard says. "They are the best."
Speakers to pipe bat calls throughout the area. I sort of feel like I have bats in my belfry today. Wonder if people can hear those bat calls?
Some smaller bat houses are also shown in the Miami Herald article. Interested in attracting some bats?
Last Week
We were sorry to learn that Shanks for the memory lost a considerable part of his veggies and fruits to hail. That isn't supposed to happen in California in May.
I am not sad that there are wild violets in CN's lawn. Or Naughty Pine's lawn. We are gonna have to do a little profile on Fritillary butterflies whose caterpillars feed on violets.
We had some great close-up photos last week. And crisis du jour. has send in some additional information:
Saturdays are work days for me, so I usually get to the Gardening Thread after it has become stale. So I didn't get to reply to the commenters who ID'd the flowers in the two pix of mine you posted. I looked up 'Spirea', and that looks right for the white-flower photo. But I didn't think the pink flowers belonged to an Azaelea, for the simple reason that those pink flowers were on a tree, not a bush or a shrub. (I was pointing the camera vertically upward when I took the pink-flower photo.) So after some research, it looks like those pink flowers belong to a cherry blossom tree ... which, I also learned, is not the same thing as a cherry tree!

From Quora:

How are cherry trees different from cherry blossom trees?

Glen Buschmann, former Landscape Gardening (Owner / Operator) (1987-2018)

Most flowering cherries are "sterile", meaning the flowers lack all the components needed for reproduction. The puffy "double" flowers are natural mutations (and sometimes not) where a flower's reproductive parts are replaced by extra petals. (This applies to most flowers.)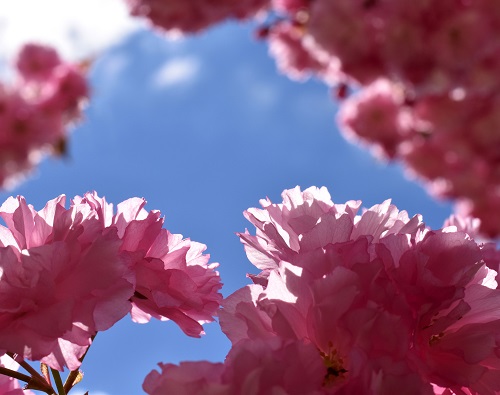 I had no idea there was a difference! The pink flowers in that second photo were definitely 'double'; I noticed that in the moment as I was photographing them, and that doubleness was largely (but not entirely) responsible for the chiffon look of the flowers.
I think it is probably a flowering cherry, too. But I don't know enough about the genus Prunus to rule out, say, a flowering apricot or something. And there is a lot of variety among flowering cherries.
There are several species in the genus Prunus (which also includes plums, apricots, peaches, etc.) that are called "flowering cherries". There are said to be over 300 hybrids and cultivars of flowering cherries. Some have single flowers (five petals) and some are very double with more than 300 petals! Some of the single ones are especially prized in Japan.
Flowering cherries mostly come in pink or white. Some are fragrant. Some have interesting bark or fall foliage.
Before planting a flowering cherry, you should check on its climate adaptation. Some are adapted to the Southeast and of course those in Washington D.C. are famous. Several are adapted to the Pacific Northwest. Some are adapted elsewhere.
Of course, fruiting cherries also flower, and are pretty in bloom, though generally not as spectacular as the "flowering cherries". Here's a white one planted with blue camas.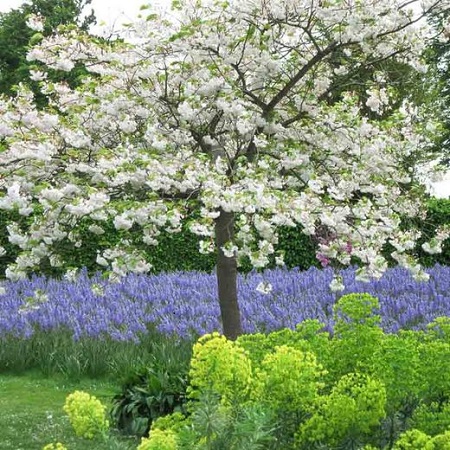 Want to try that plant I.D. thing again?
What are these?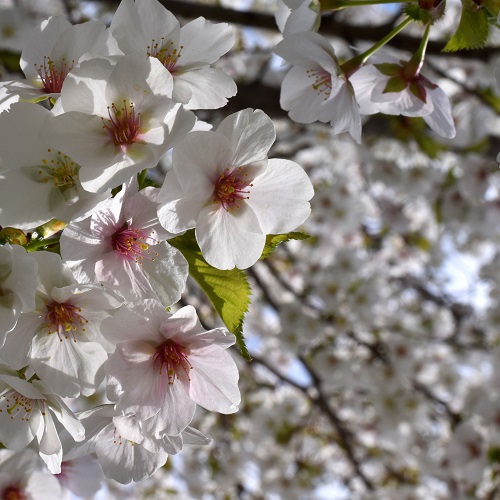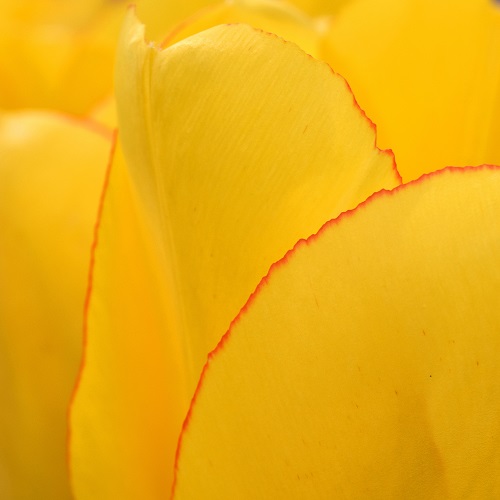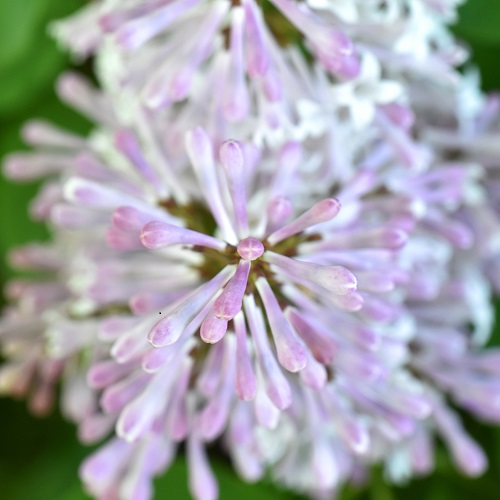 If you would like to send information and/or photos for the Saturday Gardening Thread, the address is:
ktinthegarden
at g mail dot com
Include your nic unless you want to remain a lurker.


posted by Open Blogger at
01:04 PM
|
Access Comments