« Old trains and more old trains? [KT]
|
Main
|
Ace of Spades Pet Thread »
May 18, 2019
Saturday Gardening Thread, May 18 [KT]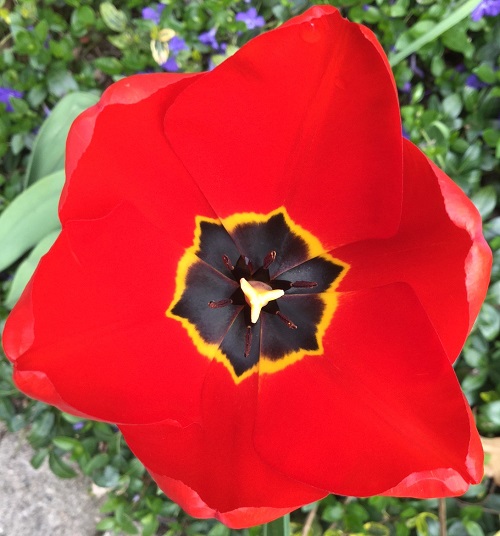 Admirale's mate sent in the gorgeous photo of a tulip above from Andover, Massachusetts. Love it.
Memorial Day is coming up, but we are still having some weather in parts of the country. Thinking about a trip? Also today, a butterfly migration besides monarchs and lots of photos from The Horde.
Weather
Don in Kansas saw this on his way to work last week.
There's a lot of flooding in the region -- I see a "flash flood" warning every time I check the weather -- but so far it hasn't directly affected me, and the rains have stopped for the moment here.
Take a look at his more recent posts, too. He has some nice cacti up. And he reminds us that today is World Fiddle Day. Fun.
Let us know if you are facing a challenge like flooding.
We have had unusual rains here in the San Joaquin Valley and it is a little chilly. How are things where you are?
They have had some cold weather in Europe this month, too. This is how they keep Italian grape vines from freezing.
Pretty. But what about the carbon dioxide? Probably helps the vines grow, in addition to protecting them from frost.
Travel
At the end of April, Tailgunnersam a lurker saw weather like this in Chicago: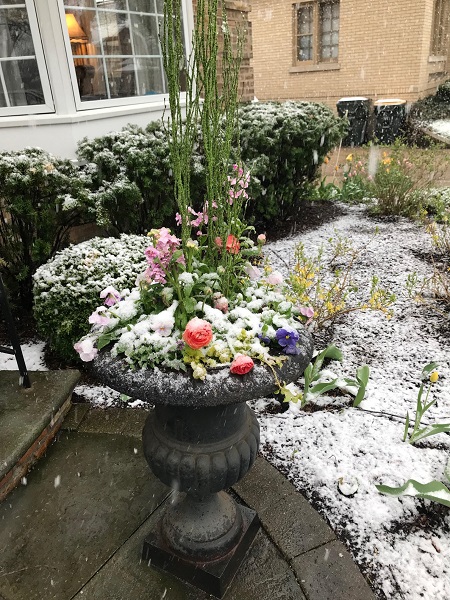 And sent these photos:
Was just at Gettysburg and this photo of the Devil's Den from Little Round Top shows some lovely flowers.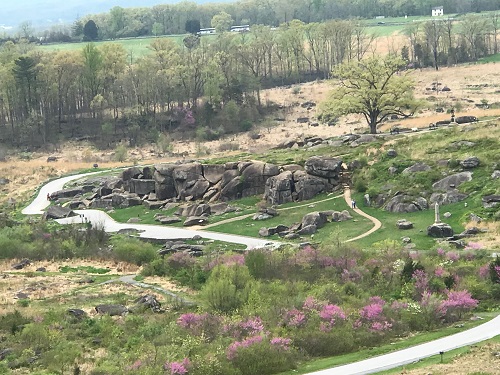 These are flowers on the field of Pickett's Charge.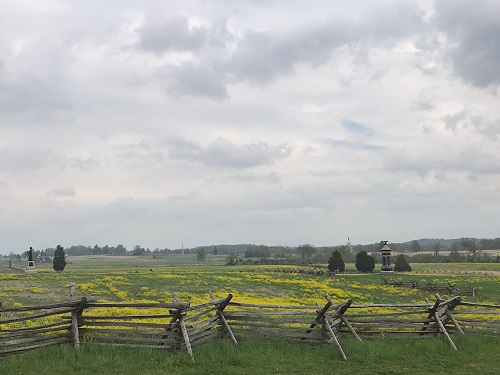 I asked if the fence was similar to one that was there during the war:
Yes that fence was put up by the American Battle Field trust to match what was present in July 1863. The guide called it a worm fence and it is when you have more wood and want to put up a fence with less work. And they would be knocked by troops. Here's Matthew Brady's Gettysburg photo of three confederate prisoners.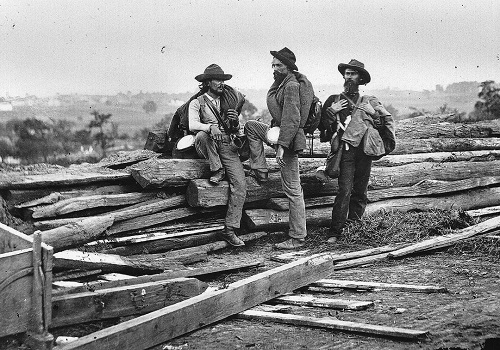 So interesting. A trip to consider as Memorial Day approaches.
Photography
Dr_No says these are peonies, photoshopped to alter the pink color and the mood. Do they look like peonies to you?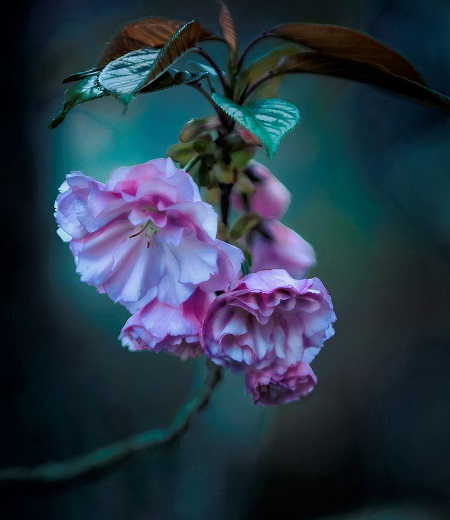 A couple of closeups from crisis du jour. Care to try an I.D.?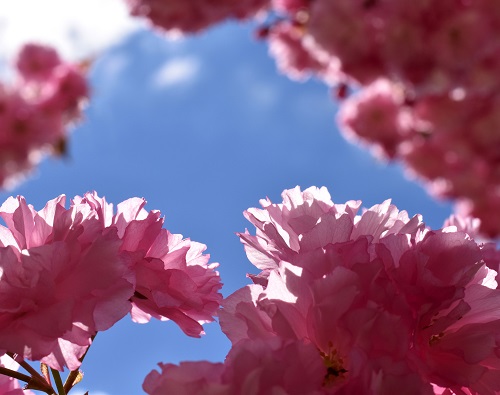 Butterfly migrations
The Western population of Monarch Butterflies typically leaves their coastal wintering grounds in late February or early March. I haven't seen any come through yet. I don't most years, at home. Sometimes when visiting the foothills I will see a few. Have you seen any Monarchs yet?
Here's a video of Monarchs in the larger Mexican wintering grounds. There are so many of them that you can sometimes hear a Monarch waterfall when they begin to stir in the morning. Start at 3:30 to listen.
I HAVE seen lots of Painted Ladies. Especially last week when we were stuck in construction traffic, and butterflies were crossing the highway to reach weeds on the other side of the road, and a couple of weeks ago at church, where they were particularly enamored of the Rhaphiolepsis bushes.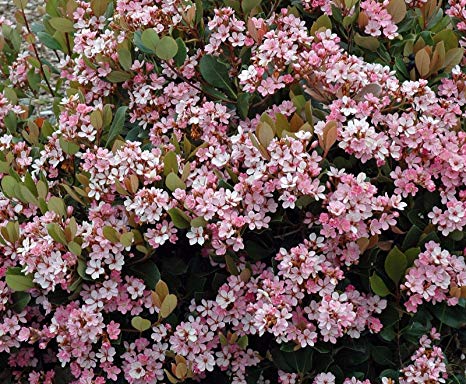 The migration of Painted Ladies from the Southern deserts through Southern California northward toward the Pacific Northwest is said to be the biggest this year since 2005. The migration that year was estimated to be in the billions. I'm not sure that the NBC report that the only wintering grounds for Painted Ladies are in Western Texas and Mexico. But like some of their relatives, they don't go dormant in winter and can't take freezing weather. They make to to most parts of the USA and Canada during the summer. There is a smaller southward migration in fall.
They started showing up in coastal Southern California in March. They can fly 25 miles per hour.

Butterflies At Home has a nice little summary on Painted Ladies, including a guide on how to distinguish them from American Ladies. I like the furry parts of the open wings near the Painted Lady's body.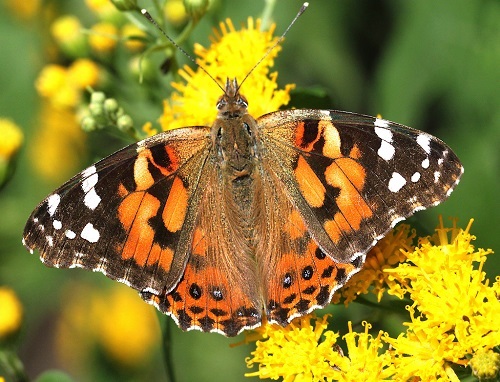 I think the underwing is also intriguing. So different from the upper wing.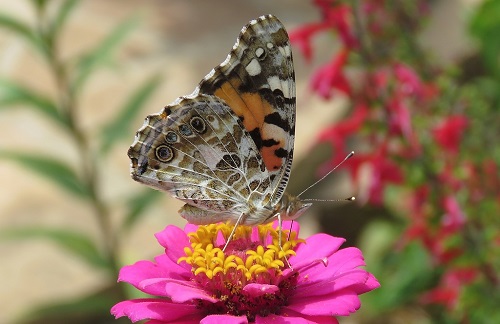 If you buy a kit to grow your own butterflies at home, they are likely to be Painted Ladies, whose caterpillars are not very particular about what they eat. If you find a caterpillar on a hollyhock, a legume or on weeds like thistle or mallow, you can bring them in and watch them turn into butterflies. The little spines are harmless. They usually start out darker than this when small. Often seen where a hollyhock leaf meets the stem, with some webbing.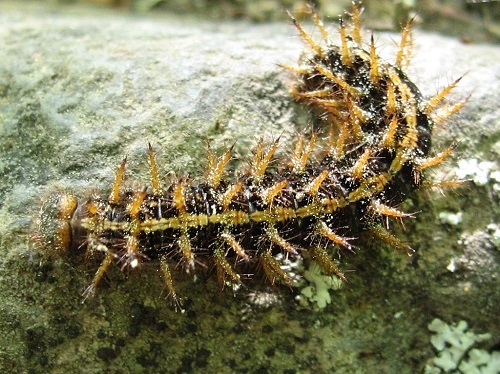 You may also be interested in the useful chart of common orange butterflies. Ever seen a Goatweed Leafwing? You can also see the difference between a Question Mark and an Eastern Comma. The page on butterflies (and some moths) of Texas is also very nice.
If you want to grow some Painted Lady caterpillars and don't have enough weeds in your yard, here's a refresher on growing hollyhocks and using alpaca poop in the garden.
Gardens of The Horde
You know those Amaryllis (Hippeasturm) bulbs that people buy for Christmas gifts? Well, if you plant them out here in the San Joaquin Valley, this is about the time of year that they bloom. Actually, they are probably a little late this year because of the generally cooler spring weather (with a few hot days). We had some rain this week! Seems so strange after those years of drought.
These are across the street from me. They stand out from a distance. I like this dramatic size in containers. I generally prefer the slightly smaller ones in the landscape. Though these fit among the dwarf Pittosporum and Agapanthus (for summer bloom) near them.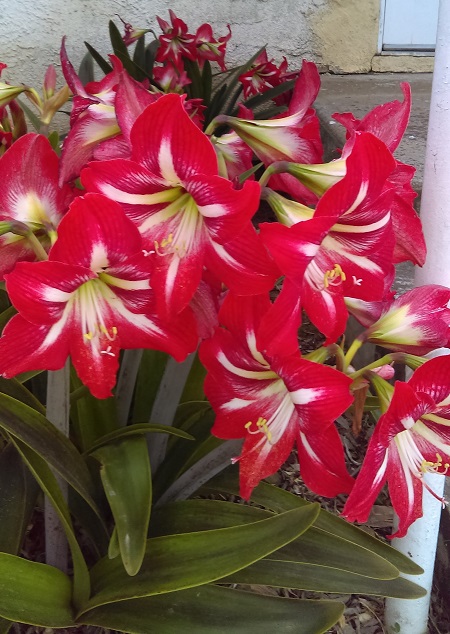 The famous Pat* in Idaho sent in a photo and a report:
We're having a few days of chilly rain in the Treasure Valley. This is a photo from just a week ago, of those beautifully scented lily of the valley bells I love so much.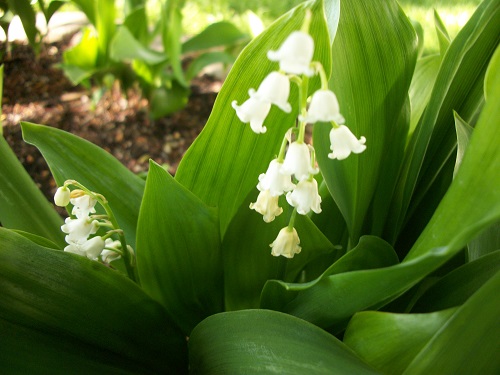 Do you think this flower from 40 miles north is a daylily or a tiger lily?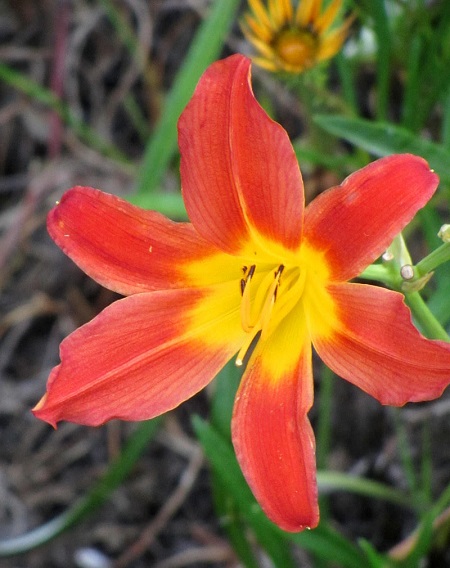 We appreciate the photos we have waiting for next week. If you would like to send information and/or photos for the Saturday Gardening Thread, the address is:
ktinthegarden
at g mail dot com
Include your nic unless you want to remain a lurker.


posted by Open Blogger at
12:55 PM
|
Access Comments