« Saturday Gardening Thread, May 18 [KT]
|
Main
|
Saturday Afternoon Chess Thread 05-18-2019 »
May 18, 2019
Ace of Spades Pet Thread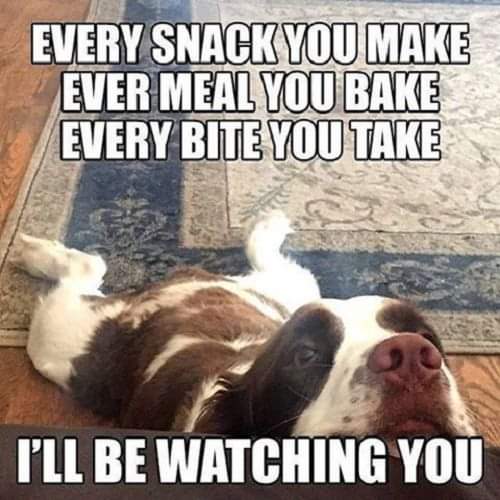 H/T Legally Sufficient
***

Good afternoon Morons and Lurkers and welcome to the almost world famous Ace of Spades Pet Thread. Loosen up that pinch collar, sit, stay and be good. Let's enjoy the world of pets and animals.
***
A Little of This. A Little of That.

Owning a dog, it is in the genes.H/T CBD

Owning a dog is influenced by our genetic make-up
Date:
May 17, 2019
Source:
Uppsala University
Summary:
Scientists have studied the heritability of dog ownership using information from 35,035 twin pairs from the Swedish Twin Registry. The new study suggests that genetic variation explains more than half of the variation in dog ownership, implying that the choice of getting a dog is heavily influenced by an individual's genetic make-up.
***
Grumpy Cat, arguably the internet's most popular cat and one of its first viral memes, has died aged 7.

The furry sensation's family announced her death on Twitter on Friday.
"We are unimaginably heartbroken to announce the loss of our beloved Grumpy Cat," Tabatha Bundesen, Grumpy Cat's owner, said.
***
Usually the AoS Pet Thread attempts to stay away from politics, but..........When you walk your dog, your dog going potty may effect the environment.

Nobody knows just how many dogs there are in the United States, but there are plenty—and many of them live (and pee) in human cities. Turns out, canine bathroom breaks may have more of an impact on the environment than you might think.

In a new study, a team of Columbia University undergraduate and graduate researchers led by ecologist Krista McGuire looked at the impact of pee on the urban soil microbiome. They found evidence that the nitrogen content and low pH of the urine can make city soil both harder and less absorbent of rainwater, while making the soil microbiome less diverse.
***

Some people have bulls for pets and some have bulls for business. Someone is missing a bull. And he's been causing some trouble.
***

Talk about a rubber necking traffic jam.
***
***
***

Be careful what you name your pet in China. You could end up in the slammer.

A young dog breeder in eastern China was recently arrested and sentenced to ten days in a detention center after giving two of his canines controversial names that refer to Chinese government and civil service workers.

The 30-year-old man, surnamed Ban, was summoned by police on Monday, after posting on Chinese social network WeChat that he had named two of his dogs Chengguan and Xieguan. The first refers to officials tasked with tackling low-level crime, while the second is a name used to describe informal community workers, such as traffic assistants. Ban said that he didn't know using the two words as names for his dogs was illegal, and that he had done it as a joke, but police failed to see the humor and launched an investigation after the man's post went viral online.
So what are some of the names you have named your pets over the years and why?
***
Meet The PetMorons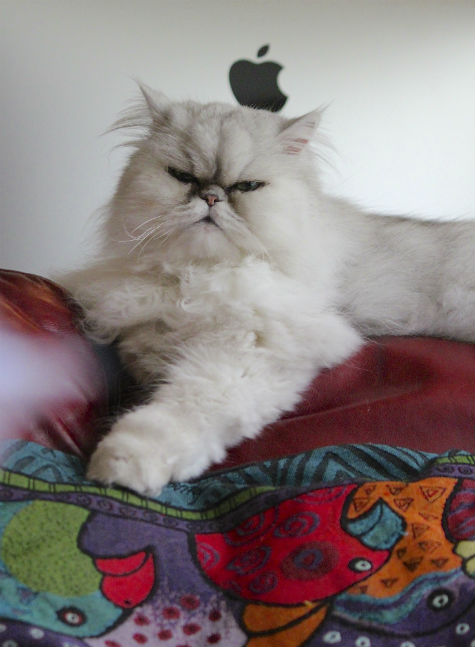 This is Romeo, who at 10, is still my baby. He is also my shadow, comfort, and joy. He thinks he is William Tell, though, as you can see he has an apple on his head. - Kate J.
Quite the kitteh this Romeo fella. He certainly appears to live the good life. Thanks for sharing with us Kate J.
***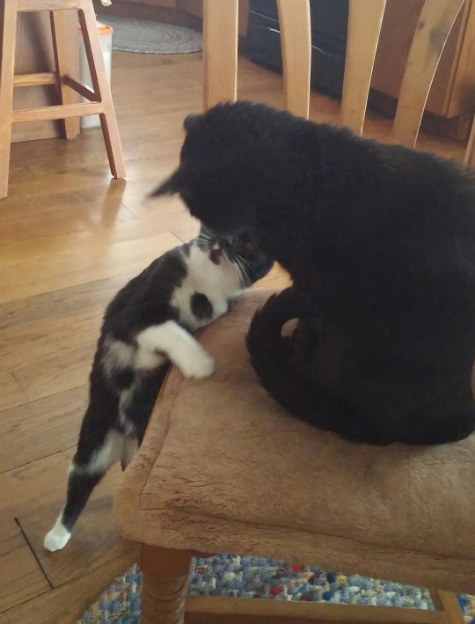 Photo-bombing Robinson in the second photo is the annoying little twerp, the infamous Puck, who was introduced in a previous pet thread. We are making progress but she is still pretty untamed and driving everybody (especially Robinson) crazy with her antics. - Corn and Beans
Well it certainly looks like Puck belongs here at the almost world famous Pet Thread. It seems Robinson is a patient cat. Thanks!
***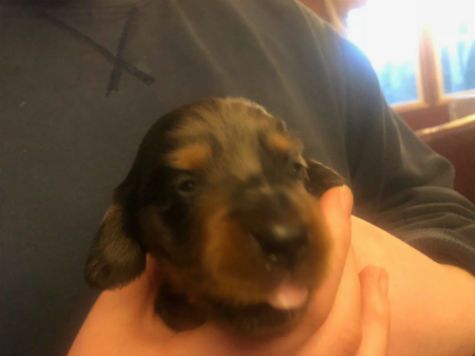 &&&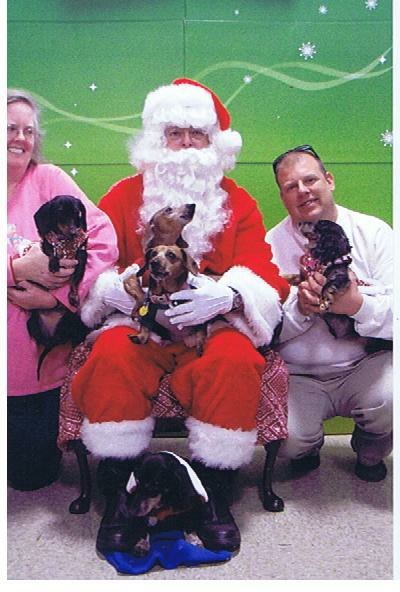 Have read and loved the blog for years and was thrilled when the pet thread debuted! I rarely comment, but am active in the Facebook groups!

My husband and I have never been blessed with children, but He blessed us with dachshunds! I did not like the breed as a child, and when we began dating and I was to meet my then future in laws, I was warned that the family dachshunds Gingie and Nutmeg were going to dislike me intensely, so I was prepared for them to ignore me completely. To everyone's amazement, both took to me and it was love at first sight for me, and I have loved the breed ever since 2001.


Our current pack consists of Snoopy the Pirate King and Sweetie our beagle princess. And a long haired dachshund puppy is joining us this summer! (Image 2935)

The Christmas photo is 2012 and consists of the original Dachsies With Moxie- Thai is on the floor, Ginger and Chip are on Santas lap, Geoff is holding Anna and I have Tasha. - Agnes
Agnes, thanks for your recent email and your wonderful love affair with Dachshunds. Many of us have a love affair with certain breeds. Thanks for the photos.
***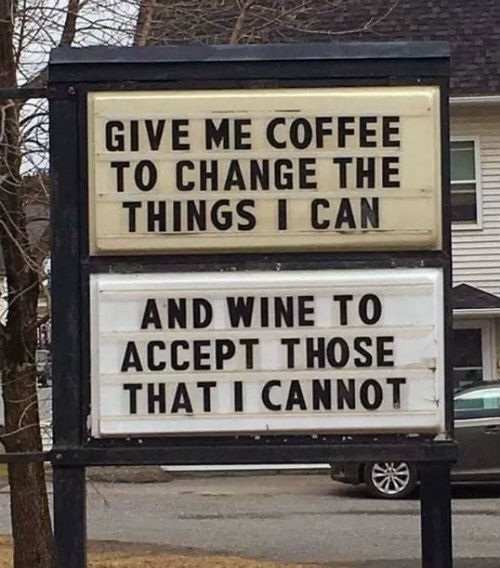 Long time lurkers here and we love the pet thread. Here is our Motley Crue...Buddy is the bigger one on the right he's a lab/beagle mix. Bailey is in the middle and we believe he's a Jack Russell. They were shelter (cell mates) and couldn't be separated so we took them both. Billie is the one on the left she's a Maltese and Shih Tzu mix (Malti-Tzu?) and she came to us from a relative in Chicago who couldn't take care of her. So from the Windy City to the woods of Michigan it was quite a change for her. This is their Christmas pose and they are naturals when the camera comes out - Mark n Steph
OK, just how many treats were you guys holding to get them to pose for that great photo? Wonderful crew you have there! Thanks for sharing with us.
***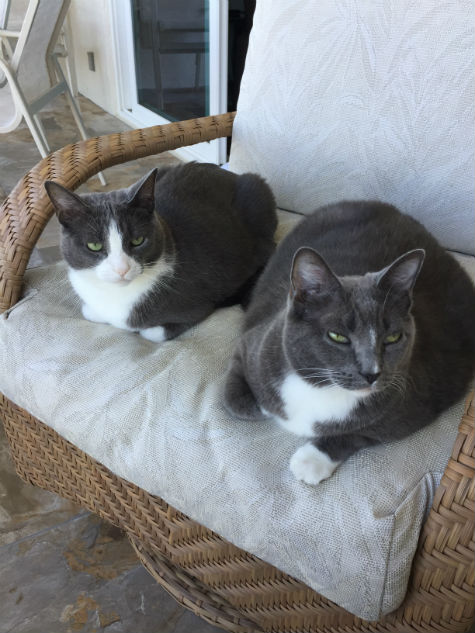 I have been a long time lurker and now have attracted my wife to look you over on a regular basis. We both love the AWF AoS Pet Thread. Accordingly, we have submitted a photo of our sibling gray and white cats that we adopted 7 years ago as kittehs. The one with the white mask is a boy named Ed, his sister is Ellie but more commonly is called Bellie for an obvious reason - as their veterinarian told us, "some kittehs are just large". Ed weighs 16 or so pounds, Bellie comes in at a healthy 19 or 20, thus we travel about with nearly 40 lbs of sublime feline felicity. They act more like dogs than cats in that they play, know their name and like people. Ed is the momma's boy and somehow Bellie has attached herself to me. We realize these 2 may outlive us given house cats may live to be 20 years old. - taratko
Cats that like people? Cats that know their names? I want to take you with me to the casino then. :) What a cute pair of kittehs. Thanks for your support and thank you for taking the time to share with us their stories.
***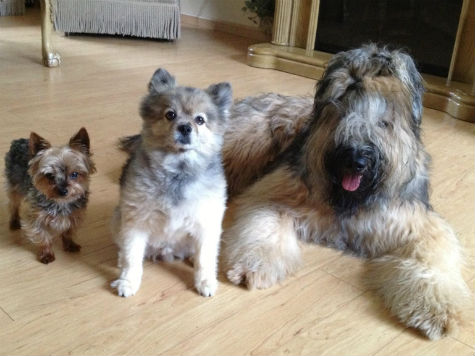 The three amigos.
Rocky, Max and Miles. Rocky is our 12 year old Yorkie. Max was our freakishly large Pomeranian. 18 lbs. He left us about 3 years ago. He was 11 years old and was a great dog. Miles is our 5 year old Briard. I have sent a picture of him in the past. - Kevin
Thanks for the photo of the 3 Amigos. That is quite the photo! If you are around today tell us about the grooming that must go on with Miles. Great group. Thanks.
***

Thanks to everyone who submitted photos of their loved ones and their stories. A great looking group as usual.
Seems the cat people were out full force this week. Just the way the emails come in.
Would you like to submit something to the AoS Pet Thread, hit us up at petmorons at gmail dot com.
Thanks again for stopping by. Have a great week!

posted by Misanthropic Humanitarian at
03:00 PM
|
Access Comments